Chicken Chow Mein is an easy weeknight meal that will blow your mind with all amazing flavors and nutritious vegetables in less than 30 minutes.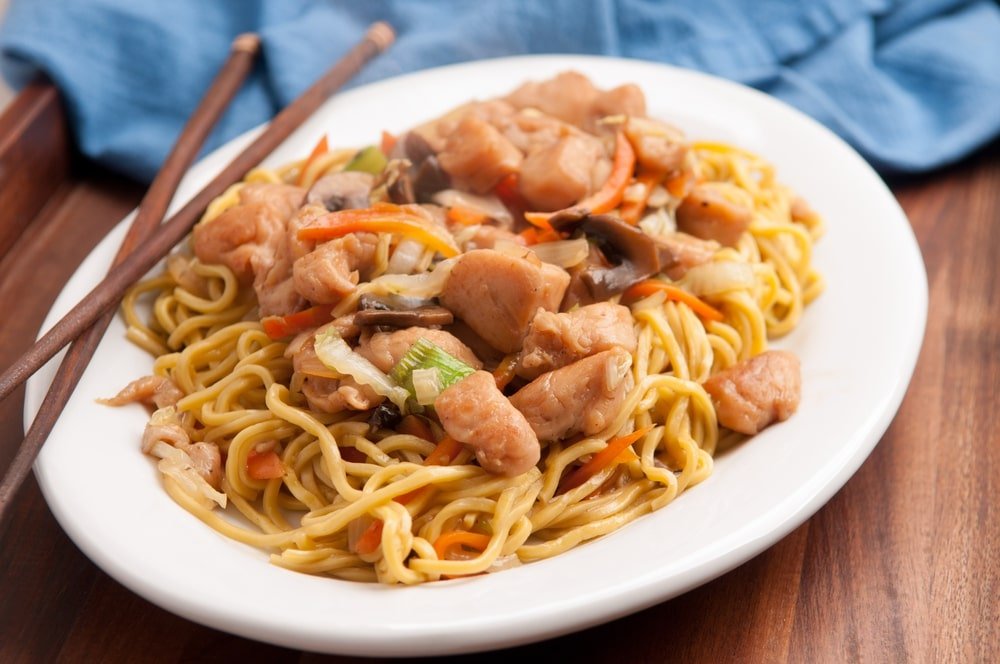 This Chicken chow mein is full of proteins and a good combination of carbs and vegetables loaded with cabbage, peas, peppers, and carrots that your whole family will love. It 's a perfect homemade Chinese takeout taste exactly like a 5-star restaurant.
Easy Chicken Chow Mein Recipe – Nutritious and Delicious
Yes, you heard it right, adding vegetables like cabbage, carrots, and onions make it so vibrant and the bean sprouts, red cabbage, and green onions are added gives you that extra contrast color at the end.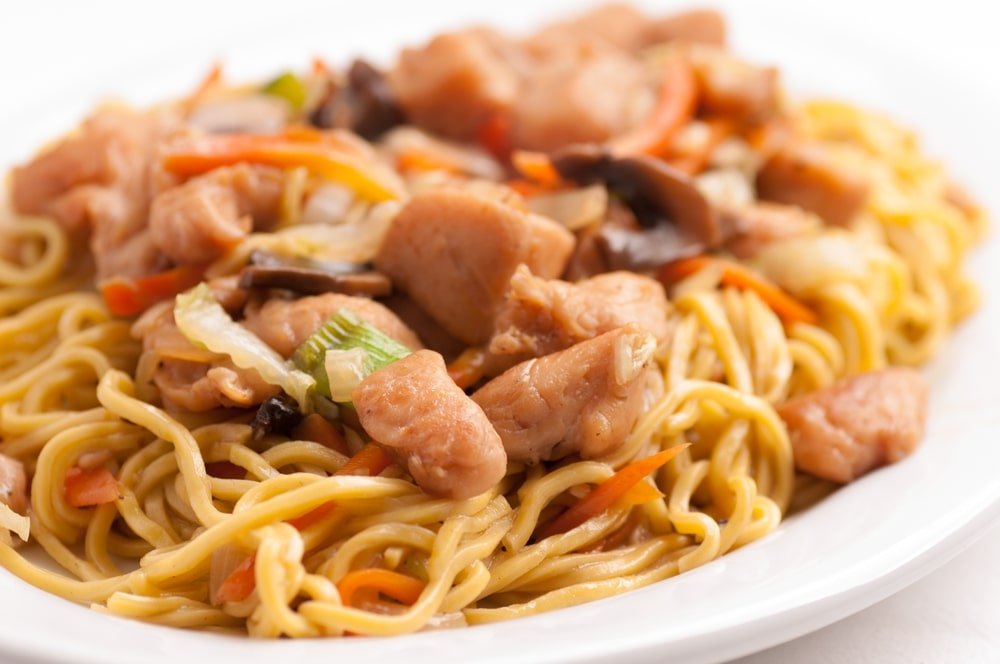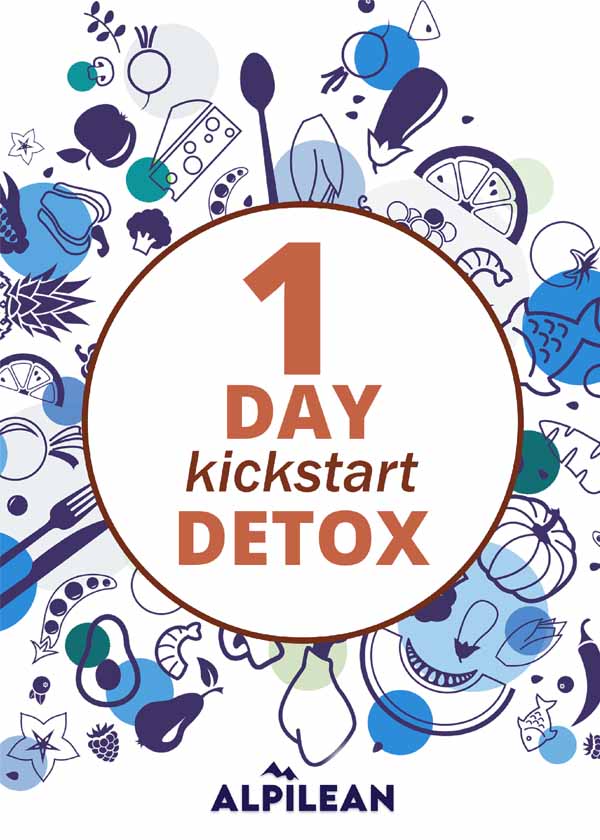 Chicken Chow Mein Vs Chicken Lo Mein
A few days back I have shared Chicken Lo mein, if you haven't checked it go check it first, Chow mein means Stir-fried noodles whereas Lo mein means Tossed noodles. The texture is crispy while in lo mein the texture is Soft. Both are Chinese dishes made with Egg noodles – wheat flour with egg. That's all for now.
Chicken Chow Mein – Sauces
The game changer of this dish is the combination of all the sauces like Oyster Sauce, soy sauce, sugar, sesame oil, pepper and cornflour/cornstarch.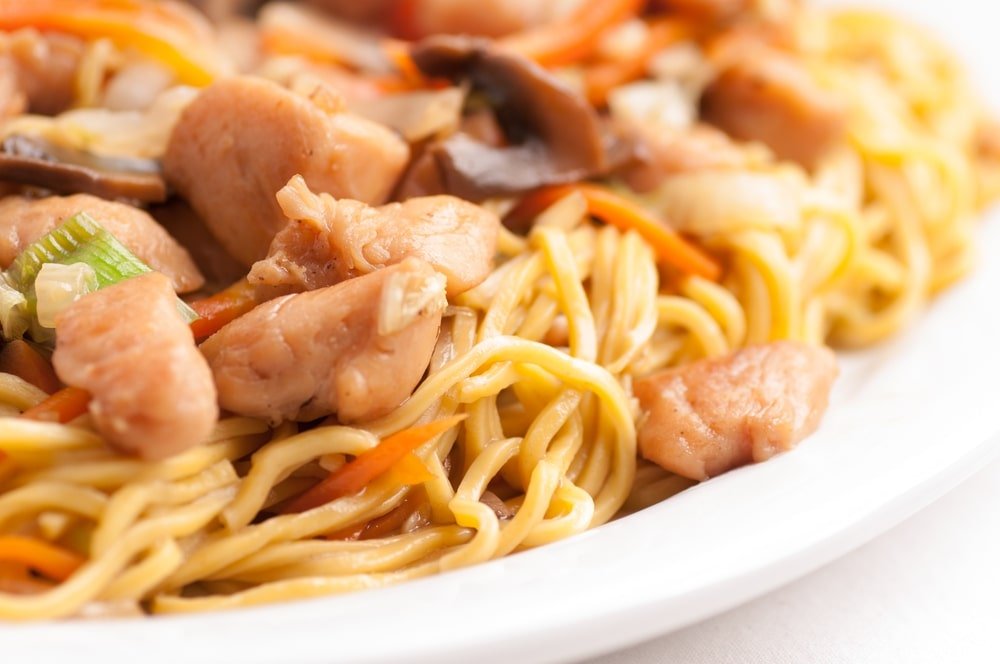 Chicken Chow Mein Variations
I know that after having chicken for quite some time, it gets boring. So, in that case, you can simply switch the chicken with shrimp or mutton, and that's why this dish is so versatile. You can also make some changes to the vegetable part – add mushrooms, bell peppers or use chicken thighs instead of breasts.
Chicken Chow Mein – What type of Noodles to use
From childhood, I like to make it with ramen noodles, because it saves my time, even though sometimes my mom makes it with traditional noodles (Buy it!) that are first soaked in warm water for 5-6 minutes, then rinse with cold water and finally adding some tablespoons of oil at the end, so that it does not stick together when stir frying.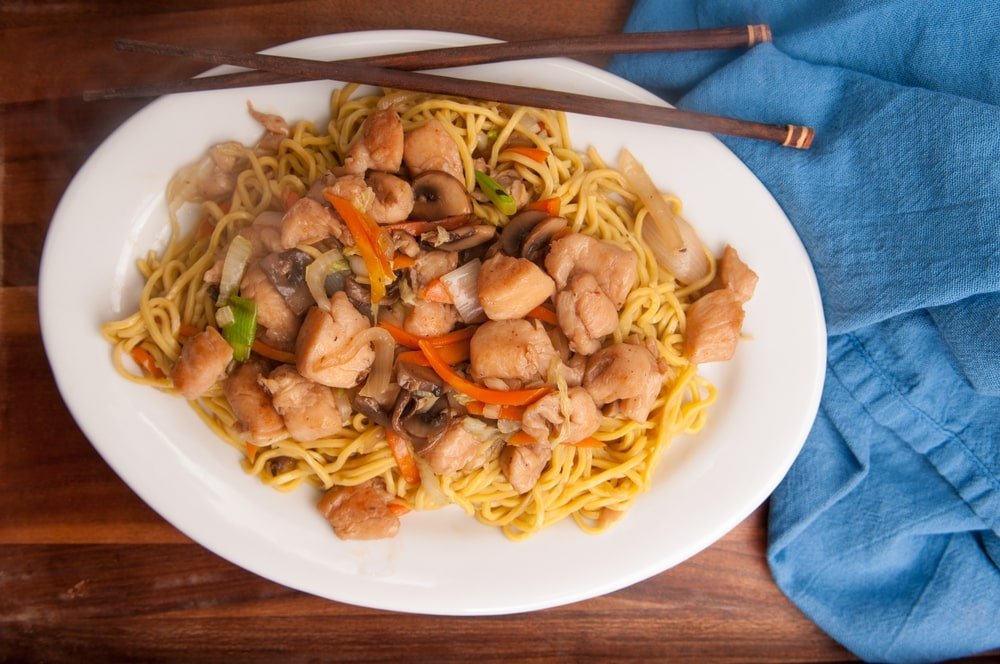 Healthy Chicken Chow Mein – What to Use (Wok or Pot)
Well, you can use anything you want to, but as we know that chow mein means a stir-fried dish/Fried Noodles, and what's better than a wok when it comes to stir-frying. It's totally your choice!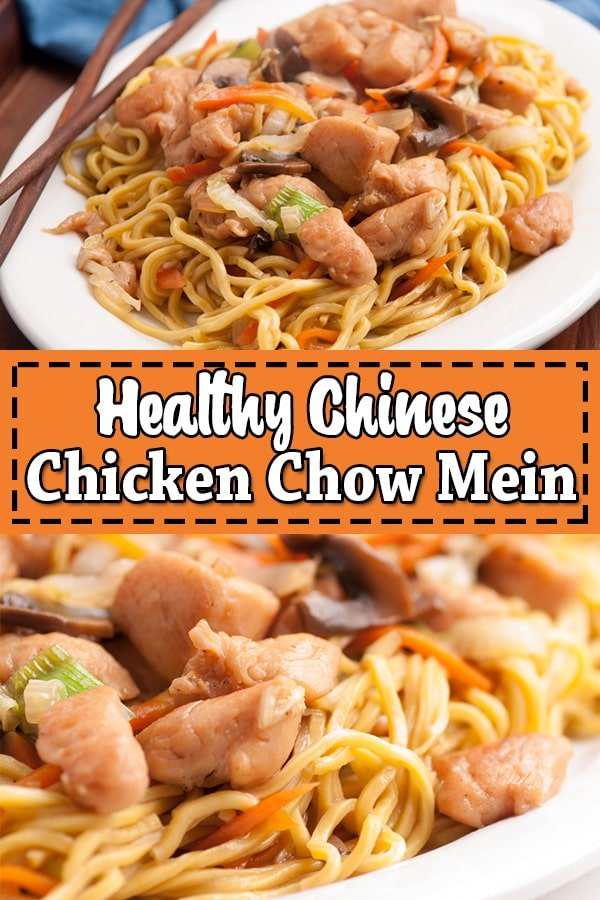 Chicken Chow Mein
Chicken Chow Mein is an easy weeknight meal that will blow your mind with all amazing flavors and nutritious vegetables in less than 30 minutes.
10 minPrep Time
20 minCook Time
30 minTotal Time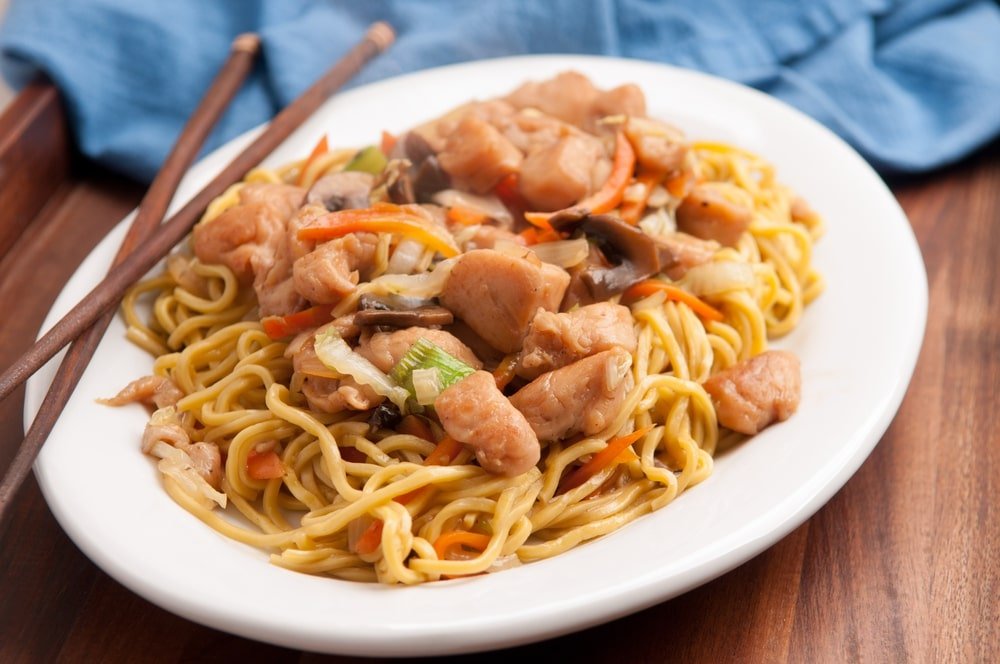 Ingredients
MARINADE

1 tablespoon oyster sauce
⅓ cup soy sauce (80 mL)
1 tablespoon sesame oil
1 tablespoon sugar
¼ teaspoon red pepper flakes
pepper, to taste
1 tablespoon ginger, minced
1 tablespoon garlic, minced

Main Ingredients

200-250g chicken breasts, cubed
½ onion, julienned
4 carrots, julienned
3 cups cabbage, shredded (300 g)
3 stalks celery, sliced
1 ½ cups chicken broth (360 mL)
2 Packages noodles (ramen)

For Garnishing

Scallion
Instructions
Combine ginger, garlic, oyster sauce, soy sauce, red pepper flakes, sesame oil, sugar, and pepper in a bowl.
Marinade the chicken pieces with half of the mixture in the refrigerator for at least an hour and reserve rest for later use.
Heat a large pot/Wok over medium-high heat and add the marinated chicken and cook until tender and cooked. Remove from the wok.
Now add sesame oil and add the celery, carrots, onion, and cabbage. Sauté for 1-2 minutes until the onions are translucent.
Now place the noodles into the bottom of the pot and pour in chicken broth over the noodles.
Cover with a lid and simmer until the noodles are cooked through for 5-7 minutes.
Open the cover and pour in the reserved marinade along with chicken pieces and stir to combine. That's it!
Transfer to a serving plate and garnish with scallions.
7.8.1.2
53
https://www.allchickenrecipes.com/chicken-chow-mein/
Still Hungry! Try these Chicken Recipes
So, Guys, I hope you enjoy these easy Chicken Chow Mein recipe which I make on weekly basis. All the chicken lovers who are looking for Chicken Chow Mein will enjoy this recipe. And if you like this recipe then Don't forget to share it with your friends on Pinterest, Facebook, and other social media platforms. And do follow us on Tumblr, Pinterest, facebook, twitter, and Instagram.