Chicken Milanese – This Chicken Milanese Recipe is a classic Italian dish made with chicken breast, parmesan cheese that is tender and juicy from inside and crunchy on the outside because of panko bread crumbs that is perfect for an easy weeknight meal.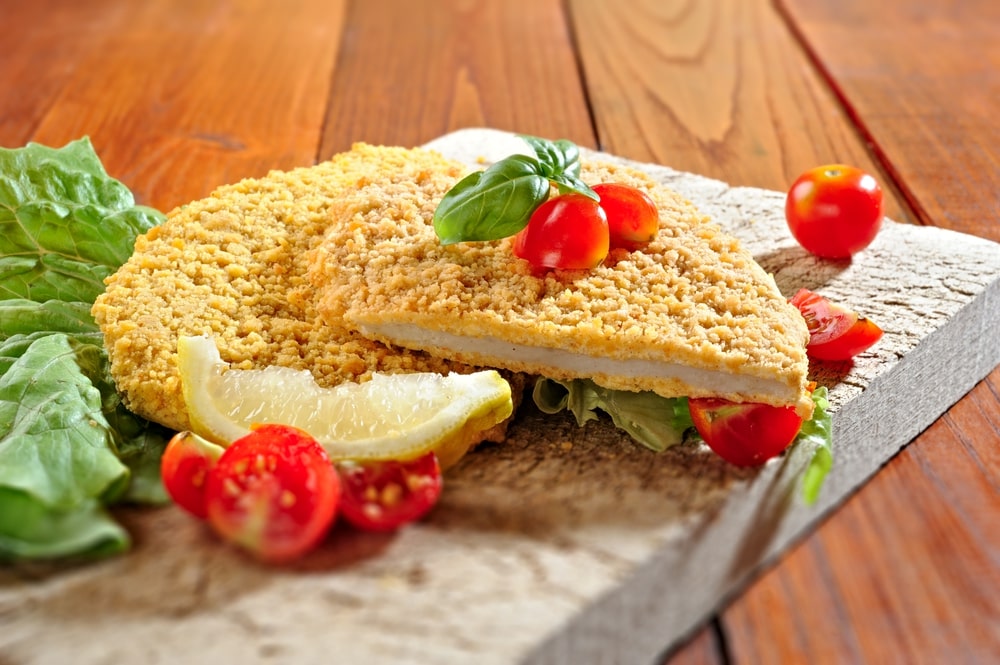 What is Chicken Milanese?
The Milanesa aka Cotoletta Alla Milanese in Italian also known as 'Milanga' in Uruguay and Argentina, is a South American variation of an Italian dish where generic types of breaded meat fillet preparations are known as a Milanesa. I hope you remember Breaded Chicken Breast which I have shared yesterday!
A Milanesa consists of a thin slice of chicken, beef, veal, or sometimes pork. Each slice is seasoned with salt and other condiments like parsley and garlic to taste, dipped into beaten eggs then to the bread crumbs (or occasionally flour) and fried in oil, one at a time. chicken parmigiana is very similar to this.
How to Make Baked Chicken Milanese?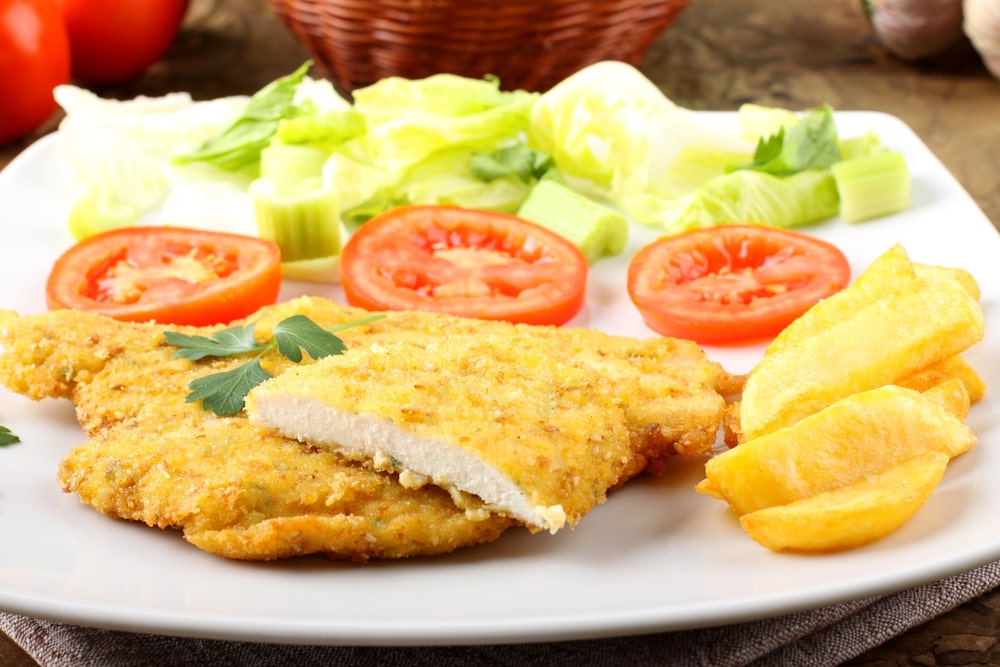 This is the baked version, check the recipe card below for the traditional fried version.
Take a medium bowl, whisk 2 tbsp vinegar and olive oil, add basil, tomatoes, and onions; season with salt and pepper, toss all together. Set aside for at least 10 minutes
Preheat oven to 450° degrees and place a large baking pan in the oven to get hot.
Take two bowls, combine lemon juice, olive oil, and pepper in the first one and breadcrumbs and grated cheese in another.
Lightly pound chicken breasts into cutlets and season with salt and pepper.
Firstly, dip cutlets into lemon/oil mixture, then into breadcrumbs (both sides).
Spray the baking pan with cooking spray and place the chicken on the baking sheets and spray with olive oil spray on top.
Bake chicken for about 15 minutes, turning once halfway through or until chicken is golden brown all over.
Once done, remove from the oven and top with tomato arugula salad on top.
Chicken Milanese Calories:
Calories: 250
Fat: 9g
Carbs: 18g
Protein: 25g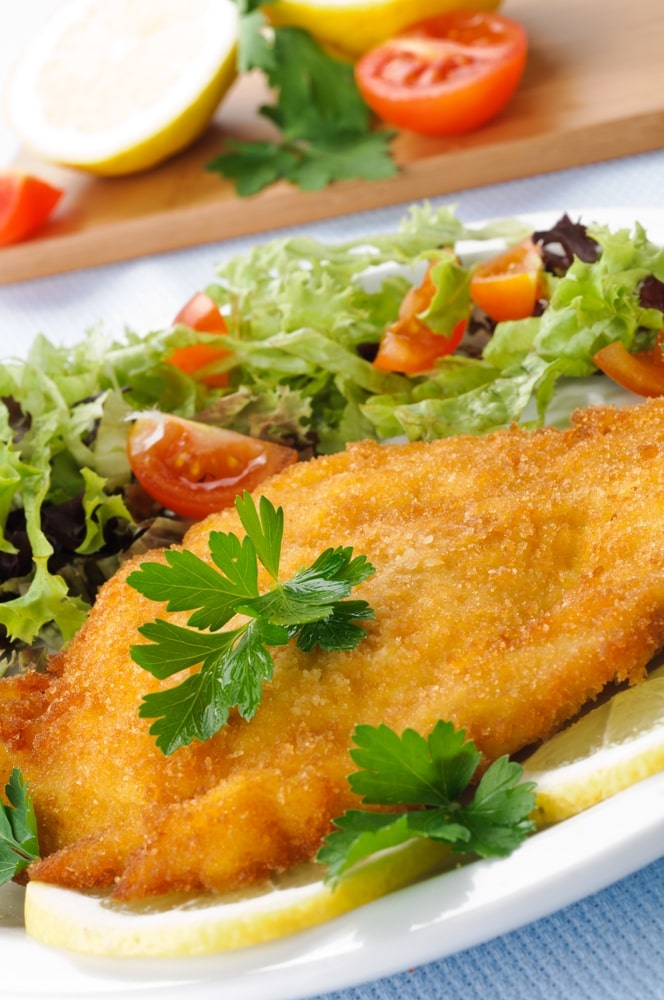 Can You Freeze Chicken Milanese?
Yes of course! Milanese Chicken is a perfect recipe to prepare in bulk and freeze for future use. You can also use it to make other dishes, like Chicken Parmesan.
Let the chicken cool, wrap them in plastic wrap, stack them in a Ziploc bag and freeze for 7 days or up to 3 months. When ready to eat, place the chicken in the fridge and thaw for a few hours. Spray a baking pan with nonstick spray and bake at 350 degrees for 25 minutes (covered casserole dish will also do the job for you).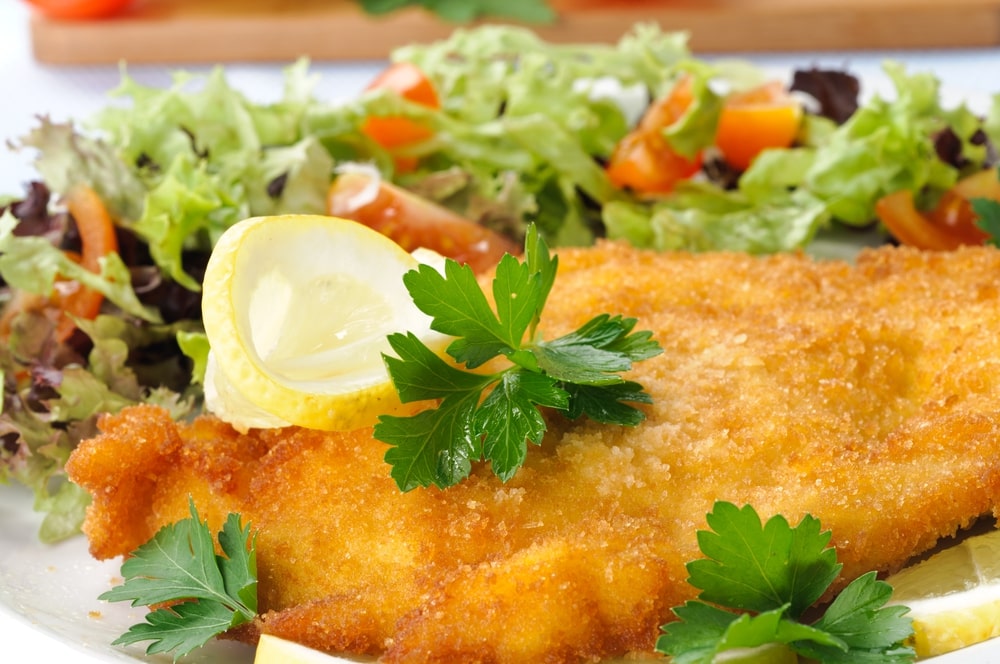 What to Serve With Chicken Cutlet Milanese?
Simply serve with a simple green salad on the side with lemon wedge and shaved Parmesan. You can also serve it with Spaghetti for Chicken Parmesan (check the recipe here).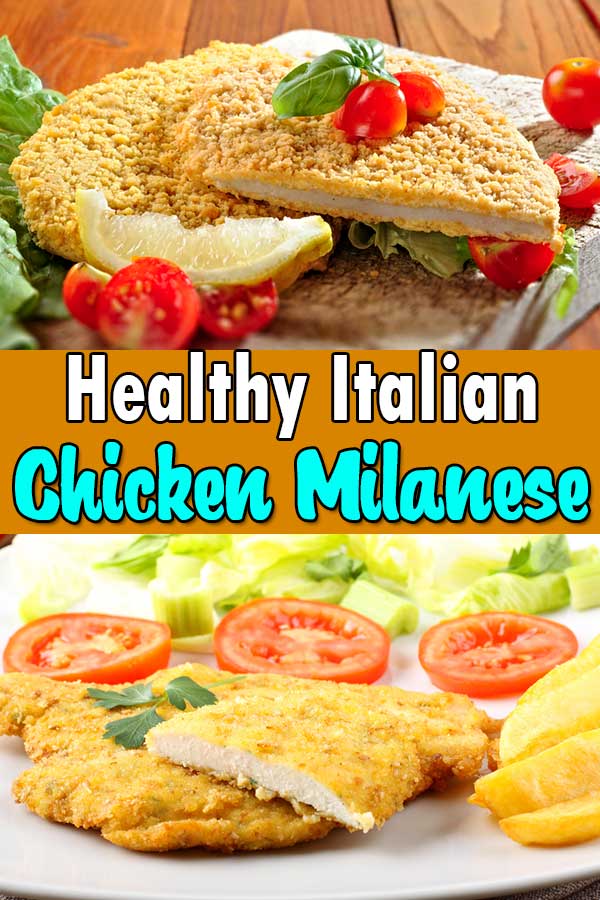 Yield: 4
Chicken Milanese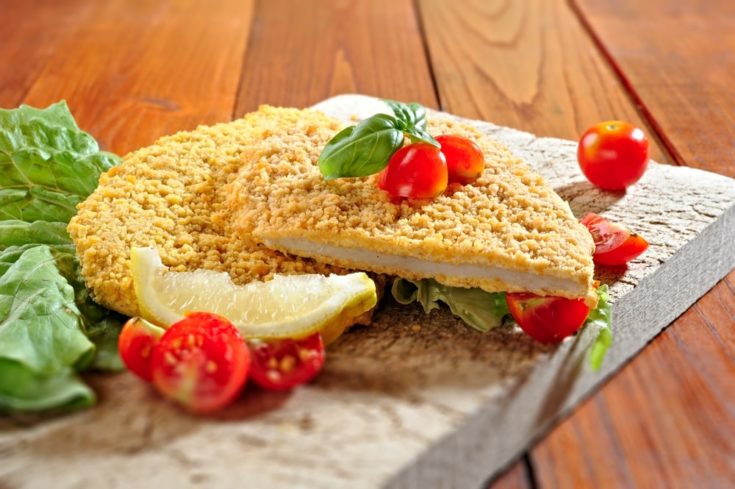 This Chicken Milanese Recipe is a classic Italian dish made with chicken breast, parmesan cheese that is tender and juicy from inside and crunchy on the outside.

Prep Time 30 minutes

Cook Time 15 minutes

Total Time 45 minutes
Ingredients
1 ½ pounds chicken cutlets, pounded 1/4-inch thick
⅔ cup plus 1/4 cup extra-virgin olive oil
½ cup all-purpose flour
8 ounces fresh mozzarella, cut into 1/2-inch pieces
1 pound cherry or grape tomatoes, halved
⅔ cup basil leaves
1 garlic clove, finely grated or minced
2 large eggs, beaten
1 ¼ cups panko bread crumbs
¼ cup grated Parmesan
2 tablespoons unsalted butter
Kosher salt
Freshly ground black pepper
Lemon wedges, for serving
Instructions
Season chicken with salt and pepper. Set aside.
Add 2/3 cup oil, garlic, basil, and salt to a blender and purée until smooth.
In a medium bowl, toss mozzarella and tomatoes with about half of the basil oil and salt to taste. Set aside.
Take 3 shallow bowls. Place flour in the first, eggs into the second and combine panko and Parmesan in the third.
Heat up a skillet over medium heat, melt butter and remaining 1/4 cup oil. Meanwhile, dip a chicken cutlet in flour, shake off any excess, then dip into the eggs mixture, then both sides into the panko mixture and transfer to a rimmed baking sheet. Repeat the same with remaining cutlets.
When oil is hot, add 2 cutlets at a time and fry for about 3 minutes until bottoms are golden. Flip and fry for another 3 minutes until golden and crispy all over. Transfer to a paper towel-lined plate and immediately sprinkle with salt.
Drizzle with remaining basil oil and serve with a squeeze of lemon and tomato-mozzarella salad (add more salt and-or basil oil if needed).
Nutrition Information
Serving Size
4
Amount Per Serving Calories 931Total Fat 60gSaturated Fat 18gCholesterol 158mgSodium 2011mgCarbohydrates 37gSugar 4gProtein 58g

Still Hungry! Try These Other Delicious Chicken Recipes:
So, Guys, I hope you enjoy this chicken breast milanese which I make on a weekly basis. All the chicken lovers who are looking for easy chicken milanese will enjoy this recipe. And if you like this recipe then Don't forget to share it with your friends on Pinterest, Facebook, and other social media platforms. And do follow us on Tumblr, Pinterest, facebook, twitter, and Instagram.