Instant Pot Chicken Alfredo – This easy flavorful instant pot chicken fettuccine alfredo is a great one pot meal that is kid friendly and family approved dish can be enjoyed on those busy weeknights.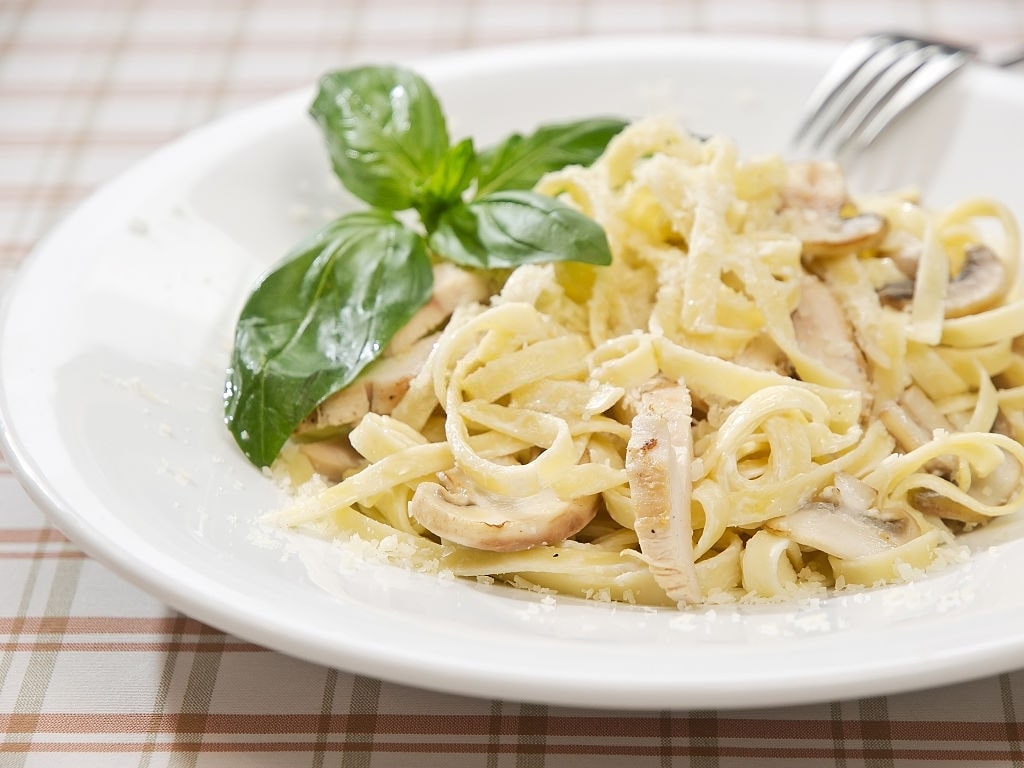 This recipe can be made under 20 minutes (including prep time) with simple ingredients that are already in your pantry consists of juicy shredded chicken breasts, fettuccine, cream, and parmesan cheese.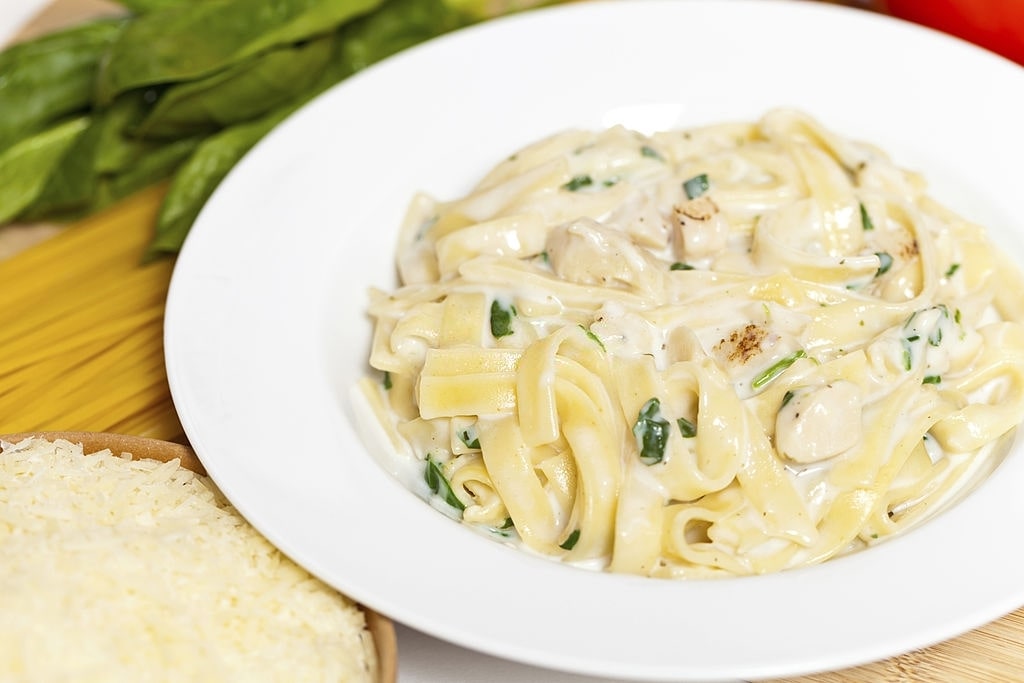 Instant Pot Chicken Alfredo – Important Tips
I am using fettuccine, but you can use any shape of pasta like penne or spaghetti, etc.
If you don't have shredded parmesan in hand, use a regular block of parmesan, but make sure to grate it with Microplane so that it melts well.
Avoid Pre Shredded parmesan because the sauce will become thin and not that creamy.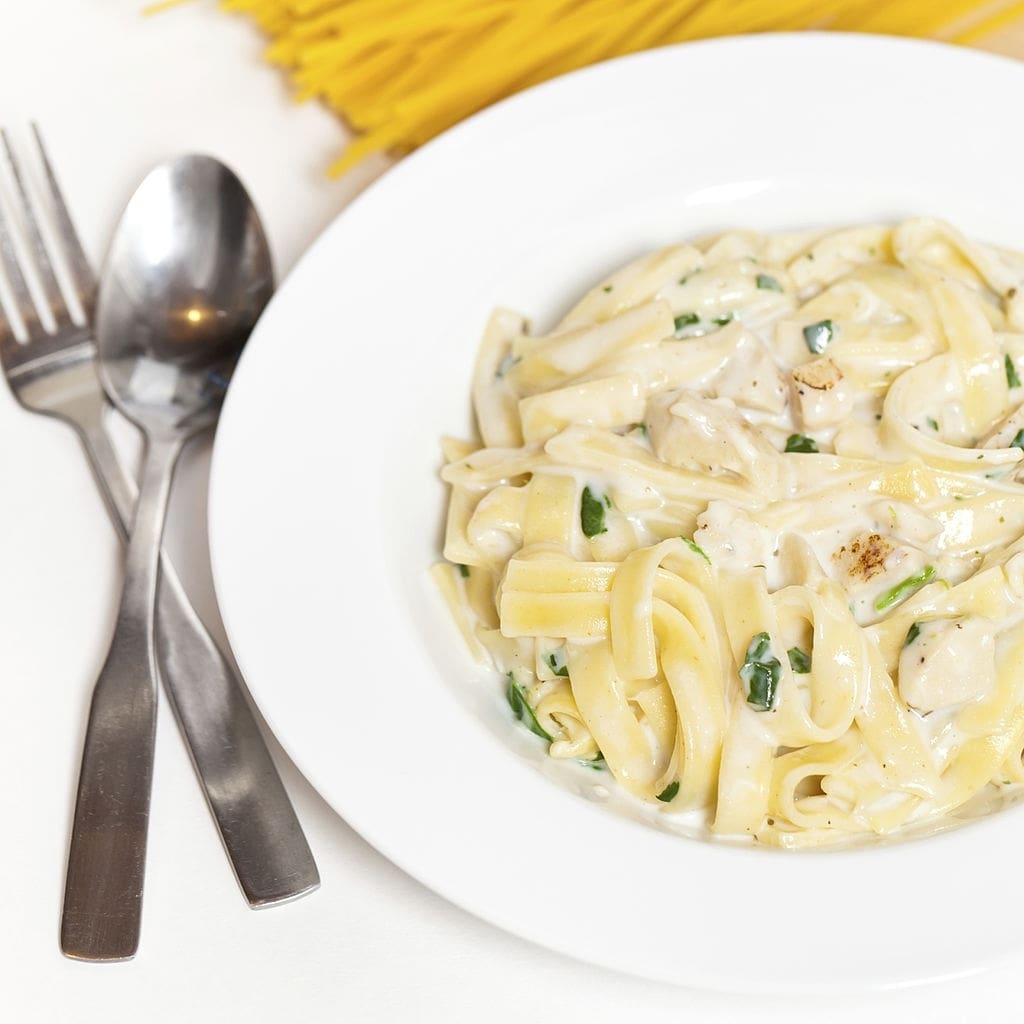 Try to use heavy cream instead of whipping cream, using whipping cream will make your sauce too thinner, its simply because it has less fat content.
Of course, you can use more parmesan cheese to adjust the thickness of your sauce if using whipping cream
When you open the lid the sauce will look watery and thin, don't worry as the sauce starts to cool down it will thicken.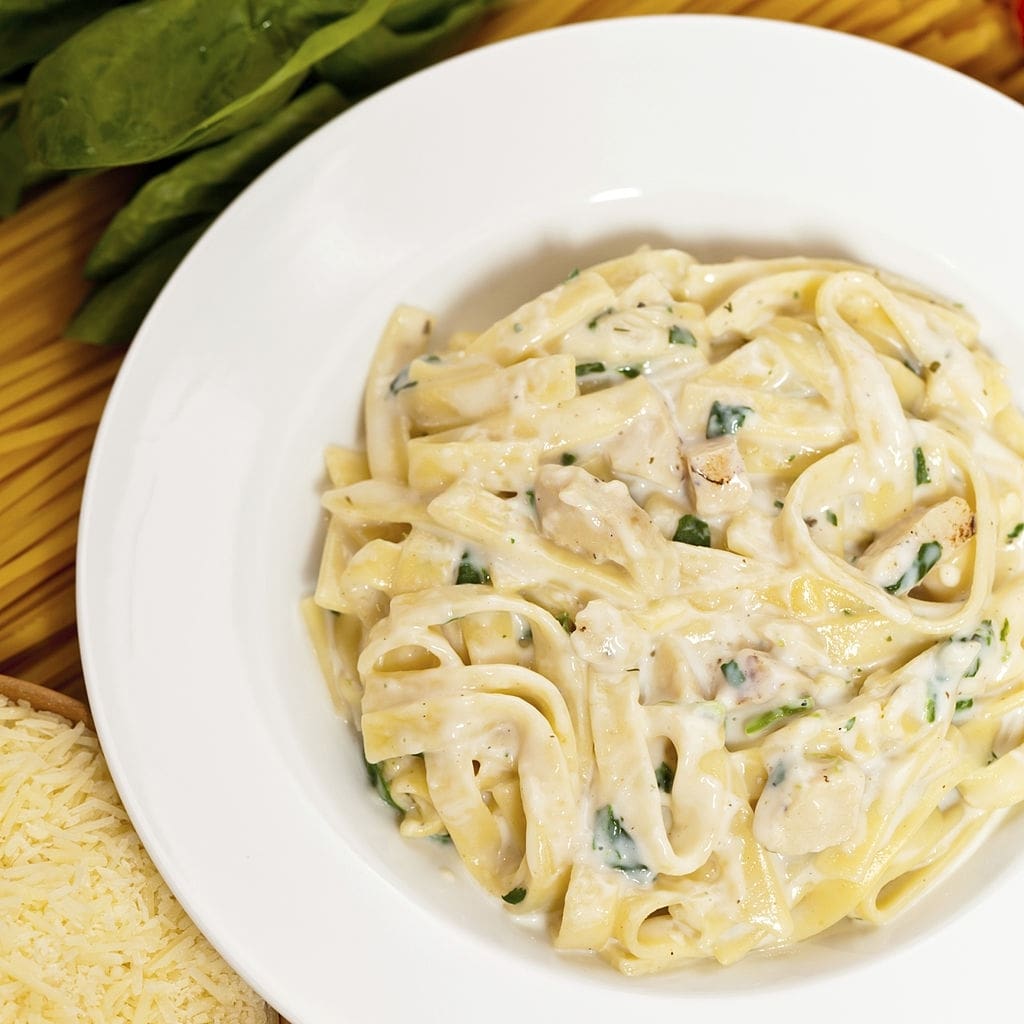 Frequently Asked Questions
What type of chicken to use for the best results?
I recommend using boneless, skinless chicken breasts, but you can use any leftover rotisserie chicken.
How to reheat the leftover chicken alfredo?
Its very simple! Add a splash of milk and reheat in the microwave until warmed through.
How to make this instant pot chicken alfredo vegetarian?
Just skip the chicken and the chicken broth and use vegetable broth instead. The rest will be the same.
What can i substitute for the heavy cream?
If you don't want to use heavy cream for any reason, use whole milk instead and add cornflour, extra parmesan to thicken the sauce. To further reduce it in overall calories, use skimmed fat-free milk and corn starch.
Can I add shrimp to this recipe?
Absolutely! Cooking may vary depending upon the size of the shrimp. If using small shrimps, add them after cooking and steam cook them (lid on). For large shrimps, there's no change in the cooking time.
Can I add vegetables to this instant pot chicken fettuccine alfredo?
Yes, of course, add vegetables like broccoli, cauliflower and carrots to make it extra heavy and complete meal.
Check Out These Alfredo Recipes: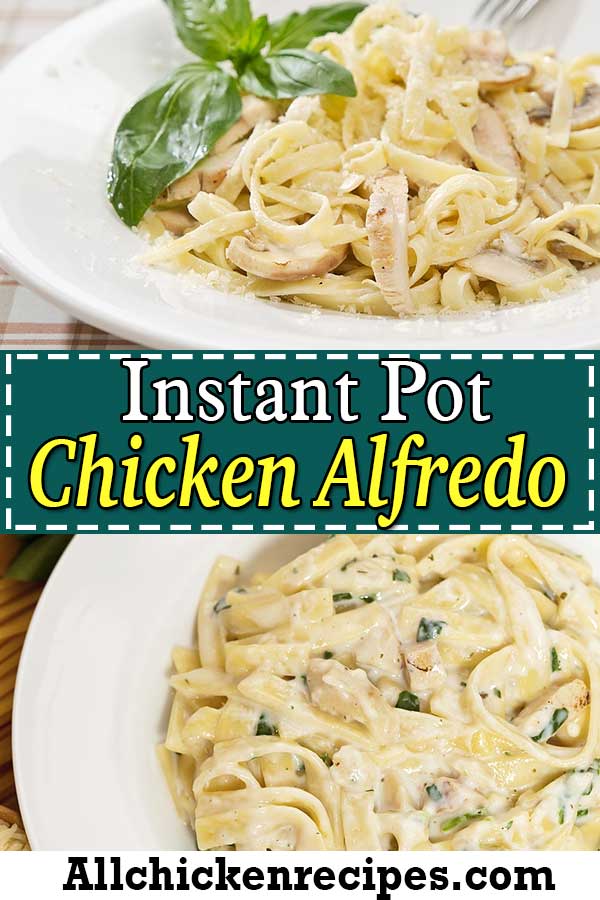 Yield: 4
Instant Pot Chicken Alfredo (Fettuccine)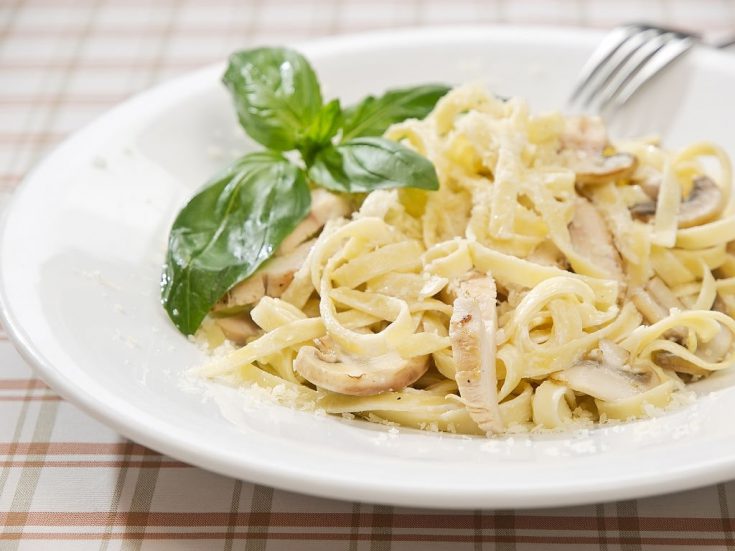 This easy flavorful instant pot chicken fettuccine alfredo is a great one pot meal that is kid friendly and family approved dish can be enjoyed on those busy weeknights.

Prep Time 5 minutes

Cook Time 10 minutes

Total Time 15 minutes
Ingredients
1 lb chicken breasts, boneless, skinless (about 2 breasts, cut each in half)
4 cloves minced garlic
3 tbsp butter, cut in a few small pieces
1 1/2 cups heavy cream (or half and half)
2 cups chicken broth, reduced sodium
1 1/2 tsp salt and pepper
10 oz fettuccine noodles, broken in half (little more than 1/2 lb)
1 cup grated parmesan cheese
Instructions
Add the minced garlic into the pot. Pour in the heavy cream and chicken broth. sprinkle with salt and pepper and stir well
Add fettuccine noodles (broken into half), press it down and then add the chicken breasts over the noodles.
Secure the lid on the pot, lock and set the knob to sealing position.
Set time to 6-7 minutes. Once done, let it do a natural pressure release for about 5 minutes.
Release any remaining pressure, open the lid, remove the chicken from the pot and stir well the pasta mixture. It may look too watery but it will thicken up.
Shred the chicken by using two forks and put it back into the pot.
Add the grated parmesan and give it a good mix. Add extra parmesan if it's too thin.
Done! Garnish with fresh parsley and serve with garlic bread or salad.
Recommended Products
As an Amazon Associate and member of other affiliate programs, I earn from qualifying purchases.
Nutrition Information
Serving Size
4
Amount Per Serving Calories 582Total Fat 24gSaturated Fat 13gCholesterol 134mgSodium 1777mgCarbohydrates 50gSugar 2gProtein 42g

Still Hungry! Try These Other Delicious Chicken Recipes:
So, Guys, I hope you enjoy this instant pot chicken fettuccine alfredo which I make on a weekly basis. All the chicken lovers who are looking for chicken alfredo in instant pot will enjoy this recipe. And if you like this recipe then Don't forget to share it with your friends on Pinterest, Facebook, and other social media platforms. And do follow us on Tumblr, Pinterest, Facebook, Twitter, and Instagram.