Want to make stews, stocks, broth soups, and other foods? Then I am sure that you will need a good quality stockpot, especially the best stainless steel stock pot for your daily cooking requirements.
On my blog, I had shared a lot of soup recipes and many other recipes that require broth or stock to make a dish more healthy and delicious.
But wait for a second, have you ever wondered what's the best-sized stock pot you need? Is it 4 quart, 5, 6, 8, 10, 12, 20 quart or 40 quarts, or even bigger like 80 or 100 quarts. It totally depends on your family size you have or the amount of food you want to make at once.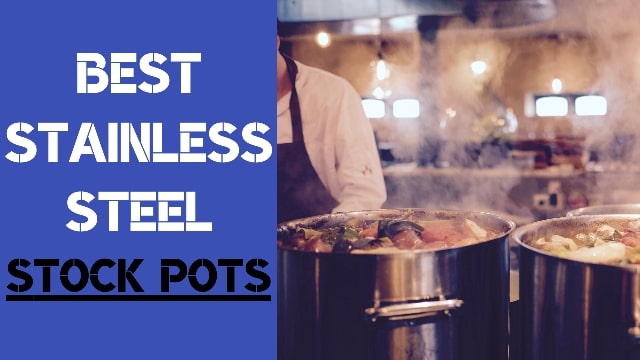 Mostly there are many types of stock pots available in the market, one with little taller and narrower, and another one with wider in circle but shorter in lengthwise.
Regarding the build quality, all are pretty good made with aluminum, copper, stainless steel, etc. But I highly recommend you buy the best quality stainless steel stock pot because it's very much affordable and long-lasting that anyone can use – from an amateur to a professional cook.
See the detailed reviews below that will help you select the best commercial grade stainless steel stock pot chefs are using and to choose the best size as per your needs.
Best Quality Stainless Steel Stock Pots
Best stainless steel stock pot - See the detailed guide to help you best size (quart) and select the best quality stainless steel stock pot chefs are using.
4 Quart Stainless Steel Stock Pot
High-quality soup pot with extra-tall sides perfect for boiling vegetables, simmering soups, making pasta sauces in slow cooking, preparing grains like quinoa, etc.
5.5 – 6.5 inches taller.
Built with 5-ply bonded construction for even heating throughout and warp-free strength
Highly polished starburst finish with stainless-steel cooking surface with natural stick resistance and prevents food from reacting.
Heat-resistant large stainless-steel handles with bolster and secured with rivets and flared pouring rim
Induction friendly and dishwasher-safe plus it oven and broiler safe up to 600 degrees F.
Lifetime warranty from the manufacturer.
It a great 4-Quart Stockpot with Lid
A full cap base on the saucepot features a thick aluminum core surrounded by stainless steel for rapid, even heating
Heavy-duty stainless steel with beautifully designed mirror finish look and has a thick aluminum core surrounded in its base that spreads heat quickly and evenly
Dishwasher-safe and oven safe up to 350°F and the handles are very much comfortable to hold.
Those durability thick rolled rims make it easy to pour from the pan without dripping
5 Quart Stainless Steel Stock Pot
This one is the most sold stockpot in the 5-quart range
Mirror polished finishing with 18-10 stainless steel for easy maintenance and cleaning.
Aluminum bade layered in the bottom to spread out the heat evenly and avoid hot spots
See how your food is cooking and when it needs your attention from the tempered glass lid with steam vent as well.
Durable silicone wrapped handle to hold it with ease and comfort
Induction friendly, gas, electric, etc plus its oven safe upto 350 degrees.
Can be used for canning/jarring
It comes with reinforced rim for long heating and pouring.
6 Quart Stainless Steel Stock Pot
Mirror finish look and beautiful looking pot by Cuisinart
Aluminum cored base for even heat distribution and prevents hot spots.
It doesn't react with your food or releases any color and its great for classic cooking techniques like slow cooking, boiling and making sauces that need a long time.
Those solid stainless steel handle stays cool and provides extra support and balance when lifting and pouring
The rim provides a drip-free pouring experience.
Locks in the moisture and nutrients because of the tight lid for better and flavorful results
Dishwasher Safe and cleans very easily
Induction cooktop friendly
10-inch diameter from rim to rim and inside height is 5″
The tight fitted Lid helps lock in heat and moisture for flavorful cooking
The thick aluminum core surrounded by stainless steel for even and quick heat spreading
Heavy-duty stainless steel mirror finish polished design for a classy look
Oven safe upto 350 degrees F.
Iconic styling handles stay cool when removing in and out of the oven and provide a comfortable grasp
Dishwasher-safe stockpot combines technology with the styling and quality that Farberware has delivered for decades
Induction suitable
8 Quart Stainless Steel Stock Pot
This is one of the best sellers on Amazon, you can check the reviews here. This is a MultiClad cookware which means it comes with triple-ply construction, and the features are –
Good grip on the stainless-steel handle and it stays cool at the time
Made of 18/10 stainless steel with solid aluminum core
Rims are tapered for drip-free pouring
Dishwasher friendly, broiler-safe as well as oven-safe up to 550 degrees F
Again a Farberware stockpot on our list, and you know why! Great looking, mirror finish and premium feel
Comes with a lid so you don't have to worry about making a chili pot, pasta pot or lobster pot recipe and it also helps seal in the heat and moisture.
Highly durable and the base has a thick aluminum core surrounded by stainless steel for even heating distribution
Dishwasher-safe and oven safe up to 350 degrees
10 Quart Stainless Steel Stock Pot
Now it's the 10-quart time! The first one most reviewed on Amazon is this stockpot.
Mirror Finish look and premium feeling when you hold it, good comfortable handles for good griping and are designed to stay cool on the stovetop.
The lid perfectly fits in, so that your food never misses out on nutrients and the moisture stays intact.
Rims are tapered for clean and easy Drip-Free Pouring
Fits in All Standard Ovens
Ideal for Lasagna, Casseroles and Au Gratin Potatoes
Dishwasher-Safe and Oven safe upto 500°F.
Cook on stovetop, oven, or under a broiler.
It is also Freezer safe for easy food storage.
12 Quart Stainless Steel Stock Pot
It is highly durable because it has a heavy aluminum core between two layers of stainless steel which can easily handle high heat and pressure.
The aluminum core surrounded evenly distributes the heat and provides superior conductivity, and its good if there's any browning process in your cooking.
The lid with this pot is transparent so that you can always look at what cooking inside and if any steps need to be done further.
Induction ready because of its Tri-Ply construction
Dishwasher-safe with calphalon's full lifetime warranty.
20 Quart Stainless Steel Stock Pot
Easily holds 7 regular size canning quart jars or 8 pint jars.
Diameter 13-inch, Depth 9 inch and width with handle 17. 5 inch
Made of 18/10 stainless steel and mirror polished finishing.
Base with aluminum core for even heat distribution and is induction stovetop friendly
Glass lid with steam vent to view inside while cooking.
Riveted handles are comfortable and stay cool all the time.
Oven safe up to 350F, dishwasher safe, stovetop friendly, electric, glass, ceramic, halogen, etc.
40 Quart Stainless Steel Stock Pot
Heavy-duty 3-ply bottom between two layers of stainless steel surrounding a 5 mm thick aluminum core
Superior heat distribution and induction ready.
Work well with electric and natural gas heat
Riveted handles and the pot is 16.5″ diameter, 12″ tall, and the lid handle stands 1.75″.
Cook in big batches with no sticking or burning.
60 Quart Stainless Steel Stock Pot
Good to serve for a big crowd
Comes with Lid and Basket.
Basket is lifted 1.5″ off the ground for steaming
17″ Wide and 16.5″ tall and the basket is 14.25″ Wide and 11.75″ tall
The bottom is single ply, can be greatly used for steaming and boiling, so having a triply bottom is not at all necessary.