Chicken Quesadilla – These easy healthy Mexican chicken quesadillas are loaded with chicken, veggies and melted cheese that everyone will love and a perfect family approved meal.
You can make the mixture in advance and refrigerate it. Then, assemble and cook the chicken quesadillas when you're ready to serve them, and within minutes they will be ready.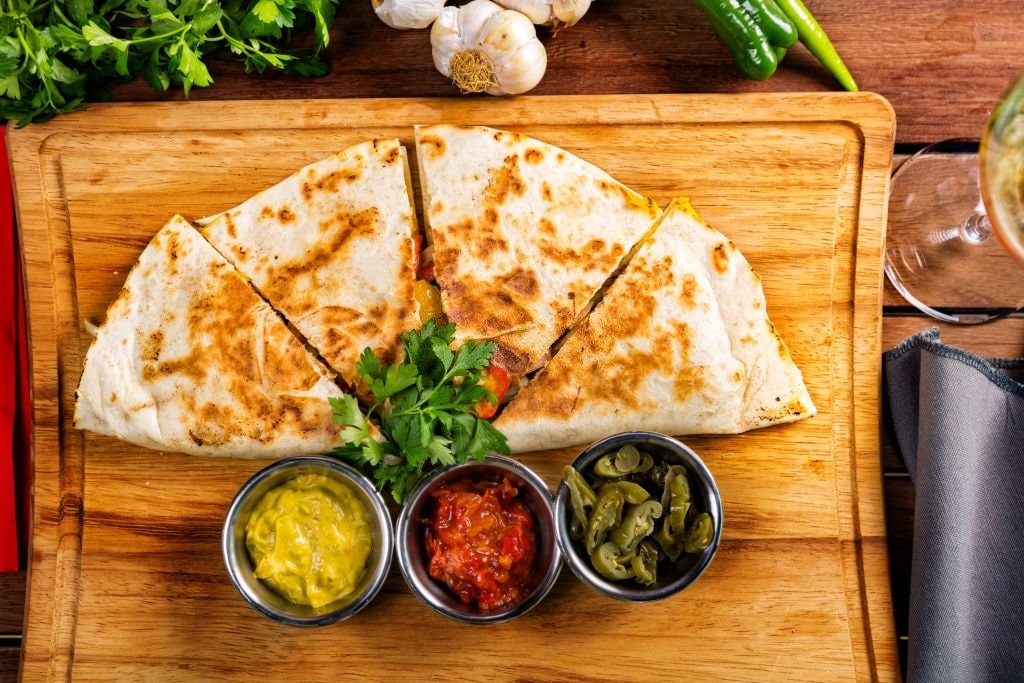 Ingredients Substitute
I am using chicken breasts you can use any leftover rotisserie, ground chicken or turkey or grilled chicken.
If you don't like bell pepper then use carrots or zucchini instead.
Any cheese will work here that melts well but feel free to omit if dairy intolerant
You can use regular flour or whole wheat tortillas or choose any as per your preference.
How to make Chicken Quesadillas?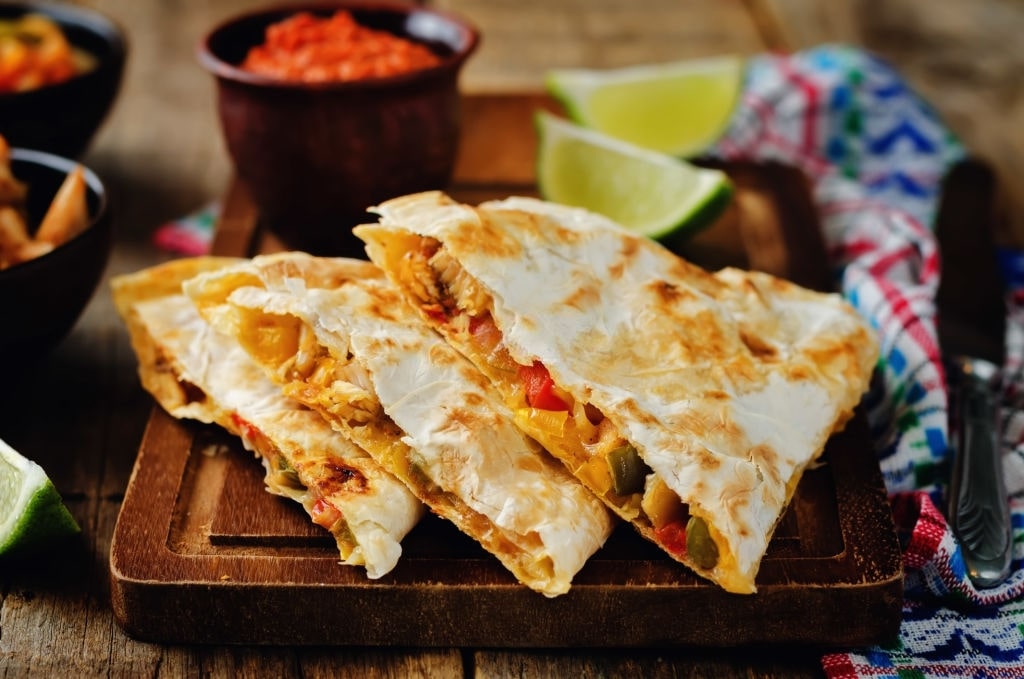 Frequently Asked Questions
Can I store the leftovers?
Absolutely! Pack them in an airtight container and store in the refrigerator for up to 4-5 days. When ready to eat, reheat on a non stick pan over medium heat for 3-4 or until cheese has melted and crispy again.
Can I Freeze These Chicken Quesadillas?
You can, but I don't recommend freezing, because it will lose texture and quality.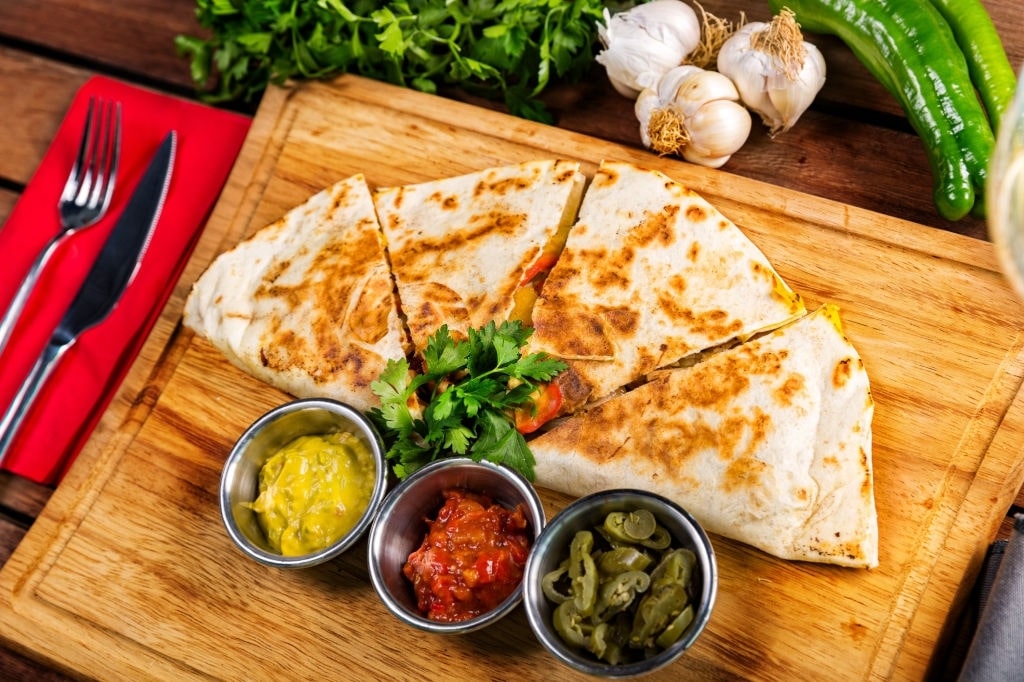 What type of cheese to use?
Any cheese will work – Cheddar, Monterrey Jack, Asadero, Oaxaca or Colby Jack cheese.
What to serve with these chicken quesadillas?
I like to serve them with salsa and sour cream, you can serve with guacamole or pico de gallo.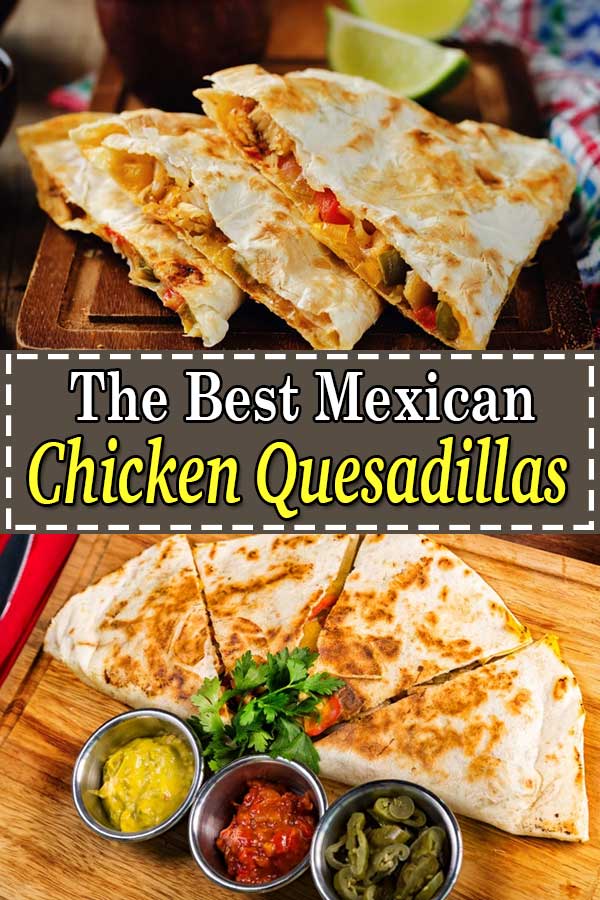 Check my other Mexican Dishes:
Chicken Quesadillas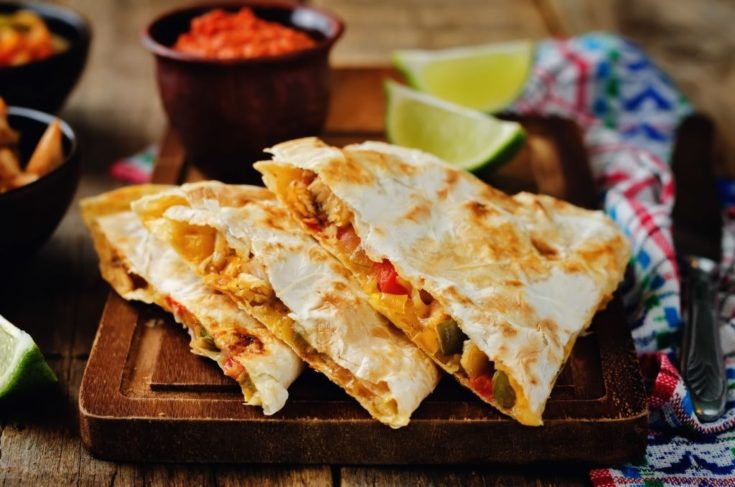 These easy healthy Mexican chicken quesadillas are loaded with chicken, veggies and melted cheese that everyone will love and a perfect family approved meal.
Ingredients
1 1/4 lbs chicken breasts, boneless skinless, diced into 1/2-inch cubes
1 tsp ground cumin
2 tsp chili powder
Salt and freshly ground black pepper
4 tsp olive oil, divided
2/3 cup red onion, chopped
2 garlic cloves, minced
1 red bell pepper, chopped
1 green bell pepper, chopped
1 Tbsp fresh lime juice
6 flour tortillas (about 10-inch burrito size)
3 Tbsp butter, melted
1 1/2 cups Monterrey Jack cheese, shredded (6 oz.)
1 1/2 cups cheddar cheese, shredded (6 oz.)
Instructions
Season chicken with cumin powder, chili powder, salt, and pepper.
Heat a non-stick skillet over medium-high heat. Add 2 tsp olive oil. Once hot, add chicken and cook for about 6 minutes or until fully cooked through, turning occasionally. Set aside on a bowl.
Heat remaining oil into the skillet. Add red onion, green bell pepper, red bell pepper and saute for about 5 minutes or until tender. Add garlic and cook for 1 more minute.
Once cooked, transfer to the chicken bowl, add lime juice and toss to coat.
Wipe out the skillet and add the butter, once melted then add the tortillas and keep the buttered side down. You can also melt the butter separately and then brush the tortillas.
Add cheddar and Monterrey cheeses together and sprinkle 1/2 cup over the tortilla then add about 3/4 cup of the chicken mixture.
Fold the top half over and repeat the same with the second tortilla (You can make 2 on the same skillet).
Cook for about 2 minutes or until golden brown on bottom, flip the side and cook until golden brown on that side as well.
Done! Slice each quesadilla into 2 or 3 wedges and serve with your salsa or guacamole.
Nutrition Information
Serving Size
6
Amount Per Serving
Calories

547
Total Fat

25g
Saturated Fat

12g
Cholesterol

112mg
Sodium

1448mg
Carbohydrates

39g
Sugar

4g
Protein

40g
Still Hungry!! Try these other chicken recipes:
So, Guys, I hope you enjoy this Chicken Quesadilla Recipe which I make on weekly basis. All the Chicken Lovers who are looking for Chicken Quesadilla will enjoy this recipe. Don't forget to share it with your friends on Pinterest, Facebook, and other social media platforms. And do follow us on Facebook, Pinterest, etc. You may also like our Chicken Stew & Szechuan Chicken recipes.