Chicken fajitas are one of the simplest and most fun dishes to cook, so there's no excuse for not getting them right. Rather than buying an overpriced sachet of dried seasoning from the supermarket, follow our simple recipe below. You'll learn how to blend your own spice mix for tastier, more authentic fajitas – all cooked in a large skillet.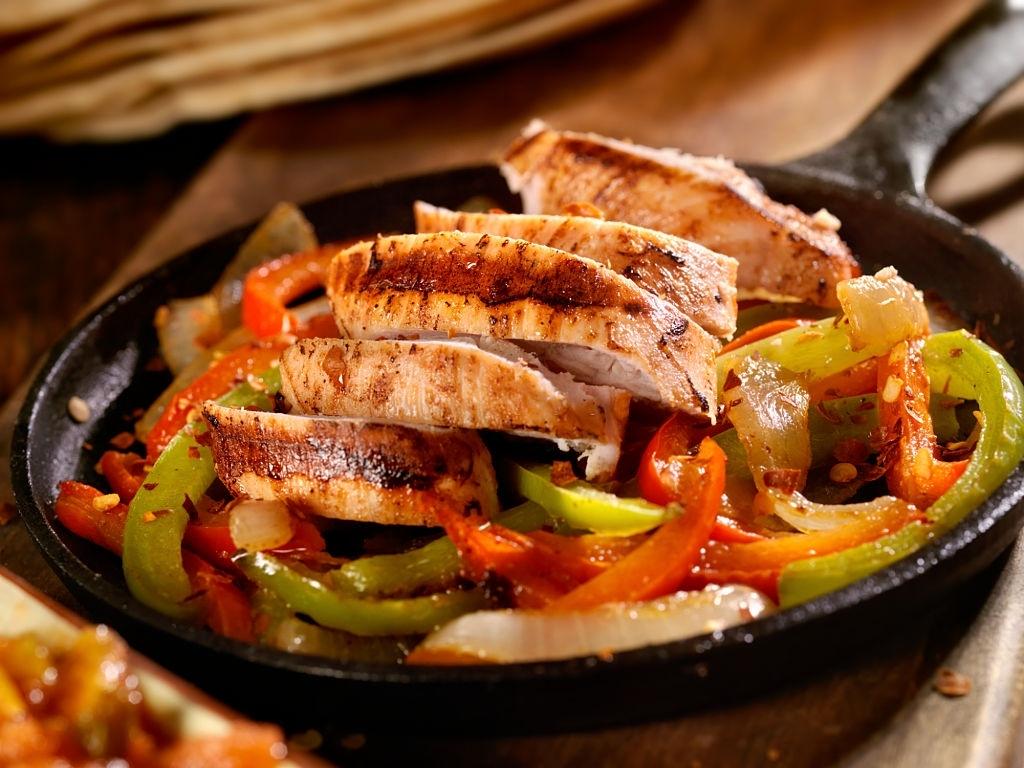 Making everything from scratch yourself only adds about 5 minutes to your prep time, but the results speak for themselves. All you need are five essential ingredients and a few optional extras if you want to customize the seasoning to your own style.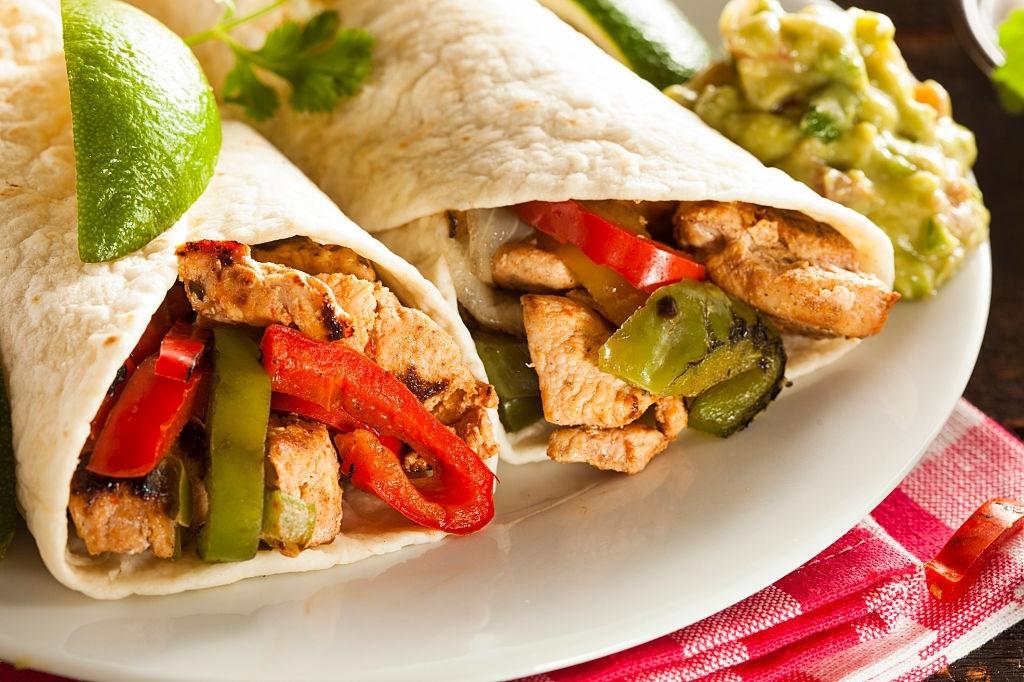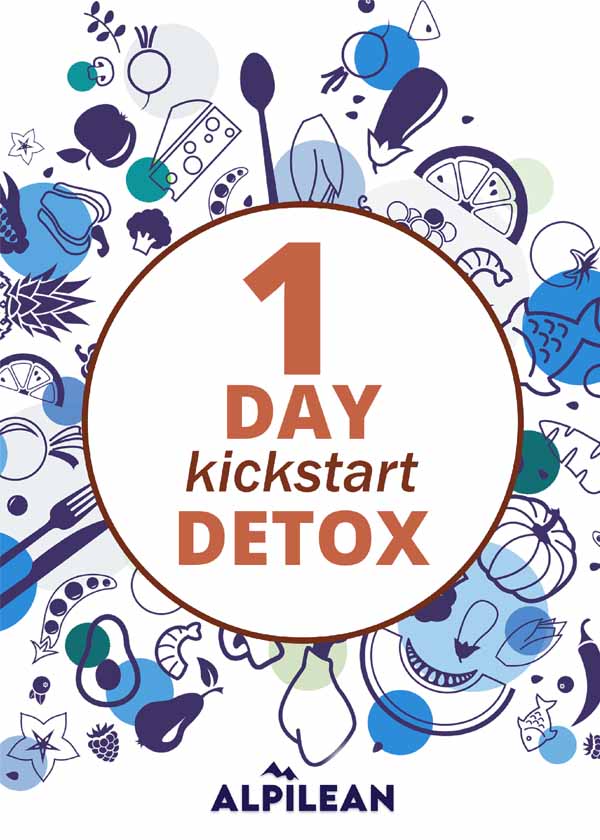 Chicken Fajitas

With Homemade Seasoning

Yield: 6
Chicken Fajitas With Homemade Seasoning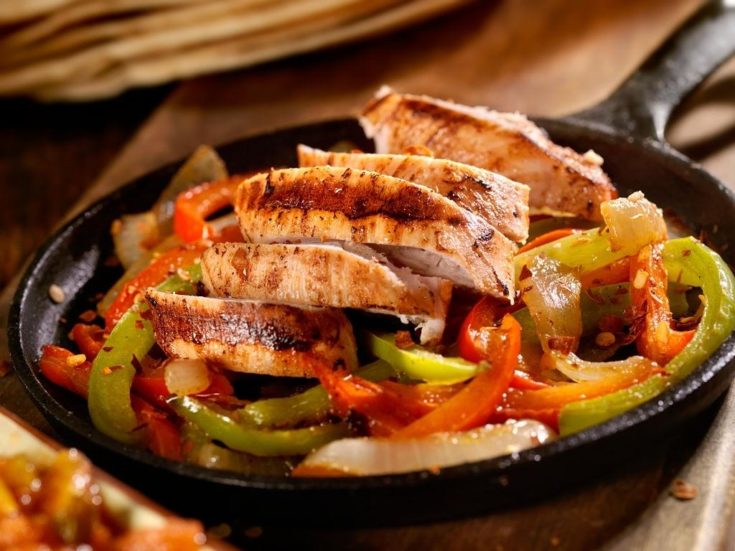 The best chicken fajitas are made with fresh, homemade seasoning. Follow our recipe to learn how to make this Mexican inspired dish from scratch.
Ingredients
For the chicken marinade
2 tbsp lime juice (freshly squeezed is best)
2 tsp cumin (either use ground cumin or grind your own with a pestle and mortar)
4 tbsp olive oil (extra virgin is ideal)
1 tsp garlic (minced or crushed - you can use garlic puree if you don't have fresh)
½ tsp chili (red pepper flakes or ground chili powder)
Optional extras:
Cilantro leaves (chopped finely)
1 ½ tsp dried oregano
3-4 finely chopped chili peppers (jalapeno or habanero)
Lemon juice in place of lime (to make the mix less sweet)
½ tsp cracked black pepper
For the chicken fajitas
1 lb chicken thighs or chicken breasts
3 bell peppers, core removed, cut in strips
1 large onion, sliced
2 tbsp olive oil
6 large flour tortillas (homemade, if possible - making tortillas is easy!)
Instructions
To marinate the chicken, combine the ingredients for the marinade in a large mixing bowl and toss your chicken pieces in it until thoroughly coated. Alternatively, you can add the chicken to a freezer bag, and pour in the marinade then toss to combine. Cover your bowl (or seal your bag) and transfer to the refrigerator for at least two hours, but preferably six to eight, to allow the flavors of the marinade to penetrate the meat.
Add cooking spray or a tablespoon of oil to a large skillet over a medium-high heat on the stovetop. If you're using a cast-iron skillet, make sure that it has been adequately seasoned before use to stop the meat sticking to the surface. When the pan is hot, add your chicken thighs or chicken breasts.
Depending on the capacity of your skillet, you may want to cook the chicken in batches to avoid bringing the temperature down too far by overcrowding the pan.
The type of chicken you use is up to you, although we would recommend chicken thighs over chicken breasts as the meat is much juicier. You can choose either boned or bone-in thighs. Boned thigh fillets will cook more quickly and can be sliced more efficiently; however, bone-in fillets will develop extra flavor as they cook.
Whatever cut of chicken you prefer, it's best to cook it in whole pieces. Slicing the chicken in strips before cooking often results in the meat drying out too quickly. Ideally, you want to cook the chicken until it is charred slightly around the edges, but the inside remains tender and juicy.
Once your chicken is perfectly cooked, remove it from the pan, and leave it to rest for five minutes (just like with steak, this helps the juices released during cooking to reabsorb into the meat). Then slice it into strips about a quarter-inch wide and set to one side in a covered dish. You may wish to place it in a low-temperature oven to keep it warm while you prepare the vegetables.
Stir fry the onions until they begin to turn translucent (adding a little more oil if the skillet is too dry). Then add the sliced bell peppers. Any peppers will do, but for the maximum visual effect, we recommend using one of each color, red, orange/yellow, and green. Cook the mixed vegetables thoroughly until tender. You can optionally turn the heat to high towards the end of the process in order to develop a slight char on the peppers.
When the vegetables are done, remove the skillet from the heat, add the cooked chicken and mix thoroughly. Heat your tortillas; you can use either the microwave or the oven. Serve in a basket or on a plate covered with a clean cotton cloth. You can serve the fajita mix in the skillet in which it was cooked - this helps to preserve the heat.
You'll also need to serve some condiments and other accompaniments so your guests can customize their fajitas to their exact liking. Popular toppings for chicken fajitas include sour cream, guacamole, salsa, pico de gallo, shredded cheese, or refried beans. You should also provide a bottle of your favorite hot sauce. A simple green salad with some sliced avocado makes an ideal side.
Now all that's left to do is for you and your guests to grab a tortilla each and start building your fajitas!
Nutrition Information
Yield
6
Serving Size
1 Taco per serving
Amount Per Serving
Calories

524
Total Fat

29g
Saturated Fat

6g
Trans Fat

0g
Unsaturated Fat

22g
Cholesterol

114mg
Sodium

389mg
Carbohydrates

39g
Fiber

4g
Sugar

5g
Protein

30g
All Chicken Recipes.com, occasionally offers nutritional information for recipes contained on this site. This information is provided as a courtesy and is an estimate only. This information comes from online calculators. Although allchickenrecipes.com attempts to provide accurate nutritional information, these figures are only estimates.
So, Guys, I hope you enjoy this
easy flavorful chicken fajita with seasoning
which I make on weekly basis. All the Chicken Lovers who are looking for
chicken fajita with homemade seasoning
will enjoy this recipe. Don't forget to share it with your friends on Pinterest, Facebook, and other social media platforms. And do follow us on Facebook,
Pinterest
, etc. If you are a keto guy then check my
Best Low Carb Chicken Fajitas
.