Chicken Broccoli Casserole – This easy casserole recipe is the ultimate comfort food that your whole family is going to love. This cheesy chicken and broccoli casserole can be made in just 25 minutes perfect for a family dinner.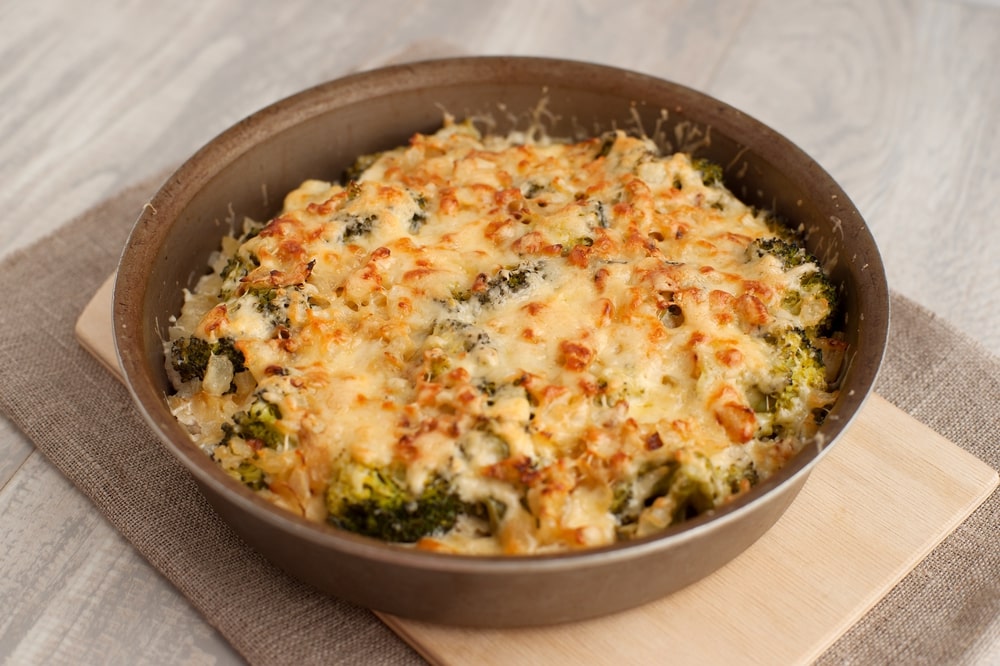 How to Make Keto Chicken Broccoli Casserole?
Here's how you can make the keto version, check below for the normal version.
Ingredients:
1 1/4 pounds cooked chopped chicken (3 cups)
1/4 cup butter, divided
1 1/2 cups shredded mozzarella, divided
1 cup heavy whipping cream
1/2 cup grated parmesan cheese
12 ounces broccoli, coarsely chopped
2 cloves garlic, minced
Salt and pepper
Instructions
Heat an ovenproof skillet (10-inch) over medium heat and add 2 tablespoons of the butter and let it melt.
Then add the broccoli and sauté for 4 minutes until tender and bright green. Remove the broccoli to a bowl.
Add the remaining butter in the pan, add the garlic, cook for 1 minute until fragrant.
Add the cream and bring to a simmer, then cook for 3 to 5 minutes until reduced by half.
Stir in all of the Parmesan and 1/2 cup of the mozzarella until melted. Stir in the broccoli and the chicken, season with salt and pepper and top with remaining mozzarella cheese.
Preheat the broiler. Set the pan about 6 inches from the heat and broil for 2 to 5 minutes until the cheese started turning brown.
Done!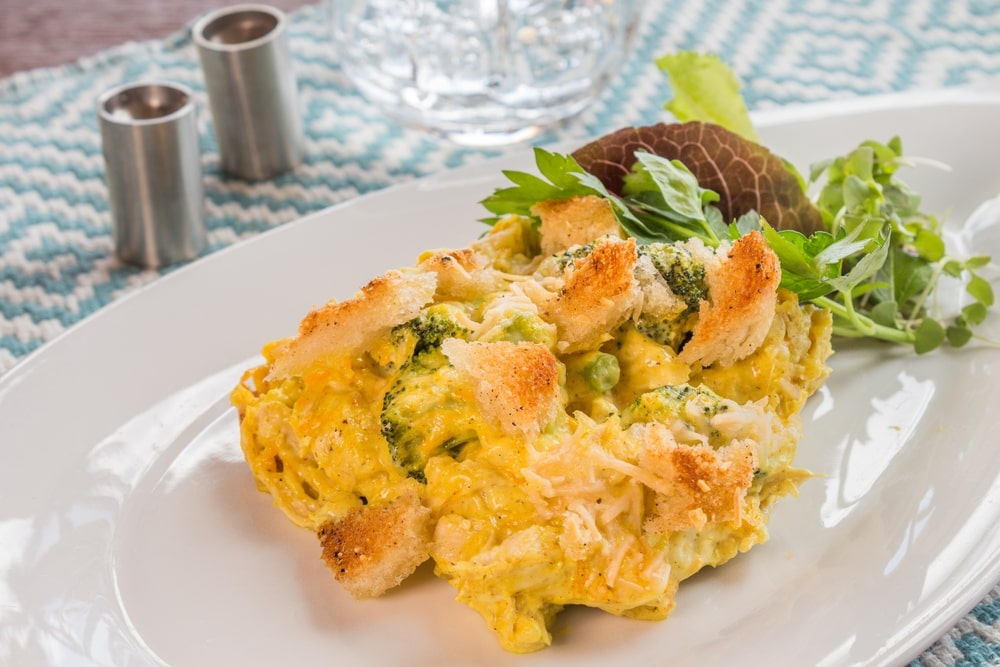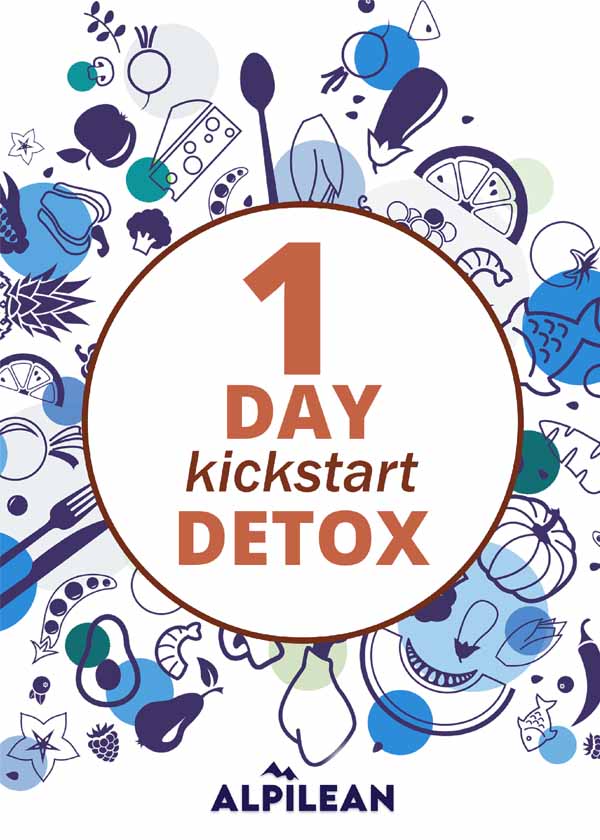 What to Serve with Chicken Broccoli Casserole?
Whether you are making with or without broccoli, it will still be delicious. Just serve it with green beans or a simple salad.
Can You Freeze the Broccoli Chicken Casserole with Stuffing?
Yes, you can do that easily, just take 2 or 3 pans (depending upon how much you are preparing), split the mixture and freeze. When you are ready to bake, thaw in the refrigerator and bake as in the instruction given below.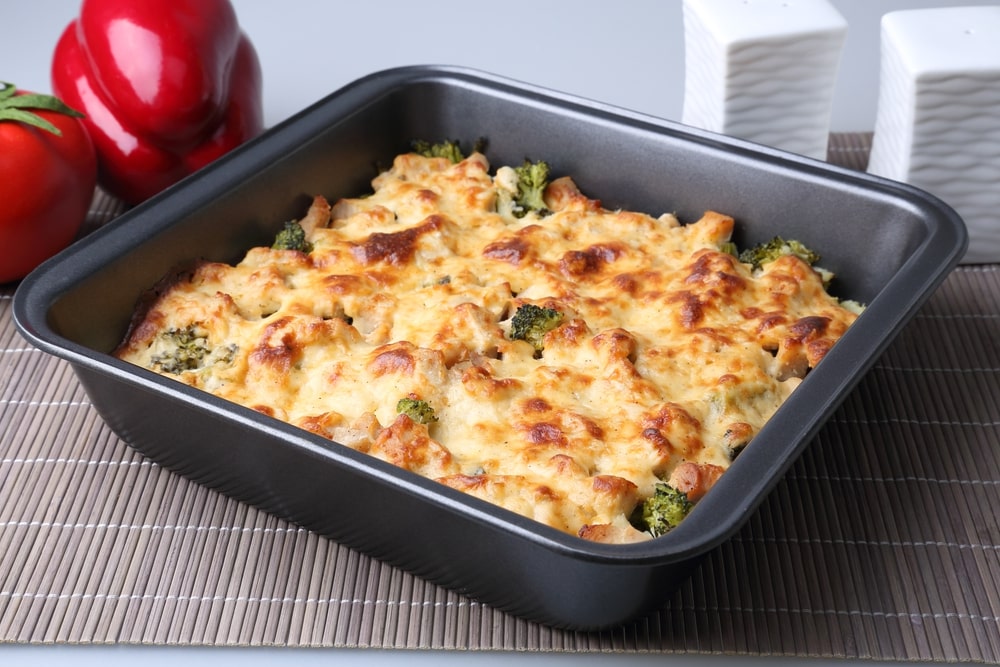 Can you Freeze Chicken broccoli cheese casserole?
Yes, why not! Just follow the same mentioned above, to reheat, thaw completely in the refrigerator and bake covered for about 20 to 30 minutes at 350ºF or pop the casserole in the microwave.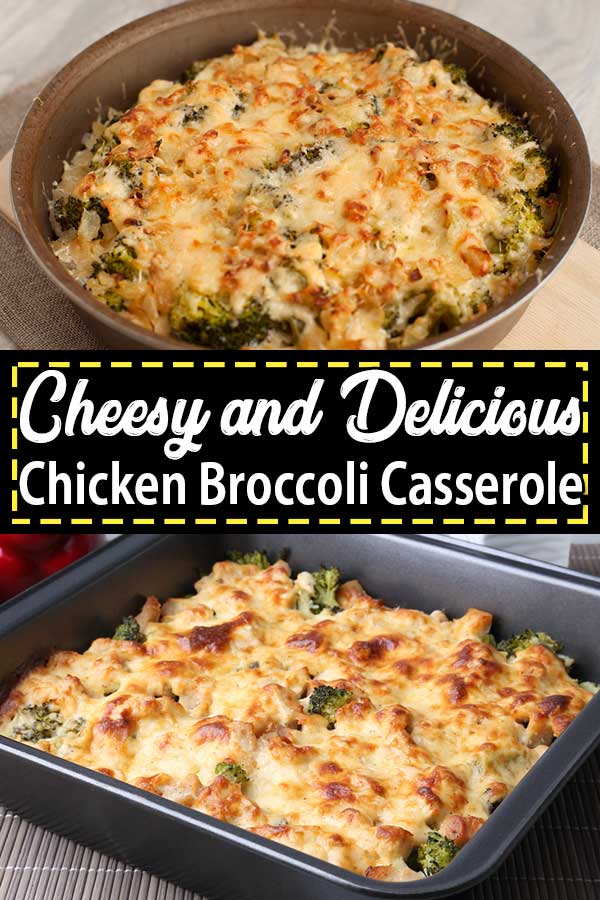 Chicken Broccoli Casserole
This Chicken Broccoli Casserole is the ultimate comfort food that your whole family is going to love. This cheesy chicken and broccoli casserole can be made in just 25 minutes perfect for a family dinner.
10 minPrep Time
25 minCook Time
35 minTotal Time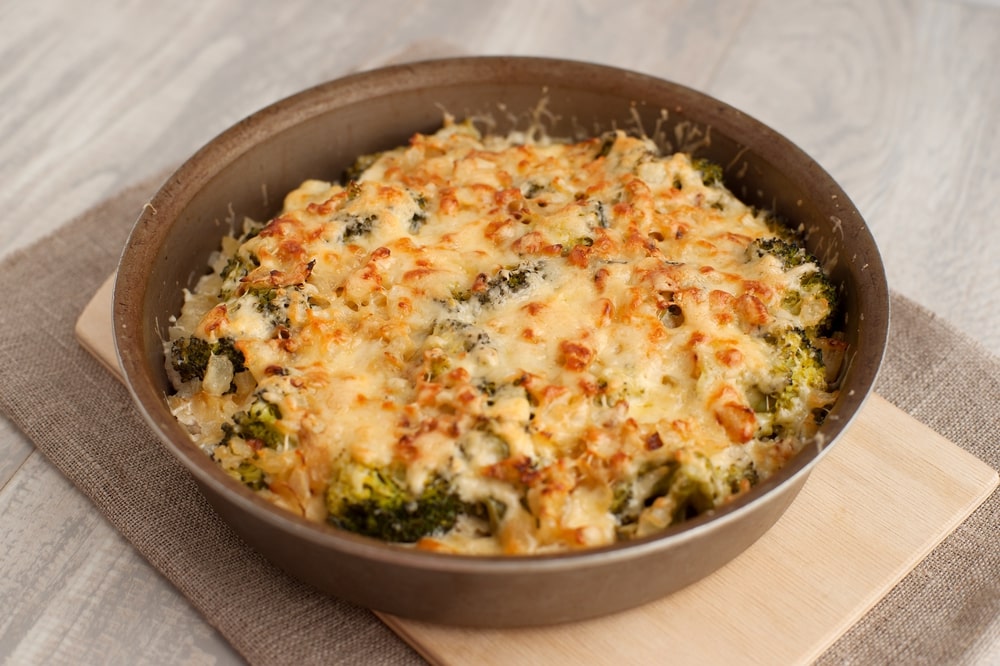 Ingredients
1 Pound boneless, skinless chicken breasts, cut into 1-inch pieces (about 2 cups)
2 tablespoons butter, melted
3 cups fresh broccoli florets
1/2 cup grated Parmesan cheese
1 can (10-3/4 ounces) condensed cream of chicken soup, undiluted
1/2 teaspoon curry powder
1/2 cup mayonnaise
1 cup bread, cubed
Instructions
Take a small saucepan and cook broccoli in water until crisp-and just tender; drain.
Take an 11x7-inch baking dish and grease it; add broccoli and set aside.
Combine the chicken, mayonnaise, soup, cheese, and curry powder altogether and spoon over broccoli.
Top with bread crumbs and butter. Bake uncovered for 25-30 minutes at 350° or until heated through.
Enjoy!
7.8.1.2
75
https://www.allchickenrecipes.com/chicken-broccoli-casserole/
Still Hungry Try These Delicious Chicken Recipes:
So, Guys, I hope you enjoy this chicken broccoli casserole recipe which I make on a weekly basis. All the chicken lovers who are looking for broccoli chicken casserole will enjoy this recipe. And if you like this recipe then Don't forget to share it with your friends on Pinterest, Facebook, and other social media platforms. And do follow us on Tumblr, Pinterest, facebook, twitter, and Instagram.