Chicken Salad Sandwich: This salad recipe is fully packed with flavors and can be quickly made in less than 15 minutes. This is the Best Chicken salad sandwich recipe you will ever have which can be served as a healthy lunch.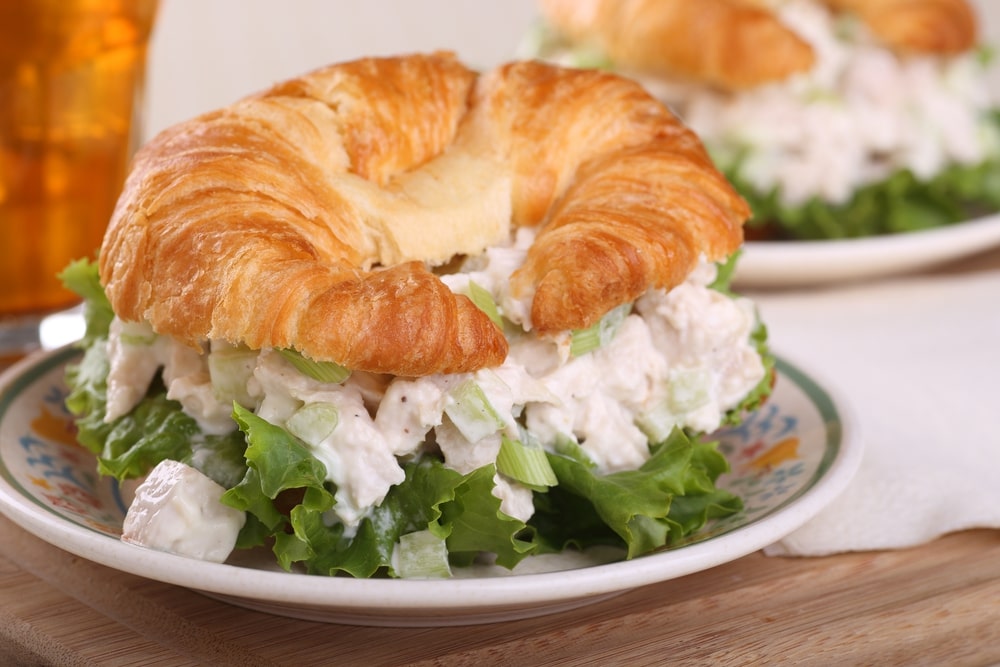 This easy chicken salad sandwich recipe with grapes and pecans makes it even more delicious! If you are tired of eating the same lunch every day then definitely this recipe can be a taste changer for you.
The main reason i like this recipe is because, you can prep this once and eat for a couple of days and this can save your time on your busy days and that why It's one of my favorite make-ahead lunches!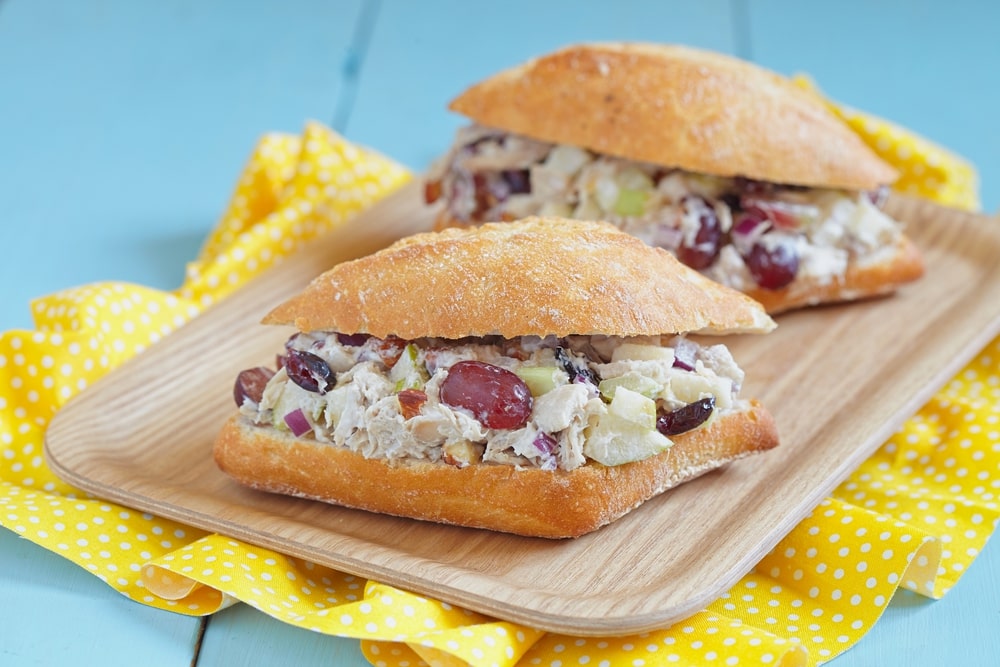 Chicken Salad Sandwich Ingredients
See the bottom of the page for detailed measurements and instructions.
Chicken: Shredded or Cooked chicken chopped.
Grapes: You can use seedless grapes either halved or quartered or try mixing in dried cranberries, chopped apple or dried cherries.
Veggies: Mainly as a veggie we are adding celery which gives that extra crunch to this recipe.
Nuts: Chopped walnuts, pecans or even almonds are all good to go for sandwich filling.
Herbs: 2 tbsp of dried or fresh dill.
Spices: Splash of lemon juice or a squeeze of Dijon mustard
Condiments: Just mayonnaise
Seasoning: Salt and pepper.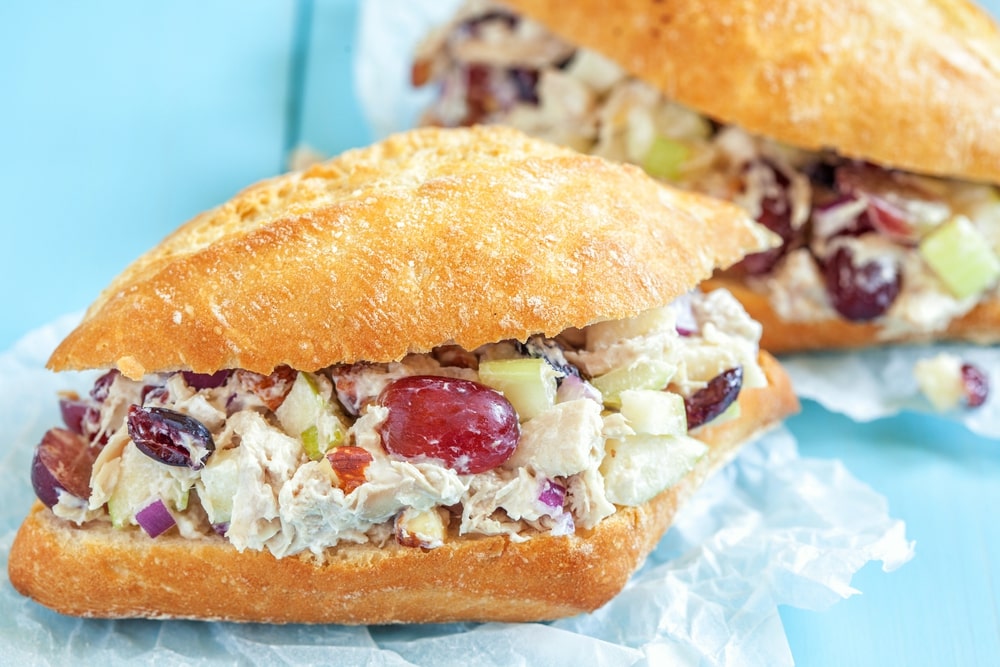 What's good to serve with chicken salad sandwiches?
As we are making the mayonnaise-based salad, a simple green salad will work well as a side dish. The lighter the dressing the better it will. You can try using vegetables such as lettuce and tomato or even avocado.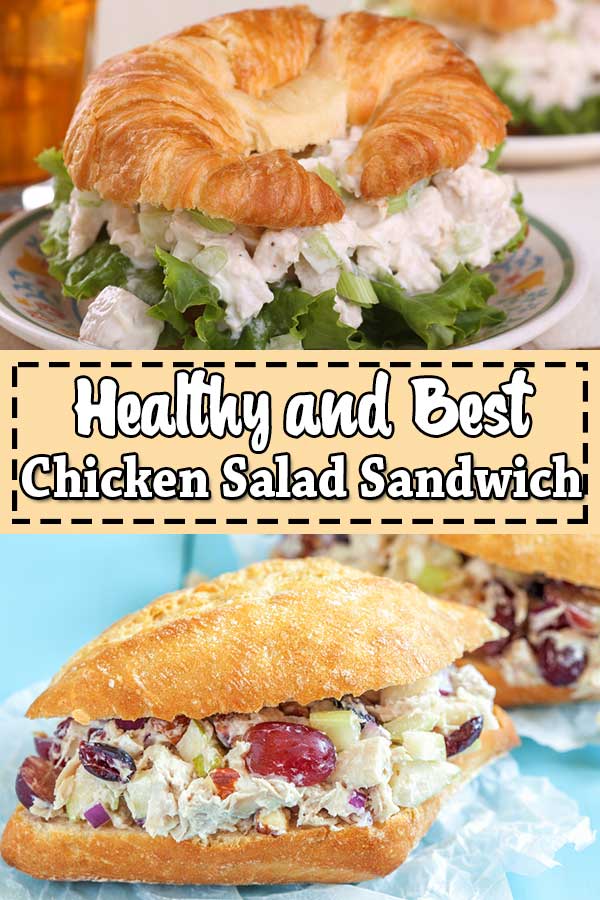 Healthy Chicken Salad Sandwich Recipe
Yield: 8
Chicken Salad Sandwich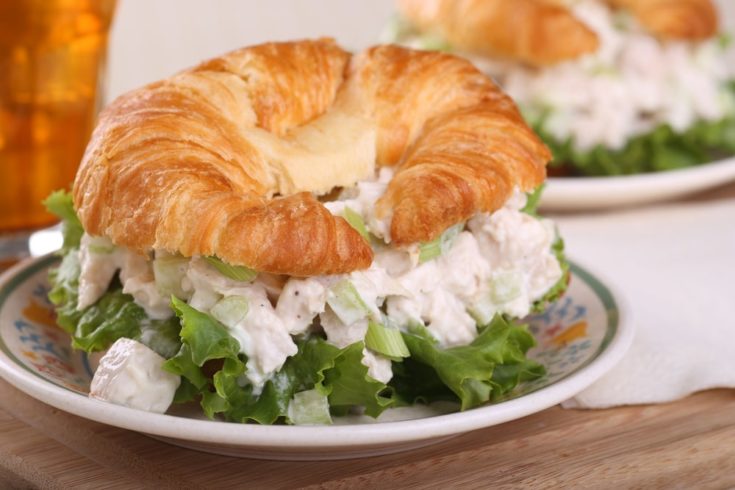 This Chicken Salad Sandwich recipe is fully packed with flavors and can be quickly made in less than 15 minutes. This is the Best Chicken salad sandwich recipe you will ever have which can be served as a healthy lunch.

Prep Time 20 minutes

Cook Time 50 minutes

Total Time 1 hour 10 minutes
Ingredients
2 pounds boneless skinless chicken breast (You'll need about 4 cups)
2 celery ribs, chopped
2 tbsp olive oil
1 cup mayonnaise
1 cup seedless grapes, halved (red and green varieties are great)
1 tbsp Dijon mustard
1 cup almonds, thinly sliced
1 tbsp fresh parsley, chopped
3 scallions, thinly sliced (white and green parts)
Juice of 1 lemon
2 tbsp fresh dill, chopped
1 tsp Kosher salt (start with 1/2 teaspoon, then add more, to taste)
Freshly ground pepper
Instructions
Pre-heat oven to 350°F/176°C.
Sprinkle chicken pieces with salt and pepper and rub with olive oil all over.
Bake until internal temp reaches 165°F (using an instant-read thermometer) for about 45 to 55 minutes.
Remove the chicken from the oven and let it completely cool and roughly chop into ½ inch cubes.
In a large bowl, mix the diced chicken, almonds, celery, grapes, dill, scallions & parsley.
Take a medium bowl and mix mayonnaise, mustard, lemon, salt, and pepper all together.
Now the mayo mixture to the chicken mixture and stir until well mixed.
Cover the bowl with plastic wrap and refrigerate for at least an hour.
Serve on bread with green leaf lettuce or on a bed of greens with sliced tomatoes and avocado. Add more toppings to your taste!
This chicken salad can be stored in an airtight container for up to 2 days in the refrigerator.
Nutrition Information
Serving Size
8
Amount Per Serving Calories 426Total Fat 33gSaturated Fat 5gCholesterol 94mgSodium 516mgCarbohydrates 7gSugar 4gProtein 29g

Still Hungry Try These Delicious Chicken Recipes:
So, Guys, I hope you enjoy this best chicken salad sandwich recipe which I make on a weekly basis. All the chicken lovers who are looking for chicken salad sandwich recipe with grapes will enjoy this recipe. And if you like this recipe then Don't forget to share it with your friends on Pinterest, Facebook, and other social media platforms. And do follow us on Tumblr, Pinterest, facebook, twitter, and Instagram.