Air Fryer Chicken Wings – These chicken wings can be made in just 30 minutes with no oil added which are so crispy and delicious makes them healthier and a perfect fit for keto lovers.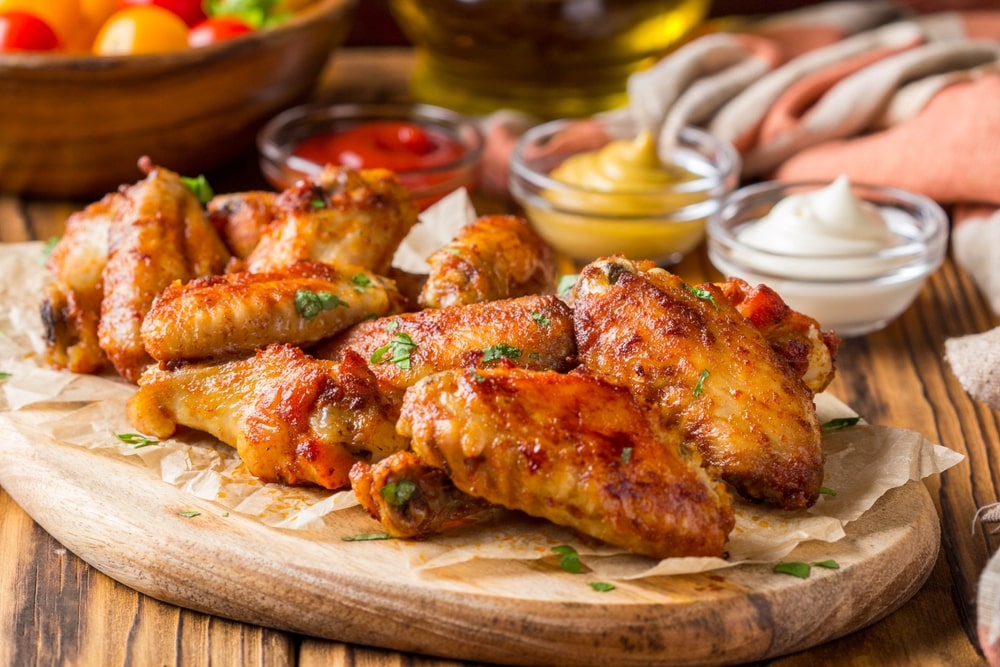 Which Air Fryer Do You Need?
The benefit of using air fryer is that the chicken you cook is crispy and juicy without deep frying. Now, which air fryer do you need?
Well…these are my top picks for you!
Breville Smart Oven Air Fryer: This Super convection provides a greater volume of air to ensure fast and even heat distribution, perfect for air frying, dehydration and roasting but this is very pricey can be used to make Toast 9 slices, Bagel, Airfry, Reheat, Roast, Slow Cook, Broil, Bake, Warm, Pizza, Proof, Cookies, Dehydrate.
Cuisinart Air Fryer: This can toast up to 6 slices of bread, bake a 12-inch pizza, air Fry 3lbs of chicken wings or roast a 4 pound chicken. This can be used for Air Fry, Convection Bake, Bake, Convection Broil, Broil, Warm, Toast.
T-Fal Actifry 2-in-1 Air fryer: This is great for even cooking letting you make up to 2lbs works great for wings and fries. You can cook two separate dishes at the same time using the removable cooking plate, so your wings, fish, and chips are ready at once.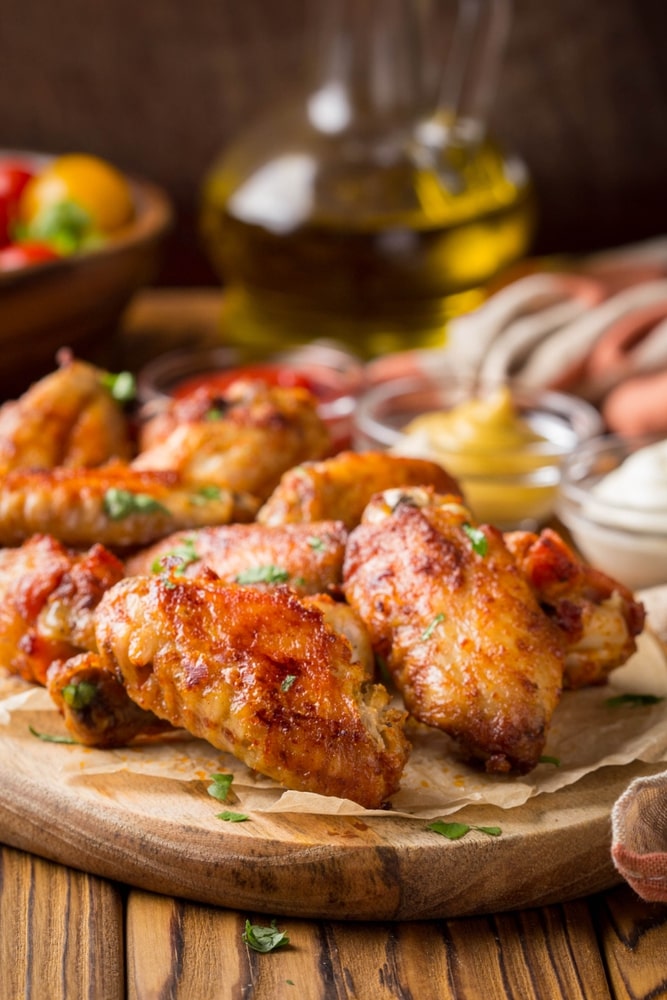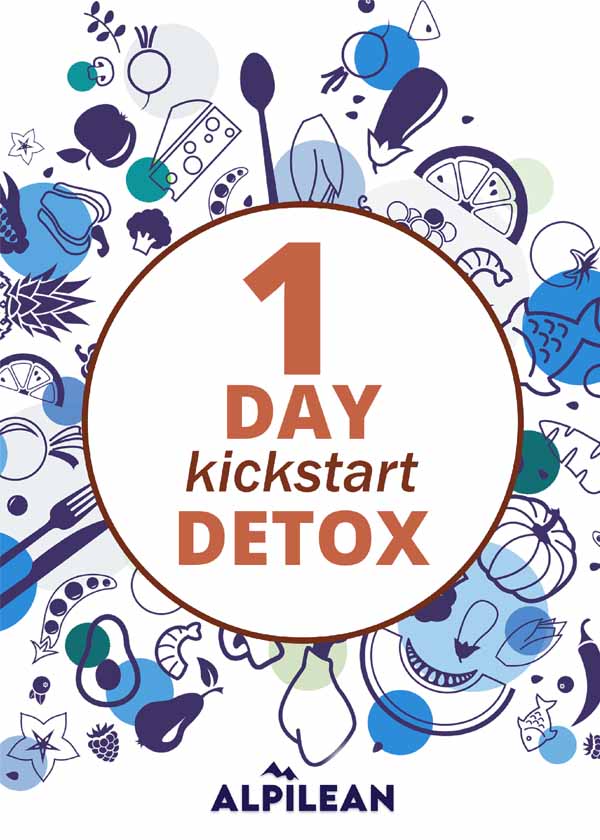 Air Fryer Chicken Wings Cooking Time
For this recipe, i have seen that 15-20 minutes at 250 degrees F works great for me. Now if you have two racks, rotate and flip the wings over.
How to Cook Frozen Chicken Wings in Air Fryer
For this air fryer frozen chicken wings add another 5-10 minutes to the cooking time to help them thaw! Insert a meat thermometer into the wings and it should read 165°F. Now increase the temperature to 380 degrees and follow the recipe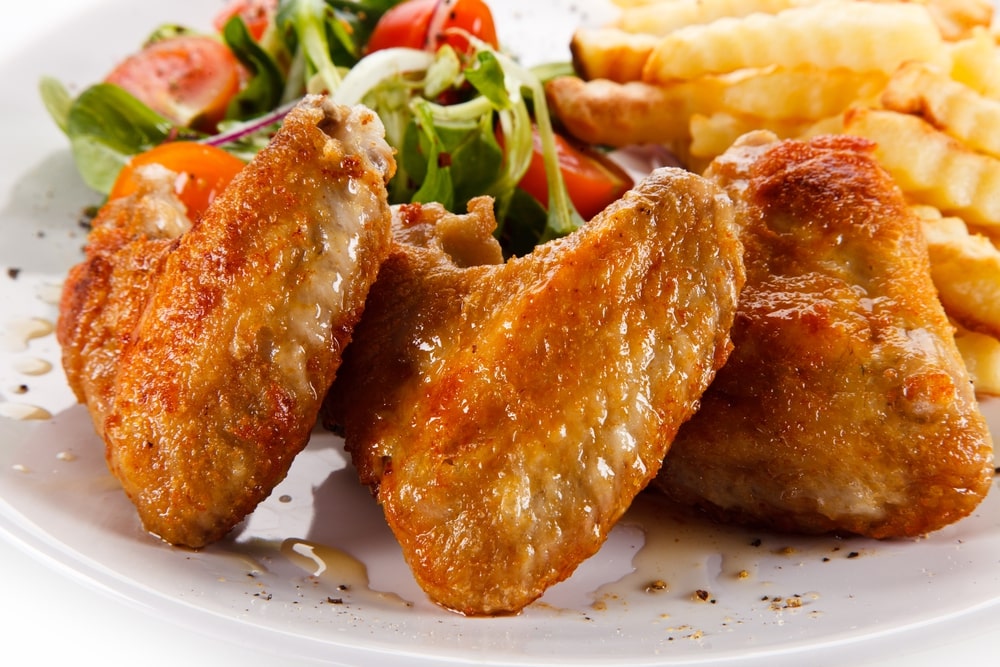 What to Serve with Chicken Wings?
I like to serve my chicken wings with celery sticks, Buffalo Sauce or Blue Cheese for dipping.
You can also serve it with Ranch dressing, onion rings, coleslaw, and fried mozzarella sticks.
Tips and Tricks
There is no oil needed.
Don't overcrowd the basket.
Add the sauce (if using) at the end otherwise it will usually burn before the chicken wings are cooked.
Shake several times for even cooking.
Check the cooking time depending on what air fryer you are using.
Air Fryer Chicken Wings
These chicken wings can be made in just 30 minutes with no oil added which are so crispy and delicious makes them healthier and a perfect fit for a keto lovers.
5 minPrep Time
30 minCook Time
35 minTotal Time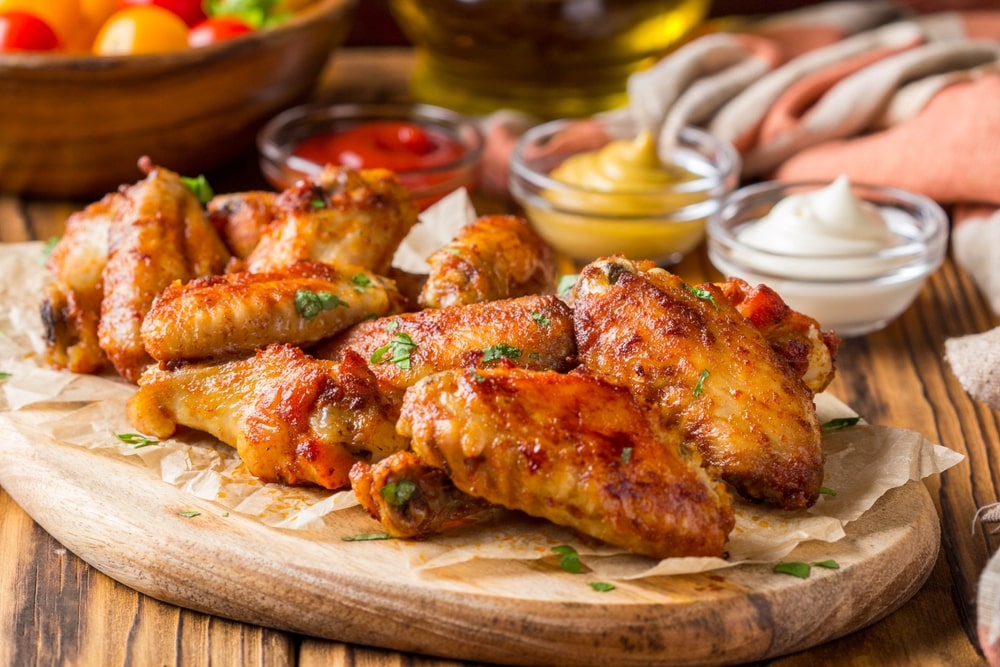 Ingredients
Instructions
Take a large bowl and toss the wings with baking powder, lemon pepper and salt.
Grease the basket for the air fryer oven.
Place the wings onto the basket in a single layer and cook for 15 minutes at 250 degrees.
Flip the wings over and increase the temperature to 480 degrees or the highest your air fryer goes. Air fry for about 15 to 20 minutes, until chicken wings are done, crisp or golden brown.
7.8.1.2
74
https://www.allchickenrecipes.com/air-fryer-chicken-wings/
Still Hungry Try These Delicious Chicken Recipes:
So, Guys, I hope you enjoy this air fryer chicken wings recipe which I make on a weekly basis. All the chicken lovers who are looking for chicken wings in air fryer will enjoy this recipe. And if you like this recipe then Don't forget to share it with your friends on Pinterest, Facebook, and other social media platforms. And do follow us on Tumblr, Pinterest, facebook, twitter, and Instagram.