Chicken Kiev: This easy recipe is one of my favorite chicken recipes with each chicken breast that is crispy on the outside coated with crisp breadcrumb and tender from inside with full of stuffed butter and spinach inside. Chicken Kiev can be made in just 15 minutes and it is a perfect evening snack option for your family.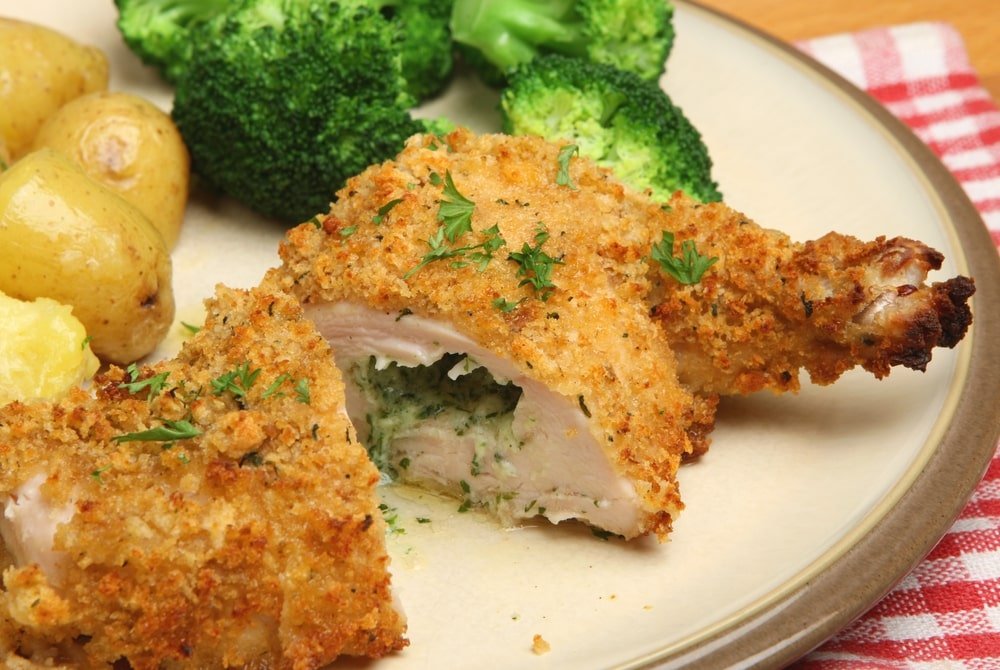 What is Chicken Kiev?
Chicken Kiev is particularly popular in the Post-Soviet states and several other countries of the former Eastern Bloc, and in the English-speaking world. This dish is made of chicken fillet pounded and stuffed with butter, then coated with bread crumbs and eggs and either it is fried or baked (totally your choice).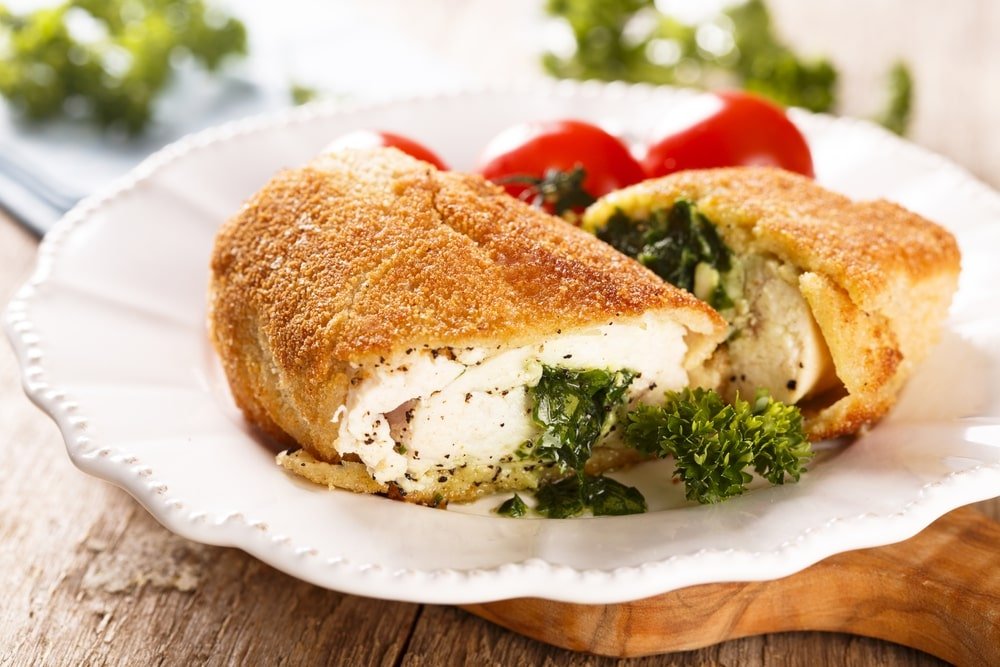 In general, the dish of stuffed chicken breast is also known côtelette de volaille in Russian, Ukrainian, and Polish cuisines. The dish is also named suprême de volaille à la Kiev because fillets are often referred to as suprêmes in professional cookery.
This recipe can easily serve 3-4 people. If you love to eat chicken breast recipes then I am sure that you will love this easy chicken kiev recipe as well. Each tender chicken breast is stuffed with a rich buttery sauce which tastes delicious. This recipe is the all-time best even when i was a kid my grandmother used to cook it. Actually, this chicken Kiev can be made with just a few ingredients even if you don't have spinach in your pantry you can omit that and use parsley leaves instead.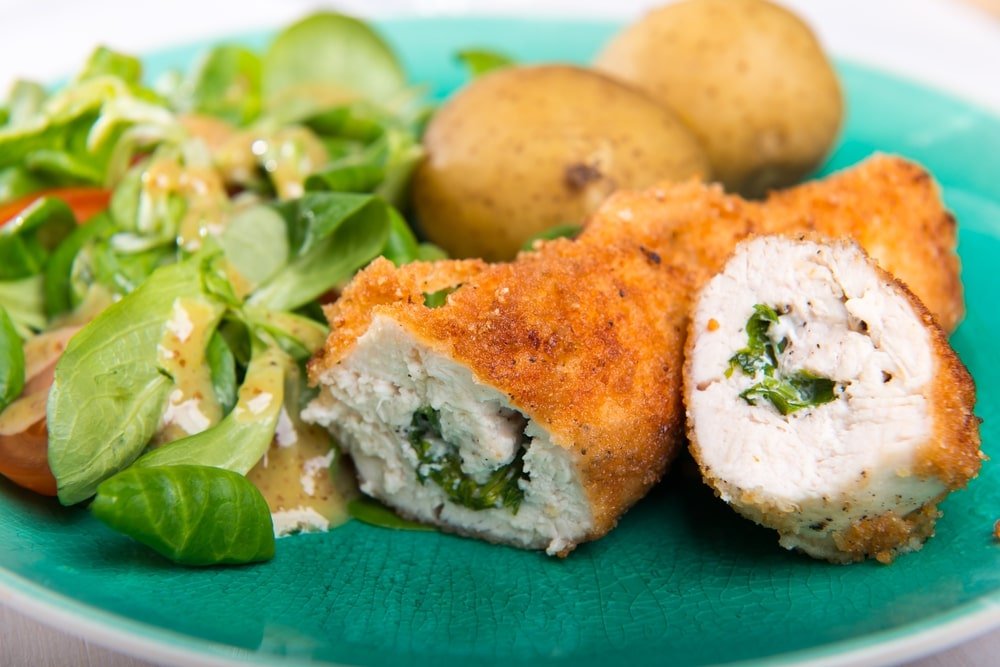 I personally recommend eating this recipe on the very same day because you will not get that same taste or crispiness if your store it in your fridge. Believe me, even if you fry it again you will not get that delicious flavorful taste.
So if you have already stuffed your chicken breast pieces that don't fry them immediately, just store that uncooked stuffed breast in the fridge and you can use it as a meal prep for later tomorrow.
What to serve with Chicken Kiev?
Actually, you can have it immediately after it's done. But yes, if you want to have it as a heavy meal then add mashed potatoes, fresh greens or may be chips and enjoy this Kiev Chicken by watching your favorite Netflix show.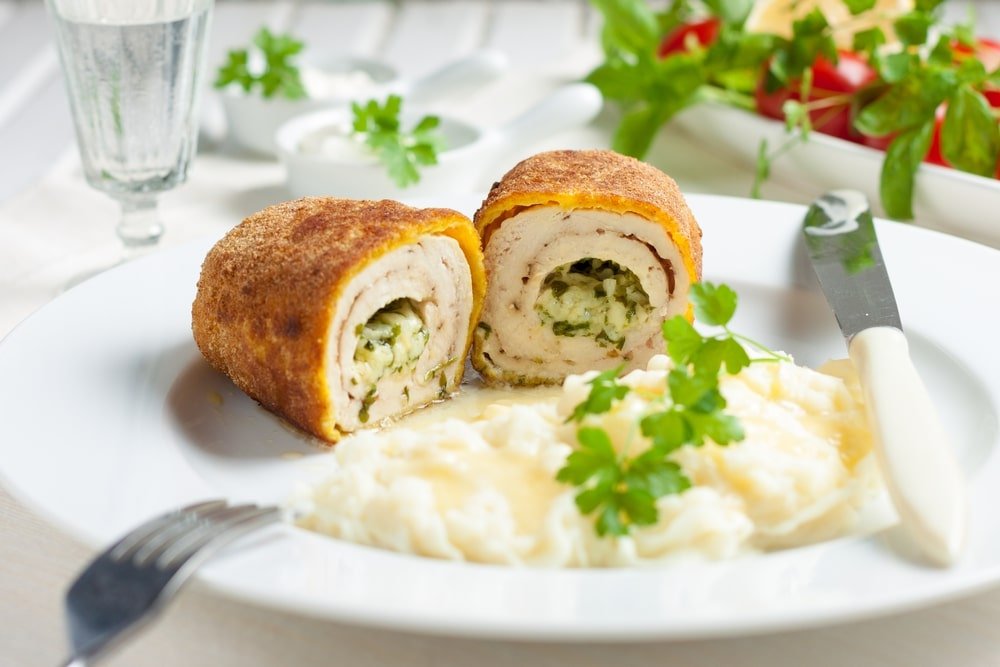 Chicken Kiev Recipe Helpful Tips
Don't use too thick chicken breasts because it won't cook all the way. Even if you use too thin skin then you won't be able to stuff the butter mixture.
Cut the chicken pocket very careful because if there's a leak from the pocket the stuffed mixture may come out during frying which will totally mess up your entire recipe. (learn how to make a pocket in chicken breast for stuffing)
If you have mistakenly cut the pockets very deep and there's a chance for the leakage then use a toothpick to seal the openings.
If you want extra crispiness, make sure to double bread the chicken breasts.
Use fresh spinach or parsley to stuff the chicken. It just tastes way better with these two ingredients.
How to make Chicken Kiev?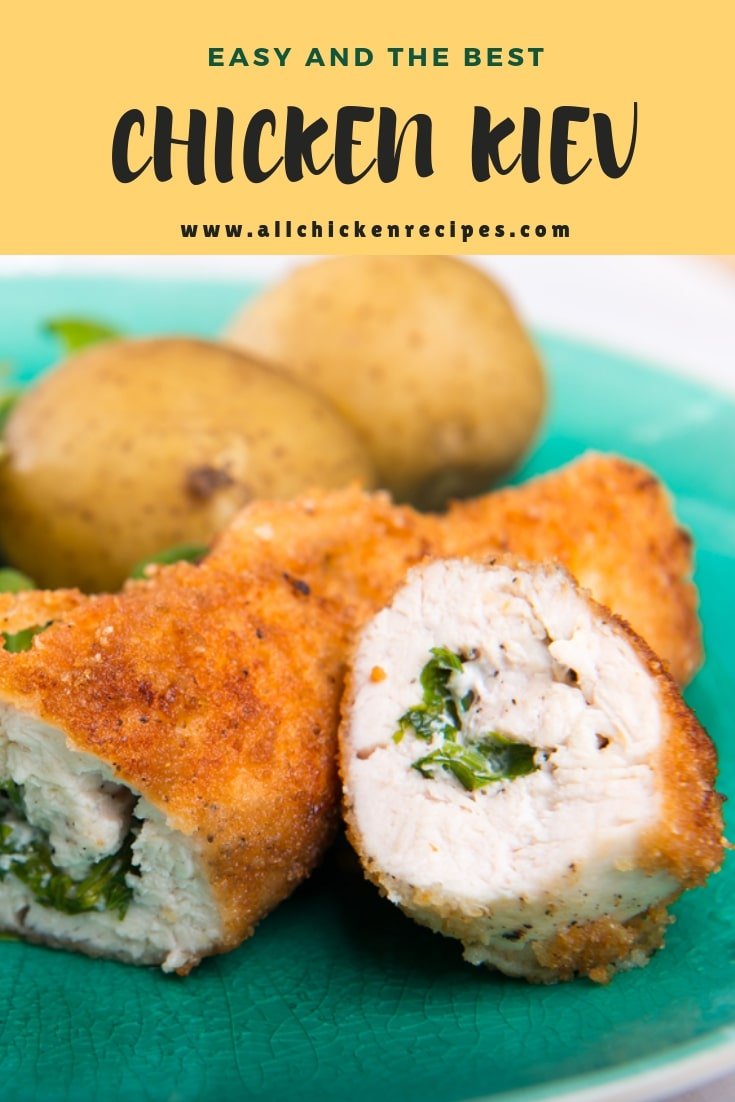 Still Hungry!! Try these chicken recipes:
Yield: 4
Chicken Kiev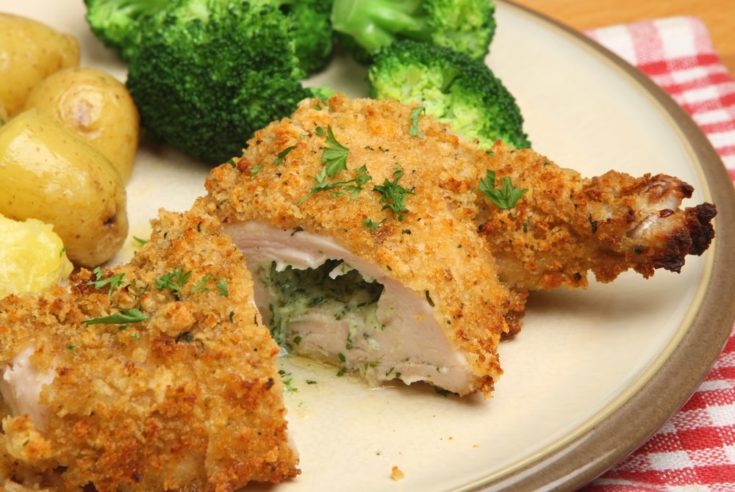 Chicken Kiev is crispy on the outside and tender from inside. It can be made in just 15 minutes and it is a perfect evening snack option for your family.

Prep Time 20 minutes

Cook Time 20 minutes

Total Time 40 minutes
Ingredients
For Mixture
1/4 cup butter, softened slightly
2 tbsp parsley, minced
2 garlic cloves, minced
2 shallots, large, minced
1 tbsp olive oil
For Chicken:
4 chicken breasts, skinless, boneless
2 eggs, beaten
1 tbsp butter
1 cup brown rice flour
1 tbsp olive oil
For Stuffing:
2 cups baby spinach
Salt and pepper to taste
1 tsp butter
Instructions
Pound chicken breast pieces until about 1/4 inch thick. Place pounded chicken on a plate. Season chicken with salt and pepper.
On medium, heat up a small skillet, add olive oil and sauté shallots and garlic until slightly brown. Once done, remove them and let it cool
Now add those sauteed shallots and garlic to the butter and add minced parsley and mash together with a fork until completely mixed through.
Heat the skillet again and add 1 tsp of butter and let it melt on medium heat and add spinach. Stir for some time until spinach is just slightly wilted.
Set up 2 bowls with beaten eggs on the first bowl and another one with brown rice flour.
Take each chicken breast and make a pocket and stuff with half of the butter mixture and half with spinach mixture. Do this for all the chicken breasts.
Firstly dip the pieces in egg mixture and then into the flour mixture until completely covered. Repeat this for all the pieces.
Add olive oil in large skillet over medium heat and put your chicken pieces directly into the oil and fry it for 5-6 minutes per side until golden brown. Once done frying transfer them to the paper towel plate.
Garnish with fresh parsley and serve immediately.
Nutrition Information
Serving Size
4
Amount Per Serving Calories 377Total Fat 12gSaturated Fat 4gCholesterol 98mgSodium 107mgCarbohydrates 33gSugar 1gProtein 32g

So, Guys, I hope you enjoy these easy chicken kiev recipe which I make on weekly basis. All the chicken lovers who are looking for Chicken Kiev will enjoy this recipe. And if you like this recipe then Don't forget to share it with your friends on Pinterest, Facebook, and other social media platforms. And do follow us on facebook, twitter, Tumblr, Pinterest, and Instagram.