Roast Chicken: This chicken recipe is fully loaded with flavors. Juicy from inside and a little crisp on the outside. This is the easy roast chicken recipe, perfect for a weeknight dinner which you'll make again and again!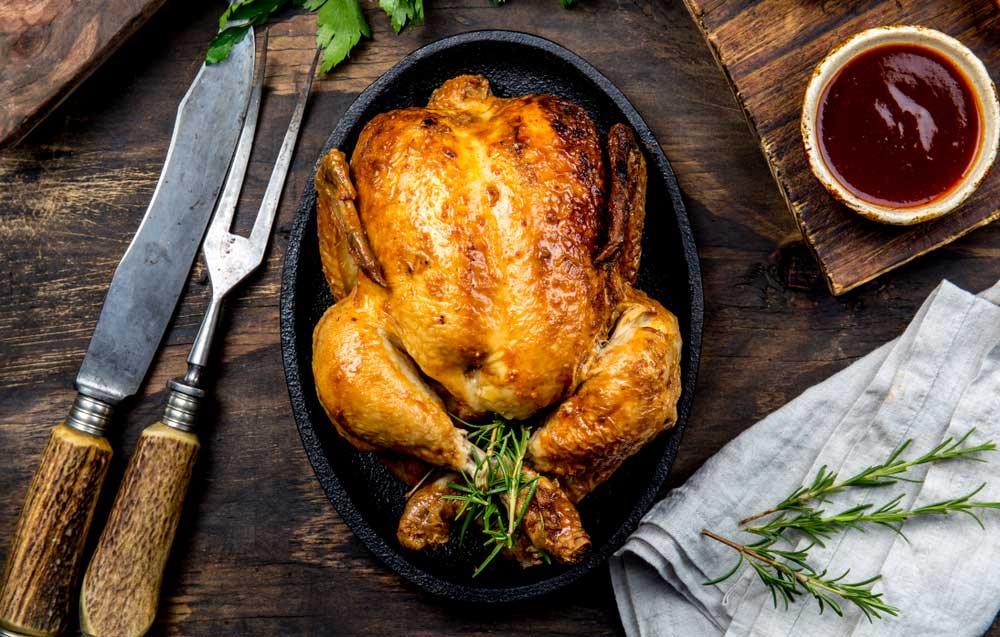 This Roast chicken is considered one of the best chicken recipes for your dinner table and it is a popular meal worldwide. This Roast chicken recipe can be made in several actually the cooking method varies from country to country.
Even though the chicken meat is much lower in calories than some other meats, most of the fat (about 30%) is contained in the skin.
For many of us, we always love the skin is the best part of the chicken, however, if you having some serious goals on your calorie intake, then you should avoid eating the skin part.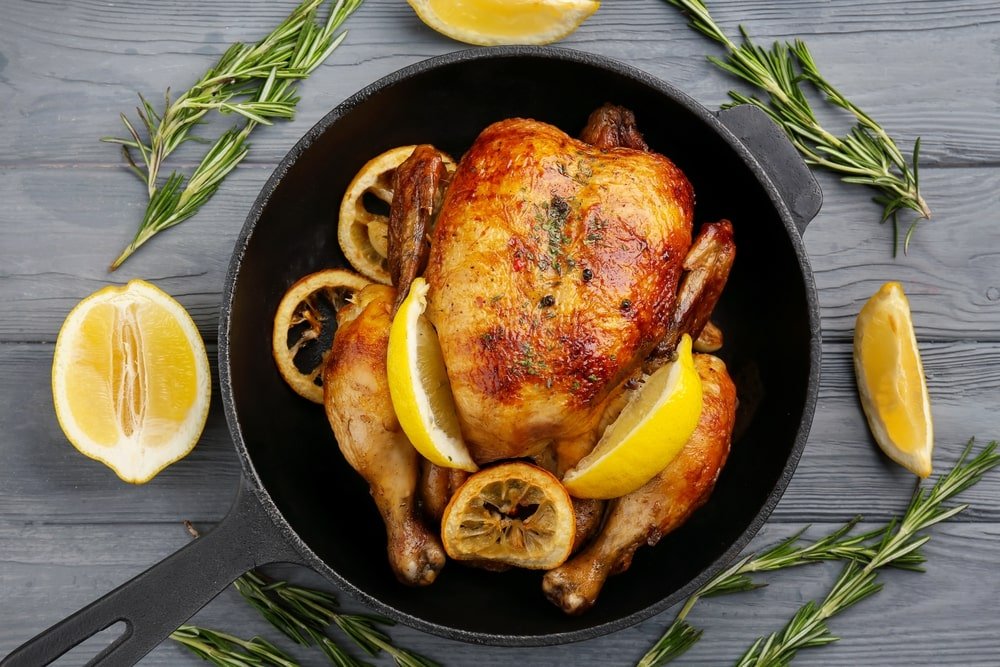 But yes, if you are having it once or twice a week then it is perfectly fine. if you remove the skin for this roast chicken recipe then probably you will end up with a hard and dry chicken, which is really tough to even chew. So don't remove the chicken skin here because skin plays an important role which holds the moisture in the meat throughout roasting and keeps the fat out of the meat.
How long to Roast a Chicken
Actually, it depends on the size of your chicken, but in this recipe, I am using 4-pound chicken and it took around 1 hour 20 minutes to 1 hour 30 minutes then a resting time of 10 minutes to keep all of those juices in before slicing. The best method to measure the cooking time is to use a meat thermometer or until juices run clear.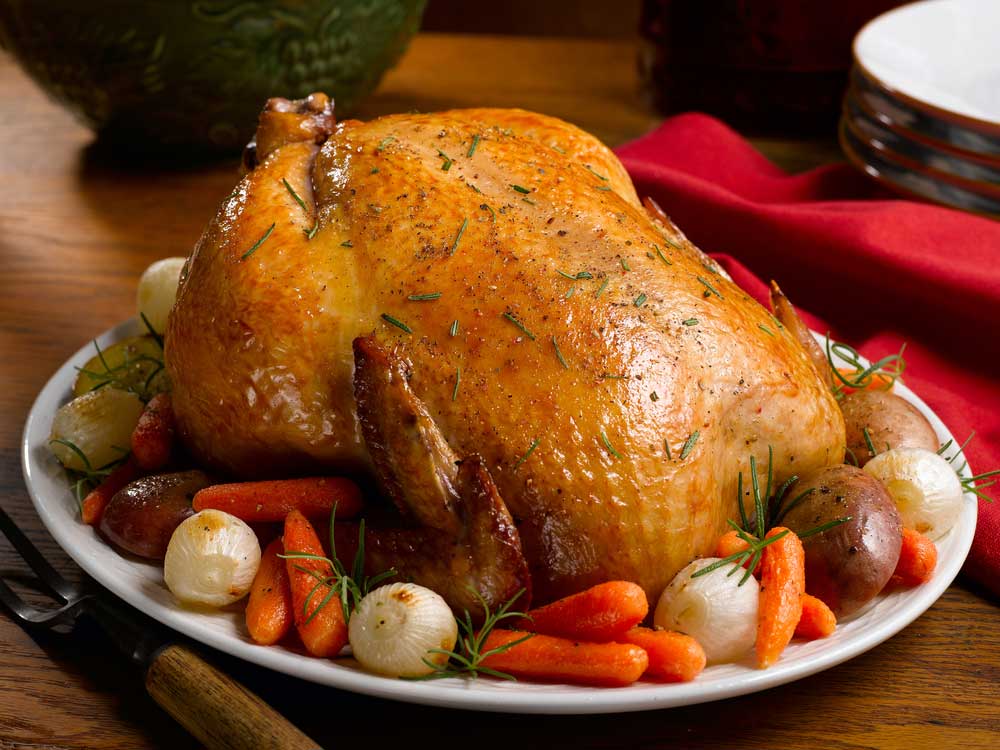 How to Roast a Chicken – Tips and Tricks
Basting the Chicken frequently
Every 20 minutes remove the chicken from the oven. Pour or brush the fat and juices with a spoon or a brush all over the chicken that have accumulated in the roasting tin. But make sure to close the oven door to keep the heat in when basting.
Basting will stop the skin from burning, keep the meat moist and it will give the chicken a really crisp.
Roasting the Chicken
If your chicken is browning too quickly during cooking, then loosely cover the breast part of the chicken with a large piece of aluminum foil until it is done. Covering the chicken breast chicken will prevent the meat from drying out.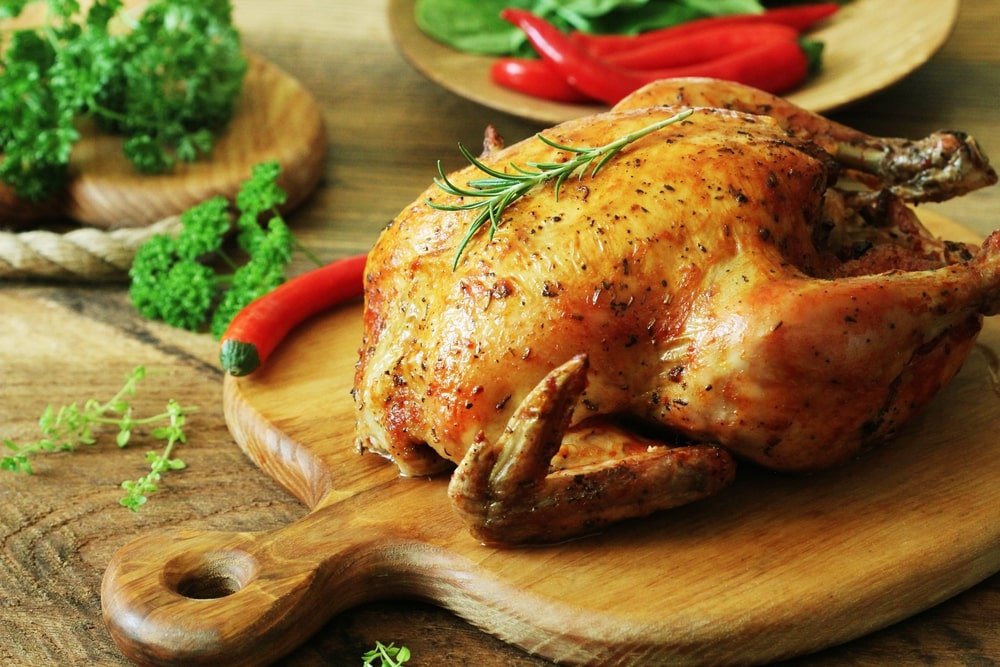 Is your chicken properly cooked? How to Know?
If you do not have a meat thermometer, then you can check whether the drumstick is moving freely when wiggled and the juices run clear upon inserting a skewer into the leg.
Resting time
Remove the chicken from the oven when properly cooked, and leave it to rest for 15 – 20 minutes. This will allow the juices to settle. Once the chicken has rested, it is ready to slice and serve.
Still Hungry!! Try these chicken recipes: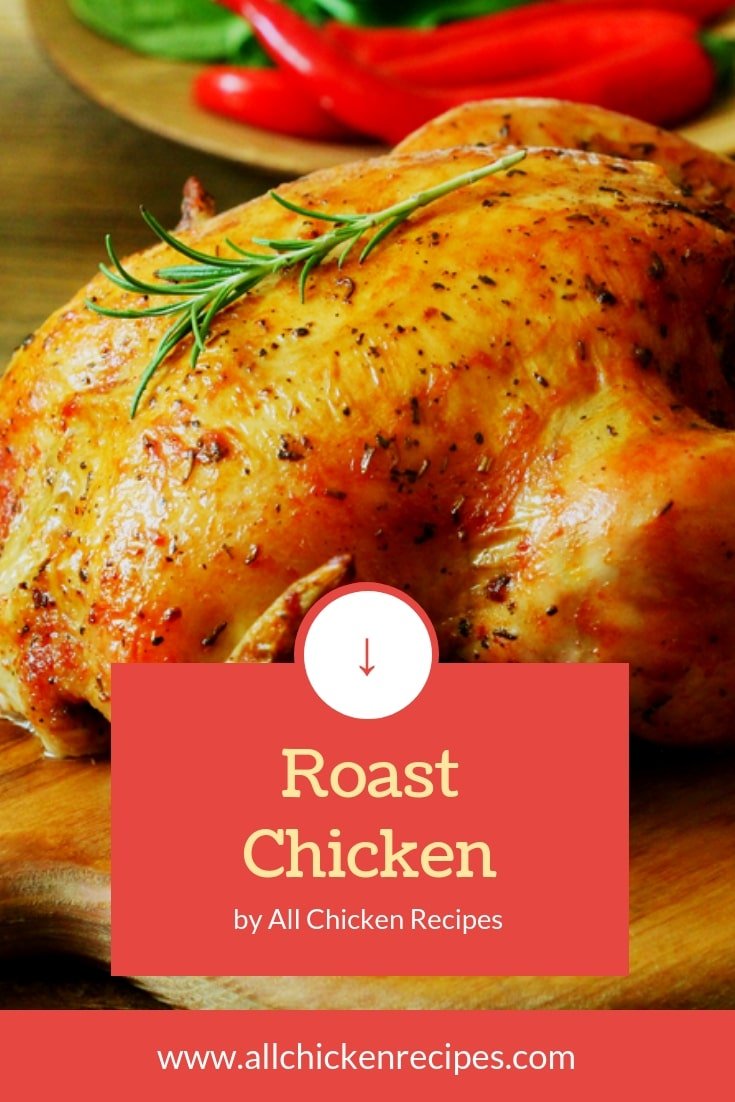 Yield: 4
Roast Chicken Recipe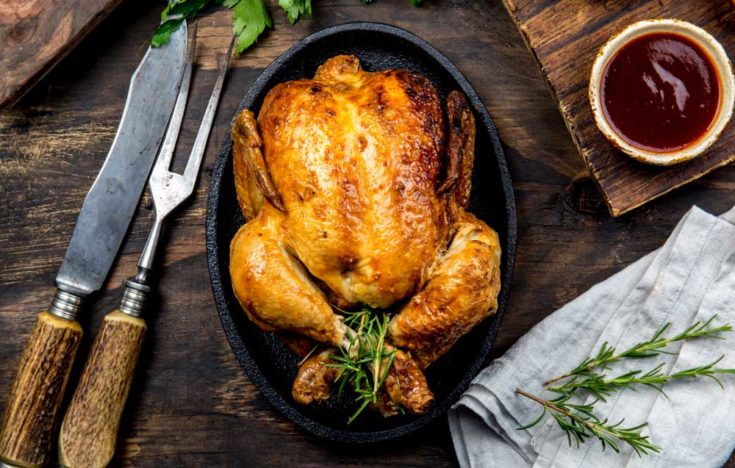 This chicken recipe is fully loaded with flavors. Juicy from inside and a little crisp on the outside. This is the easy roast chicken recipe, perfect for a weeknight dinner which you'll make again and again!

Prep Time 30 minutes

Cook Time 1 hour

Total Time 1 hour 30 minutes
Ingredients
1 (4-pound) whole roasting chicken
2 teaspoons extra-virgin olive oil
3/4 teaspoon salt
2 teaspoons unsalted butter, softened
1 teaspoon ground coriander
1/4 teaspoon freshly ground black pepper
2 garlic cloves, minced
3 shallots, peeled and halved
1 1/2 teaspoons minced fresh thyme
3 fresh thyme sprigs
1 lemon, quartered
1 teaspoon paprika
Instructions
Preheat oven to 350°F (175 degrees C).
Remove giblets from chicken. Starting at neck cavity, drumsticks by inserting fingers and loosen skin from breasts, gently pushing between skin and meat.
Combine butter, fresh thyme, paprika, ground coriander, extra-virgin olive oil, salt, freshly ground black pepper, garlic cloves in a small bowl. Rub mixture over top of the skin and under loosened skin. Tie ends of legs together with a string. Lift and tuck-in the wing tips under chicken. Place chicken on a rack, breast side up and place rack in roasting pan. Insert thyme sprigs, shallots, and lemon in cavity of the chicken.
Bake the chicken for 45 minutes at 350° and now increase oven temperature to 450° and bake for 15 minutes at 450° or until a meat thermometer reads 165°. Remove chicken from heat, and baste with melted juices. Cover with aluminum foil, and let stand for 20-30 minutes before serving. Carve chicken.
Nutrition Information
Serving Size
4
Amount Per Serving Calories 568Total Fat 16gSaturated Fat 4gCholesterol 318mgSodium 756mgCarbohydrates 1gProtein 97g

So, Guys, I hope you enjoy these easy roast chicken recipe which I make on weekly basis. All the chicken lovers who are looking for roast chicken will enjoy this recipe. And if you like this recipe then Don't forget to share it with your friends on Pinterest, Facebook, and other social media platforms. And do follow us on facebook, twitter, Tumblr, Pinterest, and Instagram.