Chicken Noodle Soup: Whenever I think what to make in today's dinner the first thing that comes to my mind is Chicken Noodle Soup. A perfect one-pot meal that keeps you going all day. Personally, I love to make this in every Saturday-Sunday. My grandmother actually teaches me how to make this Chicken Noodle Soup from scratch. All you need is a whole chicken. To make that delicious soup she always uses the whole chicken.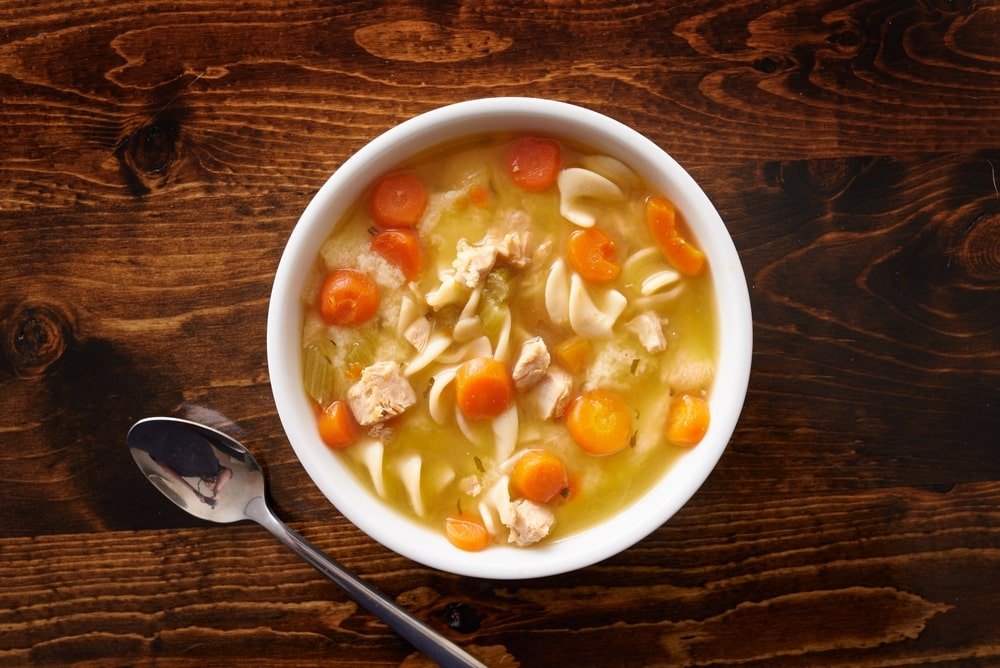 How to Make Chicken Noodle Soup?
You basically need some of the important ingredients to throw them in your pot like celery, carrots, onions and add the chicken to it and fill it with enough water and boil everything for about an hour. And that's it! Chicken noodle soup is very simple and easy to make. But to make it very smooth, you have to add enough water to it so that when it's boiling the chicken should get all the water it needs to get soft.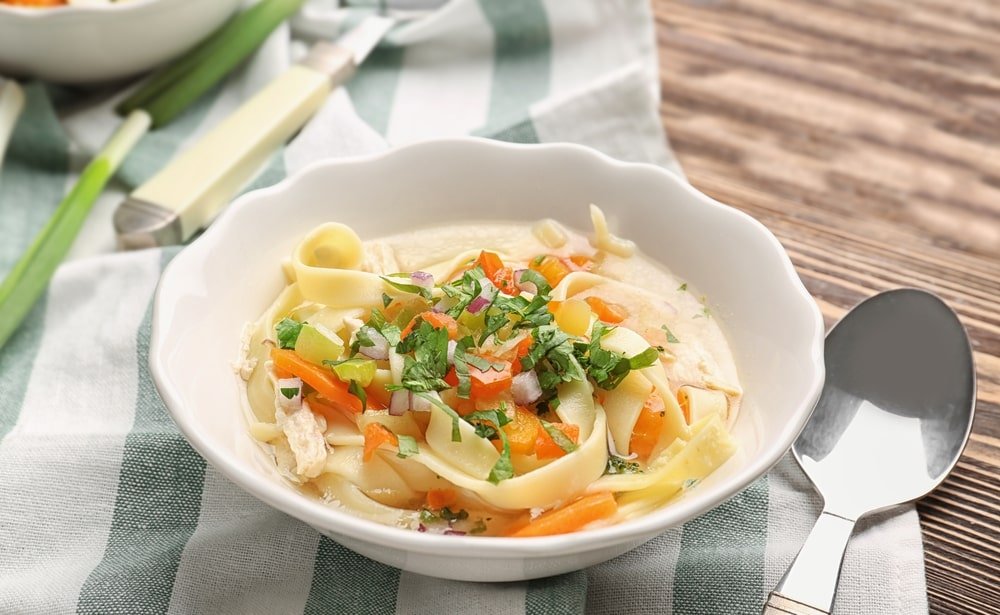 And if you want a nice and clear soup then make sure to remove the foam from the top of the broth. Because as the chicken starts to boil that foam will occur, so make sure you reduce heat to simmer and clear the foam. Once the chicken is cooked, I remove all the added carrots, celery, and unchopped onion with the help of a strainer. For the soup, again I add some chopped onions, carrots and celery followed by the strained broth.
Easy Chicken Noodle Soup
This delicious Chicken Noodle Soup is all about the flavor. But you can always try some other variations to make this Chicken Noddles Soup like someday add some more ingredients to it or maybe you can change that flavor with other spices, Spices plays the major role when it comes to the flavor. So, make sure you have the perfect spice combination. Even you can try this trick to make your soup very delicious like when you are making the broth you can strain all the vegetables but leave the onions there with the broth, this will give you a different taste.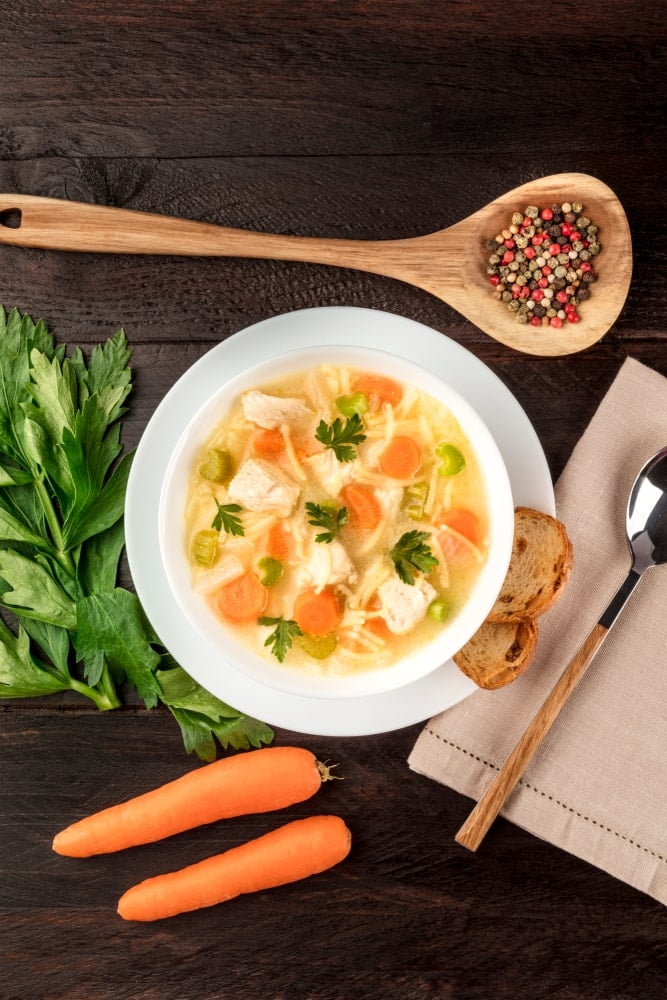 Chicken Noodle Soup is perfect lightened-up comforting soup for your winters. And even you will not have that feeling when you so much at one time like some other heavy cream soup. Just one bowl of this Chicken noodle soup will keep you full for at least an hour. You will feel very satisfied, cozy & warm from the inside.
What to Serve with Chicken Noodle Soup?
You can serve this Chicken noodle soup with any veggies to want. I normally use Carrots, Green Beans, Corn, Spinach and when I got bored with the same flavor I like to add potatoes, pumpkin, zucchini.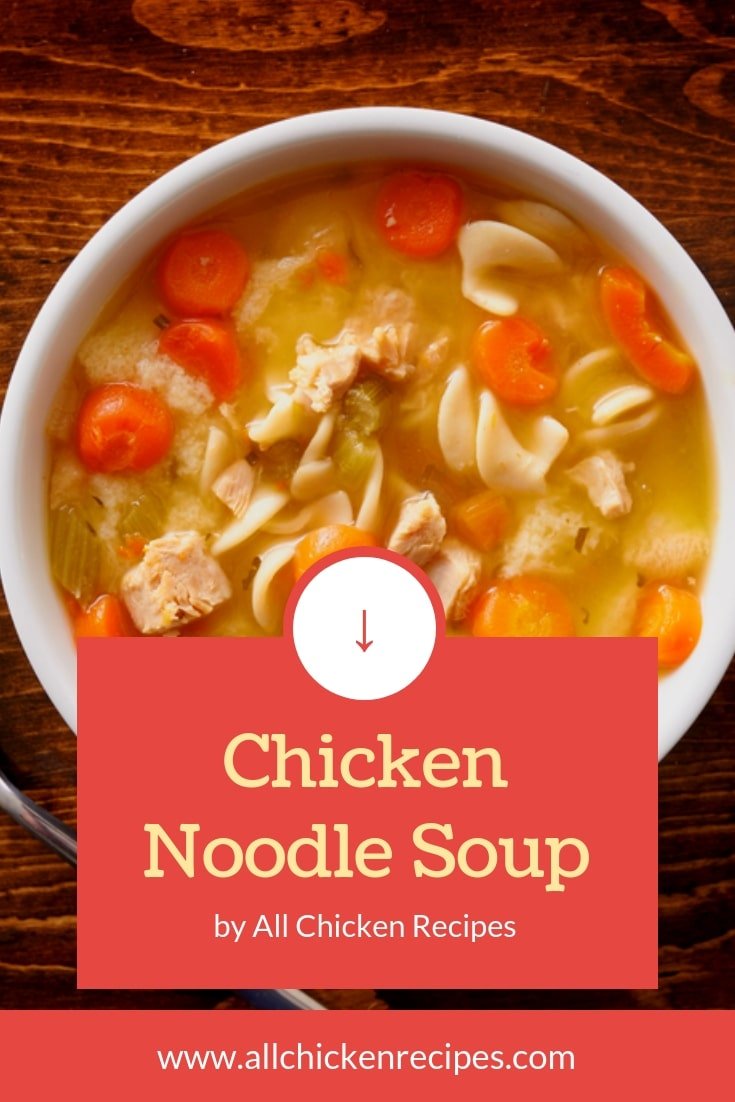 Still Hungry!! Try These Chicken Recipes:
Yield: 6
Chicken Noodle Soup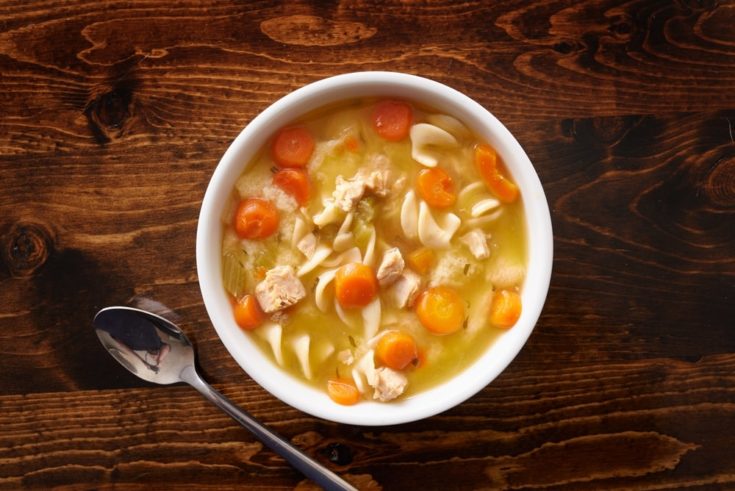 Chicken noodle soup is very simple and easy to make and it is perfect lightened-up, satisfying and comforting soup for your winters.

Prep Time 10 minutes

Cook Time 20 minutes

Total Time 30 minutes
Ingredients
1/2 cup chopped celery
1 tablespoon butter
1/2 cup chopped onion
1 (14.5 ounce) can vegetable broth
4 (14.5 ounce) cans chicken broth
1 1/2 cups egg noodles
1/2 pound chopped cooked chicken breast
1/2 teaspoon dried basil
1 cup sliced carrots
salt and pepper to taste
1/2 teaspoon dried oregano
Instructions
In a large pot melt butter over medium heat.
Cook celery & onion in butter for 5 minutes until just tender.
Pour in vegetable broths & chicken and stir in noodles, carrots, chicken, oregano, basil, salt, and pepper.
Bring it to boil, reduce heat and simmer for 20 minutes before serving.
Slow Cooker Chicken Noodle Soup
Add chicken, carrots, celery, onion, garlic, bay leaves thyme, and chicken stock to a slow cooker.
Cover and cook for 6 hours on low.
Shred cooked chicken breast by using two forks, the meat should fall apart easily.
Put the chicken along with the pasta back into the cooker.
On high setting, cover and cook until the noodles are cooked for around 15 - 20 minutes.
Stir in the parsley & lemon juice.
Serve and Enjoy!
Nutrition Information
Serving Size
6
Amount Per Serving Calories 143Total Fat 3gSaturated Fat 2gCholesterol 42mgSodium 592mgCarbohydrates 15gSugar 4gProtein 14g

So, Guys, I hope you enjoy this Chicken Noodle Soup Recipe which I make on weekly basis. All the Chicken Lovers who are looking for Chicken Noodle Soup will enjoy this recipe. And if you like this recipe then Don't forget to share it with your friends on Pinterest, Facebook, and other social media platforms. And do follow us on Facebook, Twitter, Pinterest, Tumblr, and Instagram.