Chicken Alfredo: This dish is one of the popular dishes considered in the USA. To make it into the main course, It is often garnished with chicken or other ingredients. Fettuccine Alfredo is a very rich version and In Italy (fettuccine al burro), it is generally considered home cooking.
What is Fettuccine Alfredo?
It is a pasta dish made with Parmesan cheese & butter. In other words, it is a version of pasta tossed with butter & Parmesan cheese. As the cheese melts, it gives a smooth and rich sauce coating to the pasta.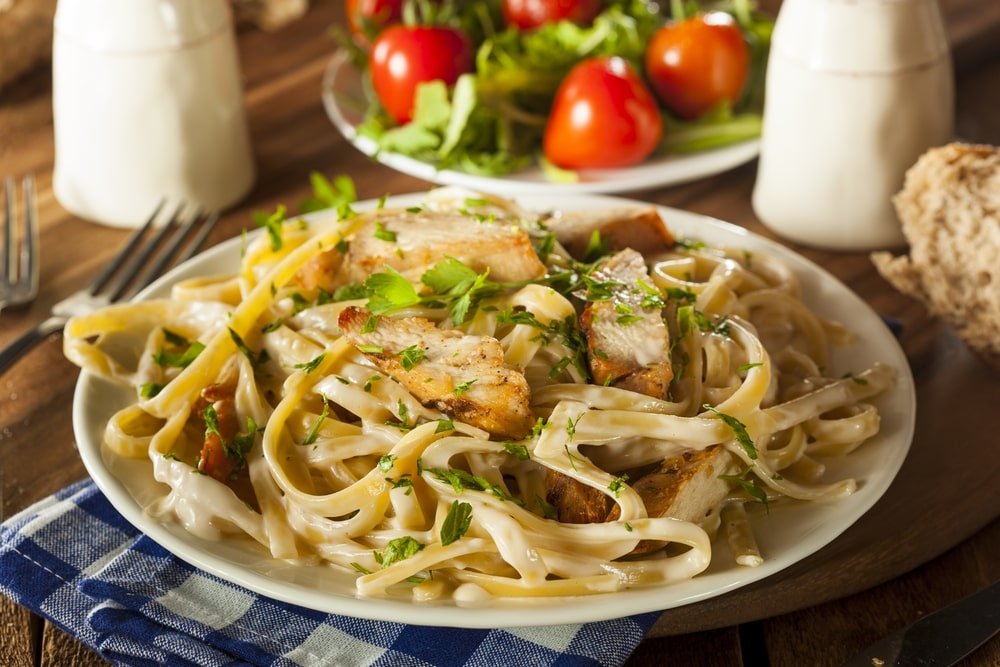 Whenever I make this Chicken Alfredo it gives me that energy to make this recipe because at the end of the day I know that today I can enjoy the dish and mostly the sauce. The alfredo sauce is creamy & thick and the flavor that you get is totally outstanding. Eating chicken alfredo at home will make you feel like you are in a 5-star restaurant if you make it right.
It has delicious Italian seasonings & garlic flavor. If you want extra creamy flavor and texture then surely you can add cream cheese to your Chicken Alfredo. This alfredo sauce is perfect to top on any other pasta but if you use it as a dip or spread on pizza it will become more delicious.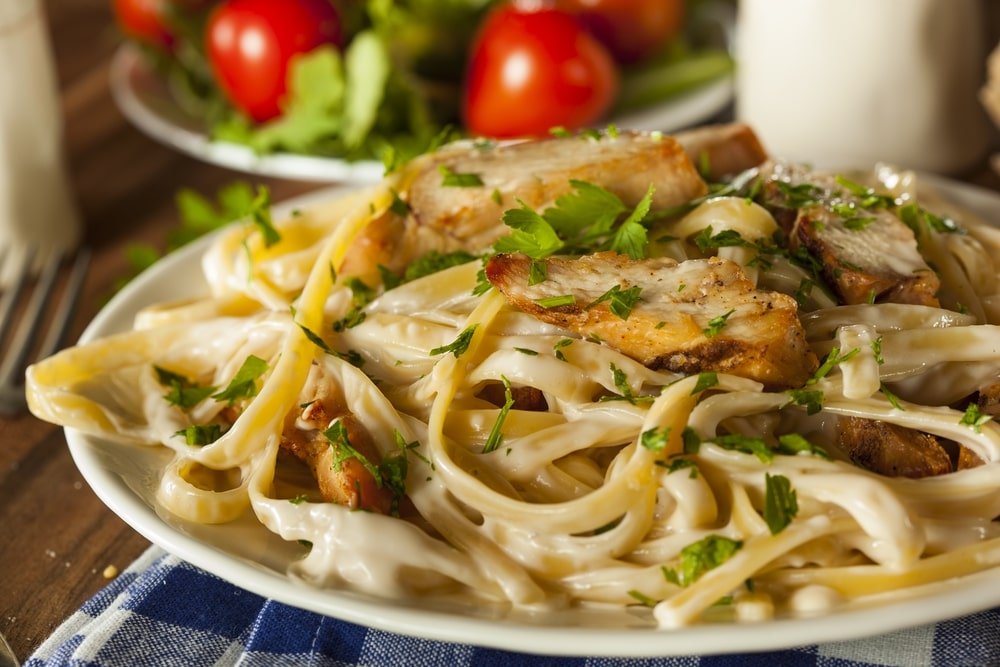 Chicken Alfredo – Making the Chicken
If you want to enjoy your Chicken Alfredo with the crispy golden texture through the creamy pasta, Personally, I prefer crispy & golden chicken. Sear your chicken thighs (or breasts) or you can dice the chicken first, then remove them to ensure juicy chicken pieces. Sear, then leave it with the rest of the ingredients in the pot to continue cooking.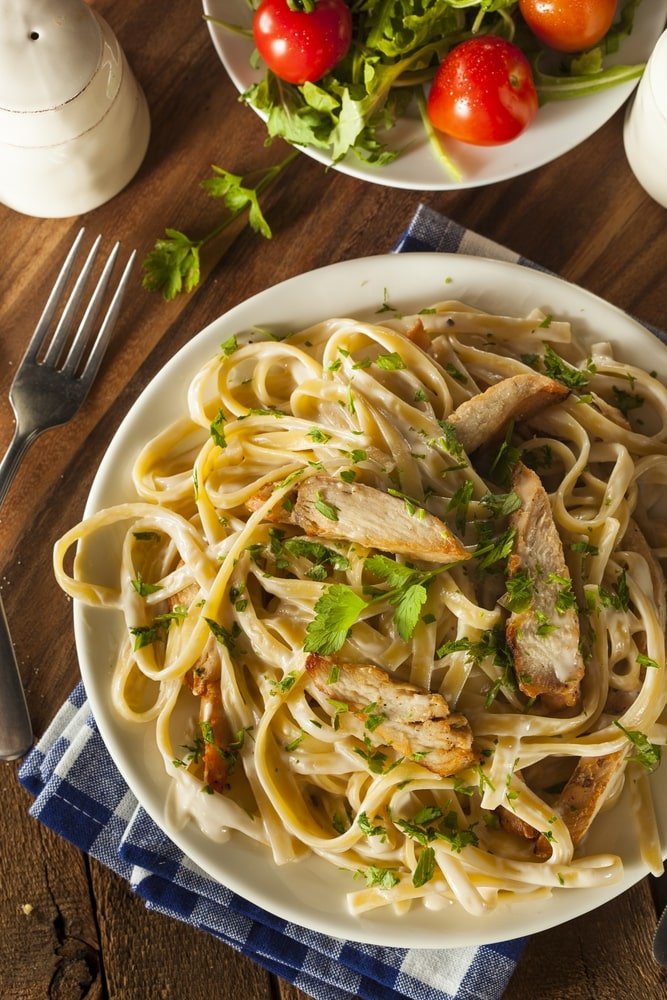 How to make Chicken Alfredo?
I always recommend you to marinate your chicken, let sit overnight or even a few hours by throwing it in a bag of Italian dressing. It gives that flavor and it the tenderizes the chicken. Make sure to cut your marinated chicken in small pieces or thinner pieces so they cook through evenly, and before cooking them in a skillet with oil, rub them in a mixture of seasonings.
To make the sauce, in another large skillet, melt the butter. cook for 1 – 2 minutes after adding garlic to it. Whisk the flour mixture and stir until bubbly. Bring to a boil, simmer on low heat for 5 minutes. Again whisk 1½ cup of cheese to it. Cook until sauce starts to thicken for 5 minutes more and then remove sauce from heat.
Add to a large bowl. Add your pasta first followed by the sauce. Mix everything to combine. With the nonstick spray, spray a 9×13 baking pan. Add all the pasta mixture to the pan and sprinkle 1½ cup of cheese(additionally), then bake until golden brown & bubbly for 30 minutes. And that's it you Chicken Alfredo is ready!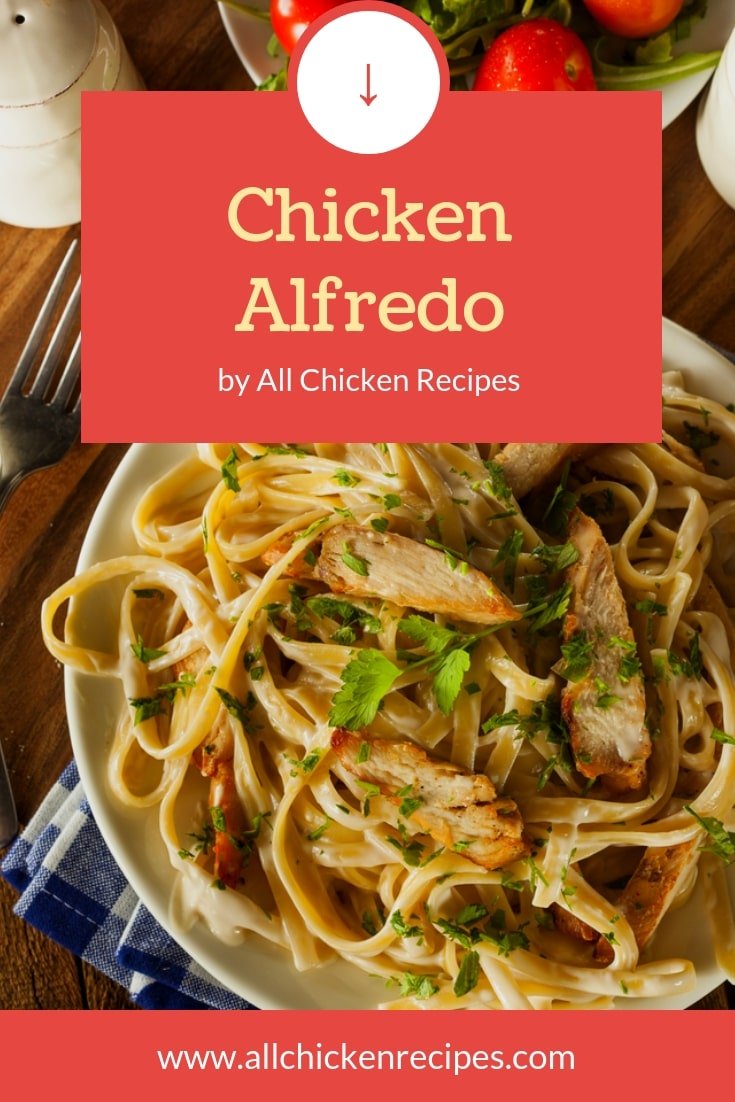 Still Hungry!! Try these Chicken Recipes:
Yield: 4
Chicken Alfredo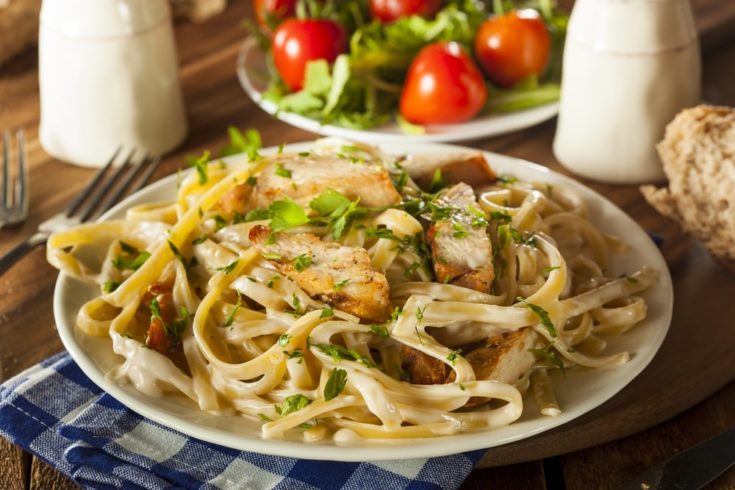 Chicken Alfredo has delicious Italian seasonings & garlic flavor. Make it extra creamy & flavorful just by adding cream cheese to your Chicken Alfredo.

Prep Time 20 minutes

Cook Time 20 minutes

Total Time 40 minutes
Ingredients
2 skinless, boneless chicken breast halves - cooked and cubed
1/2 cup milk
1/2 teaspoon garlic powder
1 (8 ounce) package cream cheese
6 tablespoons butter
6 ounces dry fettuccine pasta
2 small zucchini, julienned
salt and pepper to taste
1/2 cup chopped red bell pepper
2 cups chopped fresh broccoli
Instructions
On a large pot boil water(lightly salted). Add pasta, and cook for 8 to 10 minutes, and drain.
In a skillet, over low heat melt butter and cream cheese while pasta is cooking. Stir until smooth. Stir in milk, and season with salt, garlic powder, and pepper. Simmer until thickened, for 3 minutes, stirring constantly.
Mix in chicken, zucchini, broccoli, and red pepper. Over medium heat, Cook 3 minutes and then simmer for 5 more minutes until vegetables are tender.
Serve over fettuccine.
Nutrition Information
Serving Size
4
Amount Per Serving Calories 448Total Fat 29gSaturated Fat 16gCholesterol 119mgSodium 1517mgCarbohydrates 23gSugar 6gProtein 23g

So, Guys, I hope you enjoy this Chicken Alfredo Recipe which I make on weekly basis. All the Chicken Lovers who are looking for Chicken Alfredo will enjoy this recipe. And if you like this recipe then Don't forget to share it with your friends on Pinterest, Facebook, and other social media platforms. And do follow us on facebook, twitter, Pinterest, Tumblr, and Instagram.