Chicken Tinga – Simmered in a tomato chipotle sauce this Tinga Chicken is smoky and spicy served over tacos, tostadas and are very easy to make for a perfect dinner.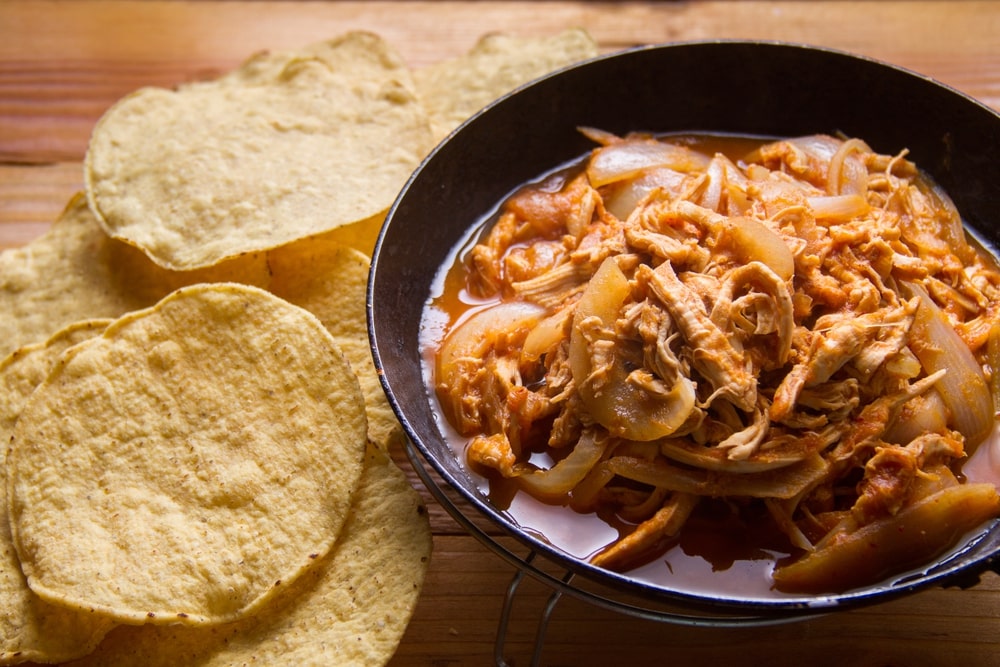 What is Chicken Tinga?
Chicken tinga in Spanish called as tinga de pollo is a classic Mexican dish originated in Puebla, Mexico made with shredded chicken simmered in a sauce made from chipotle chilis, tomatoes in adobo, and sliced onions. It is often served on a tostada, tacos or burritos and topped with shredded lettuce, avocado slices, sour cream, crumbled cheese, and salsa.
Now let's jump into the recipe, below I have shared all the versions – stove, instant pot, and slow cooker.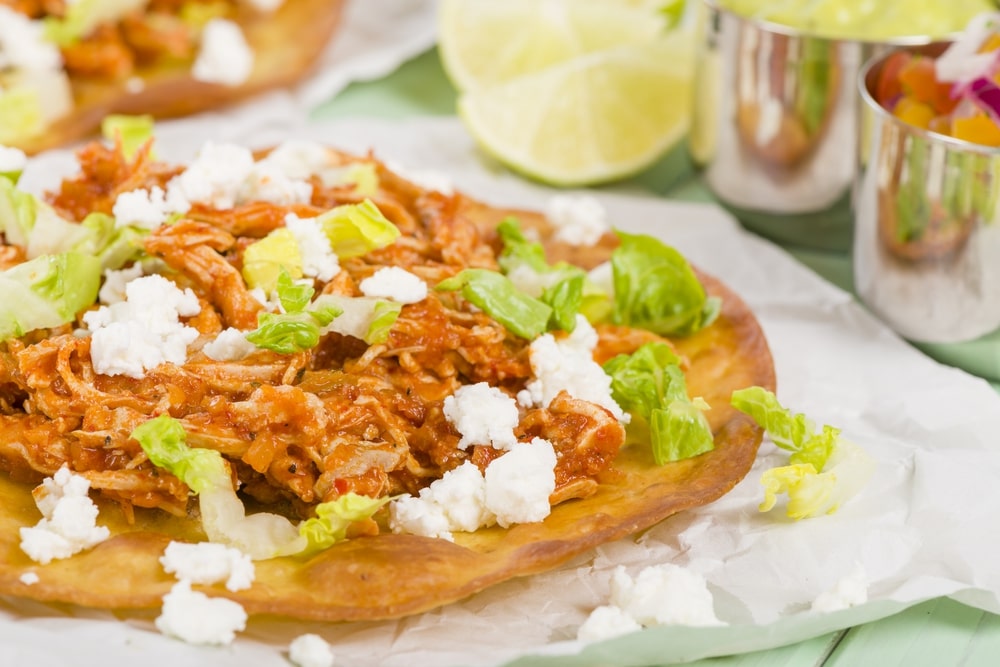 How to make Chicken Tinga in Slow Cooker?
2 pounds boneless, skinless chicken breasts (about 4)
2 canned chipotle peppers in adobo sauce, minced, plus 1 tablespoon of the sauce
2 tablespoons olive oil
1 (14-ounce) can tomato purée
1 teaspoon kosher salt, plus more for seasoning
1/2 teaspoon dried oregano
Freshly ground black pepper
1 teaspoon ground cumin
1 medium yellow onion, thinly sliced
3 cloves garlic, minced
1 bay leaf
Instructions:
Season the chicken breast with salt and pepper and place in a single layer in a 4-quart or larger slow cooker.
Heat up a medium skillet over medium heat, add oil, once hot, add the onion and cook for about 5 minutes, stirring occasionally, until soft.
Add the garlic, oregano, bay leaf, cumin, and the 1 teaspoon of salt, and stir to combine. Stir in the chipotle peppers, tomato purée, and adobo sauce and bring to a boil.
Reduce the heat to low and simmer for about 5 minutes.
Now pour the onions and sauce all over the chicken. Cover and cook for 2 to 3 hours on the LOW or 1 to 2 hours on the HIGH setting or until the chicken is tender and cooked through.
Once done, turn off the slow cooker and transfer chicken to a cutting board. Discard the bay leaf. Shred the chicken with the help of two forks.
Return the chicken to the slow cooker with the sauce and stir to coat before serving in tortillas.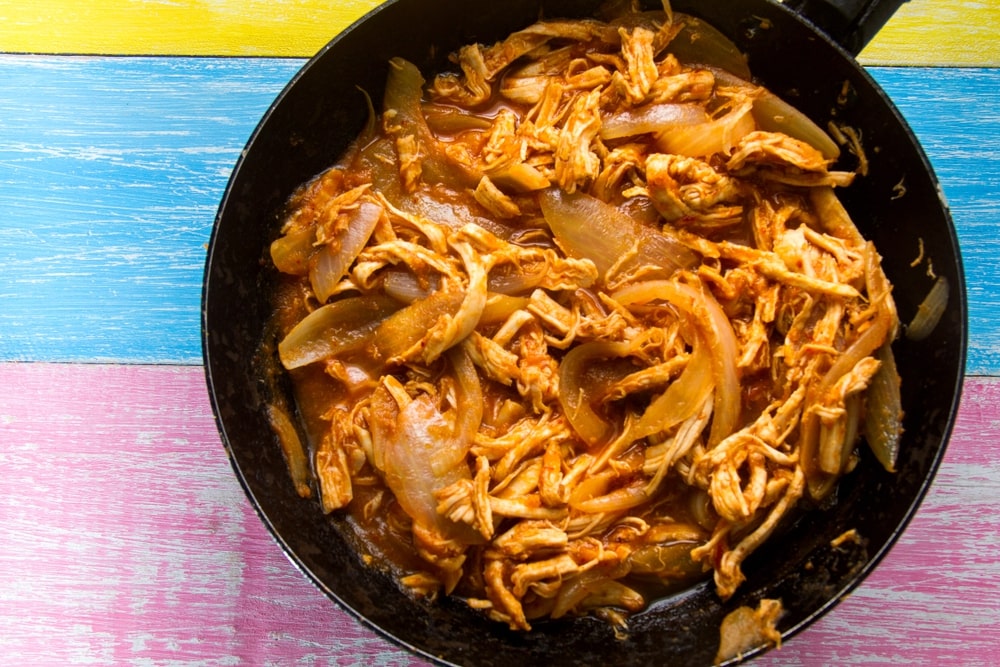 Chicken Tinga Instant Pot
Ingredients:
2 pounds of chicken breasts
1/2 cup low sodium chicken broth
3.5 oz chipotle peppers in adobo sauce
1 large tomato quartered
1 large onion thinly sliced
4 garlic cloves
2 tomatoes diced
2 tbsp oil
2 teaspoon kosher salt
1 tsp Cayenne pepper optional to taste
Instructions:
Add tomato, garlic and chipotle peppers with adobo sauce to a blender or mixer and make a puree.
Turn on the Instant Pot to Saute mode and heat oil. Add onions and cook for a minute, add chicken breasts, diced tomatoes, chicken broth, and salt. Pour the puree over the chicken breasts. Select the Manual mode and adjust the timer to 8 minutes.
Allow 10 minutes of NPR. Open the Instant Pot, take the chicken out to cutting board and shred into bite size pieces using two forks.
Return the shredded chicken to the pot and turn the Instant Pot to Saute and cook until the sauce thickens for about 5 minutes. Add cayenne pepper and adjust salt to taste.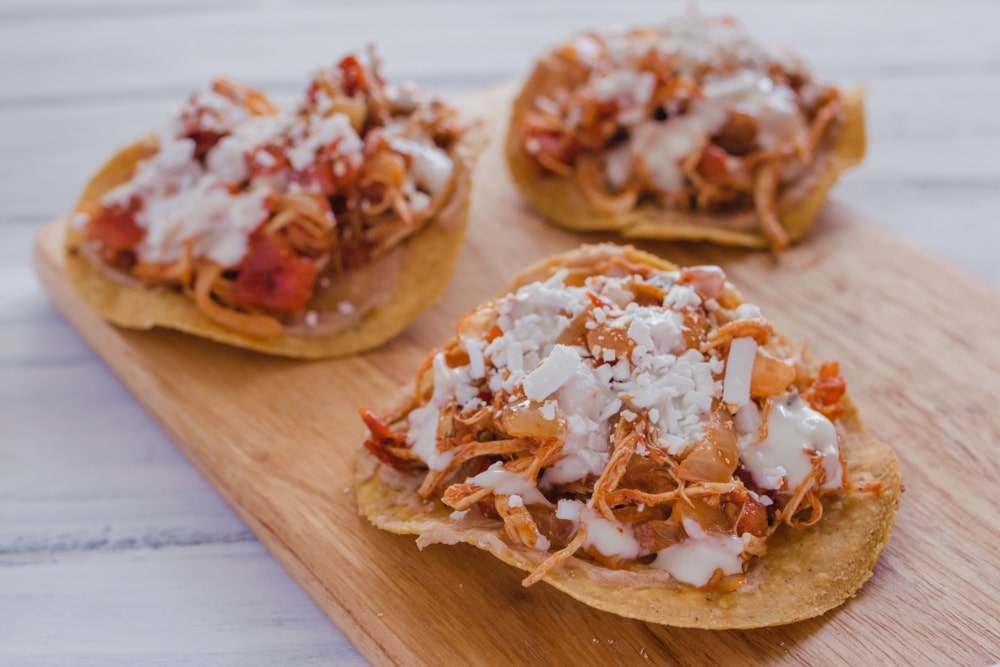 What to Serve with Chicken Tinga?
You can use it as a topping for tacos, tostadas, or sopes for filling and you can serve this as a main dish with rice or with cilantro, guacamole, cabbage, Mexican cheese, red onions, and squeeze of fresh lime!
Can we freeze the leftover Tinga Chicken?
Yes, of course! Leftovers can be frozen in an airtight container for up to 3 months or refrigerated up to 4 days.
How to Warm the Tinga Chicken Tortillas?
Place the in a steel or cast-iron skillet without oil, and cook until warm, turning occasionally or wrap a stack of tortillas in foil and place in a preheated oven for 15-20 minutes at 350 degrees.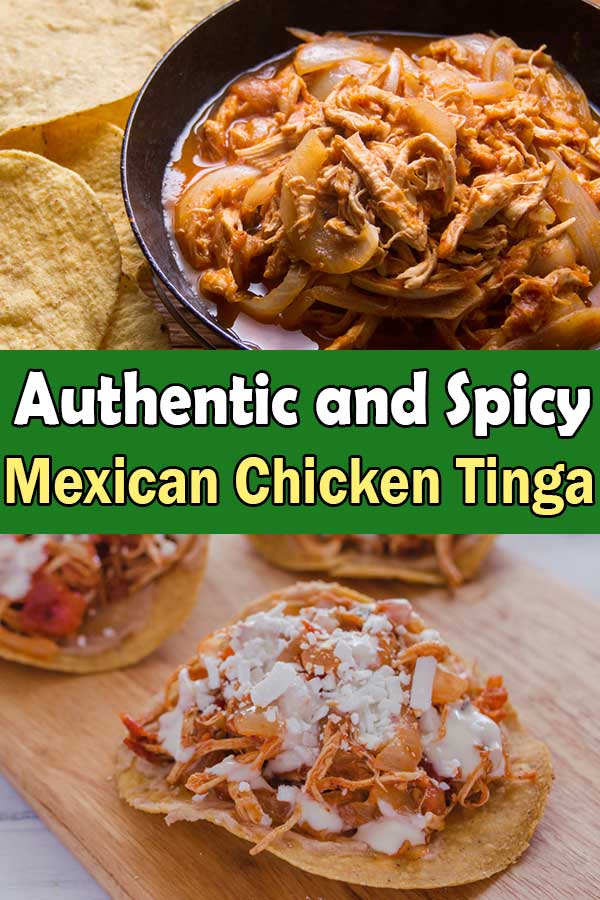 Yield: 4
Chicken Tinga
This Chicken Tinga Simmered in a tomato chipotle sauce which is smoky and spicy served over tacos, tostadas and are very easy to make for a perfect dinner.

Prep Time 20 minutes

Cook Time 50 minutes

Total Time 1 hour 10 minutes
Ingredients
1 pound boneless, skinless chicken breast
1 cup chicken broth
2 tablespoons canned chipotle
4 plum tomatoes
1 teaspoon Mexican oregano
1 1/4 large white onions
3 cloves of garlic
3 tablespoons cooking oil
1/4 teaspoon black pepper
Salt to taste
Instructions
Make the Chiptole Tomato Sauce:
Chop the tomatoes, clean and remove the seeds.
Add 2 tbsp canned chipotle(Use 3 tbsp if you prefer it spicier), 1 clove of garlic, 1/4 teaspoon black pepper, 1 teaspoon Mexican oregano, 1 cup of the reserved chicken broth to a blender and blend until smooth for about 1 minute.
For the Shredded Chicken:
Heat up a large saucepan with an inch of water, add chicken and bring water to a boil. Reduce heat to low and simmer for 20 minutes until chicken is tender and cooked.
Remove chicken from the pot and shred into 1" pieces using 2 forks.
Main Preparation:
Heat up a frying pan medium-low heat, once hot add 3 tbsp. oil, add 1 large white onion, thinly sliced and Cook for about 4 minutes until the onion starts to become translucent.
Add 2 garlic cloves, sliced and cook for 1 more minute.
Turn the heat to medium and pour the prepared sauce into the pan and cook for 5 minutes or until sauce thickens.
Add the shredded chicken to the pan and mix well until well coated with the sauce.
Reduce heat to low, cover the pan and simmer for 20 minutes. Adjust salt to taste.
Serve as a taco or tostada filling.
Nutrition Information
Serving Size
4
Amount Per Serving Calories 265Total Fat 14gSaturated Fat 2gCholesterol 84mgSodium 336mgCarbohydrates 8gSugar 4gProtein 27g

Still Hungry! Try These Delicious Chicken Recipes:
So, Guys, I hope you enjoy this chicken tinga recipe which I make on a weekly basis. All the chicken lovers who are looking for chicken tinga tacos will enjoy this recipe. And if you like this recipe then Don't forget to share it with your friends on Pinterest, Facebook, and other social media platforms. And do follow us on Tumblr, Pinterest, facebook, twitter, and Instagram.