Chicken Cordon Bleu Casserole – This easy chicken casserole is the go-to dinner recipe for busy weeknights. This combines all the flavors of chicken, ham and swiss that is baked until bubbly.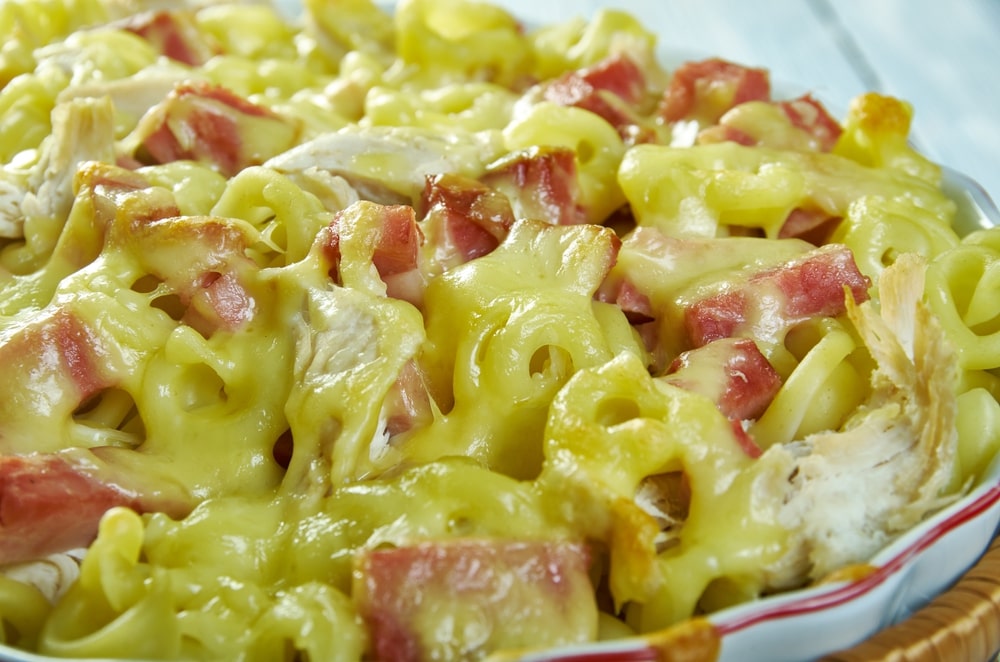 This easy chicken cordon bleu casserole is so much easier than a traditional breaded cordon bleu which I have already shared earlier, you can check it out!
What to Serve with Chicken Cordon Bleu Casserole
You can serve this casserole on a bed of your favorite long grain rice, mashed potatoes, along with a side of your favorite pasta or garlic bread.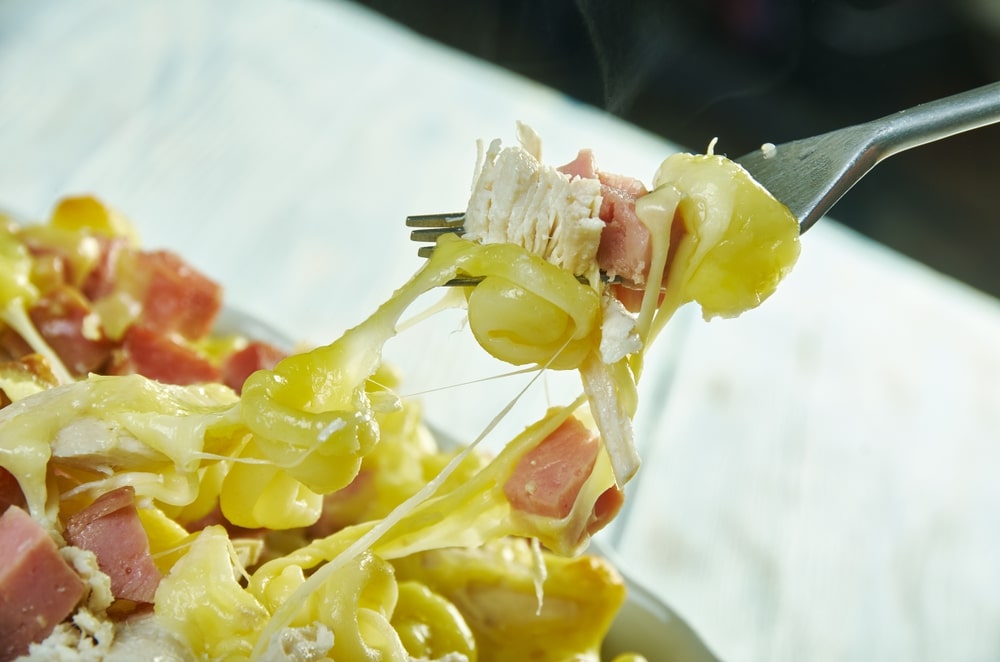 Keto Chicken Cordon Bleu Casserole
Below I have shared the low carb chicken cordon bleu casserole version but check the recipe box below for the normal non-keto version of this recipe.
Ingredients:
6 cups shredded cooked chicken
1 oz lemon juice
5 oz swiss cheese (Buy it Here)
6 oz ham cut into bite size pieces
6 oz cream cheese softened
1 tbsp dijon mustard (Buy it Here)
4 oz butter melted
1 tbsp white wine (optional)
1/2 tsp salt
Instructions
Preheat the oven to 350 degrees.
Take a 9 x 13 baking dish and place the chicken in the bottom and layer ham on top.
In a large bowl combine the melted butter, mustard, softened cream cheese, white wine, lemon juice, and salt with the help of an electric mixer and blend until a thick sauce forms.
Spread this thick sauce over the chicken and ham into the baking dish.
Lay the Swiss cheese slices on top of the sauce and bake for 30-40 minutes until hot and bubbly.
If you want the cheese more golden and bubbly then broil it for 2 minutes in the end but make sure to leave it unattended because it will very easily burn the cheese topping.
Nutrition Facts for Keto Version:
Calories:450
Fat: 34g
Carbs: 2g
Protein: 32g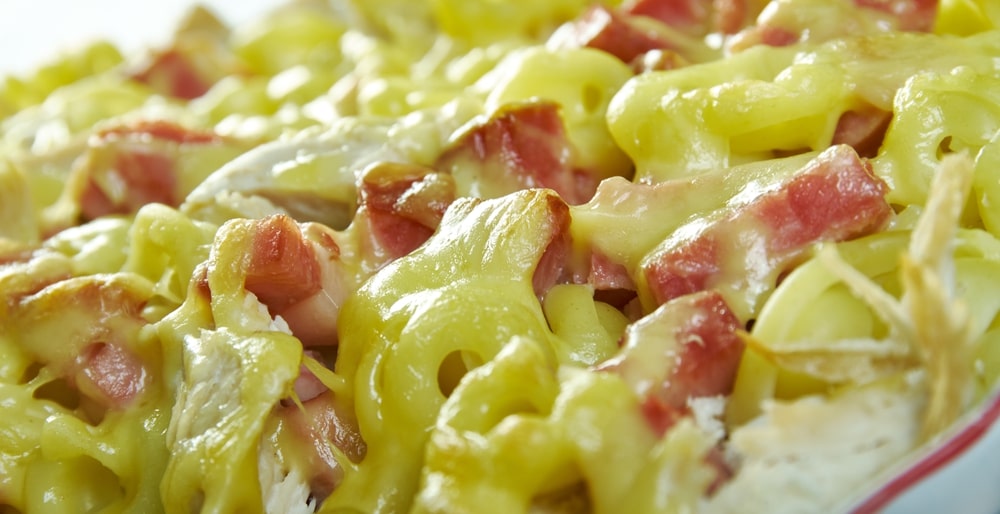 Serving Options for Low Carb/Keto
My first pick is always a nice green salad, then green veggies like asparagus, green beans, Brussel sprouts or kale, collard or sautéed spinach. You can also serve the chicken cordon bleu casserole with a side of roasted cauliflower or on a bed of cauliflower rice.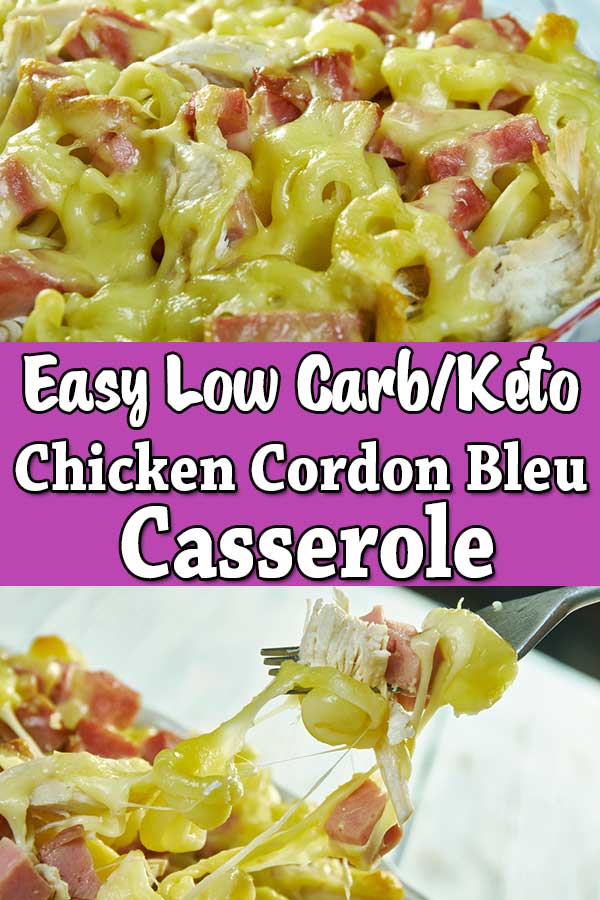 Yield: 4
Chicken Cordon Bleu Casserole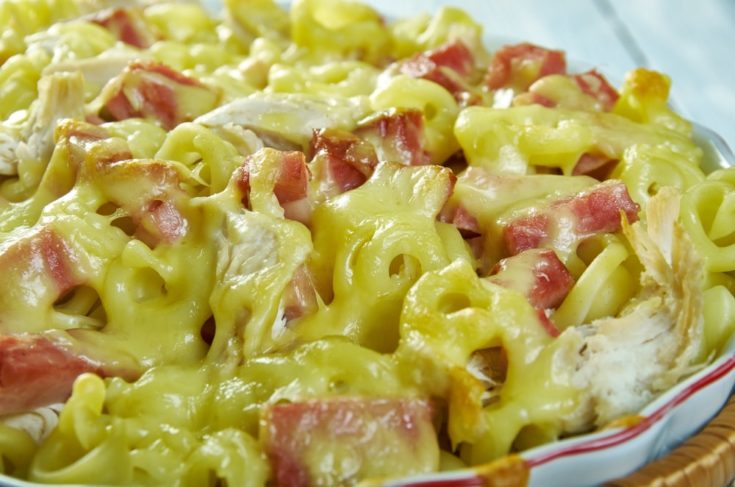 This easy Chicken Cordon Bleu Casserole is the go-to dinner recipe for busy weeknights. This combines all the flavors of chicken, ham and swiss that is baked until bubbly.

Prep Time 20 minutes

Cook Time 35 minutes

Total Time 55 minutes
Ingredients
1 (8 ounce) package wide egg noodles
2 cups cooked chicken breast, chopped
8 ounces cooked ham, cubed
8 ounces Swiss cheese, cubed
½ cup light sour cream
2 tablespoons butter
¼ cup grated Parmesan cheese
1 (10.75 ounce) can cream of chicken soup, reduced-fat, reduced-sodium
½ cup milk
⅓ cup seasoned bread crumbs
Instructions
Preheat oven to 350 degrees F.
Lightly grease a 9x13-inch baking dish.
Take a large pot and boil water and salt; Cook egg noodles in the boiling water for about 5 minutes, stirring occasionally until cooked through. Drain and set aside.
Now transfer the noodles to the casserole dish; top with chicken, ham, and Swiss cheese.
In a bowl, mix cream of chicken soup, sour cream, milk, together and spread the mixture over noodle mixture.
Heat a skillet and melt butter over medium heat; cook and stir Parmesan cheese and bread crumbs in the melted butter for about 2 to 3 minutes until crumbs are coated with cheese and butter. Sprinkle the bread crumb mixture over casserole.
Bake in the preheated oven for about 30 minutes until casserole is lightly browned and bubby.
Remove from the oven and allow the casserole to cool for 10 minutes before serving.
Nutrition Information
Serving Size
8
Amount Per Serving Calories 425Total Fat 20gSaturated Fat 11gCholesterol 129mgSodium 999mgCarbohydrates 27gSugar 4gProtein 33g

Still Hungry? Check these other delicious Chicken recipes:
So, Guys, I hope you enjoy this chicken cordon bleu casserole recipe which I make on a weekly basis. All the chicken lovers who are looking for easy chicken cordon bleu casserole will enjoy this recipe. And if you like this recipe then Don't forget to share it with your friends on Pinterest, Facebook, and other social media platforms. And do follow us on Tumblr, Pinterest, facebook, twitter, and Instagram.