Kung Pao Chicken: It is a spicy, stir-fried Chinese dish made with peanuts, vegetables, chicken, and chili peppers also known as Kung Po or Gong Bao. You don't need to use a wok. It only takes 20 minutes to make the dish get it ready on the table, while other recipes take 30 minutes – 60 minutes on average. It uses only 10 ingredients. It's a perfect recipe to make moist & tender chicken.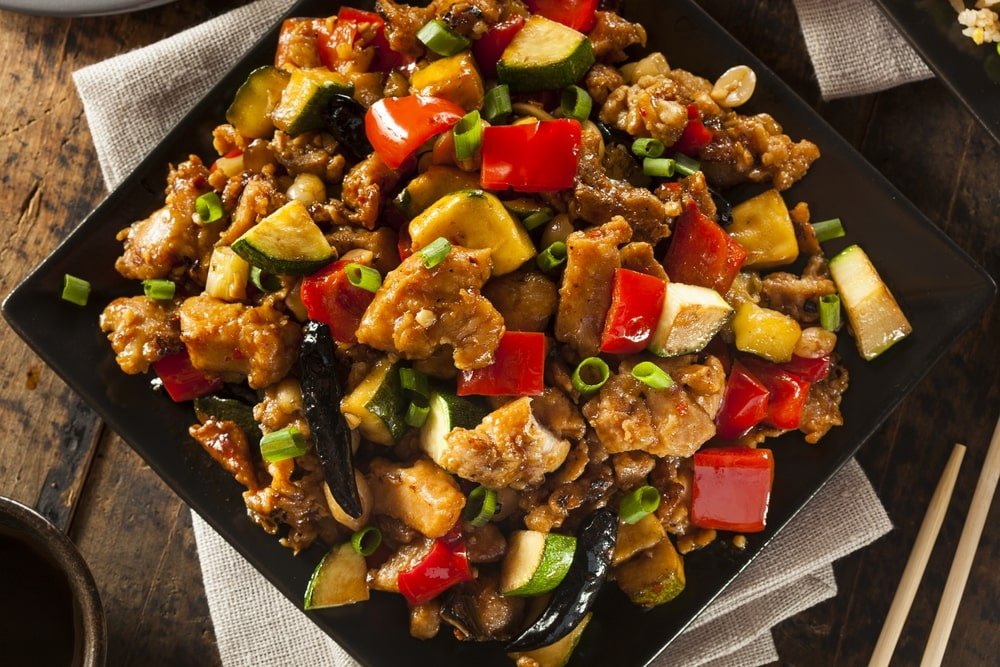 What is Kung Pao Chicken
It is one of the healthiest chicken recipes that you can make from scratch and you can also add extra vegetables to the stir-fry, like bell peppers & zucchini. Kung Pao chicken is also a staple of westernized Chinese cuisine.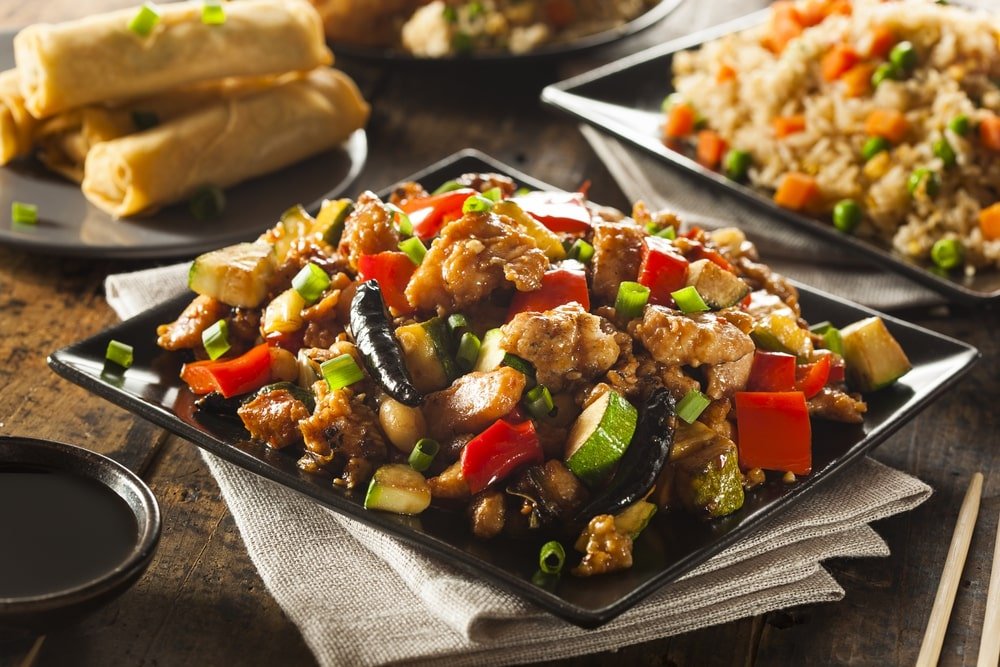 Authentic Kung Pao Chicken with Kung Pao Sauce
Kung Pao Sauce is the key ingredient of Kung Pao Chicken. The sauce and marinade contain chicken broth, vinegar, soy sauce, chili paste & cornstarch. Again the secret ingredient here is the dark vinegar in the sauce, which is made of dark soy sauce, soy sauce, sugar, water, and cornstarch. The sauce ingredients & chicken marinade really add the extra flavor to this dish.
It mostly sweet, salty and vinegary in taste. The spiciness of Kung Pao Chicken comes not from the sauce it's mainly from the dried red chilies used in the stir-fry. You may use red wine vinegar, rice vinegar, or apple cider vinegar for best results.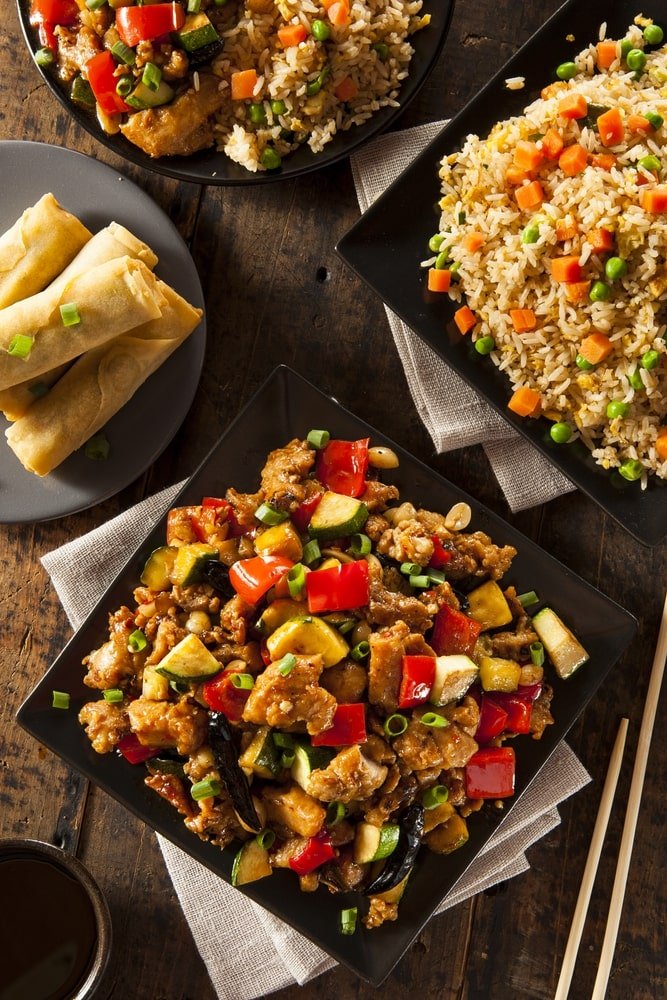 Kung Pao Chicken also includes Sichuan peppercorns (Szechuan peppers). You can find them in gourmet chain stores or Asian grocery stores like Whole Foods. While the sauce is cooking, they provide extra heat, and unless you want your mouth to be on fire you can eat them too. I personally don't always add the Szechuan peppers. you can also check my Szechuan Chicken recipe.
How to make Kung Pao Chicken
In a wok or skillet, it is mainly stir-fried. First, heat oil and cook the ginger and garlic, and then to make it spicy add the dried red chilies. Add the chicken, Kung Pao Sauce, and peanuts and stir-fry. This will make your Kung Pao Chicken recipe so delicious & authentic. Try it and I am sure you will need it again and again!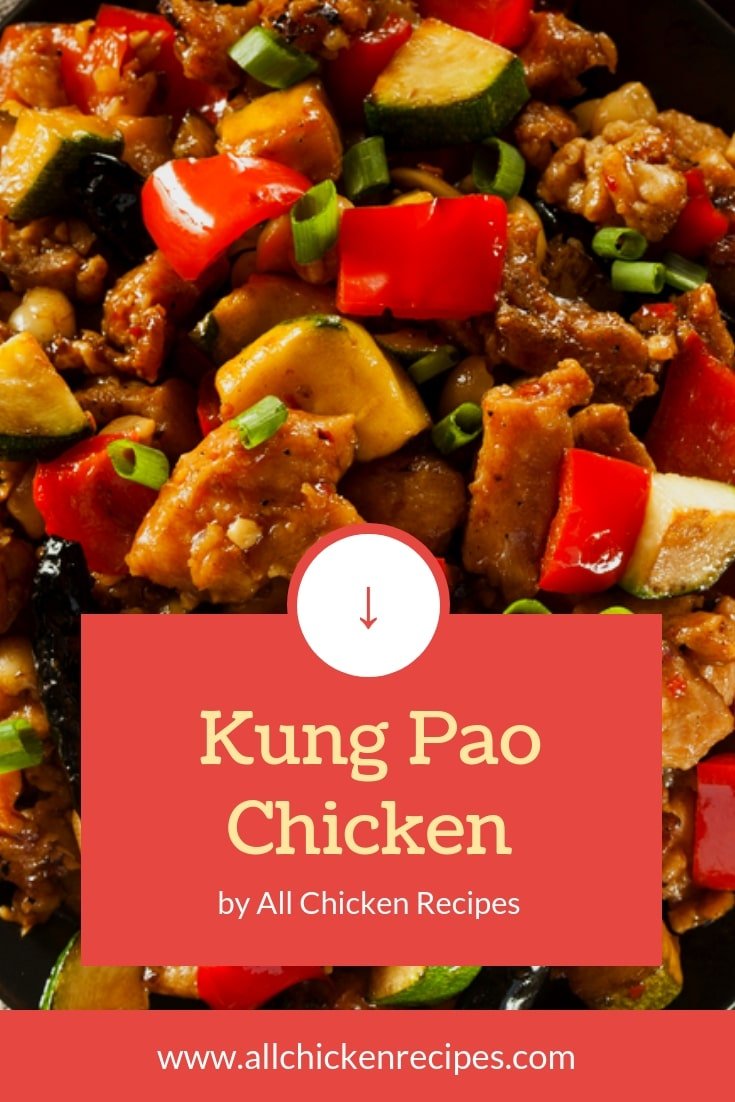 Still Hungry!! Try these Delicious Chicken Recipes:
Yield: 4
Kung Pao Chicken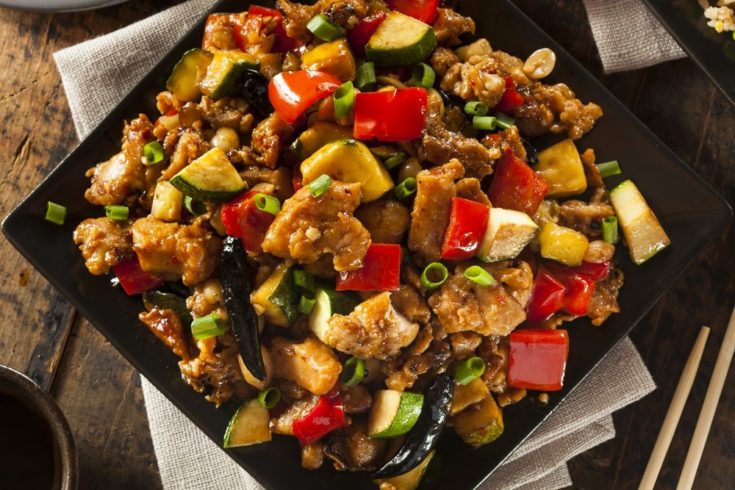 Kung Pao Chicken is one of the healthiest chicken recipes. It is a spicy, stir-fried Chinese dish made with peanuts, vegetables, chicken, and chili peppers.

Prep Time 30 minutes

Cook Time 30 minutes

Total Time 1 hour
Ingredients
2 tablespoons soy sauce
2 tablespoons white wine
1 pound skinless, boneless chicken breast halves - cut into chunks
2 tablespoons sesame oil, divided
1 ounce hot chile paste
2 tablespoons cornstarch, dissolved in 2 tablespoons water
4 green onions, chopped
1 teaspoon distilled white vinegar
1 (8 ounce) can water chestnuts
2 teaspoons brown sugar
4 ounces chopped peanuts
1 tablespoon chopped garlic
Instructions
Make Your Marinade
Combine 1 tablespoon soy sauce, 1 tablespoon wine, 1 tablespoon cornstarch mixture, 1 tablespoon oil and mix together. Place chicken pieces in a bowl and add marinade. Cover and place in refrigerator for about 30 minutes.
Make Your Sauce
In a small bowl combine 1 tablespoon soy sauce, 1 tablespoon wine, 1 tablespoon cornstarch mixture, 1 tablespoon oil, vinegar, chili paste and sugar. Mix together and add garlic, water chestnuts, green onion and peanuts. Heat sauce slowly in a medium skillet until aromatic.
Remove the chicken from marinade and in a large skillet saute your chicken until juices run clear and meat is white.
Add your sauteed chicken to the sauce and let simmer together until sauce thickens.
Recommended Products
As an Amazon Associate and member of other affiliate programs, I earn from qualifying purchases.
Nutrition Information
Serving Size
4
Amount Per Serving Calories 514Total Fat 25gSaturated Fat 4gCholesterol 83mgSodium 899mgCarbohydrates 37gSugar 7gProtein 35g

So, Guys, I hope you enjoy this Kung Pao Chicken Recipe which I make on weekly basis. All the Chicken Lovers who are looking for Kung Pao Chicken will enjoy this recipe. And if you like this recipe then Don't forget to share it with your friends on Pinterest, Facebook, and other social media platforms. And do follow us on facebook, twitter, Pinterest, Tumblr, and Instagram.