Chicken Cordon Bleu: This easy Chicken Cordon Bleu is very quick and easy to prepare, and btw its a baked version (not fried). It is full of flavors and crunchy stuffed with ham and melted swiss cheese (or any cheese you want). This Chicken Cordon Bleu is baked with vegetables and served with an incredible Dijon Cream Sauce which is my family favorite. It's completely delicious, perfect for tonight's dinner.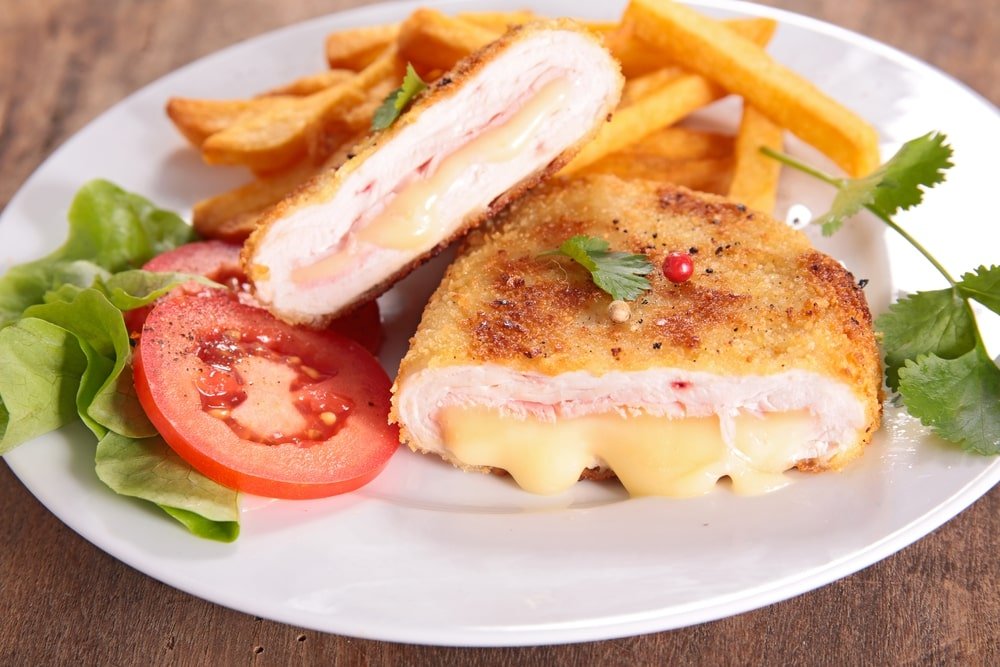 How to Stuff Chicken Cordon Bleu
You can stuff your Chicken Cordon Bleu simply by cutting your chicken breast from the middle and make a pocket in it, then stuff it with ham and cheese. Secure with toothpicks and that' all with your stuffing.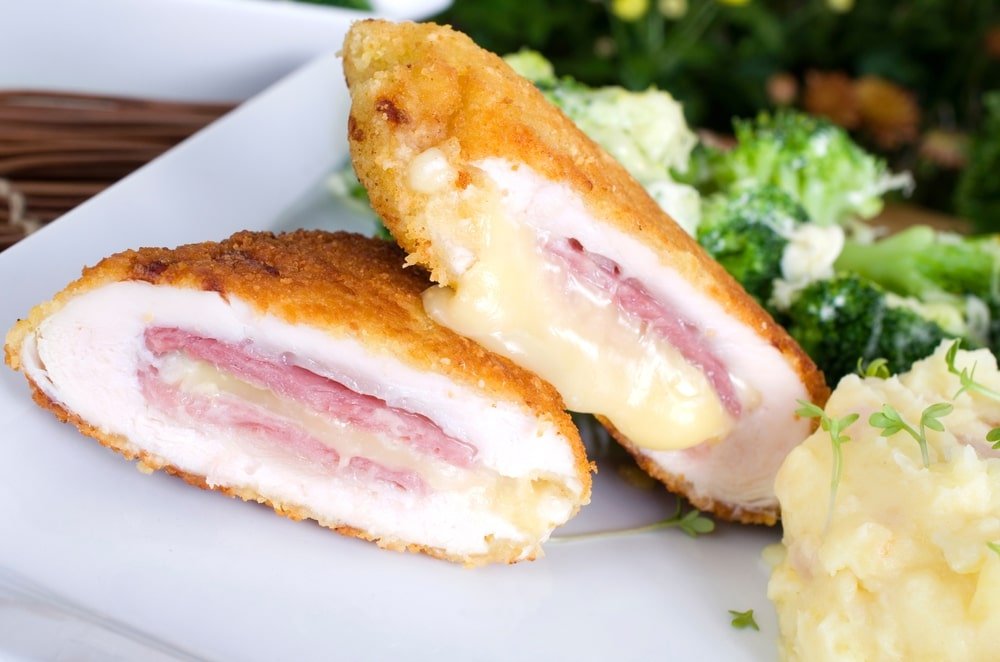 Chicken Cordon Bleu Sauce
The main ingredient here in this recipe is the Sauce which makes it so fantastic it's so creamy and full of flavors that you will love to eat it all alone with a spoon. Therefore, chicken cordon bleu sauce is a must in this dish.
In a small saucepan melt butter over medium heat. Add flour and cook for 1 minute.
Make a flour mixture by adding half the milk and whisk until the flour mixture is ready.
Add mustard, cheese and remaining milk cook for 3 minutes until thickened whisking constantly.
Add salt and pepper to taste and serve with chicken.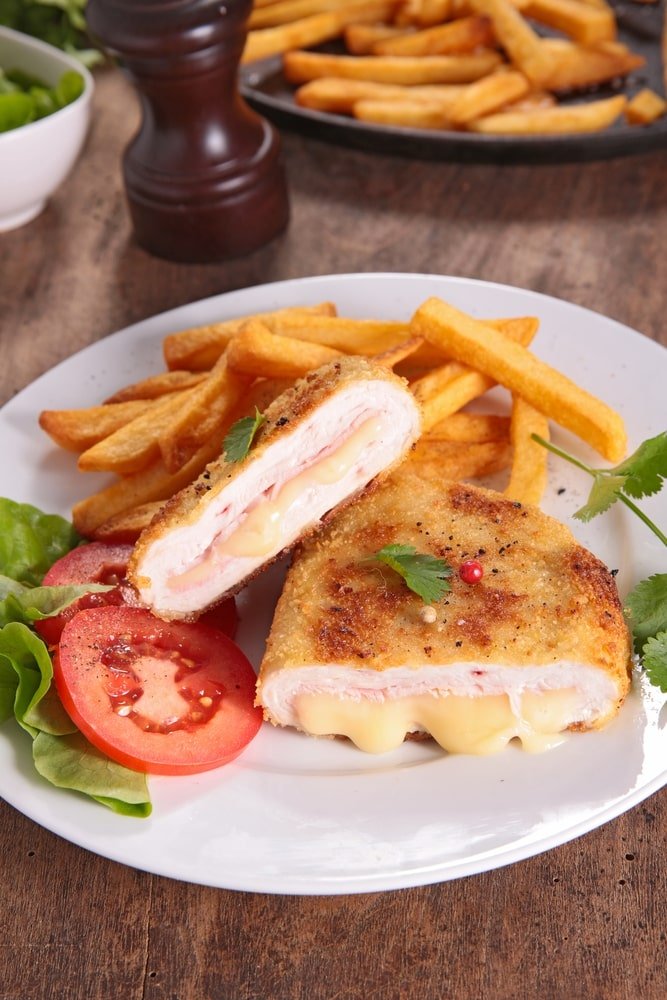 How to make Chicken Cordon Bleu
Place a ham slice and cheese on each breast. Roll the chicken up over the cheese and ham and secure with toothpicks.
In a small bowl mix the breadcrumbs and paprika. with melted butter coat your chicken and until the chicken is completely covered roll it in breadcrumbs.
In a large skillet heat the butter over medium-high heat, and cook the chicken on all sides until browned. Add the bouillon & broth. Reduce the heat and simmer until chicken is no longer pink and juices run clear for about 30 minutes.
Remove the toothpicks and serve.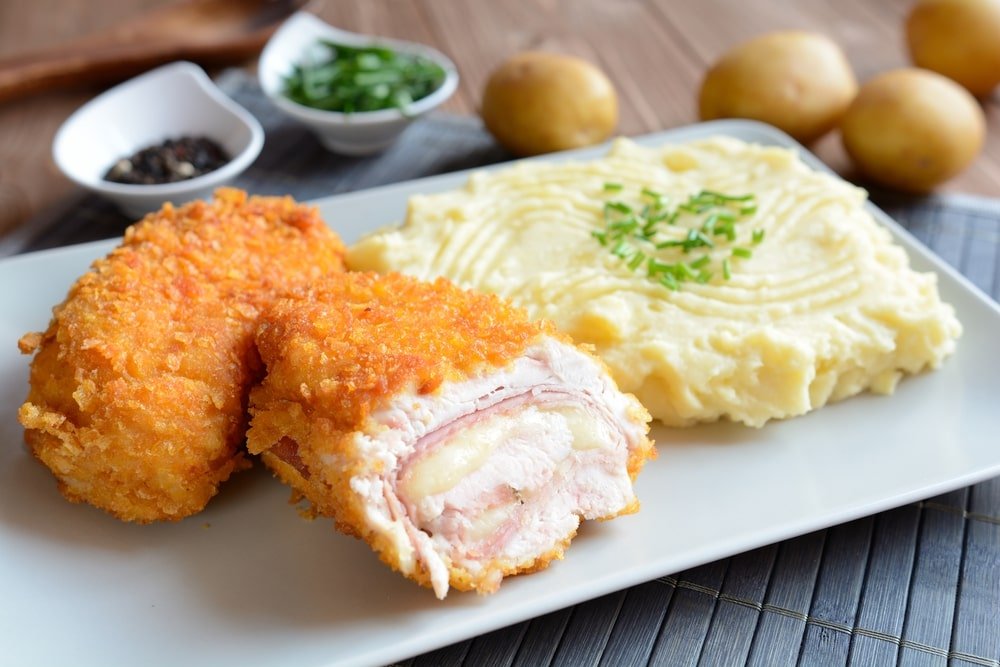 Still Hungry? Check these delicious Chicken recipes below: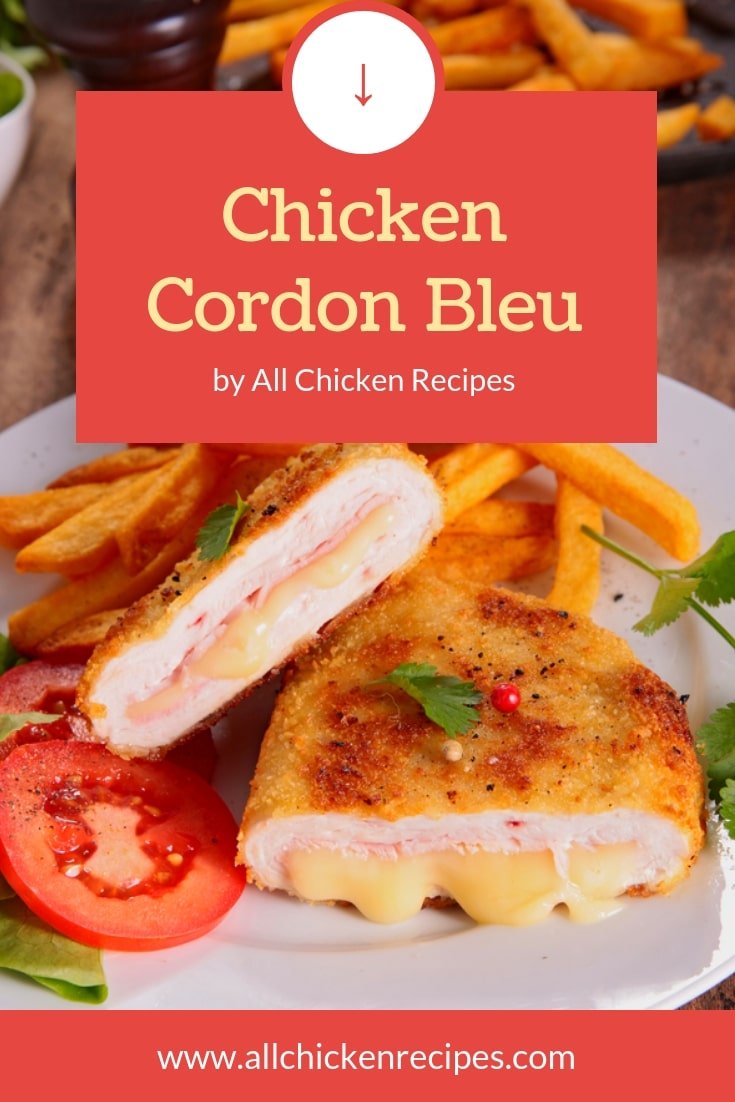 Yield: 4
Easy Chicken Cordon Bleu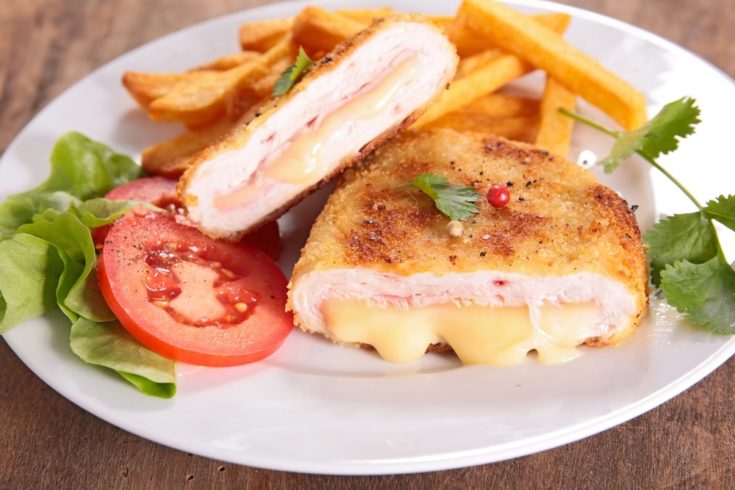 Chicken Cordon Bleu is very quick and easy to prepare and full of flavors stuffed with ham and melted cheese and it is baked with vegetables.

Prep Time 10 minutes

Cook Time 35 minutes

Total Time 45 minutes
Ingredients
4 skinless, boneless chicken breast halves
6 slices Swiss cheese
1/4 teaspoon salt
1/2 cup seasoned bread crumbs
4 slices cooked ham
1/8 teaspoon ground black pepper
Instructions
Preheat oven to 175 degrees C (350 degrees F). With nonstick cooking spray coat your baking dish.
Pound chicken breasts to 1/4 inch thickness.
Sprinkle each piece of chicken with salt and pepper on both sides. Place 1 ham slice & cheese on top of each breast. Roll up each breast, and secure with a toothpick.
Sprinkle chicken with bread crumbs until fully covered.
Bake for 30 to 35 minutes, until chicken is no longer pink and juices run clear.
Place 1/2 cheese slice on top of each breast and return to oven cook until cheese has melted for 3 to 5 minutes. Remove toothpicks, and serve immediately.
Nutrition Information
Serving Size
4
Amount Per Serving Calories 454Total Fat 21gSaturated Fat 11gCholesterol 141mgSodium 524mgCarbohydrates 22gSugar 5gProtein 43g
So, Guys, I hope you enjoy this
Chicken Cordon Bleu Recipe
which I make on weekly basis. All the Chicken Lovers who are looking for
Chicken Cordon Bleu
will enjoy this recipe. And if you like this recipe then Don't forget to share it with your friends on Pinterest, Facebook, and other social media platforms. And do follow us on facebook, twitter, Pinterest, Tumblr, and Instagram.