This Stuffed Chicken Breast is juicy and moist from inside with stuffed with cheese and spinach which can be a perfect chicken dinner for the entire family.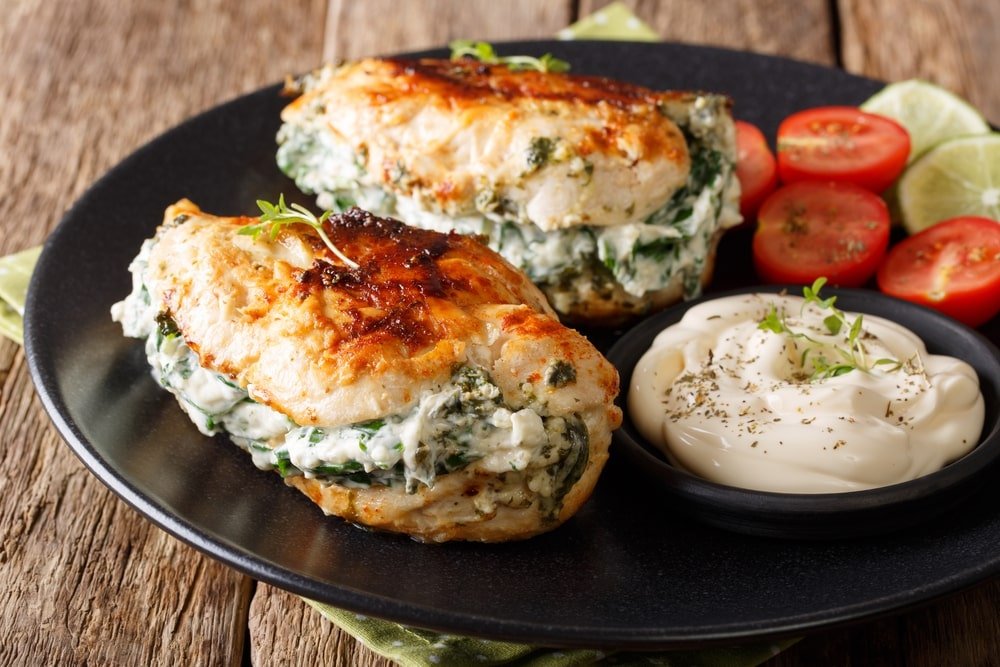 This recipe can also be called as Spinach Stuffed Chicken Breast because it has that awesome flavor and taste of fresh baby spinach.
And again this Baked Stuffed Chicken Breast and be called as Cheese Stuffed Chicken Breast because it is filled with parmesan cheese and mayonnaise. I am sure that when you will cut the baked chicken breast pieces in slices and serve it with rice pilaf, you will be just amazed by all the awesome cheesy baked flavors.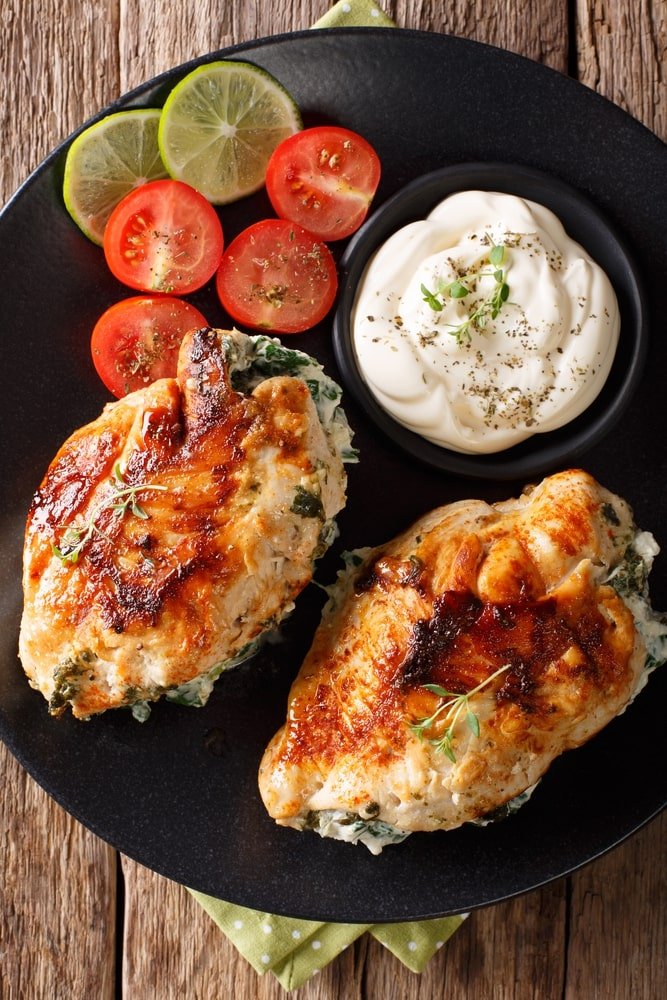 Easy Stuffed Chicken Breast – Variations
Frankly speaking, this baked stuffed chicken breast recipe is so versatile, you can pretty much add anything you want, but I always try something different like someday I stuff it Fajitas (Chicken Fajitas) and you can get that awesome color with all different types of bell peppers (green, red, yellow)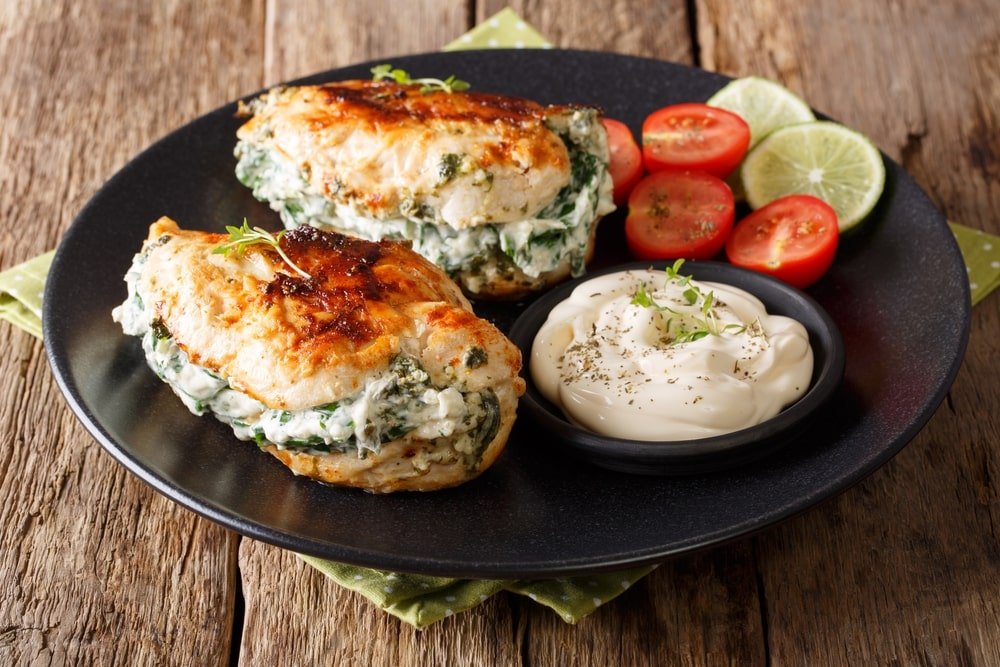 Otherwise, if you are in a hurry try to make a stuffing of garlic, butter and spinach and stuff the chicken breast and bake (See the stuffing recipe here – Its Chicken Kiev) and even you can try olives, chopped broccoli florets, fresh herbs, dried tomatoes, etc.
What to Serve with Stuffed Chicken Breast
This Stuffed Chicken Breast can be served with anything you want like Baked Potatoes, baked broccoli or beans or just eat it right away.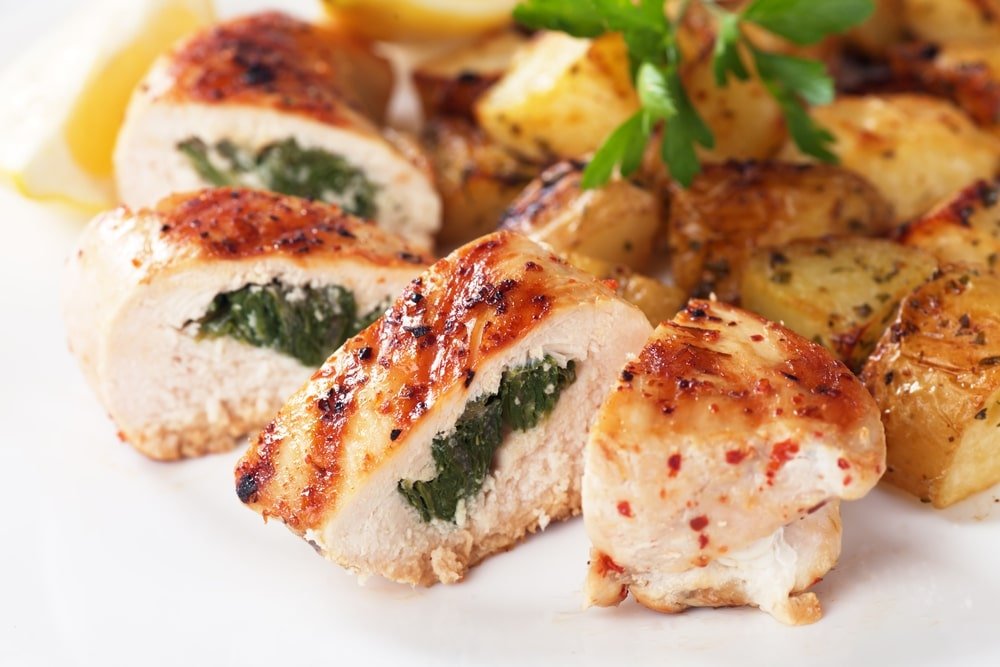 Still Hungry! Try these chicken recipes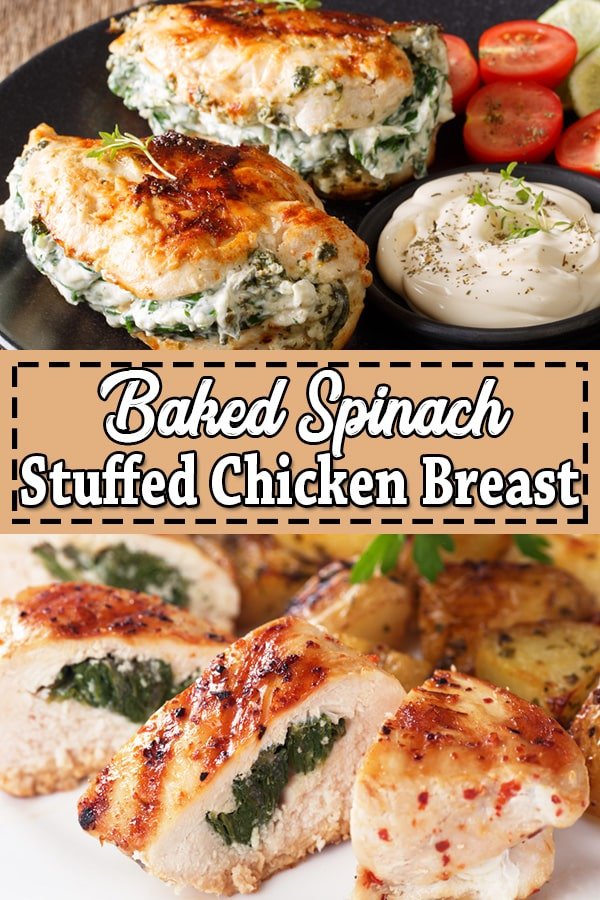 Yield: 4
Stuffed Chicken Breast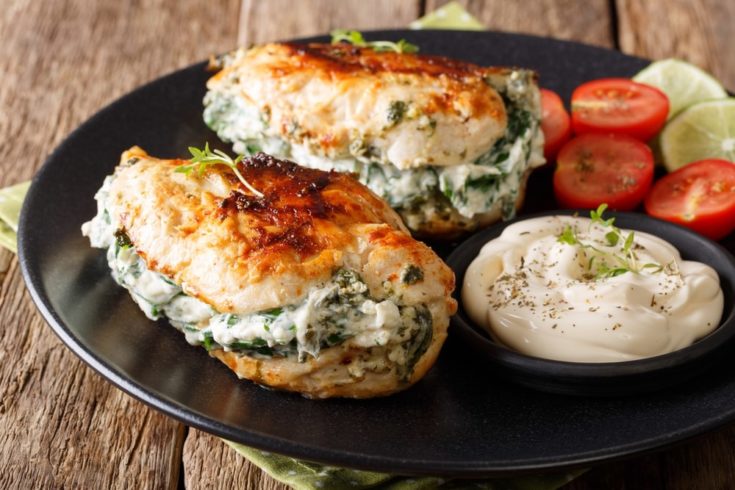 This Stuffed Chicken Breast is juicy and moist from inside with stuffed with cheese and spinach which can be a perfect chicken dinner for the entire family.

Prep Time 10 minutes

Cook Time 30 minutes

Total Time 40 minutes
Ingredients
4 chicken breasts, boneless, skinless
2 bunches of spinach
2 tsp Italian Seasoning
3 heaped tbsp mayonnaise
4 ounces cream cheese
1 cup grated Parmesan cheese
1/4 tsp garlic powder
1 tsp oregano
1-2 tsp paprika
salt and pepper
4 tablespoon olive oil
Instructions
Preheat the oven to 375 F (190 degrees C).
Wash the spinach leaves carefully and boil the leaves for a few minutes until wilted and drain all the water and finely chop the leaves.
Ina bowl, add the spinach, cream cheese, grated parmesan, and mayonnaise and mix all together.
Take the chicken breasts on a parchment paper then to the cutting board and make pockets on each with a sharp (Without any holes!).
Season each breast with Italian seasoning, salt, and pepper.
Now stuff each chicken breast with the spinach mixture and secure the pockets with toothpicks.
Transfer the chicken with parchment paper to your baking sheet.
Season with more salt and pepper, paprika garlic powder, and oregano, drizzle with olive oil and bake for 25-30 minutes at 375F until chicken is cooked through.
Garnish with Parsley leaves.
Nutrition Information
Serving Size
4
Amount Per Serving Calories 521Total Fat 40gSaturated Fat 13gCholesterol 136mgSodium 581mgCarbohydrates 6gSugar 1gProtein 35g

So, Guys, I hope you enjoy these Healthy Stuffed Chicken Breast Recipe which I make on weekly basis. All the chicken lovers who are looking for Spinach Stuffed Chicken Breast will enjoy this recipe. And if you like this recipe then Don't forget to share it with your friends on Pinterest, Facebook, and other social media platforms. And do follow us on Tumblr, Pinterest, facebook, twitter, and Instagram.