Chicken pot pie: It is one of the most popular types of pot pies and it can vary significantly in terms of both ingredients and preparation. Chicken Pot Pie had been one of my favorite comforting meal of all time since I was a 14-year Kid. This Chicken Pot Pie is a wonderfully delicious and loaded with shredded chicken, carrots, and peas that the whole family will enjoy. The pie crust is filled with shredded chicken (or turkey), creamy sauce and vegetables.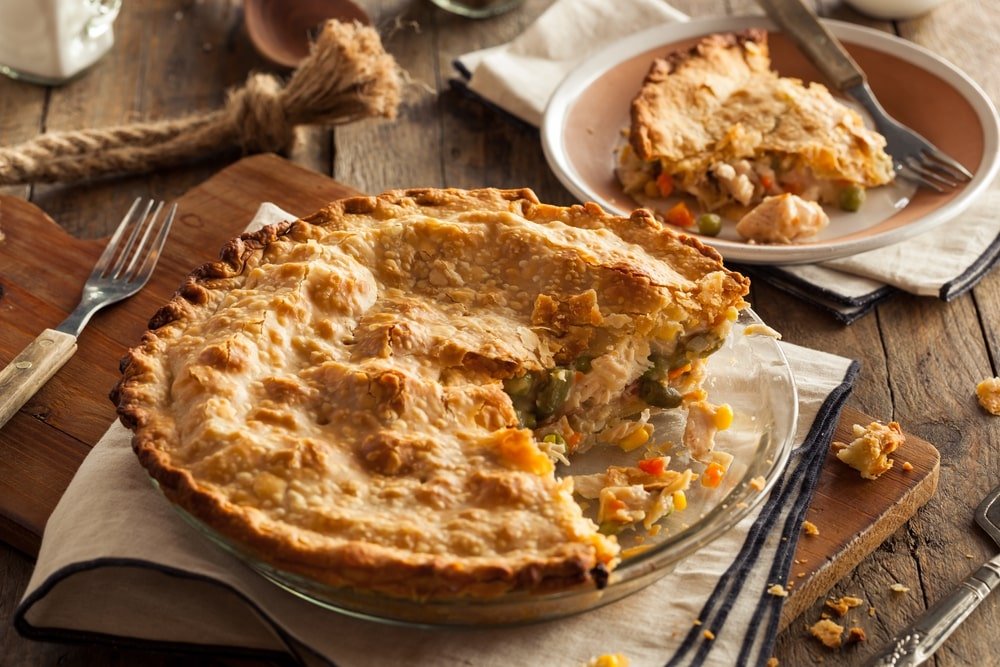 The only way to make this Chicken Pot Pie delicious is that you should layer of pie crust on the bottom and one on top to enjoy the crust but this part is where people mess up.
What it is called a Chicken Pot Pie
A pot pie is a type of meat pie with a top and a bottom pie crust, consisting of flaky pastry. Pot pies can also be made with a variety of fillings like beef, poultry, and seafood and may also differ in the types of crust. But in the USA, people like to eat Chicken pot pie because it's the ultimate comfort food.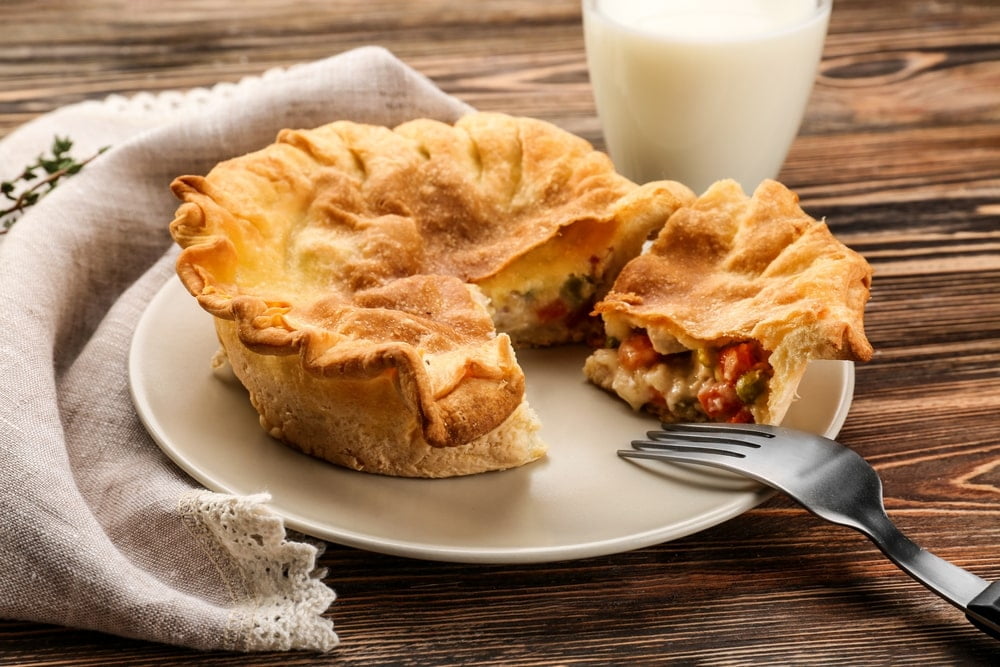 How to make Homemade Chicken Pot Pie
Add carrots, butter, onion, celery, and garlic in a large pot.
Saute until tender. Stir in flour until blended.
Add chicken broth. Cook and stir until thickened for 2 minutes.
Stir in parsley, garlic, peas, ½ cup cream, salt, and pepper. Stir in chicken.
In a small bowl, whisk 1 tablespoon of cream and egg.
Spoon chicken mixture into crust-lined pan Place over filling and seal the edges and flute. Brush top of pies with egg mixture and Cut slits to vent.
Bake at 375 until golden for 40-45 minutes. Serve after 10 minutes.
If you are a family of 4-6 then you can serve this Chicken pot pie with a large salad with Lemon Vinaigrette, because you can easily get two meals out of it. You can refrigerate leftovers for a few hours if you're not ready to bake it right away, covered in plastic wrap.
Many of my readers are asking me for Bisquick chicken pot pie so here it is below.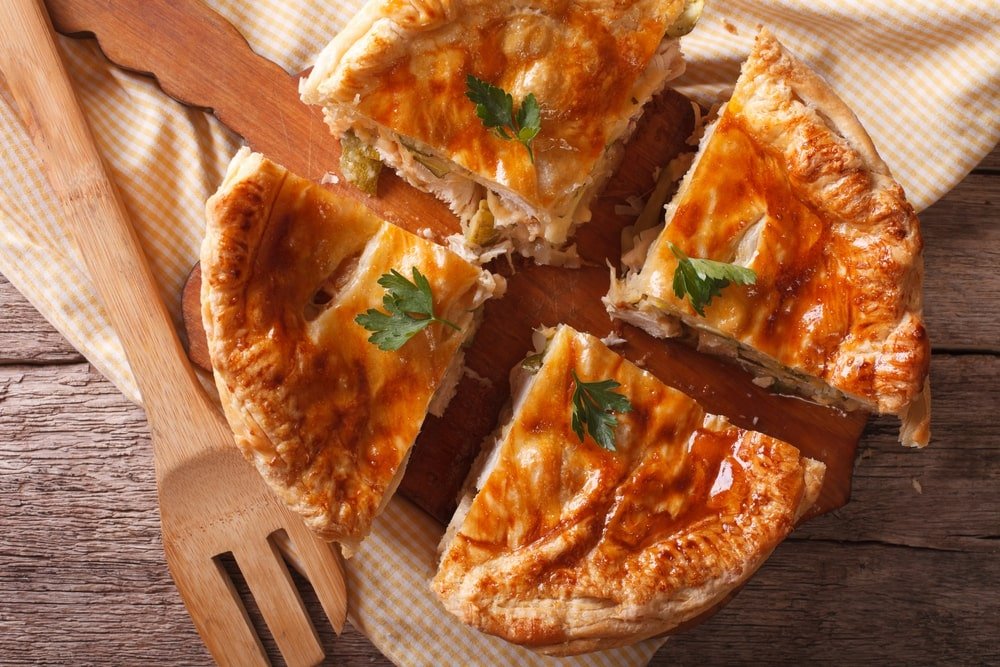 How to Make Bisquick Chicken Pot Pie
Preheat oven to 400°F (204°C).
Mix veggies chicken and cream of chicken soup together and on the bottom of a non greased 9-inch pie pan spread it.
Mix remaining milk, Bisquick, and egg and pour on top of chicken mixture.
Bake in the oven until top turns golden brown for 30 minutes.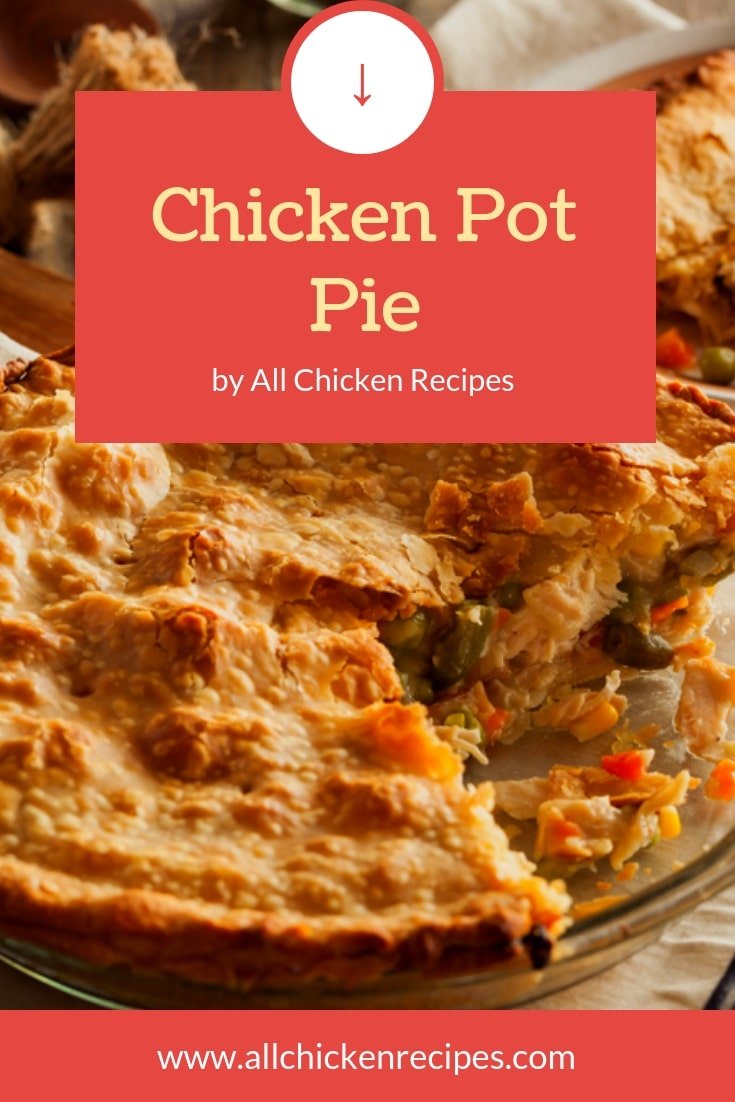 Still Hungry! Check these delicious Chicken Recipes:
Yield: 4
Easy Chicken Pot Pie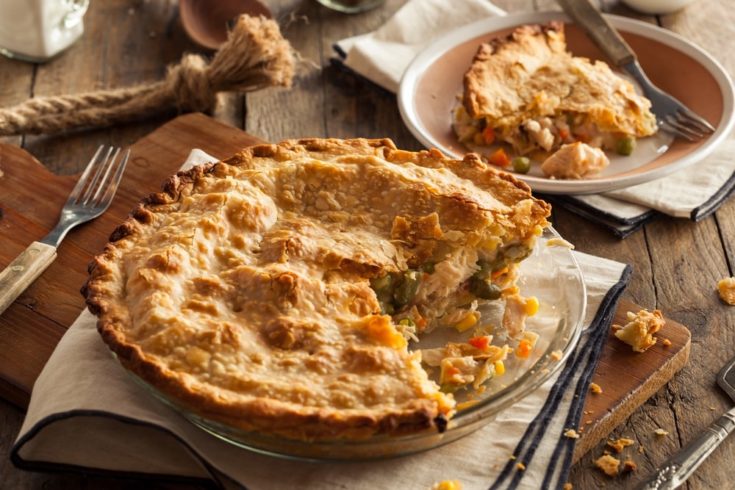 This Chicken Pot Pie is a wonderfully delicious and loaded with shredded chicken, carrots, and peas that the whole family will enjoy.

Prep Time 25 minutes

Cook Time 40 minutes

Total Time 1 hour 5 minutes
Ingredients
1/3 cup all-purpose flour
1/3 cup butter or margarine
1/3 cup chopped onion
2 cups frozen mixed vegetables, thawed
1/4 teaspoon pepper
1/2 teaspoon salt
2 1/2 cups shredded cooked chicken
1 3/4 cups chicken broth
4 refrigerated pie crusts, softened
1/2 cup milk
Instructions
Heat oven to 425°F. Make pie crusts using 9-inch glass pie pan for Two-Crust Pie.
Heat a 2-quart saucepan over medium heat and melt butter.
Add onion and cook until tender for 2 minutes, stirring frequently.
Stir in salt, flour, and pepper until well blended.
Stir in milk and broth, cooking and stirring until thickened and bubbly.
Stir in mixed vegetables and chicken. Remove from heat.
Spoon the chicken mixture into crust-lined pan. Top with second crust; seal the edges and flute. Brush top of pies with egg mixture and cut slits to vent.
Bake until crust is golden brown for about 30 to 40 minutes.
To prevent excessive browning, cover crust edges with foil strips during last 15 to 20 minutes of baking.
Let stand 10 minutes before serving.
Notes
Makes 2 Pies (Just use 2 pie crusts if you want to make only 1 pie)
Nutrition Information
Serving Size
4
Amount Per Serving Calories 605Total Fat 34gSaturated Fat 12gCholesterol 154mgSodium 1921mgCarbohydrates 34gSugar 7gProtein 41g

So, Guys, I hope you enjoy this Chicken Pot Pie Recipe which I make on weekly basis. All the Chicken Lovers who are looking for Chicken Pot Pie will enjoy this recipe. And if you like this recipe then Don't forget to share it with your friends on Pinterest, Facebook, and other social media platforms. And do follow us on facebook, twitter, Pinterest, Tumblr, and Instagram.