Chicken Divan is one of the delicious and easy dinner options for your family where Chicken and Broccoli are mixed with a creamy sauce then baked until bubbly.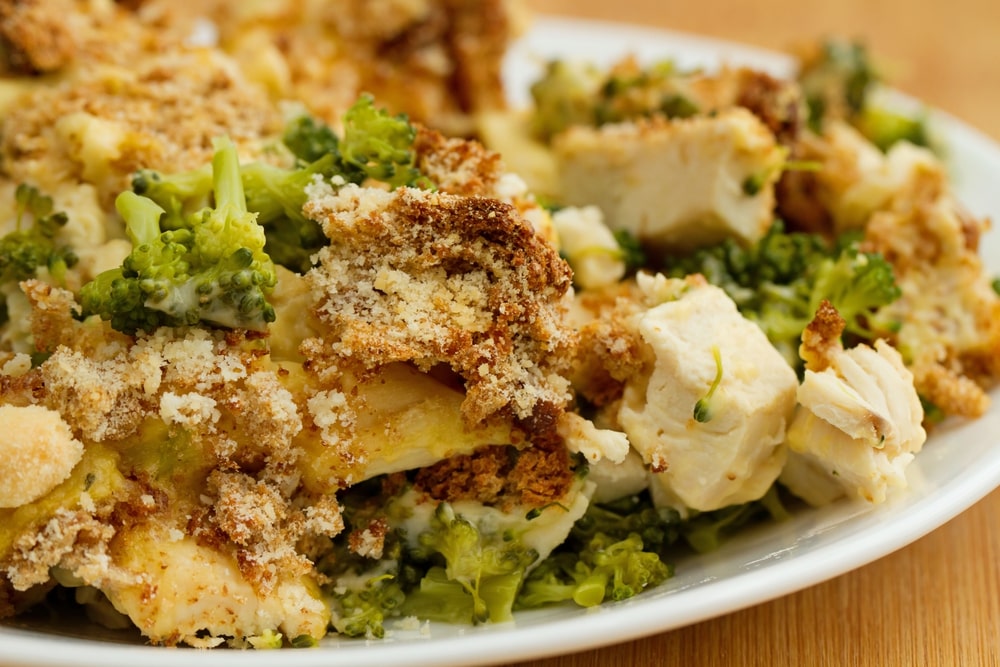 What is Chicken Divan?
Chicken Divan is basically a chicken casserole usually served with broccoli (chicken broccoli divan), Mornay sauce, and almonds. This dish was named divan chicken after the place of its invention, the Divan Parisienne Restaurant in the New York City Chatham Hotel in the early twentieth century where it was first served as the signature dish.
In French, the word divan means a great hall or a meeting place, and thus the name was chosen to imply a kind of continental elegance.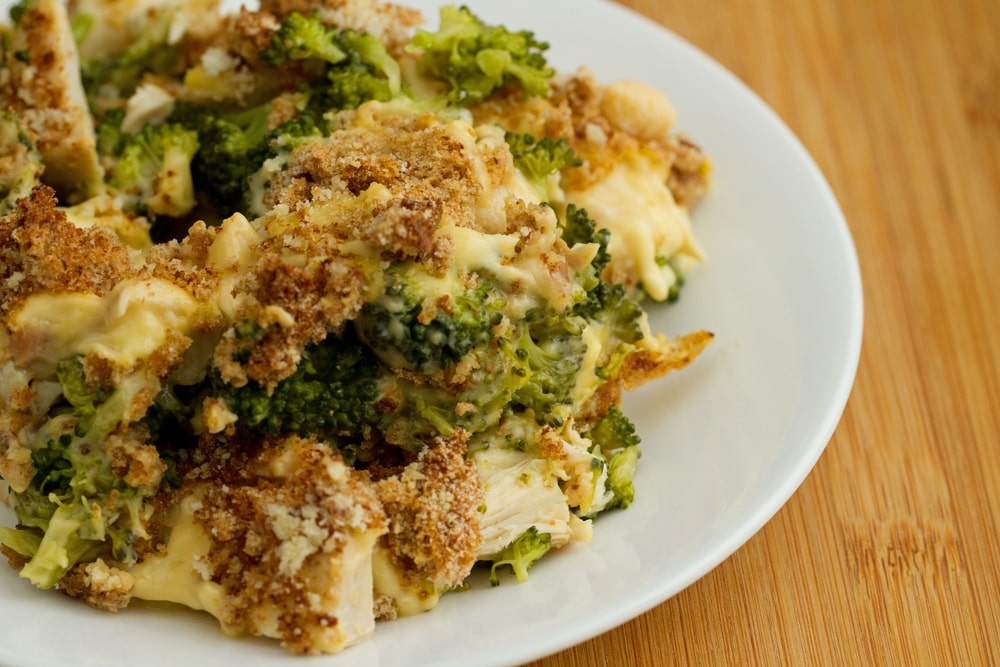 This dish is now prepared with regular Parmesan cheese and its still one of the most classic American casserole dishes today.
A quick and easy version of chicken divan casserole can be made with precooked chicken breasts, canned soup, and prepared mayonnaise. Some versions are usually topped with potato chips, in a manner similar to that of funeral potatoes. Leftovers can be stored in an airtight container in the refrigerator for up to 4 days.
Either you use fresh broccoli, cauliflower or asparagus to make this dish super awesome, everything goes well into this, which makes so versatile.
For the meat, we are using pre-cooked chicken breasts but you can also use leftover turkey, or you can use one rotisserie chicken which usually yields about 3 cups of meat.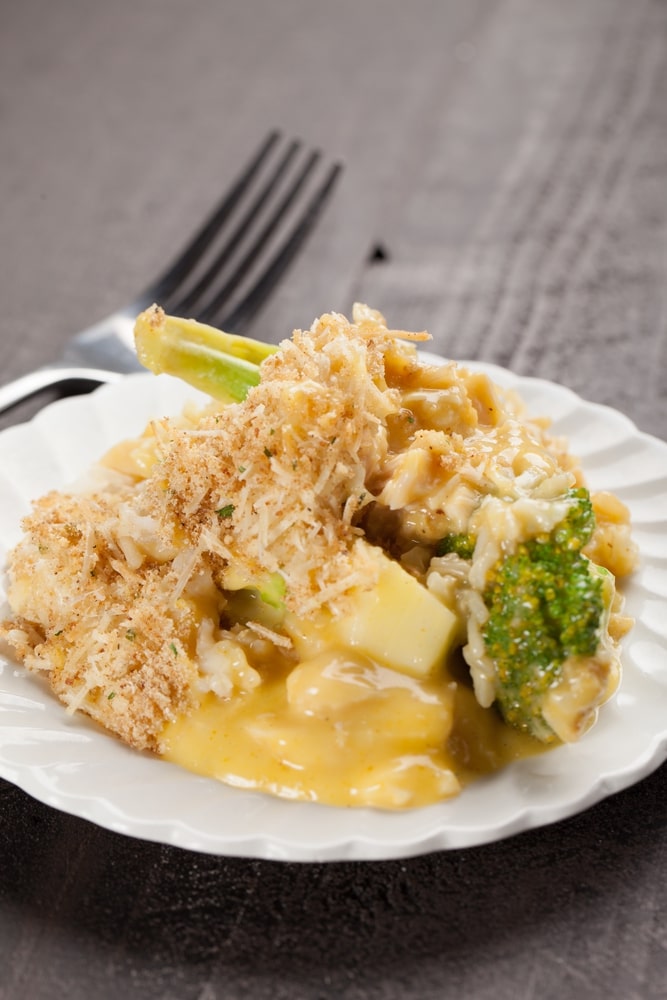 What to serve with Chicken Divan?
I personally love this chicken broccoli divan with rice or call it chicken divan with rice, but it also tastes amazing when served over garlic butter rice, buttery mashed potatoes or even noodles.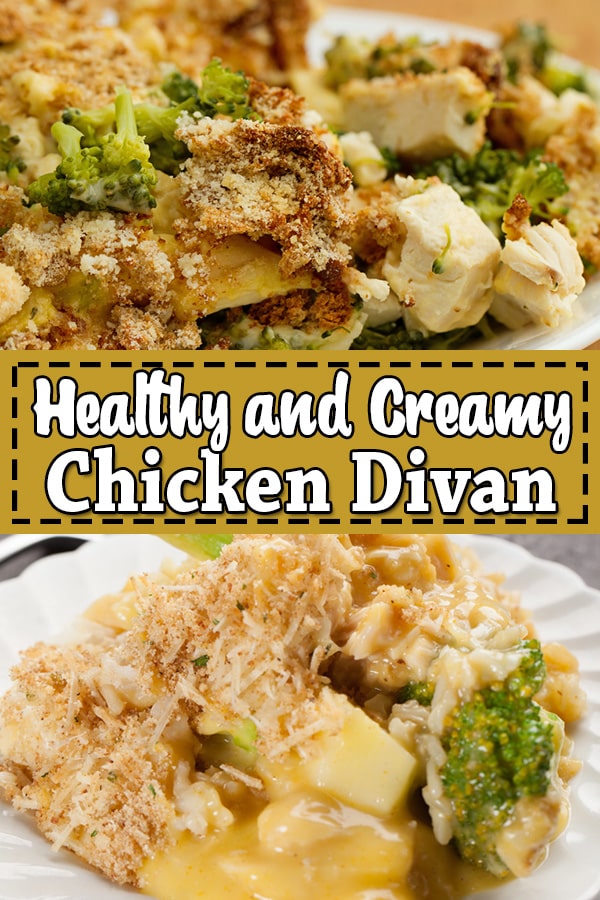 Yield: 4
Chicken Divan Recipe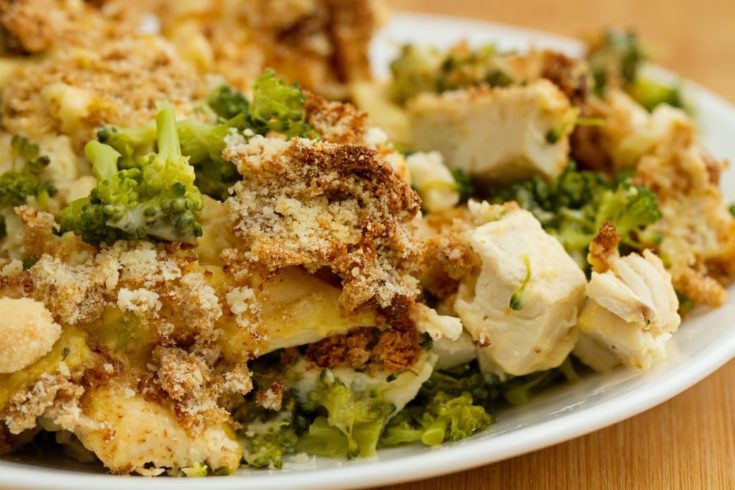 Chicken Divan is one of the delicious and easy dinner options for your family where Chicken and Broccoli are mixed with a creamy sauce then baked until bubbly.

Prep Time 10 minutes

Cook Time 40 minutes

Total Time 50 minutes
Ingredients
3 cups cooked chicken (about 1 pound)
1 (20-ounce) frozen broccoli florets
1 cup low-sodium chicken broth
1 cup whole milk
4 tablespoons (1/2 stick) unsalted butter
1/4 cup all-purpose flour
2 tablespoons cream sherry
1/2 teaspoon kosher salt
2 cups shredded sharp cheddar cheese, divided
1/4 cup panko breadcrumbs
Freshly ground black pepper
Cooked white or brown rice, for serving
Coarsely chopped fresh parsley, for serving (optional)
Instructions
Preheat oven to 400°F and arrange a rack in the middle of the oven.
In a large saucepan boil water and add broccoli and cook for 3 minutes until al dente.
In a medium saucepan melt the butter over medium heat. Add the flour and cook, for 1 minute stirring constantly. Add the milk and broth and whisk until and the mixture is smooth and the flour is completely dissolved, bring to a simmer, whisking frequently about 2 minutes until thickened to the consistency of gravy.
Remove from the heat, add 1 cup of the cheese and whisk until completely melted. Stir in the salt and sherry. Taste and season with more pepper and salt.
Take a 9x13-inch baking dish a combine the broccoli and chicken. Evenly pour the cheese sauce over it. Sprinkle with panko and the remaining 1 cup cheese. Bake for about 30 minutes until bubbling around the edges.
Increase the heat and broil for 3 to 5 minutes until browned in spots.
Let cool 5 minutes, garnish with parsley, and serve with rice.
Nutrition Information
Serving Size
4
Amount Per Serving Calories 631Total Fat 36gSaturated Fat 20gCholesterol 175mgSodium 1301mgCarbohydrates 28gSugar 6gProtein 48g

Still Hungry! Try these Awesome Recipes:
So, Guys, I hope you enjoy these easy chicken divan recipe which I make on weekly basis. All the chicken lovers who are looking for Chicken Broccoli Divan will enjoy this recipe. And if you like this recipe then Don't forget to share it with your friends on Pinterest, Facebook, and other social media platforms. And do follow us on Tumblr, Facebook, Pinterest, Twitter, and Instagram.