Chicken Fricassee – This easy fricassee chicken is a classic French comfort food made with chicken breasts, mushrooms and other vegetables in creamy white wine sauce that is perfect for a family weeknight dinner.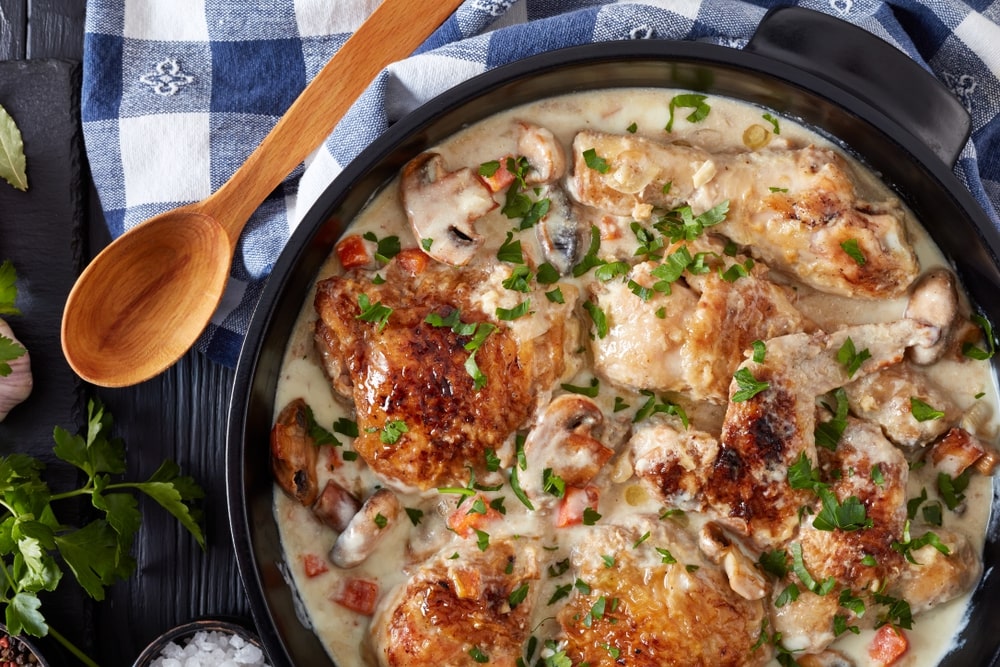 What is Chicken Fricassee?
Fricassee or fricassée is a method of cooking meat in which it is cut up and braised with other vegetables and served with its creamy white sauce.
Mostly most of the reference describe fricassee as a French stew, usually with a white sauce.
What about chicken fricassee Julia Child – Julia Child Master of French Cooking describes this as the halfway between a stew and sauté in that a saute has no liquid added, while a stew includes liquid from the beginning.
Basically, in a fricassee, cut-up meat is sauteed first (but not browned), then the liquid is added and simmered to finish cooking.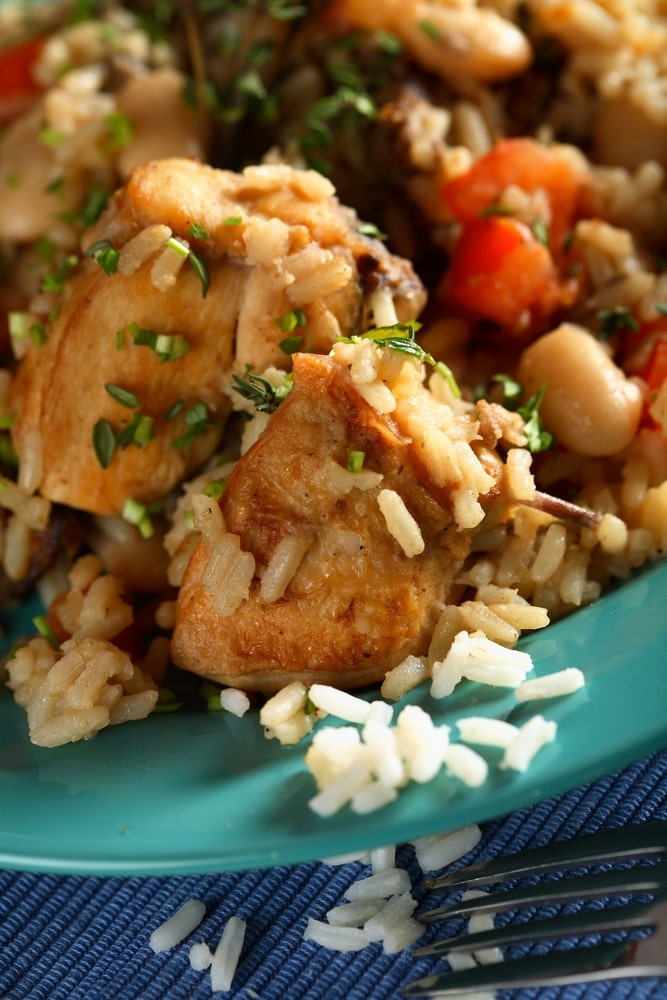 What to Serve With Chicken Fricassee?
You can serve it with mashed potatoes, polenta, over a bed of rice, riced/mashed cauliflower, or crusty bread to soak up that sauce.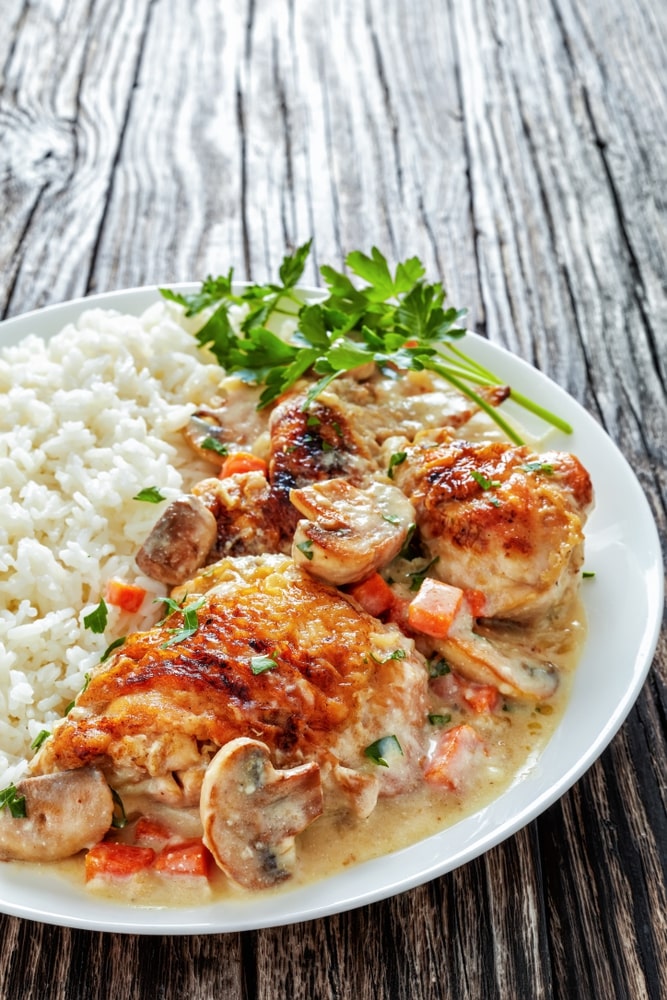 Can I store Chicken Fricassee?
Yes of course! Place the chicken in an airtight container and store it in the fridge for upto 3 days. When ready to eat, reheat in a skillet over medium heat or in the microwave.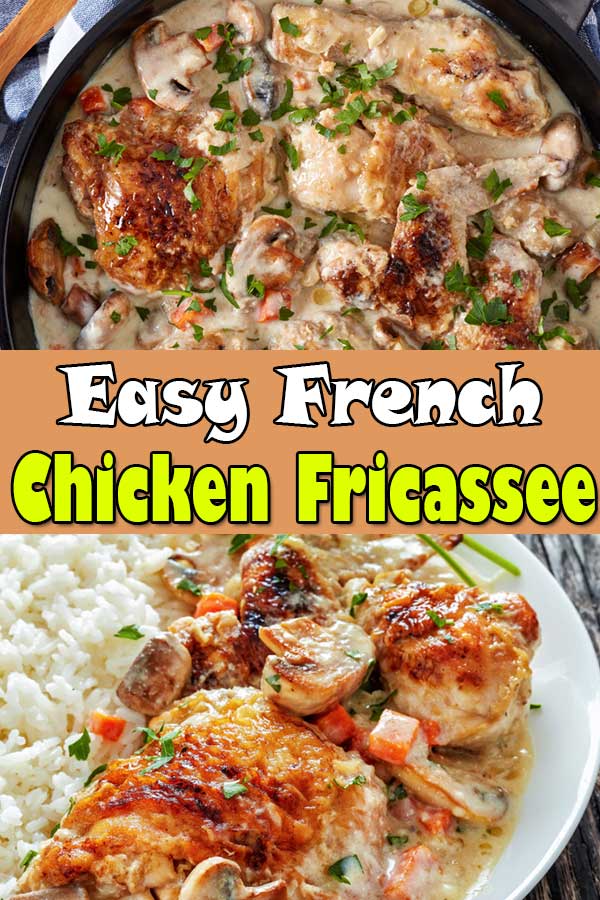 Yield: 4
Chicken Fricassee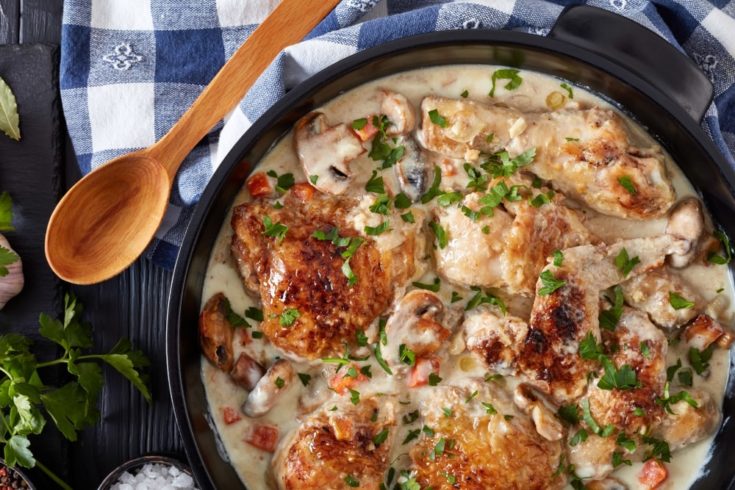 This easy Chicken Fricassee is a classic French comfort food made with chicken breasts, mushrooms and other vegetables in creamy white wine sauce that is perfect for a family weeknight dinner.

Prep Time 20 minutes

Cook Time 1 hour

Total Time 1 hour 20 minutes
Ingredients
4 (350g each) chicken thigh, halved
2 tablespoons plain flour
150g button mushrooms, thinly sliced
1/2 cup dry white wine
3 cups chicken stock
2 tablespoons olive oil
2 onions, thinly sliced
2 large carrots, peeled, thickly sliced
2 garlic cloves, crushed
1/2 cup thickened cream
1 tablespoon lemon juice
2 teaspoons chopped fresh tarragon leaves
3 egg yolks
2 sprigs fresh thyme, to serve
Salt, to season
Instructions
Preheat oven to 180°C/160°C. Take a bowl, place the chicken, season with salt and pepper and toss into flour to coat chicken. Once done, shake off any excess flour and transfer chicken to a large plate.
Heat half the oil in a large casserole dish over medium-high heat. Cook chicken for 2 to 3 minutes, each side or until browned. Cook chicken in batches.
Heat remaining oil in the dish. Add carrot and onion and cook for 5 minutes, stirring or until vegetables are soft.
Add garlic, mushrooms and cook until mushroom is tender, stirring, for 5 minutes. Return chicken to dish with wine. Bring to the boil.
Boil for 2 minutes or until it burns off the alcohol. Stir in stock. Bring to the boil. Transfer to oven and bake for 45 minutes uncovered or until chicken is tender.
Once done, transfer chicken to a plate and Cover to keep warm.
Combine egg yolks, tarragon, and cream in a jug. Place casserole dish over low heat and add the cream mixture.
Stir constantly until thickened slightly for about 5 minutes. Add lemon juice. Season with salt and pepper. Top with thyme and serve with crusty bread or over a bed of rice.
Nutrition Information
Serving Size
4
Amount Per Serving Calories 490Total Fat 28gSaturated Fat 11gCholesterol 316mgSodium 2250mgCarbohydrates 13gSugar 4gProtein 41g

Still Hungry! Try These Other Delicious Chicken Recipes:
So, Guys, I hope you enjoy this recipe for chicken fricassee which I make on a weekly basis. All the chicken lovers who are looking for easy chicken fricassee will enjoy this recipe. And if you like this recipe then Don't forget to share it with your friends on Pinterest, Facebook, and other social media platforms. And do follow us on Tumblr, Pinterest, facebook, twitter, and Instagram.