Chicken Fried Steak: It's the ultimate comfort food which starts with a beef round steak that's been tenderized and dredged in a flour mixture, then egg and then again back into the flour and finally being lightly fried to a crispy golden brown.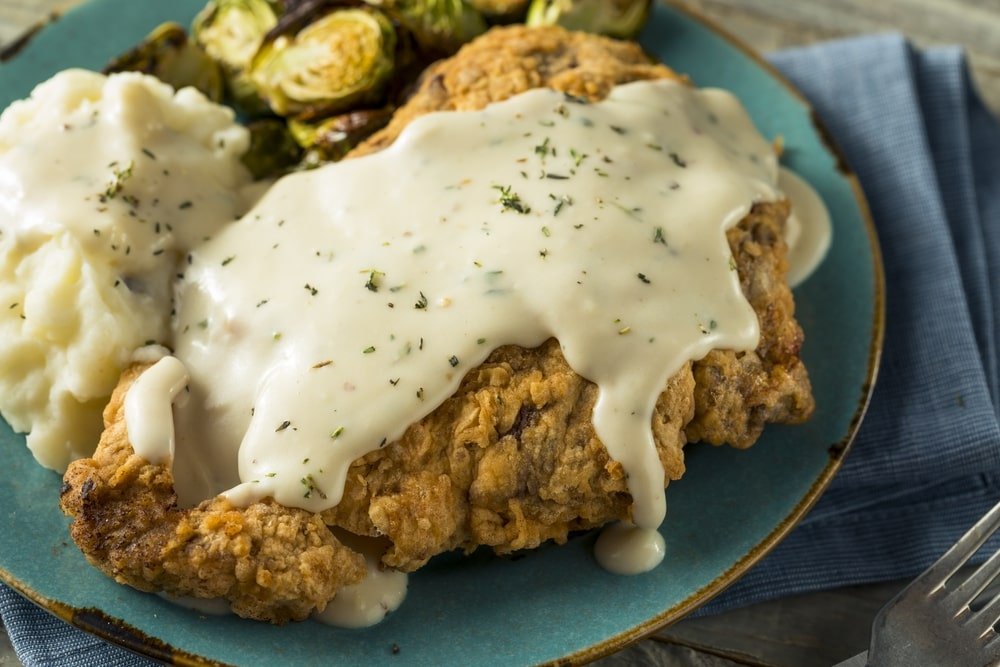 Chicken Fried Steak is tender and juicy inside and crispy on the outside, and delicious with a flavorful milk gravy. It's a perfect whole family dinner. It's very easy and simple to make and within 30 – 40 minutes it can be made. Not only it is a tasty but also a satisfying budget-friendly meal that can be made using cheaper cuts of beef.
What is Chicken Fried Steak?
Chicken fried steak is very similar to country fried steak which is an American breaded cutlet dish consisting of a piece of tenderized cube beef steak coated with seasoned flour and then pan-fried. It is also associated with the Southern cuisine of the United States.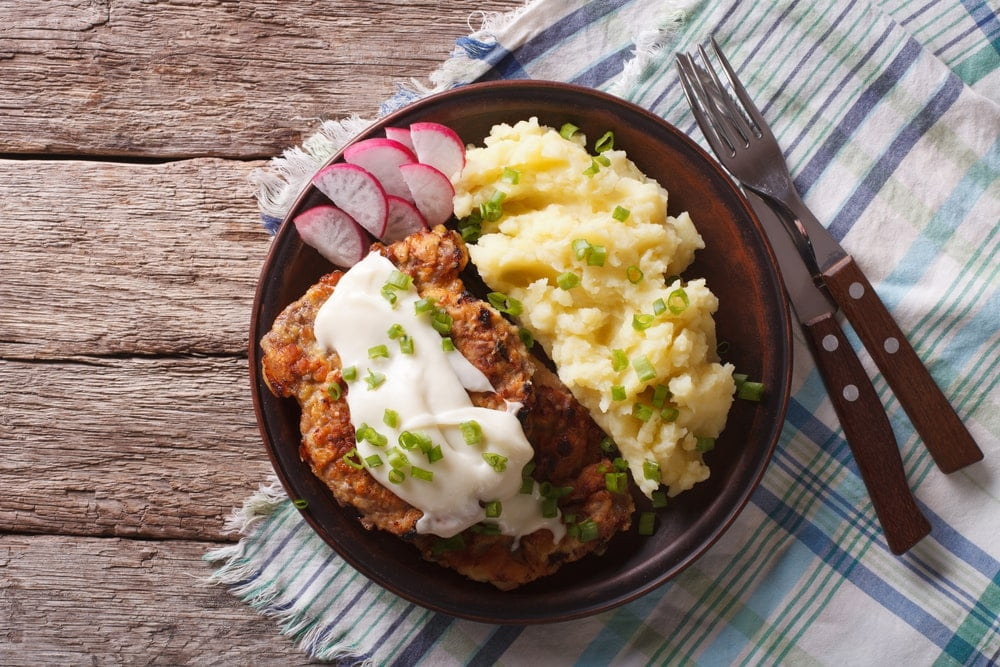 Chicken fried steak resembles the Italian-South American dish milanesa and the Austrian dish wiener schnitzel, which is a tenderized pork or veal cutlet, coated with eggs, flour, and bread crumbs, and then fried.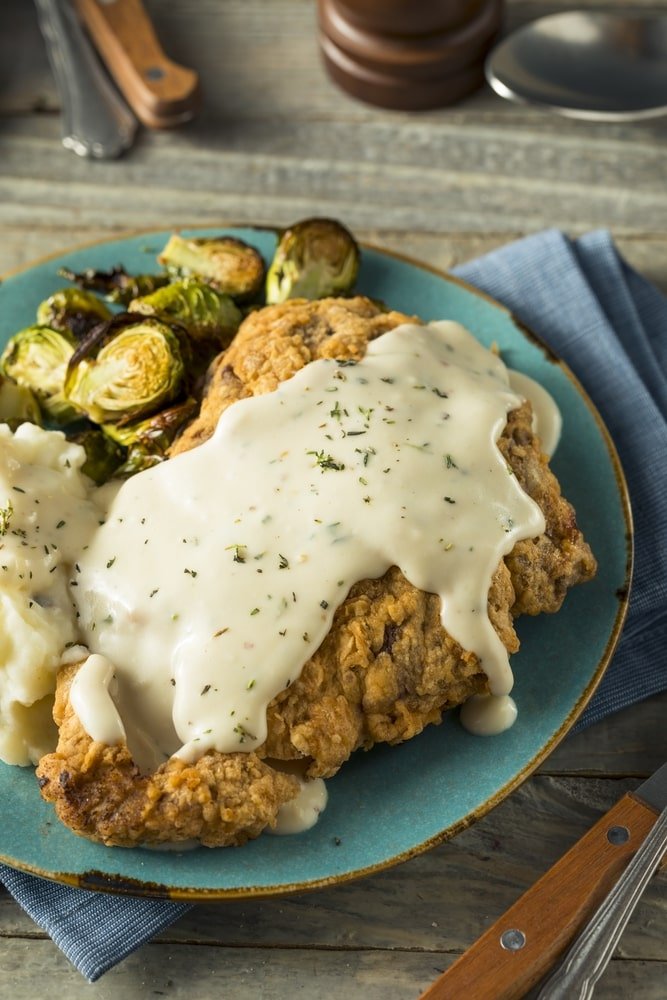 Why is it called Chicken fried steak when there is no chicken in it?
Well… that's an interesting question. Ok, let me explain…
The cooking method is similar to that of pan-fried chicken breast cutlets.
Coated with breadcrumbs, dipped into an egg mixture, then to seasoned flour mixture and then pan fried.
It is usually served with a white peppery country gravy. But if you want something different then you can have it with mashed potatoes.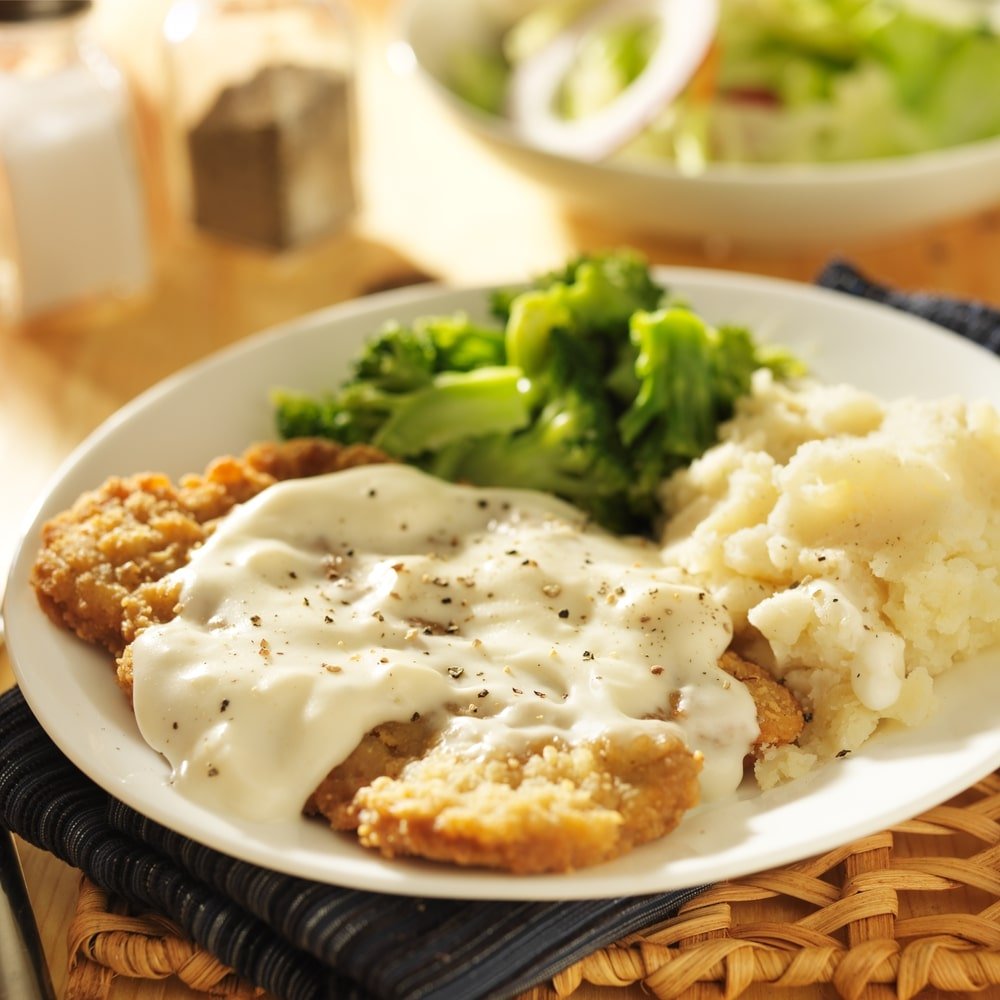 How to Make Chicken fried steak?
Season your cubed steak with salt and pepper.
Prepare a flour mixture in a bowl with seasoned salt, Saltine crumbs, and cayenne pepper.
In another prepare the mixture of eggs and 1/3 cup of milk.
Firstly, dredge the cubed steak in flour, then dip in egg mixture and finally coat with the flour mixture.
In a large pan heat the oil over medium heat.
Place the steaks on your pan and cook for 3 minutes per side. Remove steak to a paper towel-lined plate.
Add flour to pan and cook for 1 minute over medium heat. Gradually whisk in milk and cook for 6 to 7 minutes until thick. Season with salt and pepper to taste.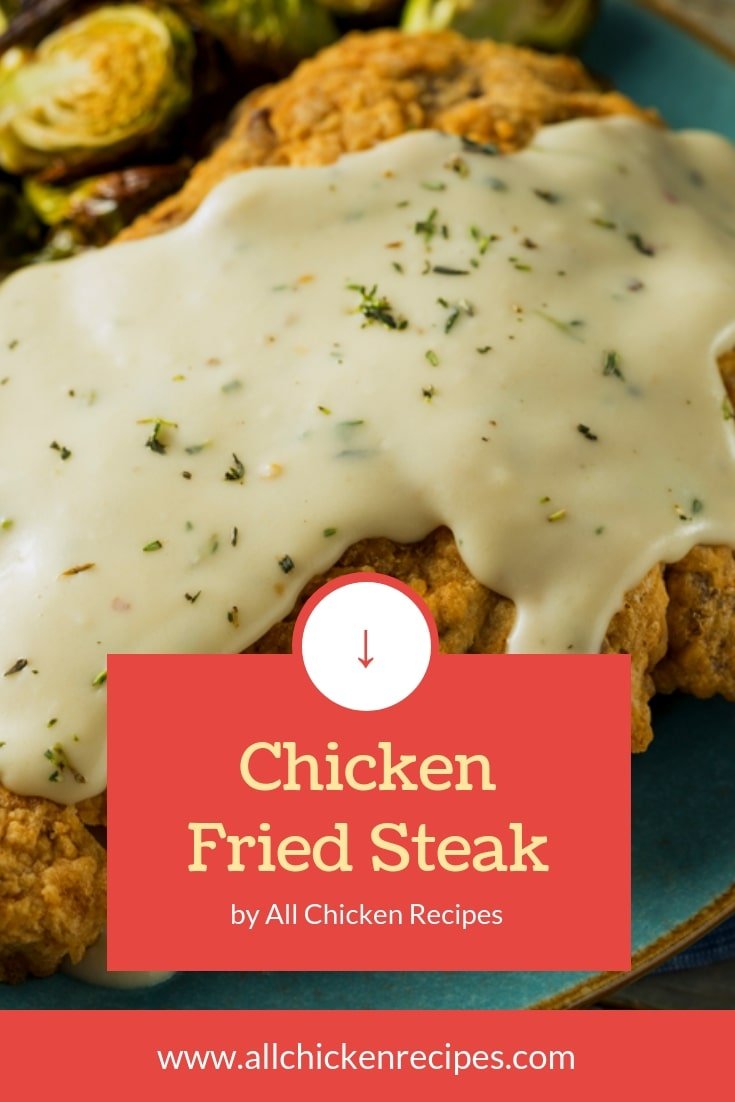 Still Hungry! try these Chicken recipes:
Yield: 4
Best Chicken Fried Steak Recipe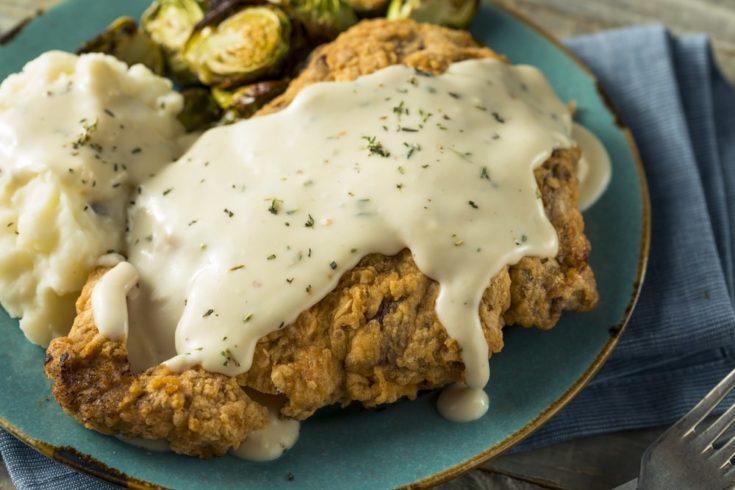 Chicken Fried Steak is the ultimate comfort food. Coated with breadcrumbs, dipped into an egg mixture, then to seasoned flour mixture and then pan fried.
Ingredients
2 cups all-purpose flour
4 (1/2 pound) beef cube steaks
1 teaspoon black pepper
2 teaspoons baking powder
2 cloves garlic, minced
3/4 teaspoon salt
1 teaspoon baking soda
3 cups vegetable shortening for deep frying
1 egg
1 1/2 cups buttermilk
1 tablespoon Red Pepper sauce
Gravy
4 cups milk
kosher salt and ground black pepper to taste
1/4 cup all-purpose flour
Instructions
In a shallow bowl place 2 cups of flour.
Stir together the baking powder, pepper, baking soda, and salt in another shallow bowl; stir in the egg, Red Pepper sauce, buttermilk, and garlic.
Dredge each steak first in the flour, then in the egg mixture, and again in the flour. Make sure to pat the flour onto the surface of each steak.
In a deep cast-iron skillet heat the shortening to 325 degrees F. Fry the steaks for 3 to 5 minutes per side until lightly golden brown.
Remove steak to a paper towel-lined plate. Drain the fat from the skillet, reserving 1/4 cup of the liquid.
Return the skillet with the reserved oil to medium-low heat. Whisk the remaining flour into the oil. With a spatula scrape the bottom of the pan to release solids into the gravy. Stir in the milk, on medium heat, and bring the gravy to a simmer, cook for 6 to 7 minutes until thick.
Season with kosher salt and pepper taste. Serve with a spoonful of gravy over the top.
Nutrition Information
Serving Size
4
Amount Per Serving
Calories

1886
Total Fat

151g
Saturated Fat

37g
Cholesterol

8mg
Sodium

1560mg
Carbohydrates

101g
Sugar

7g
Protein

25g
So, Guys, I hope you enjoy this Easy Chicken Fried Steak Recipe which I make on weekly basis. All the Chicken Lovers who are looking for Chicken Fried Steak will enjoy this recipe. And if you like this recipe then Don't forget to share it with your friends on Facebook, Pinterest, and other social media platforms. And do follow us on facebook, twitter, Pinterest, Tumblr, and Instagram.