Teriyaki chicken: It is one of the most popular and most lovable chicken recipe in Japanese cuisine. You can make this Chicken Teriyaki dish just by using a few ingredients in your pantry and then you can enjoy those mouthwatering chicken rice bowls with the amazing teriyaki sauce.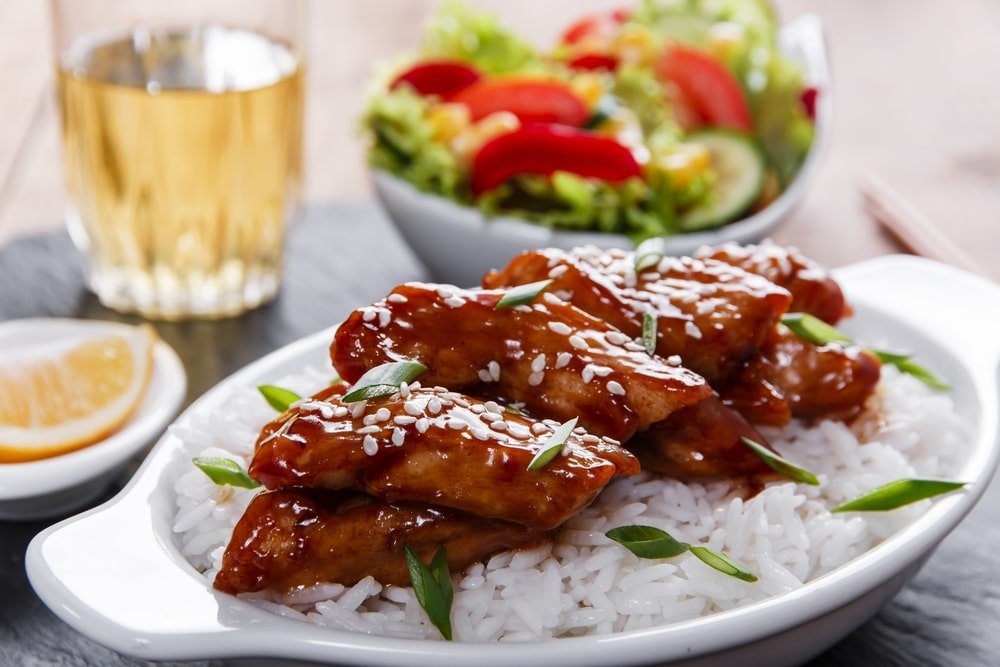 If you want to make Homemade Teriyaki Chicken then actually it is super easy. If you make it properly at home then you will feel like you are sitting in a 5-star restaurant. It only requires some few ingredients and spices like chicken thighs/wings, sugar, soy sauce, and some spices like black pepper etc. You can also add Japanese rice wine or Sake (if available) or you can skip this with no worries.
The chicken is juicy, tender, and full of flavor. I guarantee you that this is the Best teriyaki chicken ever you will ever have. It is baked in a thick mouthwatering teriyaki sauce so the chicken doesn't dry out and it will keep the moisture inside the chicken thighs.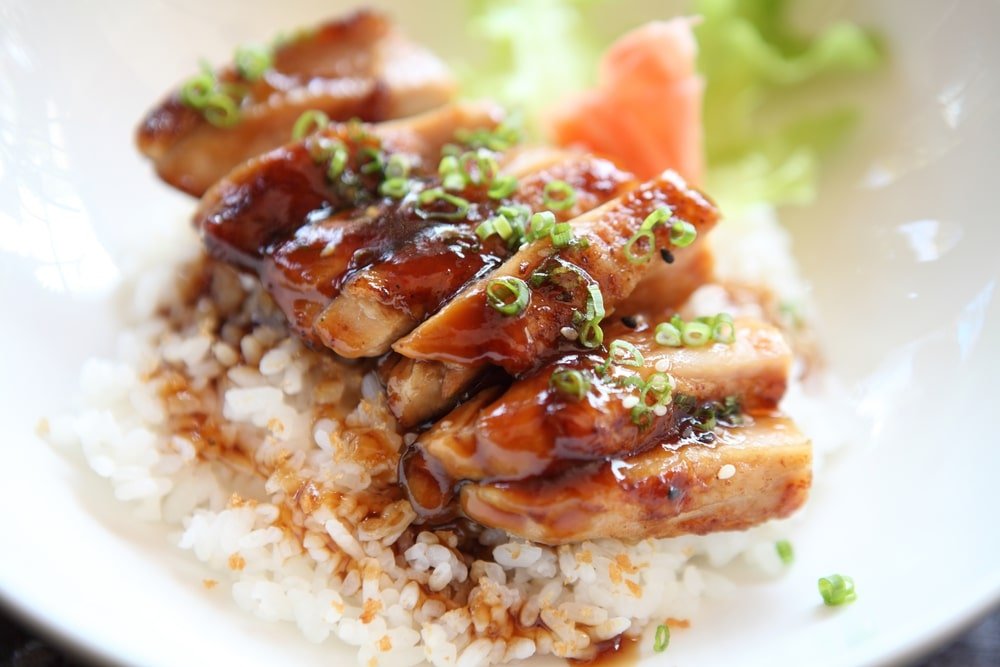 How to Make Teriyaki Chicken
In a large pan heat cooking oil over medium heat. Stir fry chicken, until lightly browned and crisp, stirring occasionally.
In a bowl whisk together the sugar, soy sauce, rice vinegar, and sesame oil to combine.
To the center of the pan add the garlic and saute about 30 seconds until lightly fragrant. Pour in the sauce and allow to cook for 2-3 minutes while stirring, until the sauce thickens.
Garnish with green onion slices and serve over steamed rice.
How to make Teriyaki Sauce
The Teriyaki sauce is so simple and easy to make. I always recommend you to make the teriyaki sauce at home, believe me, it's much better than any store-bought sauce. It has the most amazing flavor – perfectly savory, sweet, and a bit spicy. If someone gives me a challenge I can finish this sauce within a few minutes.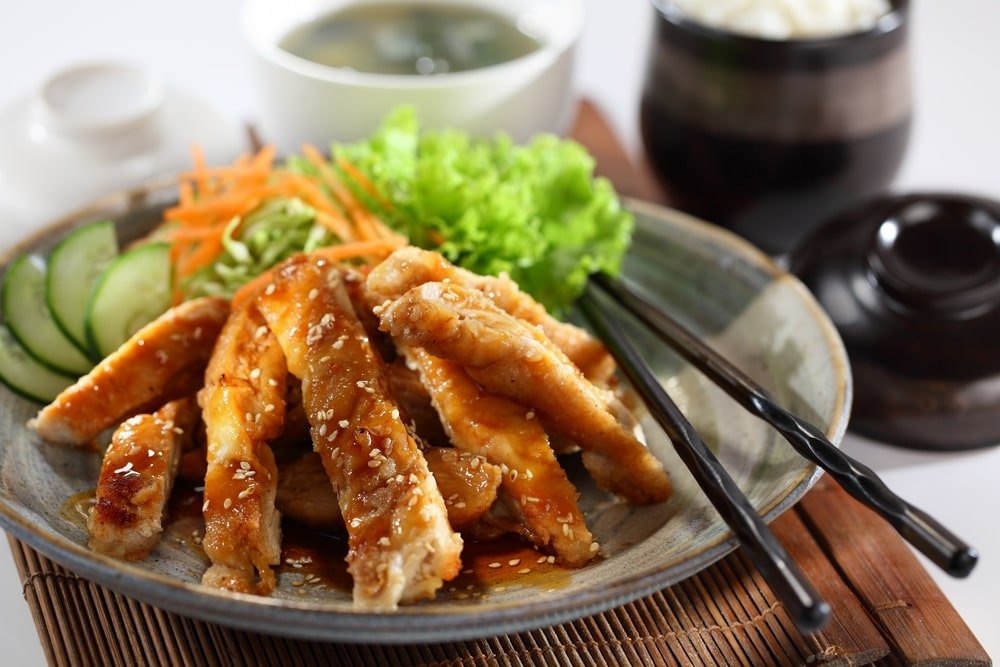 To make your delicious teriyaki sauce, combine water, garlic, soy sauce, ground ginger, crushed red pepper flakes and rice vinegar in a saucepan.
Bring it to a boil, add a cornstarch dissolved into water or soy sauce to thicken the sauce.
Stir until thickened for 1-2 minutes, remove from heat and stir in sesame seeds and That's it you are done with your sauce.
So, that's how to make a Perfect teriyaki sauce. You can store in the fridge or in a jar for up to 3-4 weeks.
What to Serve with Teriyaki Chicken
Serve your Teriyaki chicken with chicken fried rice or simply steamed white rice or you can also add Steamed broccoli in it. For ultimate flavor, I highly advise you to drizzle all of the extra Teriyaki sauce over everything because the rice soaks up some of the extra sauce and makes it even more flavorful. You can also top your chicken with sliced green onion or sesame seeds and enjoy a Teriyaki Chicken Bowl in your home comfort.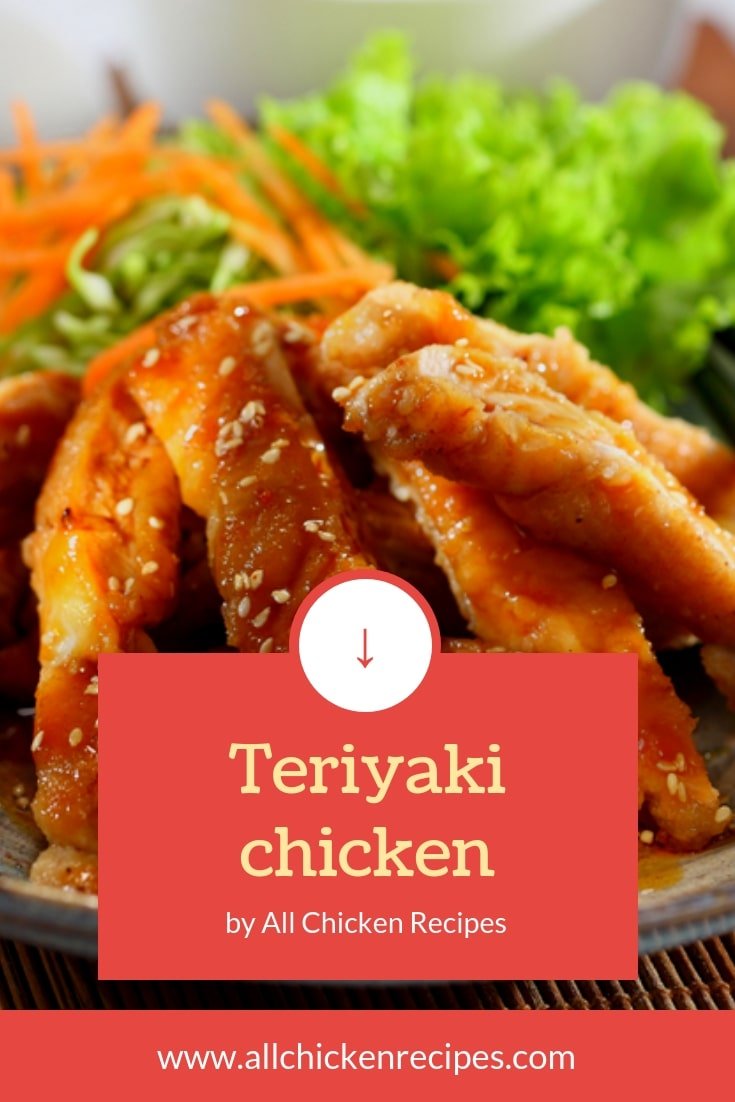 Still Hungry! Check my other Chicken Recipes:
Yield: 6
Baked Teriyaki chicken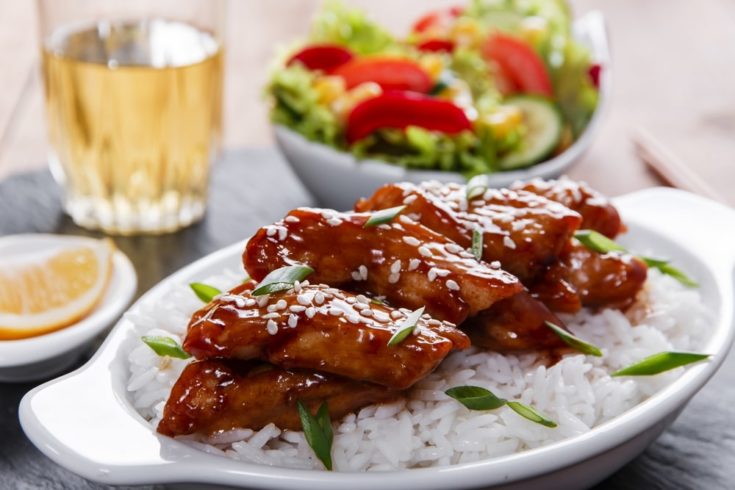 Teriyaki chicken is the most lovable chicken recipe in Japanese cuisine. You can make this Chicken Teriyaki dish using a few ingredients in your pantry.

Prep Time 30 minutes

Cook Time 1 hour

Total Time 1 hour 30 minutes
Ingredients
1 clove garlic, minced
1 tablespoon cornstarch
1/2 cup soy sauce
1 tablespoon cold water
1/2 cup white sugar
1/4 teaspoon ground black pepper
1/4 cup cider vinegar
12 skinless chicken thighs
1/2 teaspoon ground ginger
Instructions
In a small saucepan combine cold water, cornstarch, vinegar, sugar, garlic, soy sauce, ginger and ground black pepper over low heat.
Bring it to a boil and simmer until sauce thickens and bubbles, stirring frequently.
Preheat oven to 220 degrees C (425 degrees F).
Place chicken pieces in your baking dish and brush the chicken on both sides with the sauce.
Bake for 30 minutes, flip your pieces and bake for another 30 minutes until juices run clear and no longer pink from the center. Pour the sauce every 10 minutes during cooking.
Serve over steamed rice or steamed broccoli and garnish with green onion slices.
Nutrition Information
Serving Size
6
Amount Per Serving Calories 243Total Fat 5gSaturated Fat 1gCholesterol 110mgSodium 1481mgCarbohydrates 22gSugar 17gProtein 28g

So, Guys, I hope you enjoy this Easy Teriyaki Chicken Recipe which I make on weekly basis. All the Chicken Lovers who are looking for Teriyaki Chicken will enjoy this recipe. And if you like this recipe then Don't forget to share it with your friends on Facebook, Pinterest, and other social media platforms. And do follow us on facebook, twitter, Pinterest, Tumblr, and Instagram.