Chicken Tikka Masala: It is a dish of chunks of roasted marinated chicken (chicken tikka) in a spiced curry sauce. The sauce in the Chicken tikka masala is usually orange-colored and very creamy but you can replace the cream with milk and yogurt to make it healthier.
Chicken tikka masala is the most popular Indian dish mostly loved in the Punjab state but yes it is popular in whole India across every state.
When I was a kid our family used to go to restaurants and always order chicken tikka masala with rice or naan.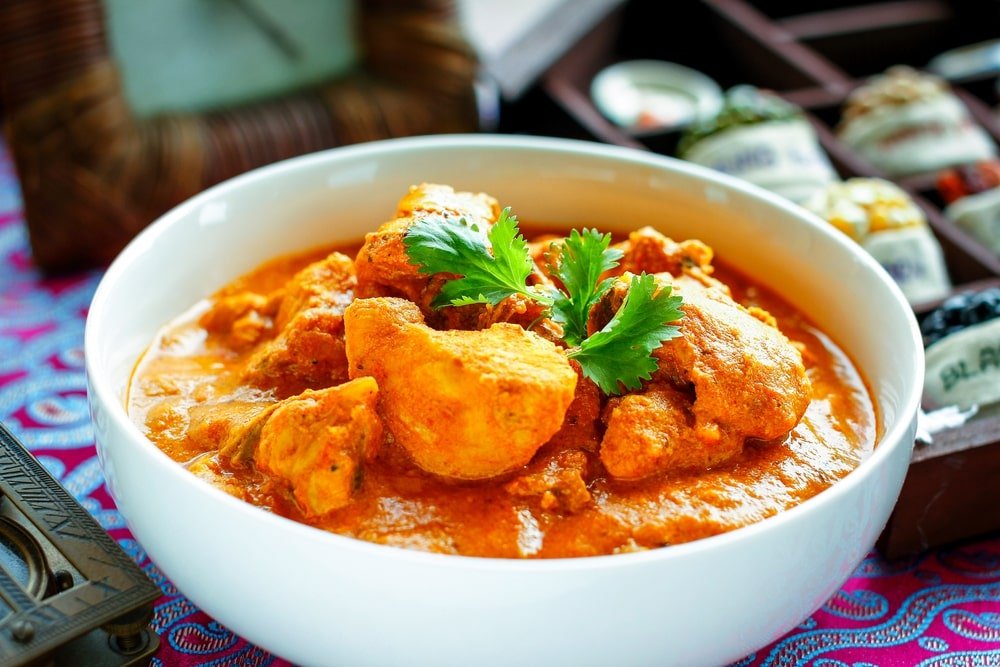 Difference between Chicken Tikka Masala and Butter Chicken
Now, most of you must be wondering that Chicken tikka masala is creamy and butter chicken is also creamy and tastes very similar and that's why in most of the restaurants you will find it as the same dish.
Then what's the difference in this two dishes. Well, let me explain…
Butter Chicken usually contains a lot of oil and cream to make it creamy whereas Chicken Tikka Masala is usually made with white meat chicken breasts or chicken thighs (less in fat content) and to make it creamier and spicier a tomato sauce is used. Click here for the keto version.
So, if you want to taste the difference I always recommend you to go to a good restaurant to get Authentic Chicken Tikka Masala.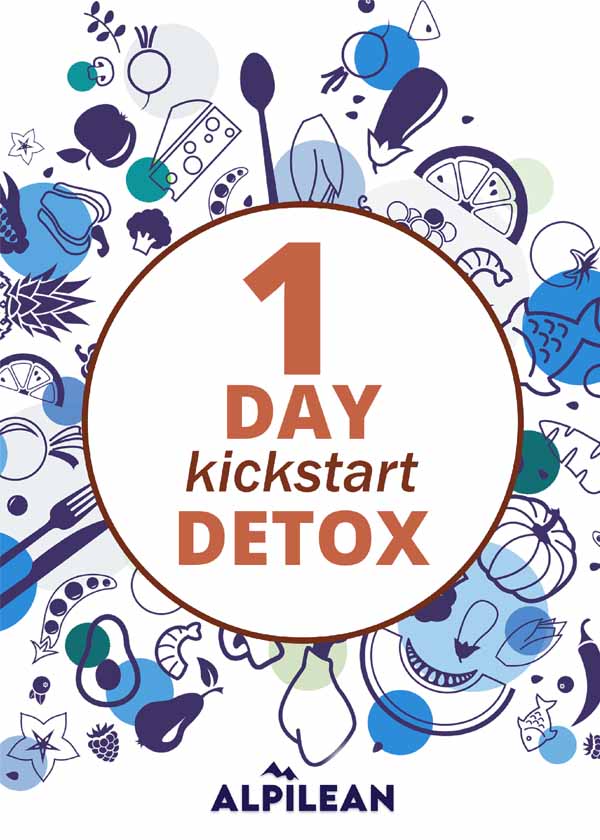 How to make Chicken Tikka Masala?
You make this recipe with some simple ingredient that you can easily find in your grocery stores. It is totally on the go homemade recipe that everyone can make it from scratch. For the best results, I used my cast iron skillet, you can also use a regular nonstick pan if you have one. You can also even use a use a dutch oven.
Add the garam masala, yogurt, 1/2 teaspoon salt and coriander to a large bowl and mix well.
Cover and refrigerate your yogurt marinated raw chicken for 2 hours.
Add the vegetable oil to a large saucepan over medium heat.
Add the onions and cook about 5 minutes, until softened.
Add the grated garlic, cumin, ginger, fenugreek and 1/2 teaspoon salt.
Stir the spices into the onions cook for 1 minute, until well mixed, add tomato paste and cook for a few seconds, stirring often.
Add the marinated chicken, milk and tomato sauce and mix well, stir.
Simmer on low heat uncovered for 15 minutes until sauce thickens and the chicken is cooked and tender.
Check for salt in between and add more if needed.
Serve over naan roti or basmati rice and garnish with cilantro.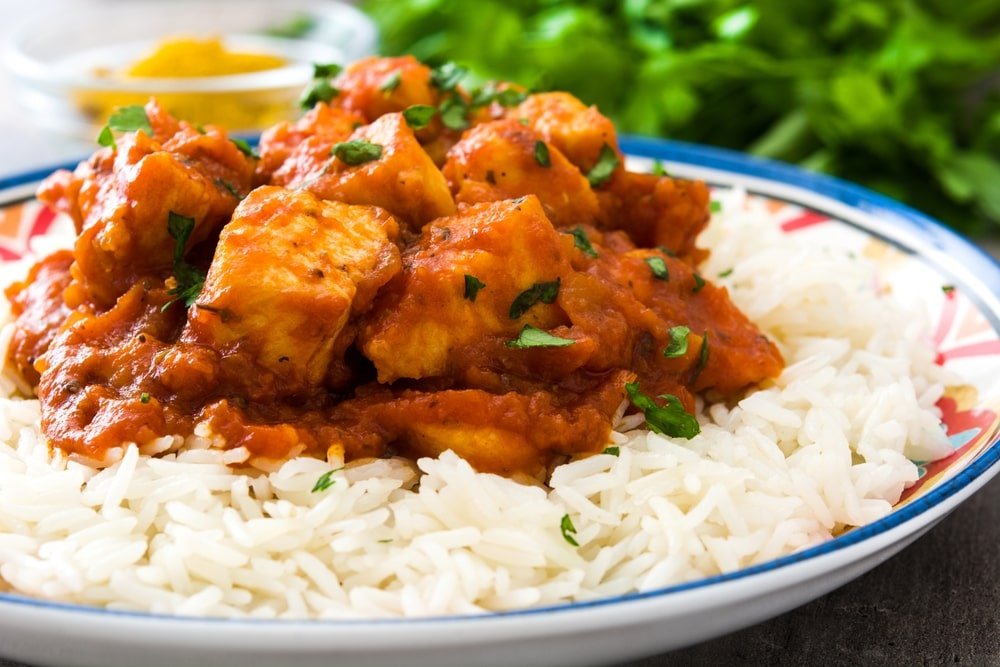 What to serve and garnish with Chicken Tikka Masala?
I personally love to garnish my dish with some coriander leaves(dhania) on the top because the dhania leaves totally changes the game here, it makes your dish even more delicious. So, I highly recommend using coriander leaves.
When it comes to serving I usually like to have it with butter naan (or simple white naan without butter) but yes, if you want to keep it healthier you skip the butter naan and order a whole wheat naan roti.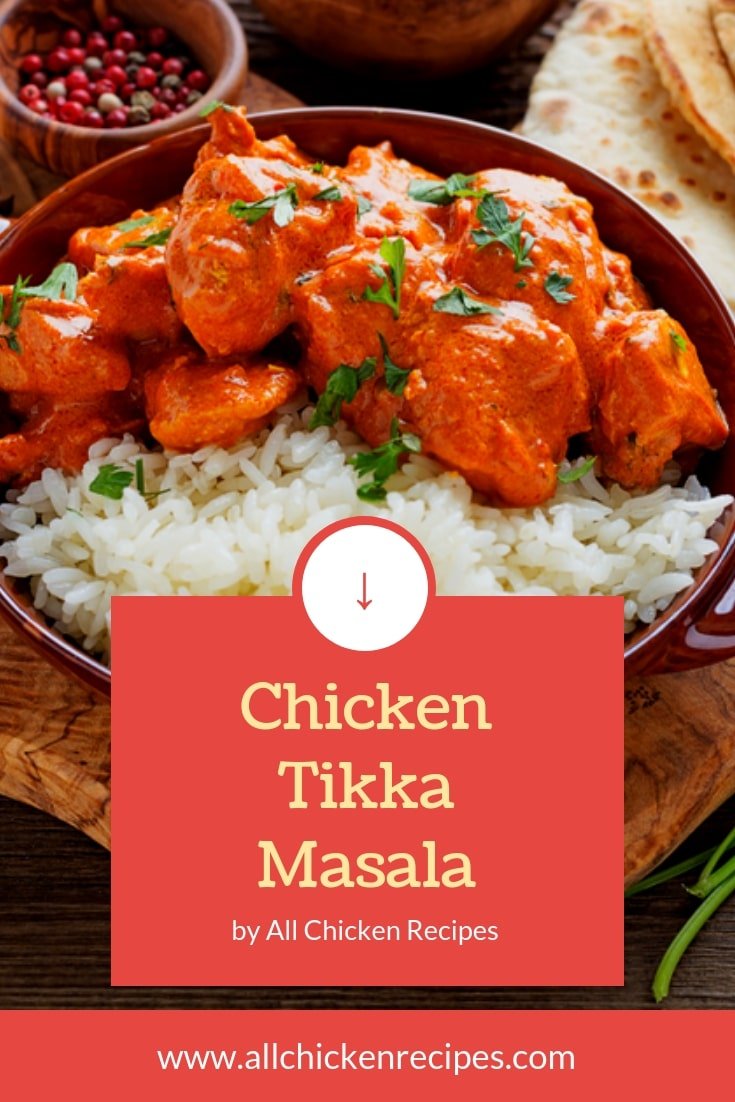 Still Hungry! Check these delicious Chicken Recipes:
Easy Chicken Tikka Masala
Chicken tikka masala is the most popular Indian dish mostly loved in the Punjab state. It is a dish of chunks of roasted marinated chicken in a curry sauce.
30 minPrep Time
50 minCook Time
1 hr, 20 Total Time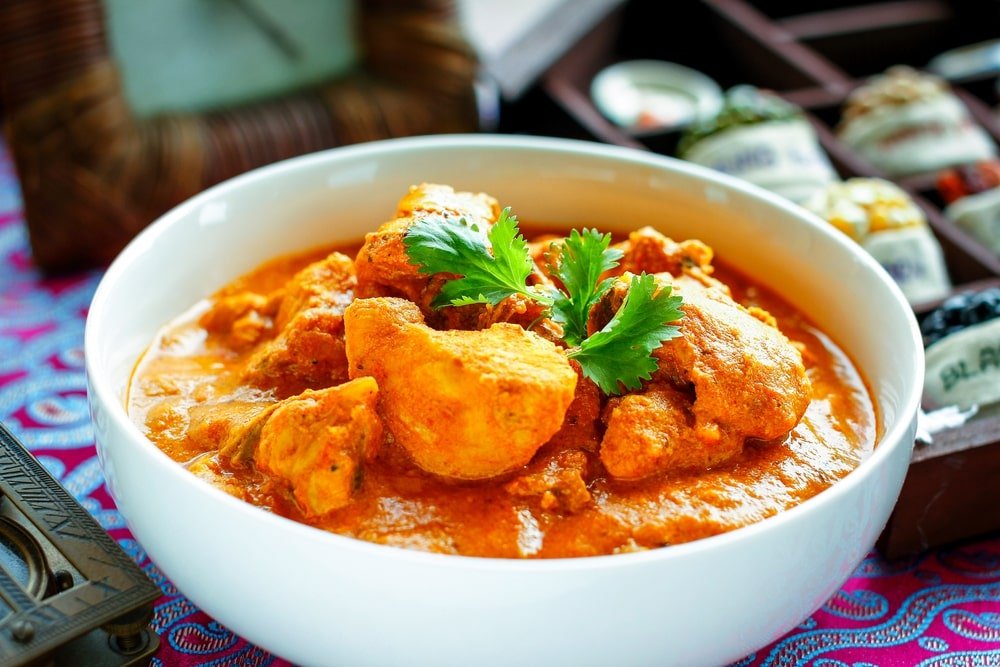 Ingredients
1 teaspoon ground cinnamon
1 cup yogurt
1 tablespoon minced fresh ginger
2 teaspoons freshly ground black pepper
1 tablespoon lemon juice
2 teaspoons fresh ground cumin
3 boneless skinless chicken breasts , cut into bite-size pieces
2 teaspoons cayenne pepper
1 clove garlic, minced
2 teaspoons paprika
1 teaspoon salt, or to taste
1 (8 ounce) can tomato sauce
4 long skewers
1/4 cup chopped fresh cilantro
1 teaspoon salt, or to taste
1 jalapeno pepper, finely chopped
2 teaspoons ground cumin
1 tablespoon butter
1 cup heavy cream
Instructions
In a large bowl, combine chicken, lemon juice, 2 teaspoons cumin, yogurt, cinnamon, black pepper, ginger, cayenne, and salt and refrigerate for 1 hour.
Preheat a grill and Lightly oil it on high heat.
Discard marinade by threading chicken onto skewers. Grill on each side until juices run clear, about 5 minutes.
Over medium heat melt butter in a large heavy skillet.
Saute jalapeno & garlic for 1 minute. Season with paprika, 2 teaspoons cumin, and 3 teaspoons salt. Stir in cream and tomato sauce.
Simmer on low heat for 20 minutes until sauce thickens.
Add grilled chicken, and simmer for another 10 minutes.
Serve with rice or roti, and garnish with fresh cilantro.
7.8.1.2
26
https://www.allchickenrecipes.com/chicken-tikka-masala/
So, Guys, I hope you enjoy this Chicken Tikka Masala Recipe which I make on weekly basis. All the Chicken Lovers who are looking for Easy Chicken Tikka Masala will enjoy this recipe. And if you like this recipe then Don't forget to share it with your friends on Pinterest, Facebook, and other social media platforms. And do follow us on facebook, twitter, Pinterest, Tumblr, and Instagram.