Chicken Saltimbocca – This easy saltimbocca chicken is one of my favorite dinner dishes. It consists of juicy chicken cutlets and prosciutto that are so delicious can be made in just 30 minutes.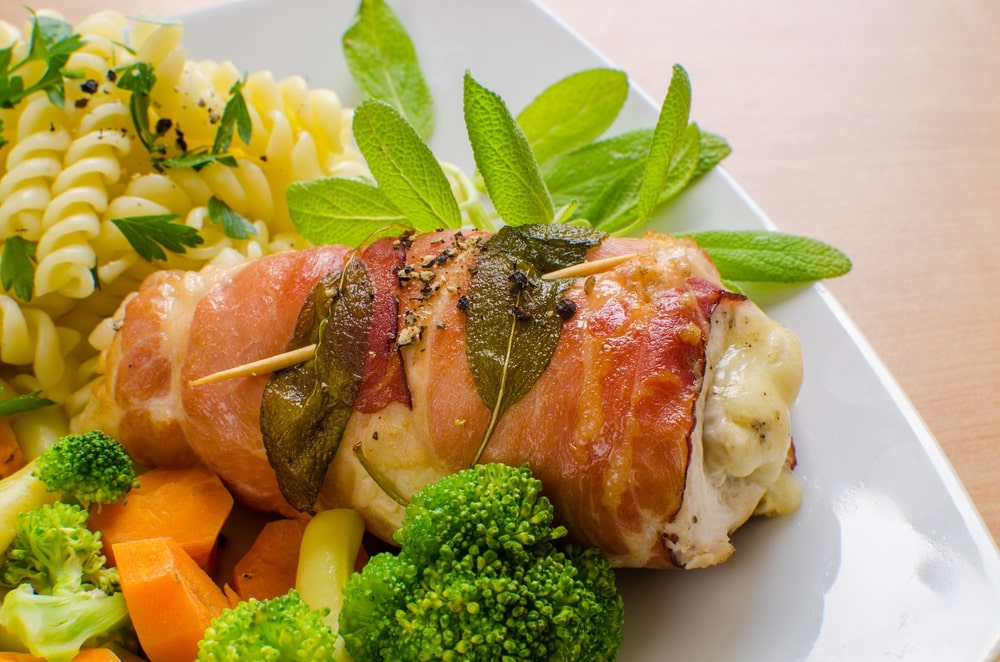 What is Chicken Saltimbocca?
Saltimbocca means "jump in your mouth" aka saltinbocca is an Italian dish (also popular in Greece and southern Switzerland) made of veal lined or wrapped with prosciutto and sage which is marinated in wine or oil.
The original version of this dish is saltimbocca Roman-style (saltimbocca alla Romana )which consists of prosciutto and sage, veal, rolled-up (sometimes the prosciutto and veal and are not rolled-up but left flat) and cooked in butter and dry white wine. Marsala is also used sometimes. Americans replace the veal with chicken or pork.
How to Make Baked Chicken Saltimbocca?
4 boneless, skinless chicken breast halves (about 1 1/4 pounds)
2 oz. thinly sliced prosciutto
1 egg, beaten
3/4 c. Italian seasoned dry bread crumbs
4 oz. fresh mozzarella cheese
1 jar Bertolli® Vineyard Premium Collections Marinara with Burgundy Wine Sauce (buy it here)
8 oz. spaghetti
Instructions:
Preheat oven to 400 degrees F.
Take 2 bowls, one with the beaten egg and other with bread crumbs.
Firstly, Dip chicken in egg, then bread crumbs and coat well on both sides.
Arrange chicken in 13- x 9-inch baking dish and bake 20 minutes. Top with prosciutto on each, then 1 1/2 cups pasta sauce. Top with mozzarella cheese.
Bake for 10 more minutes or until chicken is fully cooked through.
Serve immediately over hot spaghetti and pour in the remaining heated sauce. Sprinkle with shaved parmesan cheese, if desired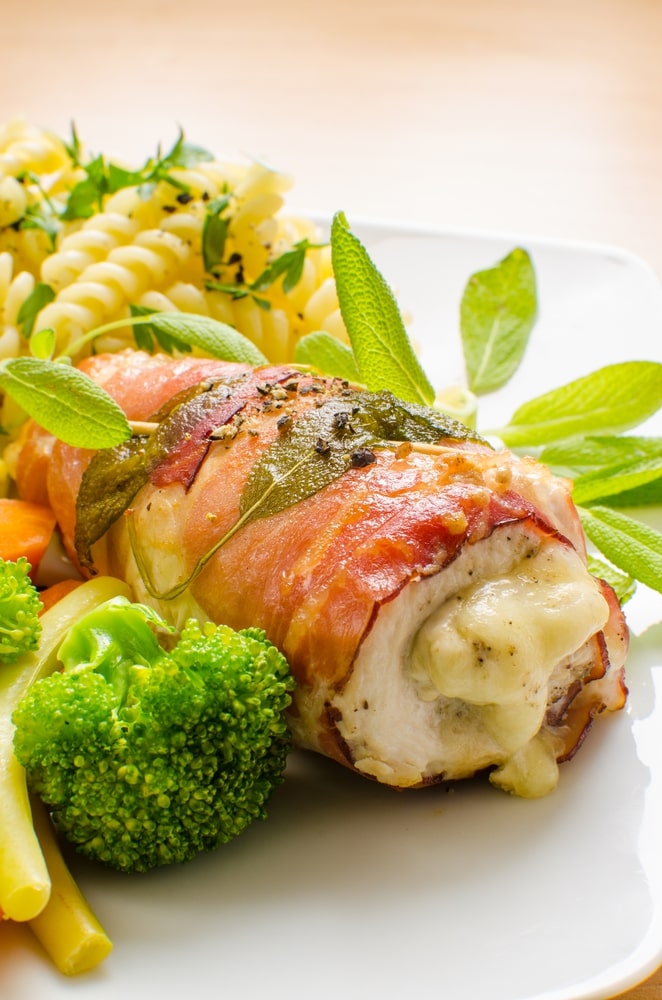 What to Serve with Chicken Saltimbocca?
Saltimbocca Chicken is a very versatile dish can go well with a variety of side dishes, From polenta and pasta to potatoes, veal saltimbocca pairs. You can also serve with vegetables like boiled carrots and broccoli.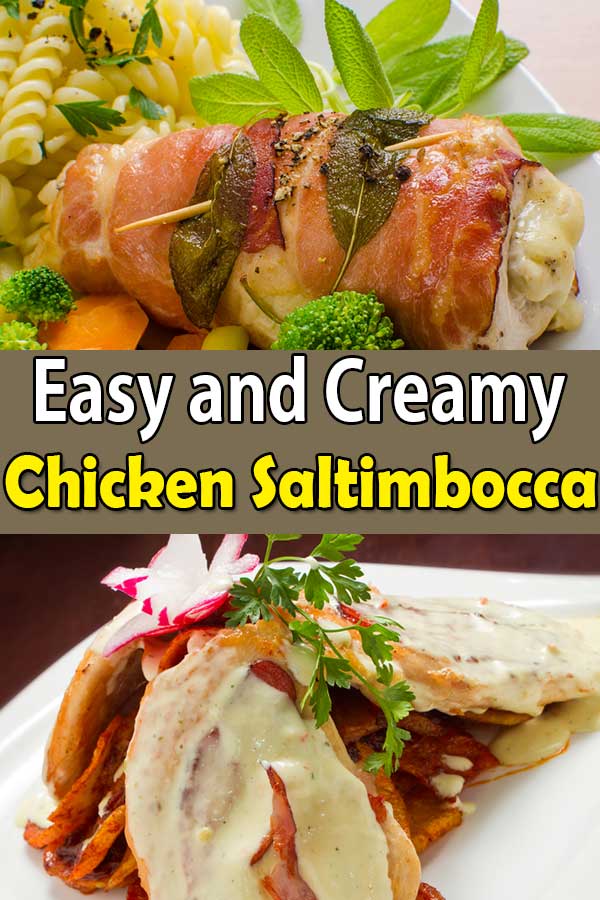 Yield: 6
Chicken Saltimbocca
Chicken Saltimbocca is one of my favorite dinner dishes. It consists of juicy chicken cutlets and prosciutto that are so delicious can be made in just 30 minutes.

Prep Time 15 minutes

Cook Time 20 minutes

Total Time 35 minutes
Ingredients
6 (3-ounce) chicken cutlets, pounded to evenly flatten
6 paper-thin slices prosciutto
1/4 cup grated Parmesan
10-ounce baby spinach, chopped
1 (14-ounce) can low-salt chicken broth
3 tablespoons olive oil
2 tablespoons fresh lemon juice
Salt and freshly ground black pepper
Instructions
Season the chicken cutlets with salt and pepper. Lay 1 slice of prosciutto on the top of each cutlet.
In a bowl season the spinach with salt and pepper and coat with 1 tablespoon of oil.
Place a thin layer of spinach on the top of prosciutto slices (spread evenly). Sprinkle parmesan evenly over each cutlet.
Now roll up the cutlet and secure with toothpicks.
Heat up a heavy large skillet over high heat, add remaining 2 tablespoons of oil, once hot, add the chicken and cook for 2 minutes per side or until golden brown. Add the broth and lemon juice, and with the help of a wooden spoon scrape the browned bits off the bottom of the pan.
Bring it to a boil. Reduce the heat to medium. Cover and simmer for about 8 to 10 minutes or until the chicken is just cooked through.
Transfer the chicken to a plate. Now simmer the liquid for 5 minutes over high heat or until it becomes thick reduced about 2/3 cup.
Season with more salt and pepper, to taste. Remove toothpicks from the chicken. Drizzle the reduced thick sauce all over the chicken and serve immediately with any side dish.
Nutrition Information
Serving Size
6
Amount Per Serving Calories 209Total Fat 10gSaturated Fat 2gCholesterol 63mgSodium 547mgCarbohydrates 3gProtein 26g

Still Hungry! Try These Other Delicious Chicken Recipes:
So, Guys, I hope you enjoy this easy chicken saltimbocca which I make on a weekly basis. All the chicken lovers who are looking for Giada chicken saltimbocca will enjoy this recipe. And if you like this recipe then Don't forget to share it with your friends on Pinterest, Facebook, and other social media platforms. And do follow us on Tumblr, Pinterest, facebook, twitter, and Instagram.