Keto Popcorn Chicken – This low carb popcorn chicken is a great snack or entree meal that is crispy on the outside and tender flavorful from the inside which can be oven baked or air fried.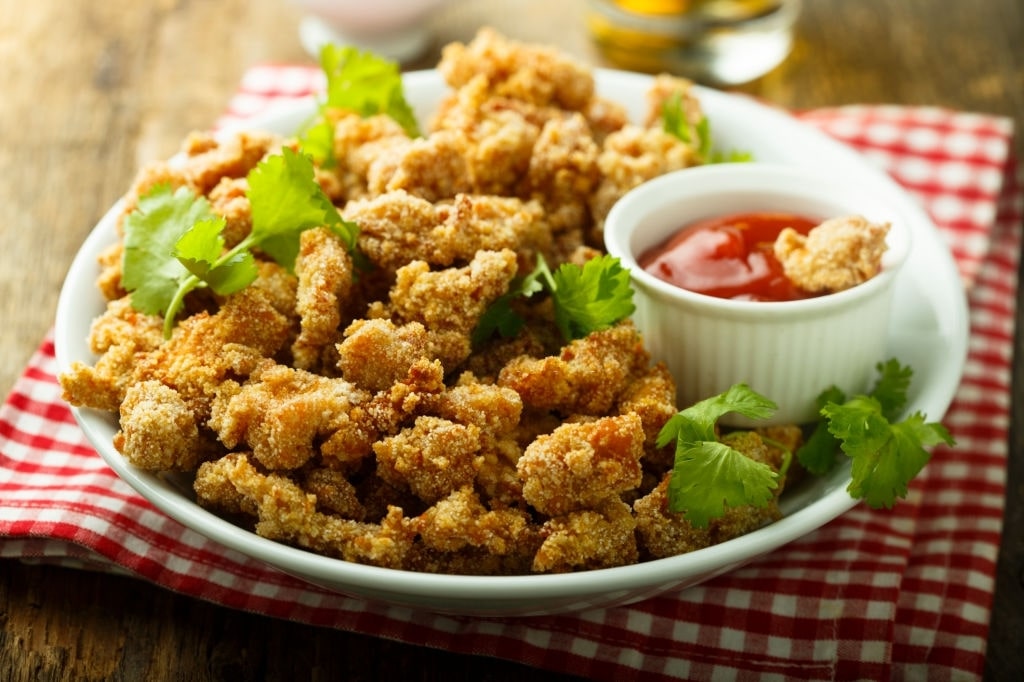 Just to let you know that if you don't have an air fryer then you can make these delicious keto friendly popcorn chicken in the oven. Simply right! Continue reading the post!
Can I Store The Leftover Keto Baked Popcorn Chicken?
Absolutely! Pack them in airtight containers and store in the refrigerator for 3-5 days or freeze them for up to 3 months.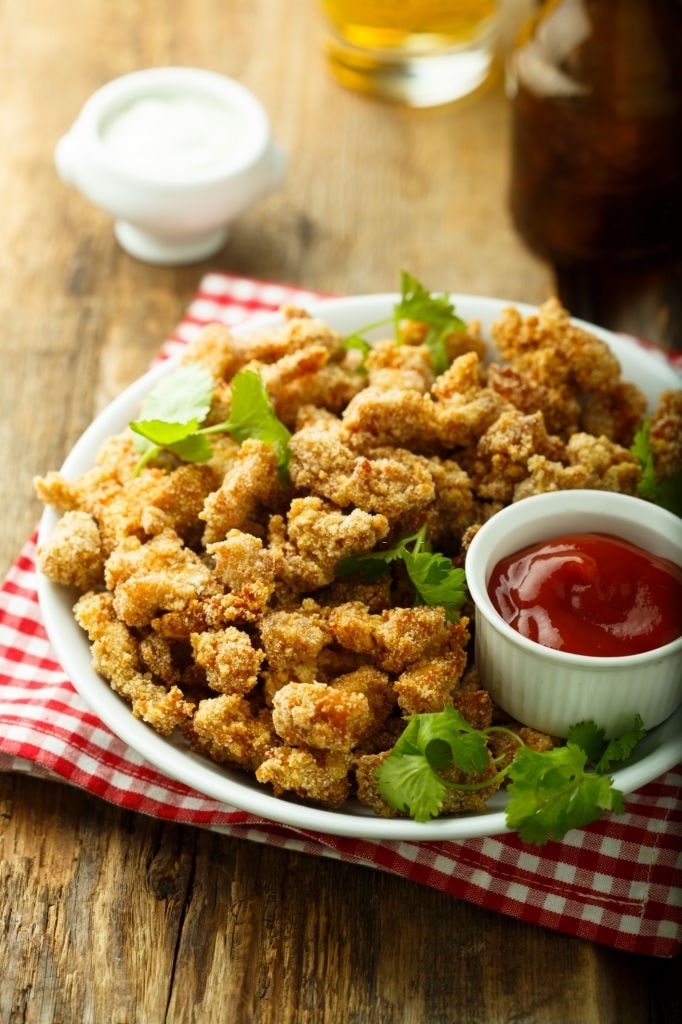 How to Reheat Those Leftovers Keto Crunchy Popcorn Chicken?
Preheat the air fryer to 400 degrees for about 4-5 minutes.
Place the chicken in the basket in a single layer and heat them for 4-5 minutes or until crispy again.
Enjoy!
Quick Note – The chicken won't be that flavorful when reheating for the 3rd time because the chicken will dry out too much.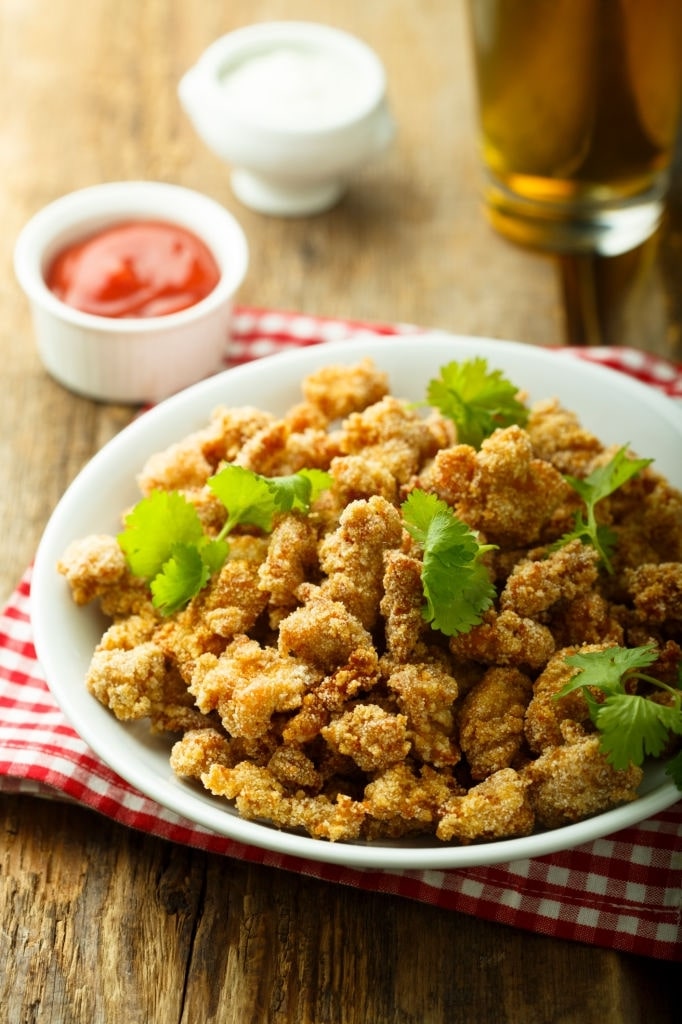 Best Dipping Sauce For These Keto Fried Popcorn Chicken
I tried this recipe with ketchup, ranch, tartar sauce, or teriyaki sauce. However, my all-time favorite sauce is this sugar-free ketchup and sugar free BBQ sauce. You can also serve this with marinara sauce or mayo.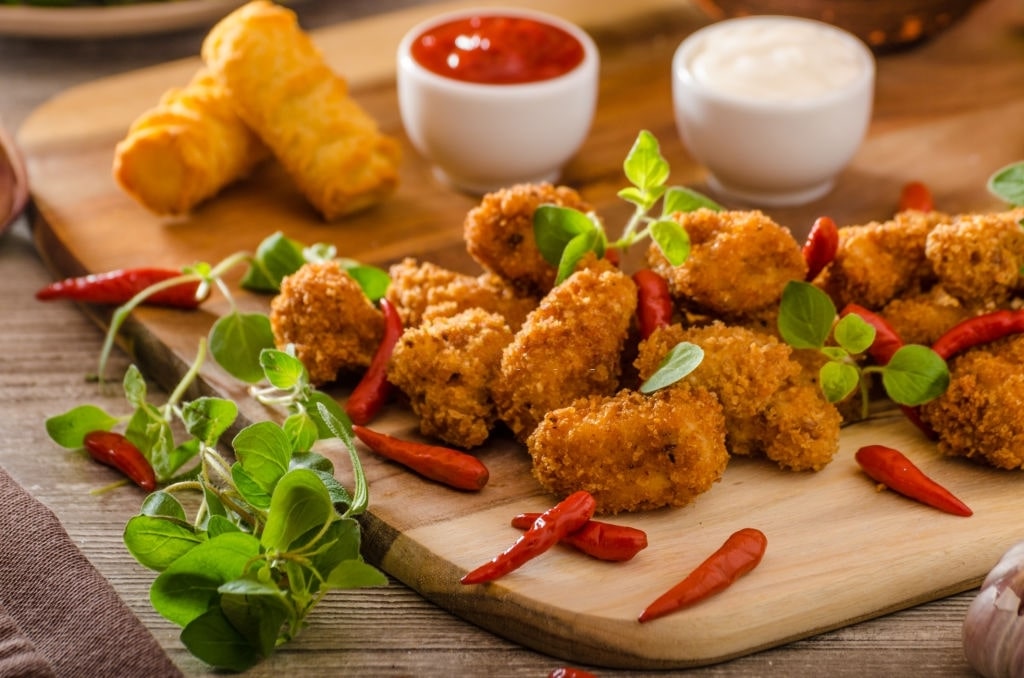 Ingredients Substitute
Pork Rinds – This is what I am using in this recipe and I highly recommend it to make those popcorns more crispy and it a great low carb option.
Almond Flour – I am using almond flour but you can use coconut flour or whey protein isolate to bind the seasoning and spices.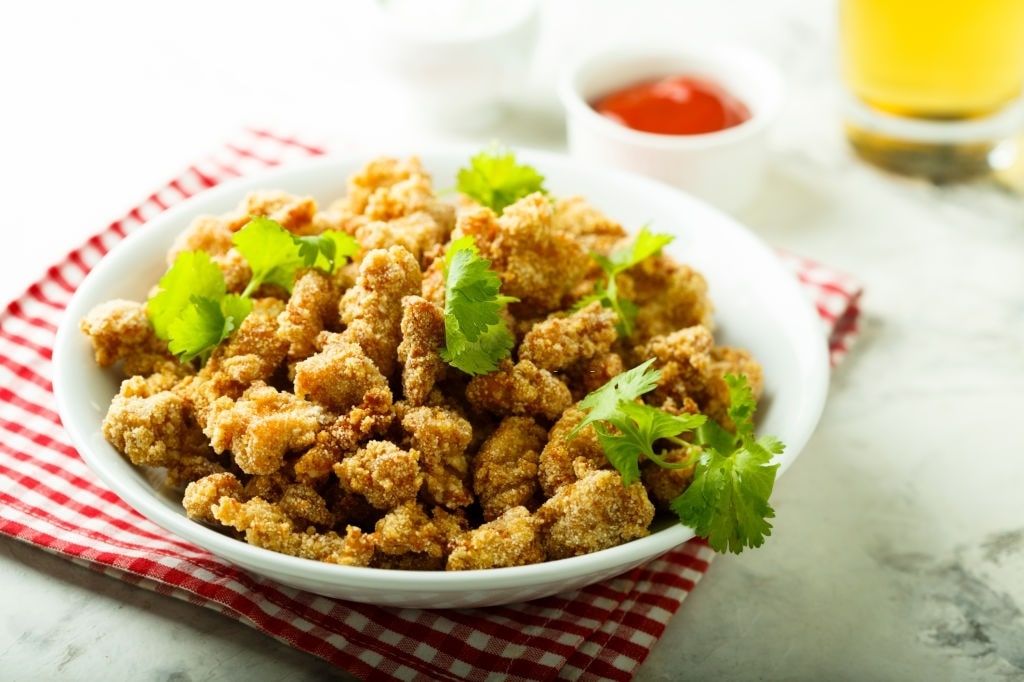 Keto Popcorn Chicken Air Fryer
Lightly grease the air fryer basket, preheat air fryer to 400 degrees for about 5 minutes.
Add the chicken into the air fryer basket in a single layer and cook for 10-12 minutes, shaking halfway through.
Done! Serve with your favorite dipping sauce.
Keto Popcorn Chicken (Low Carb)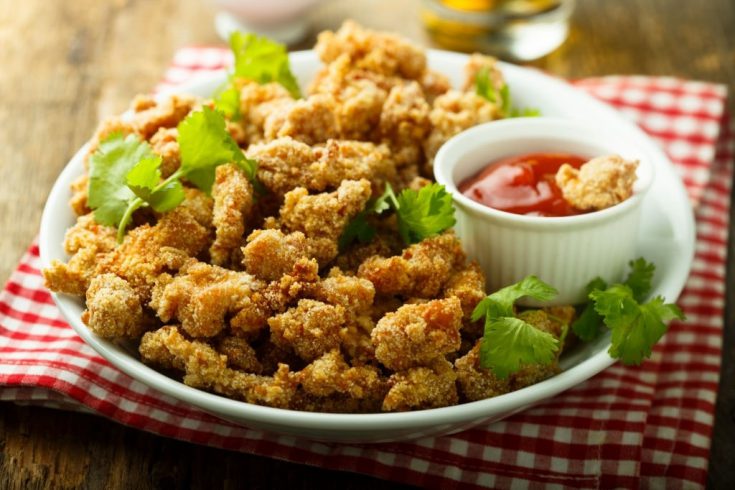 This low carb keto popcorn chicken is a great snack or entree meal that is crispy on the outside and tender flavorful from the inside which can be oven baked or air fried.
Ingredients
For marinade
1 pound chicken thighs, deboned, diced into bite sized pieces (or chicken breast)
2 cloves garlic
1 teaspoon poultry seasoning
1 tablespoon white wine vinegar
1/2 cup sour cream (or full-fat coconut cream)
1/4 teaspoon black pepper, freshly ground
kosher salt to taste
For coating
1/2-1 cup almond flour, as needed
1/4 cup finely grated parmesan cheese
2 1/2 cups crushed pork rinds
1 egg, lightly beaten
1 tablespoon sour cream
1/4 teaspoon onion powder
1/2 teaspoon garlic powder
1 1/2 teaspoons paprika
1 teaspoon oregano
pinch cayenne pepper
1/4 teaspoon freshly ground black pepper
kosher salt to taste
For serving
Instructions
Rinse thoroughly and pat dry the chicken pieces. Set aside.
Take a large bowl combine sour cream, poultry seasoning, vinegar, garlic, freshly ground black pepper and season to taste. Mix well.
Add the chicken pieces to the bowl, mix well, cover and let it marinate in the fridge overnight or at least two hours.
Preheat oven to 425°F/220°C. Line a rimmed baking tray with parchment paper.
Take a bowl and place your almond flour (or more crushed pork rinds).
In the second bowl, whisk your egg with sour cream.
In the third bowl, mix the crushed pork rinds, oregano, garlic powder, onion powder, parmesan cheese, paprika, freshly ground black pepper, cayenne, and salt to taste with salt. (check the salt amount)
Firstly dip the chicken pieces (one at a time) to the almond flour bowl, then to the egg bowl, followed by the pork rinds mixture. Repeat for the remaining pieces.
Place in the prepared baking tray and cook for 20-15 minutes until crispy or no longer pink and fully cooked from inside.
Nutrition Information
Serving Size
4
Amount Per Serving
Calories

250
Total Fat

13g
Saturated Fat

5g
Cholesterol

170mg
Sodium

786mg
Carbohydrates

4g
Protein

29g
Still Hungry! Try these other low carb keto chicken recipes:
So, Guys, I hope you enjoy this low carb popcorn chicken with pork rinds which I make on a weekly basis. All the chicken lovers who are looking for the keto popcorn chicken with almond flour will enjoy this recipe. And if you like this recipe then Don't forget to share it with your friends on Pinterest, Facebook, and other social media platforms. And do follow us on Tumblr, Pinterest, facebook, twitter, and Instagram.