Keto Chicken Divan – This low carb chicken divan casserole is the ultimate comfort food is very rich and creamy made with chicken, broccoli, cheddar cheese, and cauliflower rice.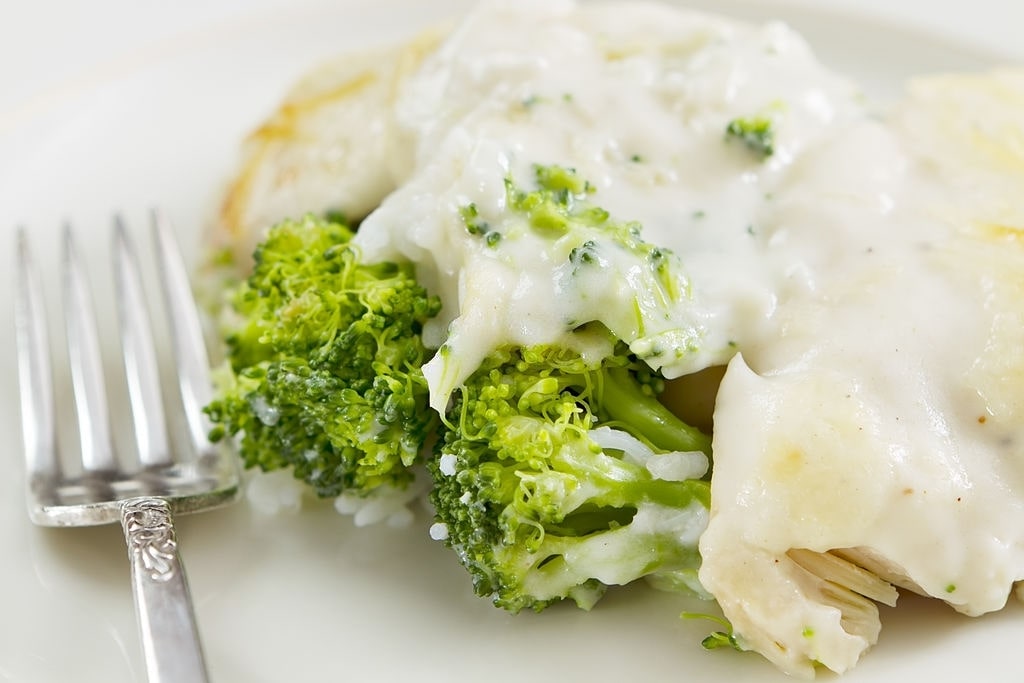 What is Chicken Divan?
Previously I have already shared the regular non-keto version of this recipe on my blog and if you haven't read that yet go check that recipe.
Ok, so what is Chicken Divan – It is a casserole dish created by a chef named Lagasi usually served with broccoli and Mornay sauce. The word 'Divan' refers to a great hall or meeting place and the name was given in the early twentieth century by the Divan Parisien Restaurant in the New York City Chatham Hotel where this dish was served as the signature dish.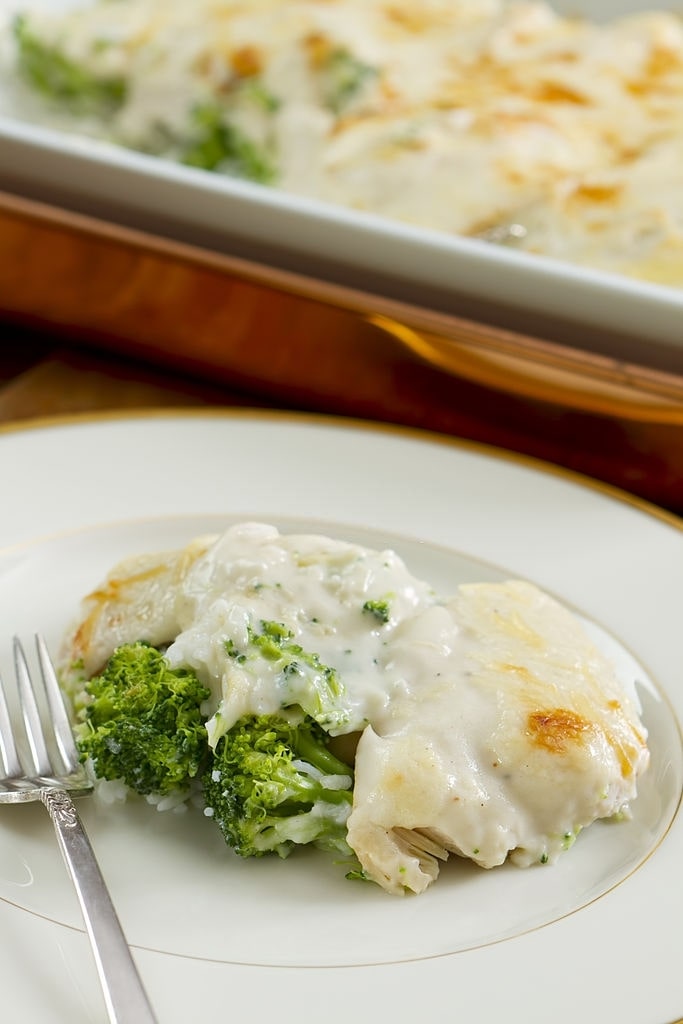 In today's American casserole dishes it is prepared with regular Parmesan cheese or cheddar cheese.
Can I Meal Prep This Keto Chicken Divan?
Absolutely! You can make this keto low carb chicken divan in advance the day before or the morning and bake it whenever you want to serve.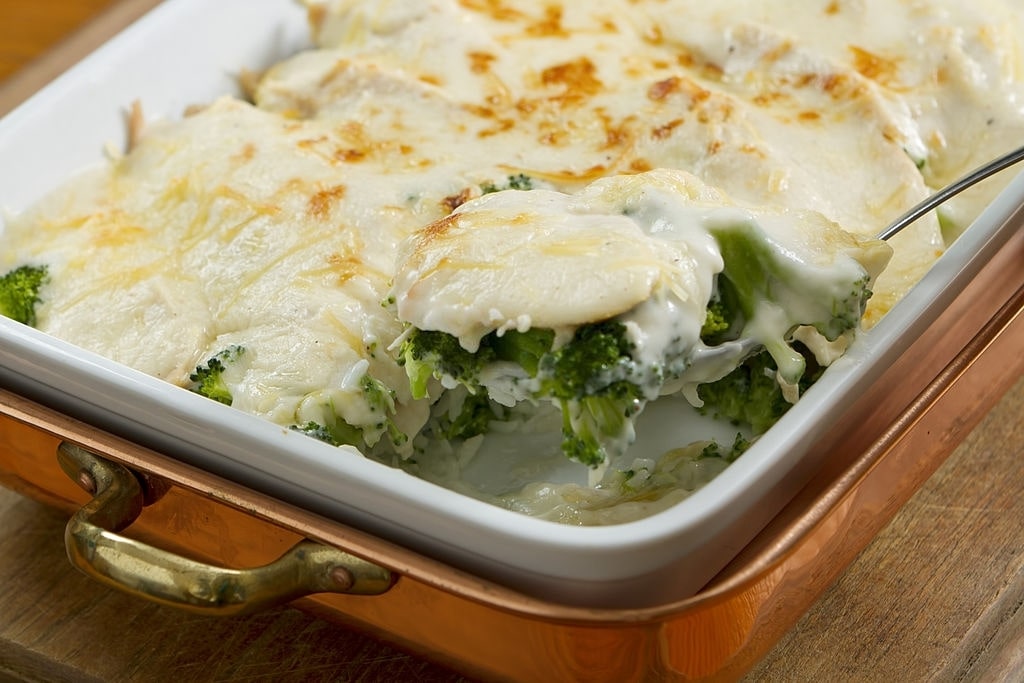 How To Serve This Keto Friendly Chicken Divan?
Whenever I made this in my lunch I just enjoy and eat it all alone with nothing on the side to serve with. But you can serve this with alongside green salad, low carb biscuits, or mashed cauliflower.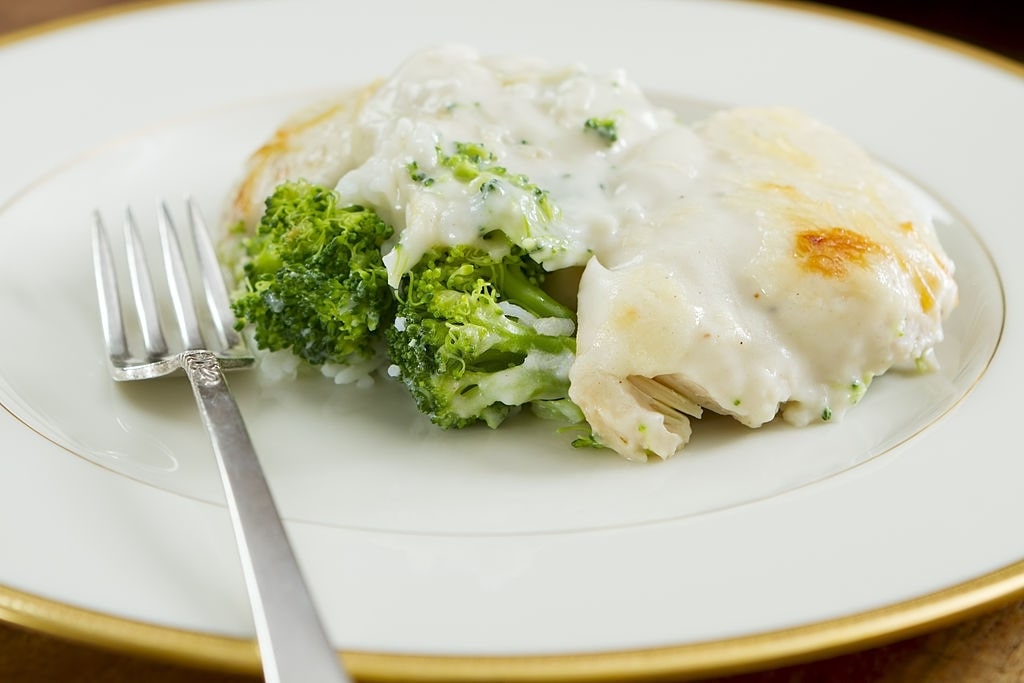 Ingredients Substitute
I am using raw boneless chicken breasts, but you can use canned chicken breast instead. You can also use canned tuna instead of chicken
If you are not a broccoli fan then use spinach and mushrooms instead (cook the mushrooms with the broth to absorb excess liquid).
You can also use leftover sauteed kale and frozen kale for the substitute of broccoli
If you want to make keto chicken divan with curry then use 1 1/2 teaspoons of curry for the sauce.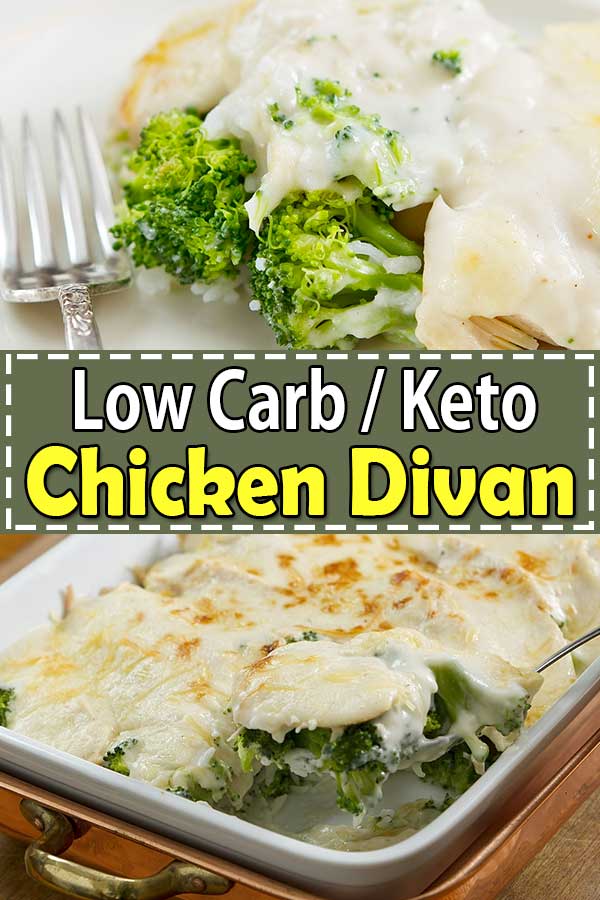 Keto Chicken Divan Casserole (Low Carb)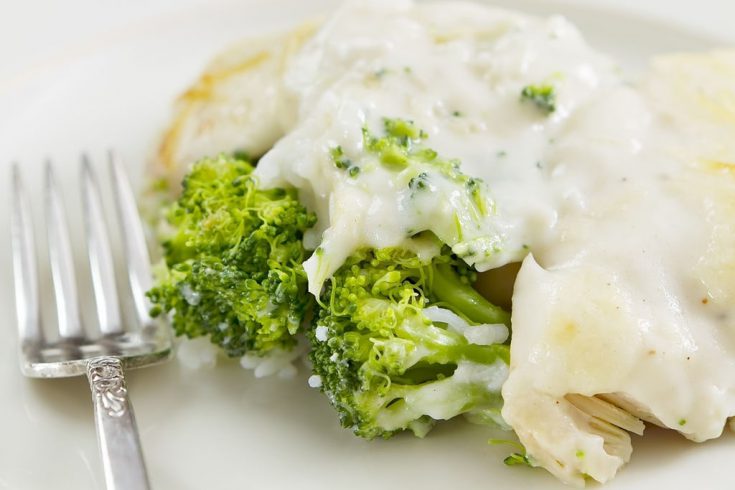 This low carb keto chicken divan casserole is the ultimate comfort food is very rich and creamy made with chicken, broccoli, cheddar cheese, and cauliflower rice.
Total Time
1 hour
30 minutes
Ingredients
2 chicken breasts, boneless, skinless
3 tbsp ghee or butter
1/2 tbsp garlic, minced
1 small yellow onion
1 tsp garlic salt
10 cranks of cracked black pepper
1 cup chicken stock (or broth)
3 cups cauliflower, fresh or frozen (or 3 cups riced cauliflower)
1 tsp lemon juice
1 cup heavy cream
1/2 cup mayonnaise
2 cups shredded cheddar cheese
3 cups steamed, chopped broccoli
a pinch of parsley
Other Tools
Instructions
Preheat the oven to 350 degrees.
Heat a pot over high heat. Add water and add both the chicken breasts. Bring it to a boil and cook until its fully cooked through.
Blend up your cauliflower using a food processor and make rice out of it.
Meanwhile, heat a frying pan on medium heat, add ghee and saute the garlic and onions for 2 minutes.
Add the spices and stir well with the onions. Stir until onions are soft.
Add the cauliflower and once it's a little soft, add the chicken broth. Cover and cook for 10-12 minutes.
By this time and time is almost done, check it and take it out from the pot and set aside.
Add the lemon juice and heavy cream to the pot and simmer uncovered on low for about 10 minutes. Keep stirring in between to make sure it doesn't get burned out from the bottom.
Add mayonnaise, mix well and turn off the heat.
Shred the chicken with a fork and add half shredded chicken into the cauliflower cream mixture and the other half to line the bottom of an 8×8 casserole dish.
Layer the steamed, chopped broccoli (or roasted broccoli) on the top of the chicken.
Top with the chicken mixed cauliflower cream mixture then with cheddar cheese.
Cover with tinfoil, put in the oven and bake for 30 minutes.
Remove the tin foil and cook for 10 more minutes.
Done!
Nutrition Information
Serving Size
6
Amount Per Serving
Calories

468
Total Fat

37g
Saturated Fat

16g
Cholesterol

106mg
Sodium

667mg
Carbohydrates

11g
Sugar

3g
Protein

22g
Still Hungry! Try these other low carb keto chicken recipes:
So, Guys, I hope you enjoy this easy keto chicken divan which I make on a weekly basis. All the chicken lovers who are looking for the low carb chicken divan casserole recipe will enjoy this. And if you like this recipe then Don't forget to share it with your friends on Pinterest, Facebook, and other social media platforms. And do follow us on Tumblr, Pinterest, facebook, twitter, and Instagram.