Thai red chicken curry: It is one of the most flavorful dishes that you can whip up for yourself. It has spices, herbs, and even a hint of creaminess, all working together to produce something sublime. Your taste buds will be buzzing with excitement with each bite.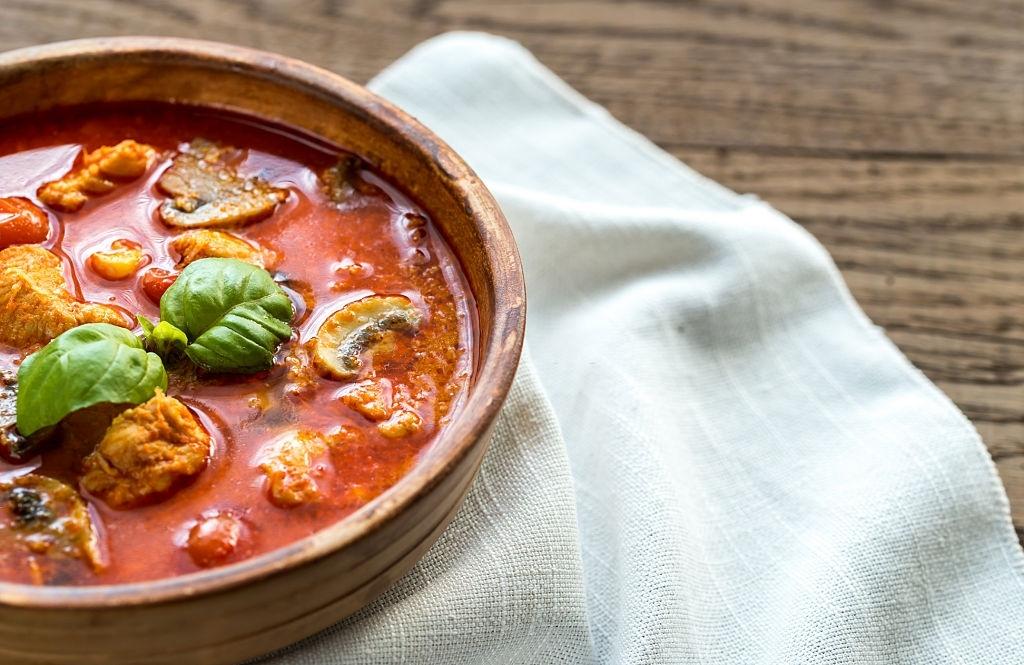 What's more, this recipe is incredibly easy to make as well. All you need to know is which ingredients to add to make the curry really pop. From then on, it is pretty straightforward. So, without further ado, here is the guide you should follow:
A Breakdown of the Ingredients
As mentioned, there are some incredible ingredients in this recipe. So, before you actually head over to the recipe portion, it is important to understand a few elements of some of the more important components…
Red Curry Paste – Homemade vs. Store Bought
Red curry paste plays a rather important role in this recipe. As such, you may be wondering whether you should be buying the store bought version or making the paste from scratch. Now, there is no denying that the homemade paste brings a level of freshness that you just can get with the processed option.
At the same time, you should be aware that store bought brands tend to have a more pronounced flavor. There is also a better balance between the spicy and sour flavors. This can be hard to achieve when you are blending the ingredients on your own. You will also be able to get away with using less of the paste, too.
If you are looking for the best of both worlds, though, this can be achieved. Simply add a couple of cloves of garlic, a couple of teaspoons of ginger paste, and a tablespoon of lemongrass paste to the store bought paste. This will add a rather impressive kick to it.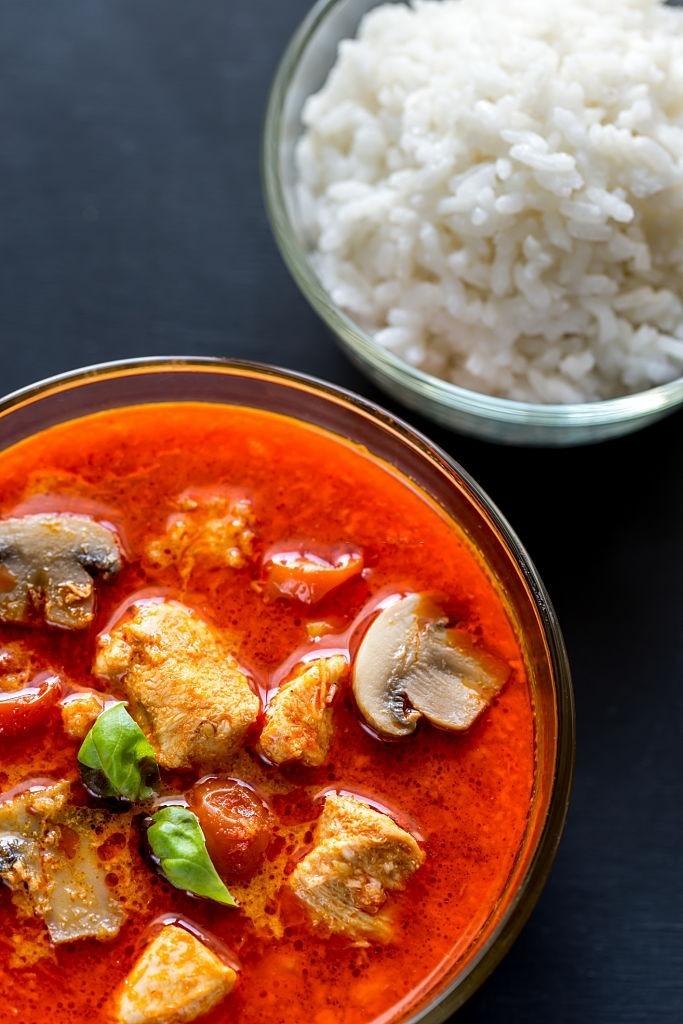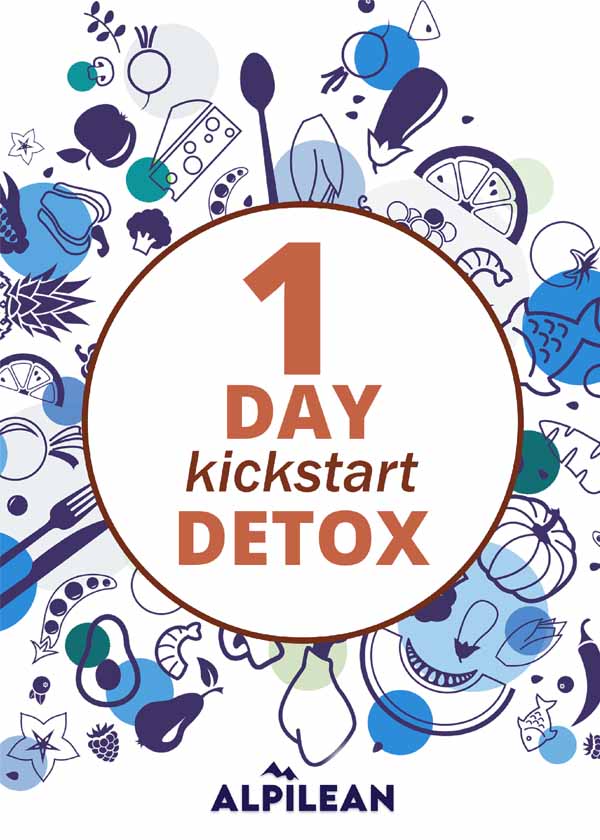 Kaffir Lime Leaves
If you want to make an authentic red curry, then you are absolutely going to need to find kaffir lime leaves. It doesn't matter if you use dried or fresh. Nevertheless, before you get started on this recipe, you should make an effort to find this ingredient.
In the event that this just isn't possible, you can rely on a substitute. Use a similar amount of lemon and lime zest in the curry. This will help to mimic the citrus-like taste of the leaves. A little bit of lime juice can also help to round the flavor out.
Coconut Milk vs. Coconut Cream
Have you tried Thai red curry dishes at different restaurants? Then, one thing that you may have noticed is that the curry has a different consistency at every place. Some boast a thicker curry, while others will have a thinner, more pourable curry instead.
It is up to you to decide which one that you want. In case you prefer a thinner consistency, then you should use coconut milk in your recipe. On the other hand, if you want a thicker, creamier option, then use coconut cream instead. Keep in mind to thin out the cream a little though. You can use some water to do so. This will prevent it from clumping.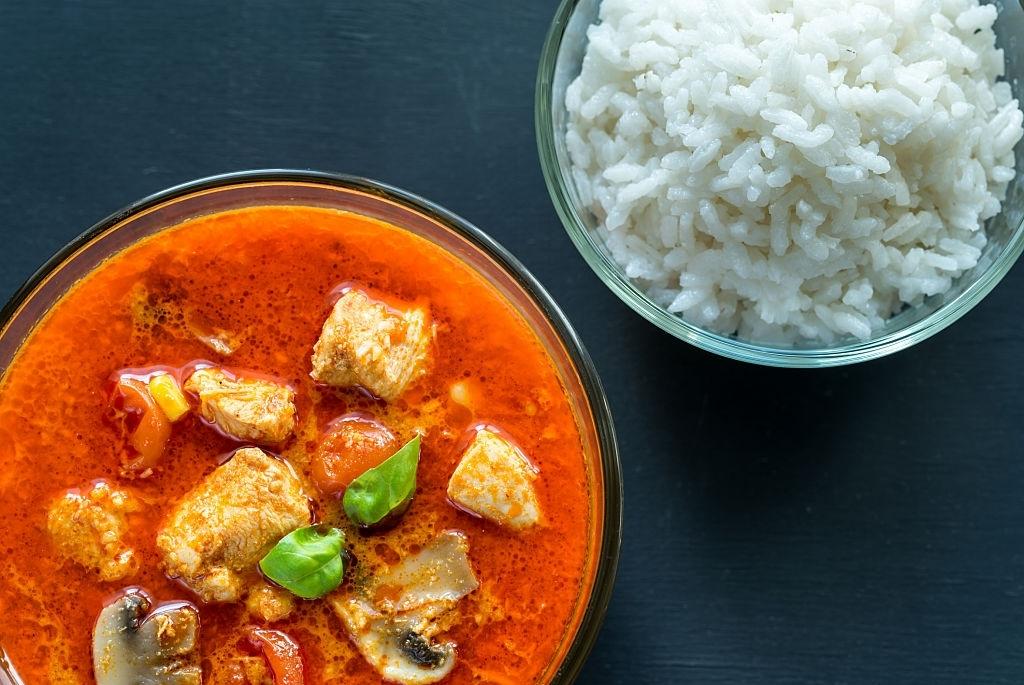 Cut of Chicken
Then, there is the cut of the chicken – which part of the chicken should you be using for this curry? Well, this does depend on your preference. However, if you want a more flavorful dish, opt for chicken thighs as they tend to be juicier.
Since they have a higher fat content, you don't have to worry about them drying out either. As such, they tend to be rather forgiving, particularly when you are trying out a new recipe. You should also leave the bone in as it adds to the overall taste and texture of the dish. However, the boneless chicken should work just fine in this case as well.
Additional Vegetables
Just because this is a chicken curry, doesn't mean that you can't add vegetables to it. If you would like a heartier or a better-rounded dish, there are plenty of vegetables that you can add. These include pumpkin, green peppers, eggplant, cauliflower, beans, etc.
If you do decide to increase the number of ingredients, though, you should also increase the amount of coconut milk (or cream), herbs, and spices that you use. This could mean doubling or even tripling the recipe, depending on how many other components you are adding.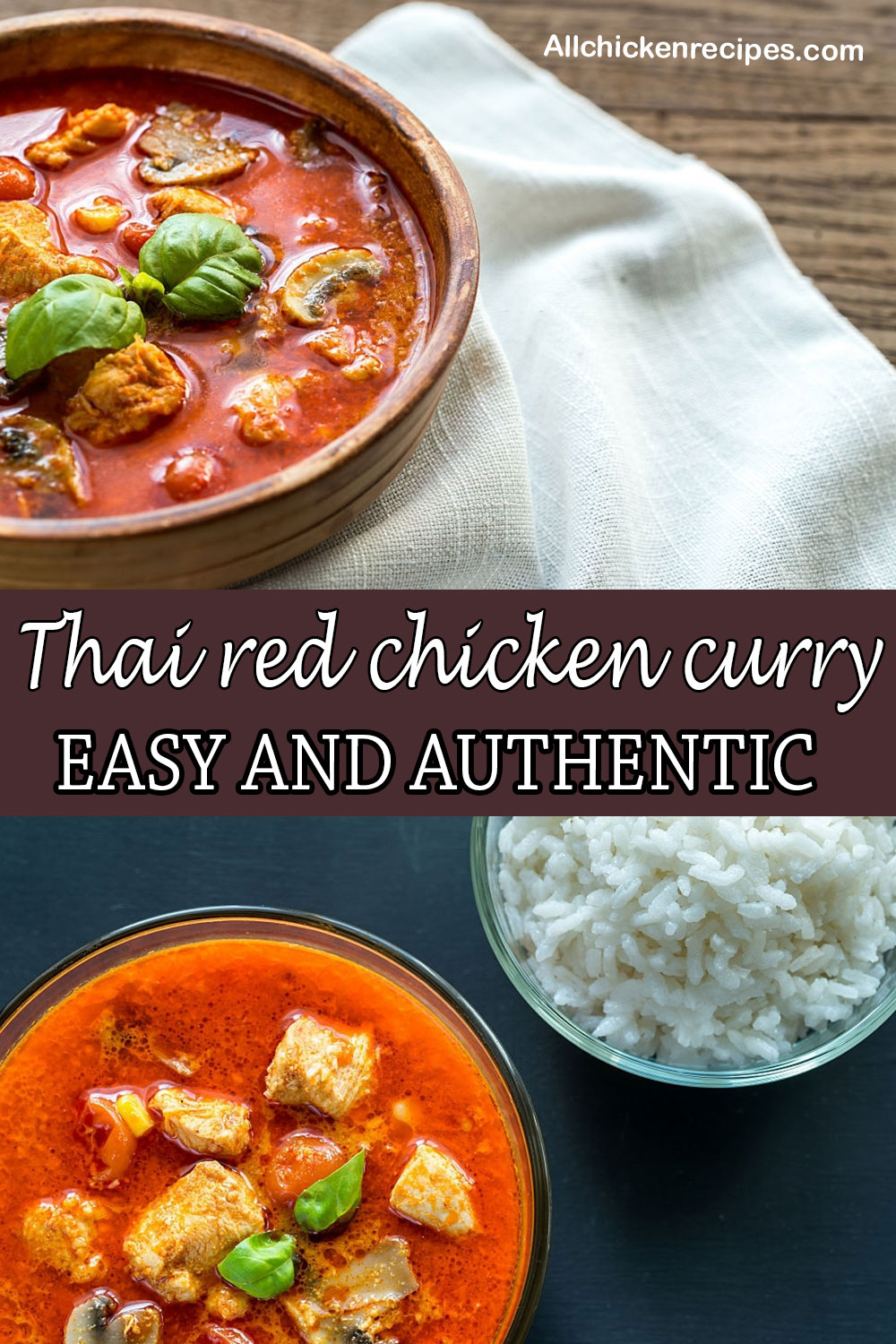 How To Make Thai Red Chicken Curry
Yield: 4
Thai Red Chicken Curry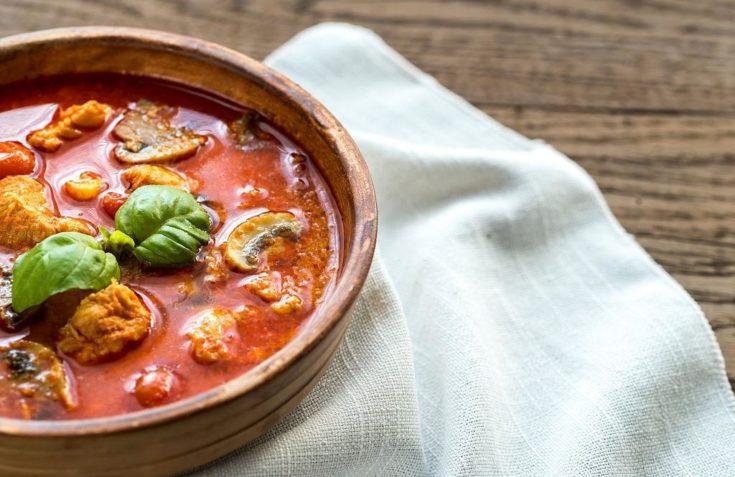 Thai red chicken curry is one of the most flavorful dishes that you can whip up for yourself. It has spices, herbs, and even a hint of creaminess, all working together to produce something sublime.
Ingredients
8 chicken thighs, cut into large chunks
14 ounces of coconut milk or thinned-out coconut cream
2 tsp. of fish sauce
3 tbsp. of vegetable oil
1 tbs. of ginger and garlic paste
5 – 6 tbs. of red curry paste
1 tbs. of finely chopped lemongrass
1 cup of low-sodium chicken broth
6 kaffir lime leaves
1 tbs. of brown sugar
12 basil leaves
Instructions
Heat the oil in a pan and add the ginger and garlic paste. Fry for two minutes or until the paste becomes fragrant.
Add the red curry paste and the lemongrass and combine well. Cook until the paste appears to dry out. This may take up to two minutes.
Pour in the chicken broth and mix until the paste has fully dissolved. Simmer the liquid until the quantity has reduced by half. This may take up to 3 minutes.
Add the coconut milk, kaffir lime leaves, fish sauce, and sugar. Mix well until fully combined.
Add the chicken and make sure that it is spread out in the pan. Bring the sauce to a simmer and then reduce the heat. Cook the chicken for 8 to 10 minutes. At this point, the sauce should have reduced to half.
Remove the curry from the heat. Add the basil leaves and stir once more. Serve the curry over jasmine rice while it is still hot.
Recommended Products
As an Amazon Associate and member of other affiliate programs, I earn from qualifying purchases.
Nutrition Information
Yield
6
Serving Size
1 (300g)
Amount Per Serving
Calories

688
Total Fat

47g
Saturated Fat

21g
Trans Fat

0g
Unsaturated Fat

25g
Cholesterol

222mg
Sodium

2278mg
Carbohydrates

27g
Fiber

2g
Sugar

6g
Protein

46g
All Chicken Recipes.com, occasionally offers nutritional information for recipes contained on this site. This information is provided as a courtesy and is an estimate only. This information comes from online calculators. Although allchickenrecipes.com attempts to provide accurate nutritional information, these figures are only estimates.
This is your guide to an intensely flavorful Thai red chicken curry. Try it just once and it is sure to become your go-to recipe in no time at all. It is especially appreciated on those cold, rainy days when you need something to warm you up.