Nashville Hot Chicken: This easy chicken recipe is tender on the inside and juicy, crunchy from outside with sweet and spicy sauce brushed on the top which makes it so delicious and tasty.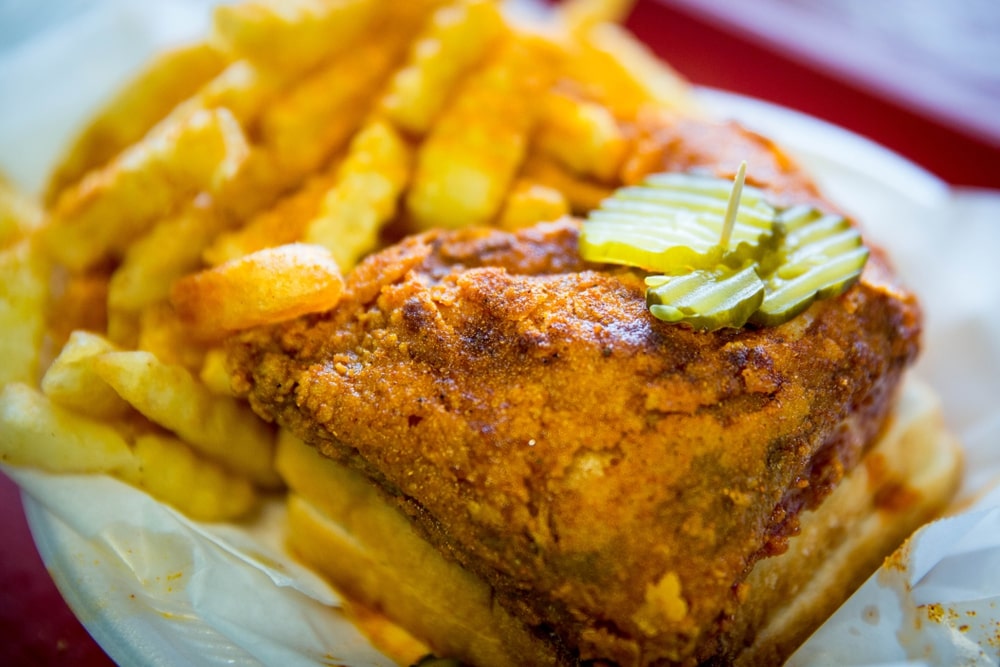 What is Nashville Hot Chicken?
Nashville hot chicken or Hot chicken is a local specialty of Nashville, Tennessee, in the United States – a type of fried chicken.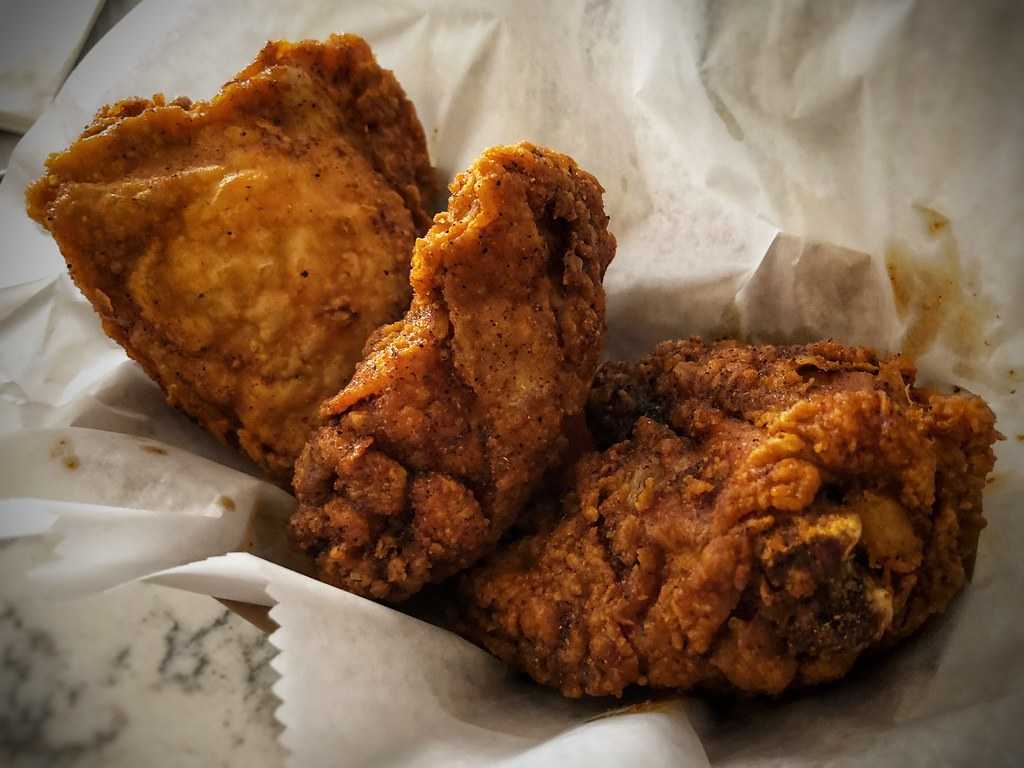 Hot Chicken Nashville Preparation
It is typically prepared with a portion of the breast, wing or thigh that is marinated in a water-based blend of flour, seasoning, fried, and sauced using a paste that has been spiced with cayenne pepper.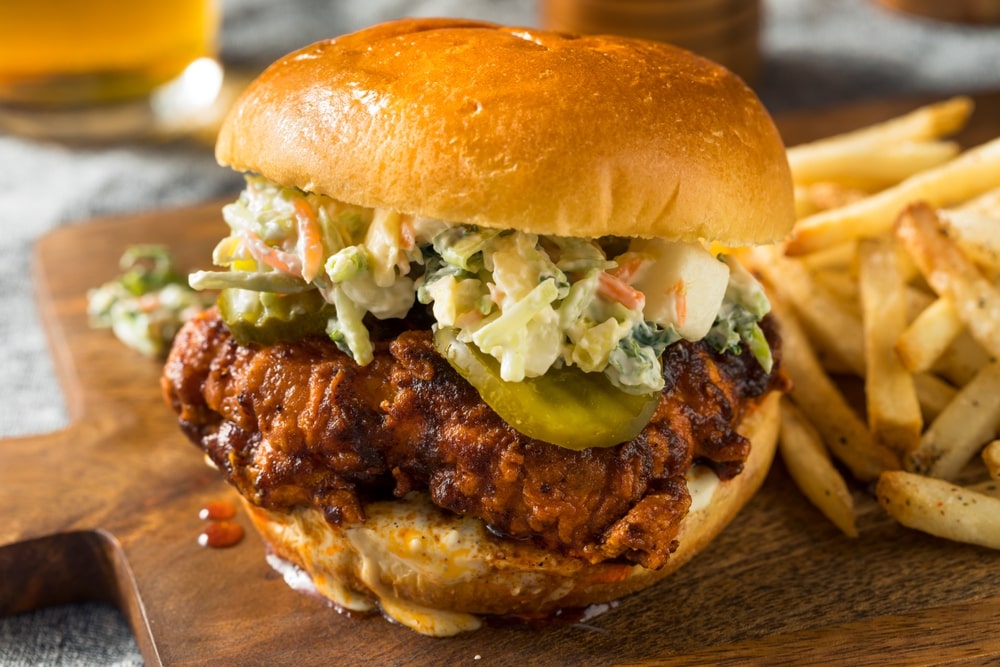 What to Serve with best Hot Nashville Chicken?
It is generally served onto the top slices of white bread with pickle chips or you can simply make a sandwich and enjoy.
Tips before Starting!
In the ingredients I have mentioned buttermilk, what if you don't have it on your hand, you can simply substitute every cup of buttermilk with 1 cup of regular milk + 1 tablespoon of white vinegar or lemon.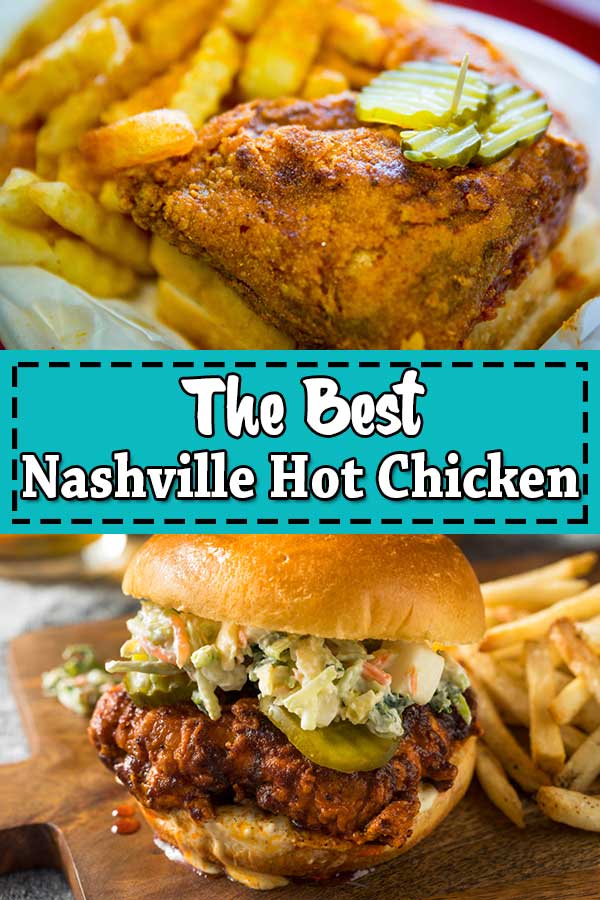 Yield: 8
Nashville Hot Chicken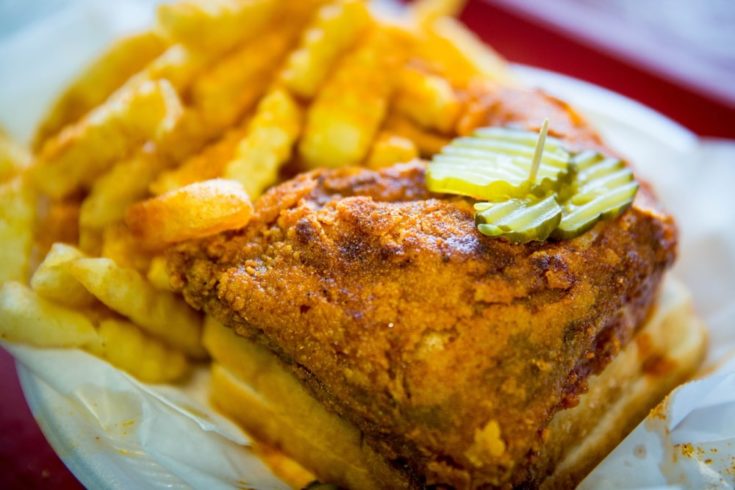 Nashville Hot Chicken is tender on the inside and juicy, crunchy from outside with sweet and spicy sauce brushed on the top which makes it so delicious and tasty.

Prep Time 15 minutes

Cook Time 20 minutes

Total Time 35 minutes
Ingredients
Chicken Brine
4 cups buttermilk
1/4 cup hot sauce (I used Cholula)
1 teaspoon Kosher salt
1/2 teaspoon fresh ground black pepper
1 tablespoon paprika
6-8 pieces of chicken breasts
Flour Dredge
6 cups all-purpose flour
2 teaspoons Kosher salt
1 teaspoon fresh ground black pepper
1 tablespoon paprika
Hot Oil Sauce
1/4 cup cayenne pepper
2 tablespoons brown sugar
1 tablespoon garlic powder
1 tablespoon smoked paprika (regular is fine)
1 tablespoon chipotle chili powder (regular is fine)
1 teaspoon red pepper flakes
Vegetable oil, for frying
Instructions
For the Chicken: In a large bowl put the hot sauce, buttermilk, salt, pepper, and paprika then whisk all together until well combined.
Add the chicken and make sure it's well covered into the marinade. Refrigerate up to 4 hours or even overnight.
In a large bowl, whisk together all of the flour dredge ingredients until well combined.
Remove the chicken pieces one by one from the buttermilk mixture and let any excess drip off
Put the chicken pieces into the flour mixture and coat well, repeat for all the pieces, shake off any excess then again into the buttermilk and then back into the flour mixture and put on a plate or a rack on a baking sheet and repeat this step with all the chicken pieces.
Heat a large cast-iron pan about 1/3 to 325 degrees or either fill a deep fryer with oil.
Slowly add 3 to 4 chicken pieces at a time and cook for about 12-15 minutes until golden brown and crisp on both sides and the chicken reaches 160 to165 degrees.
While you finish cooking the remaining pieces move the fried chicken pieces to a rack covered baking sheet and place in a 250-degree oven.
When all the chicken pieces are done frying, combine 1 cup of the hot frying oil and the oil ingredients in a medium bowl and stir well to combine.
Finally, brush the cooked chicken with the sauce and serve hot.
Nutrition Information
Serving Size
8
Amount Per Serving Calories 559Total Fat 8gSaturated Fat 2gCholesterol 70mgSodium 1213mgCarbohydrates 85gSugar 9gProtein 35g

Still Hungry Try These Delicious Chicken Recipes:
So, Guys, I hope you enjoy this Nashville hot chicken recipe which I make on a weekly basis. All the chicken lovers who are looking for KFC Nashville hot chicken will enjoy this recipe. And if you like this recipe then Don't forget to share it with your friends on Pinterest, Facebook, and other social media platforms. And do follow us on Tumblr, Pinterest, facebook, twitter, and Instagram.