Keto Orange Chicken – This delicious low carb orange chicken recipe tastes just like the classic restaurant-style Chinese take out that is keto-friendly and can be enjoyed on your busy weeknights.
The chicken tender and juicy and what to comment on the sauce its the ultimate one, look this is not the basic orange chicken recipe which is have shared earlier, we are making it lower in carbs, so you have to put in little extra work.
Orange Chicken is a very popular Chinese restaurant favorite takeout dish in North America. It tastes sweet and tangy with crispy chicken nuggets coated in a delicious flavorful sauce.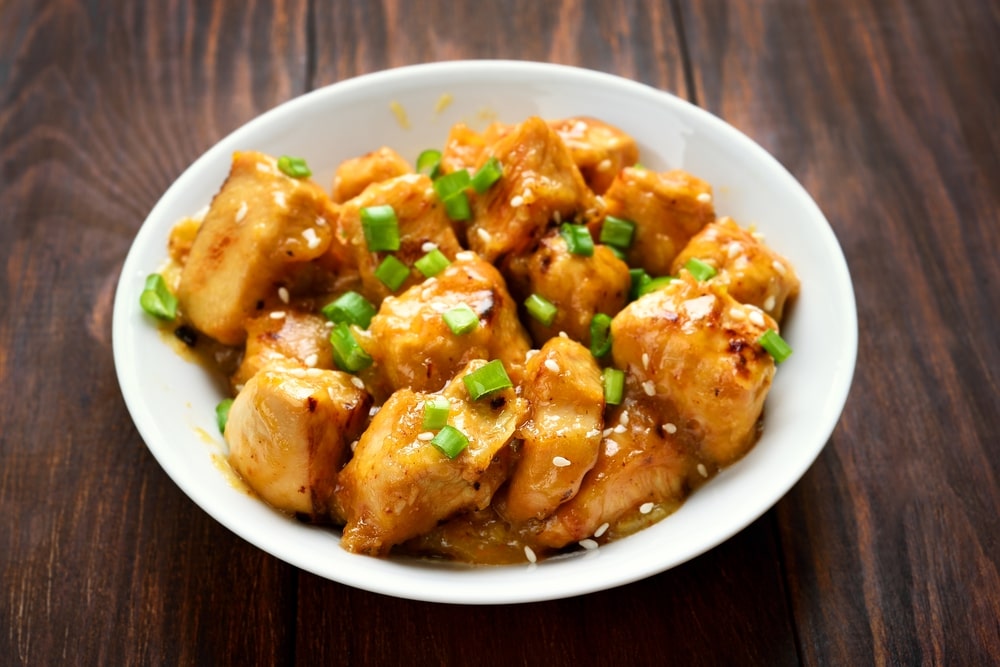 Ingredient Substitutes and FAQs
Can I substitute almond or coconut flour for the whey protein isolate?
Look I highly recommend you to use whey protein because firstly I am sure that you have never fried chicken with whey protein.
Secondly, whey protein successfully binds all the breading ingredients together better than any other flour and it will not lose any of the batter while frying.
But yes you can use almond or coconut flour to bread the egg dipped chicken, you can even use a combination of peanut flour and sesame flour (take 2 tablespoons each)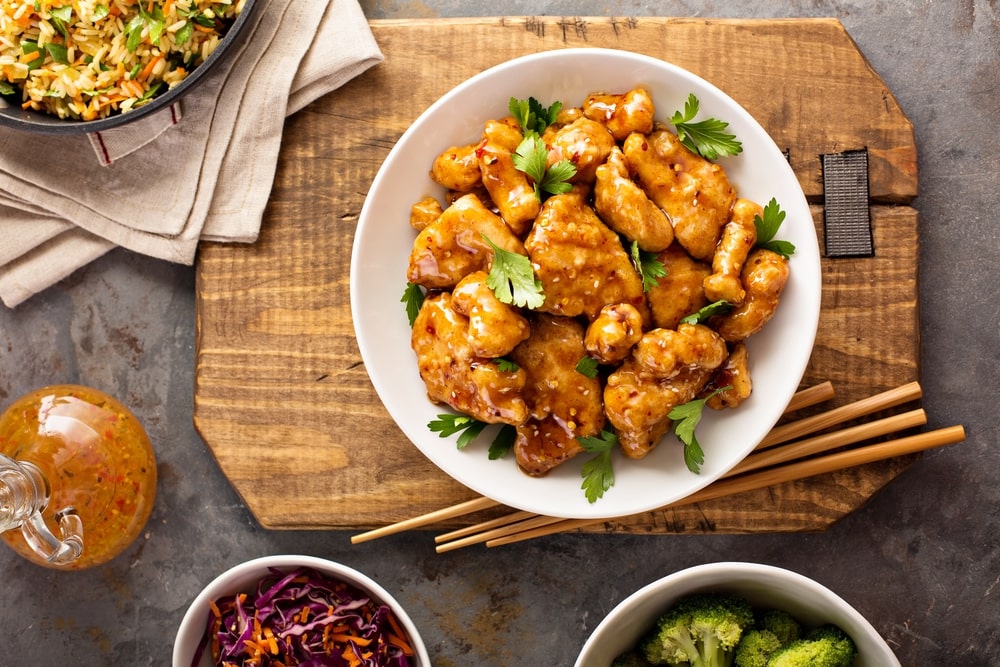 Liquid amino's – This gives you a Soy Sauce flavor and is an alternative to Soy Sauce. You can use coconut aminos instead
Dressing Substitute – Use orange juice or extract and xanthum gum to thicken the sauce.
How to Make Keto Orange Chicken Sauce?
You can just follow the instructions given on the recipe card below to make the sauce but these are the substitute if you don't have any ingredient in hand or not available.
Sauce Ingredients Substitute:
Click on the links to buy the items: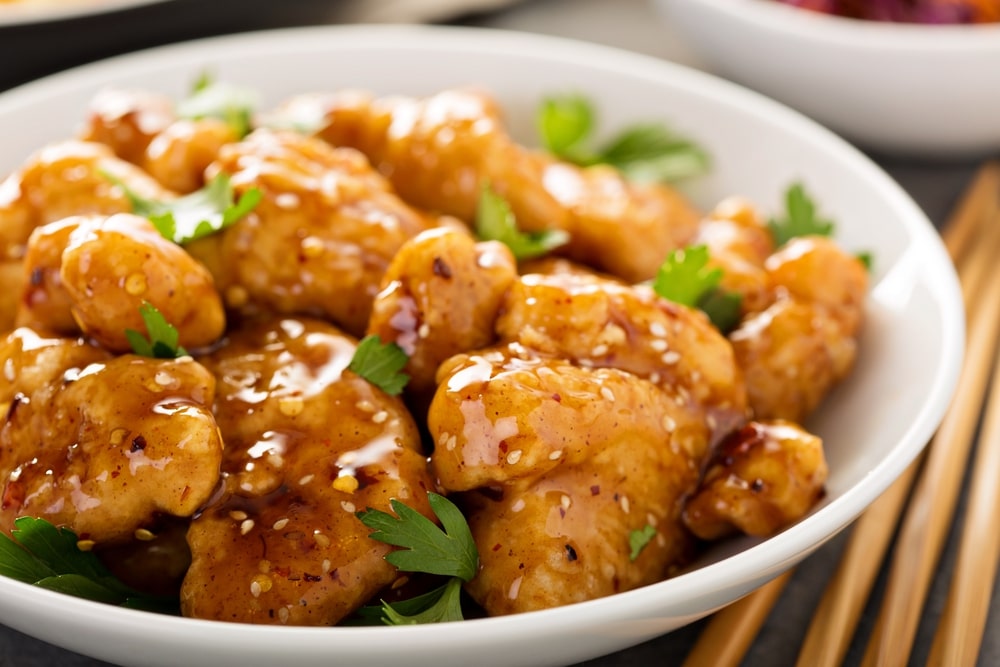 How to Bread the Chicken for the best Keto Orange Chicken Recipe?
To bread the chicken pieces with the eggs we are using whey protein but you can use coconut flour. For the orange sauce, we are using liquid aminos, and other dressing to make it a low carb orange marmalade chicken but you can use orange zest, orange extract, chicken broth and erythritol for sweetening.
What to do with the Leftovers?
If you have leftovers, then keep the chicken and the sauce separately in airtight containers (if you put together the breading will soak up the sauce) and store for up to 3 days.
When ready to eat, warm the sauce (just warm not actually cook) and toss the chicken into the sauce and enjoy.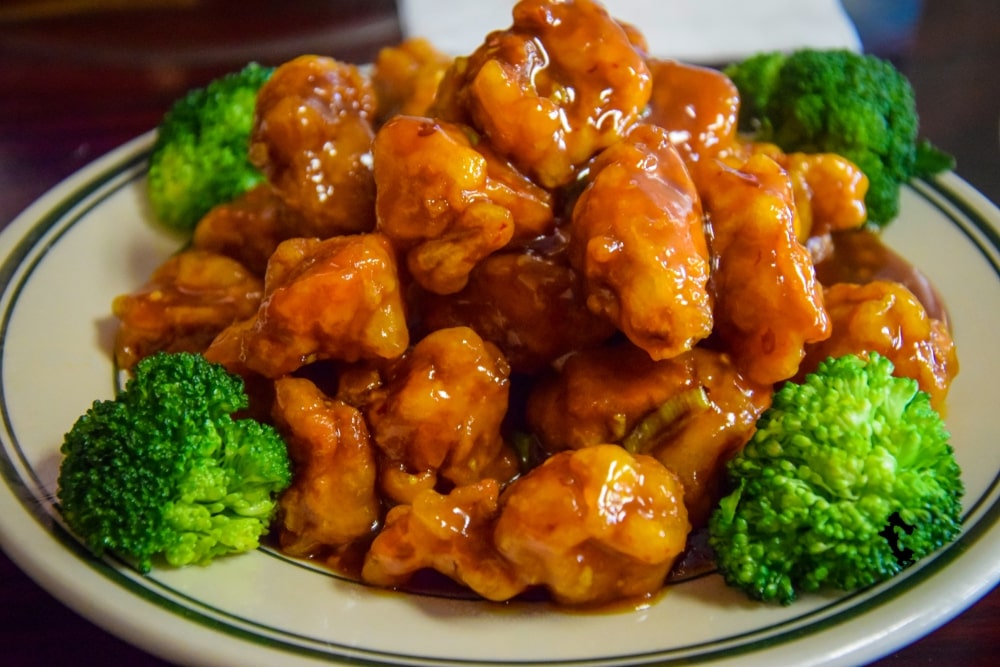 What to Serve with this Low Carb Orange Chicken?
Serve this over some asian veggies like steamed broccoli, red bell peppers, green beans, and mushrooms or keto cauliflower rice.
How to Make Keto Orange Chicken Walden Farms?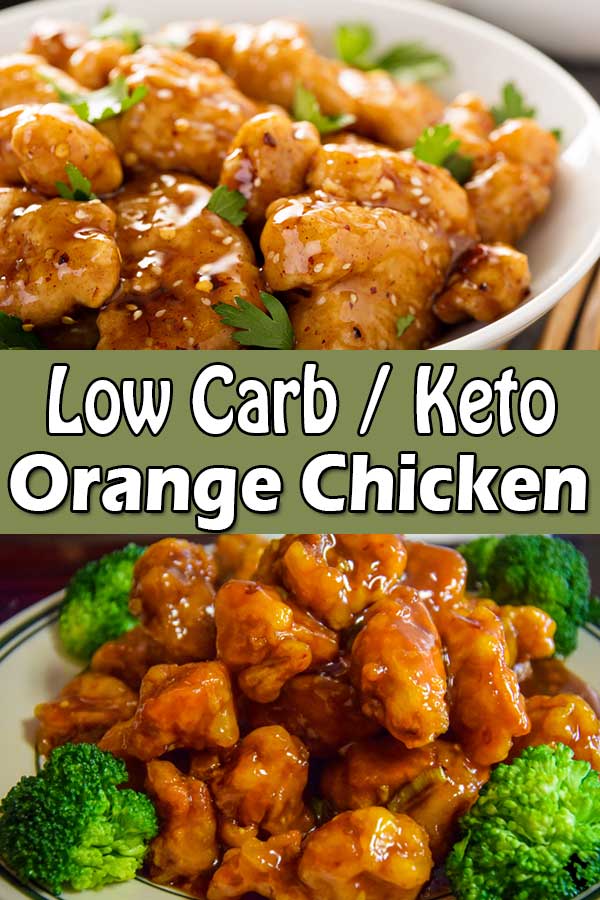 Yield: 4
Keto Orange Chicken (Low Carb)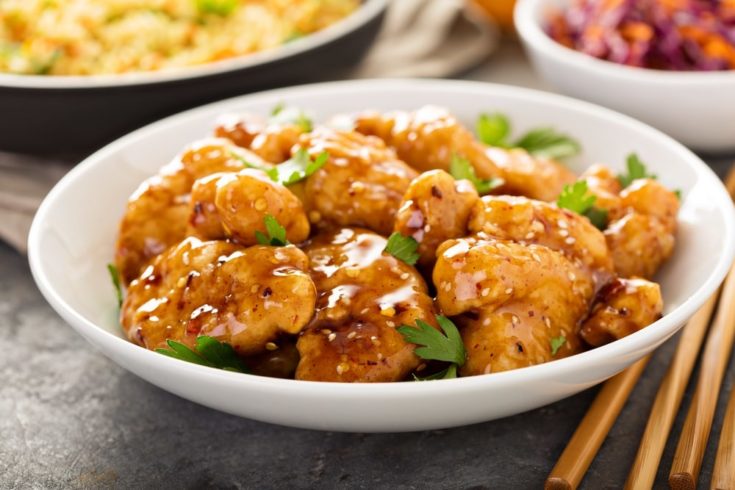 This delicious low carb keto orange chicken recipe tastes just like the classic restaurant-style Chinese take out that is keto-friendly and can be enjoyed on your busy weeknights.

Prep Time 15 minutes

Cook Time 10 minutes

Total Time 25 minutes
Ingredients
For the Chicken:
2 pounds chicken thighs, boneless skinless, cut into strips
2 eggs, large
1 1/2 cup whey protein isolate, unflavored
For the Sauce:
3 tablespoons orange marmalade
3 tablespoons sesame ginger dressing
3 tablespoons asian dressing
1 tablespoon liquid aminos
1/2 tablespoon sriracha sauce
1 tablespoon garlic, minced
1/2 teaspoon ginger, minced
1/2 teaspoon red pepper flaked, crushed
Instructions
To make the sauce:
Take a shallow bowl, combine all the sauce ingredients and whisk until well combined or blend with a hand mixer and set aside.
To make chicken:
Take a medium bowl, beat the eggs and add the chicken pieces and mix until well combined.
Heat a frying pan on medium high heat, add the oil let it get hot.
Meanwhile let's bread the chicken, take the chicken pieces one by one from the egg mixture and coat with the whey protein (you can use almond or coconut flour) and set aside on a plate.
When the oil is hot and ready, add the chicken pieces for 3-4 minutes per side or until fully cooked through.
Repeat the same with the remaining chicken strips and set them on the side on top of a wire rack.
Warm the sauce a little (not necessary) and toss in the crispy chicken with the sauce and eat right away!
Recommended Products
As an Amazon Associate and member of other affiliate programs, I earn from qualifying purchases.
Nutrition Information
Serving Size
4
Amount Per Serving Calories 453Total Fat 14gSaturated Fat 3gCholesterol 272mgSodium 463mgCarbohydrates 9gSugar 7gProtein 68g

Still Hungry! Try these other keto chicken recipes:
So, Guys, I hope you enjoy this keto friendly orange chicken which I make on a weekly basis. All the chicken lovers who are looking for healthy low carb orange chicken will enjoy this recipe. And if you like this recipe then Don't forget to share it with your friends on Pinterest, Facebook, and other social media platforms. And do follow us on Tumblr, Pinterest, facebook, twitter, and Instagram.