Orange Chicken: This Chicken Recipe is very easy to make often found in Chinese restaurants and it can be ready in just 30 minutes. It's fully loaded with flavor with crispy on the outside and sweet, tangy from inside. Serve this delicious orange chicken recipe with steamed vegetables and rice or salad and enjoy your weeknight meal with your friends and family.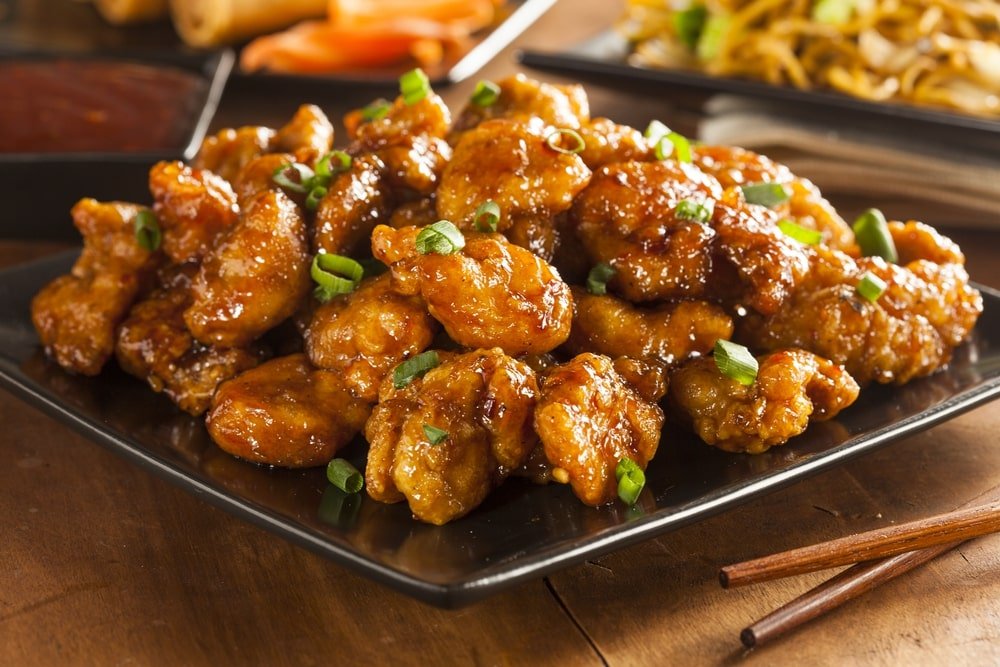 You will get that salty, sweet, and sour blend from the vinegar, sugar and soy sauce and there's some another taste that you will get from the ginger, garlic, and onion.
How to Make Orange Chicken?
I am making this Easy Orange Chicken recipe by deep frying the chicken but yes, to lower the calories i recommend fry it on a pan with less oil. It's totally upto you, if you want that extra crispiness then deep fry it or else just pan fry.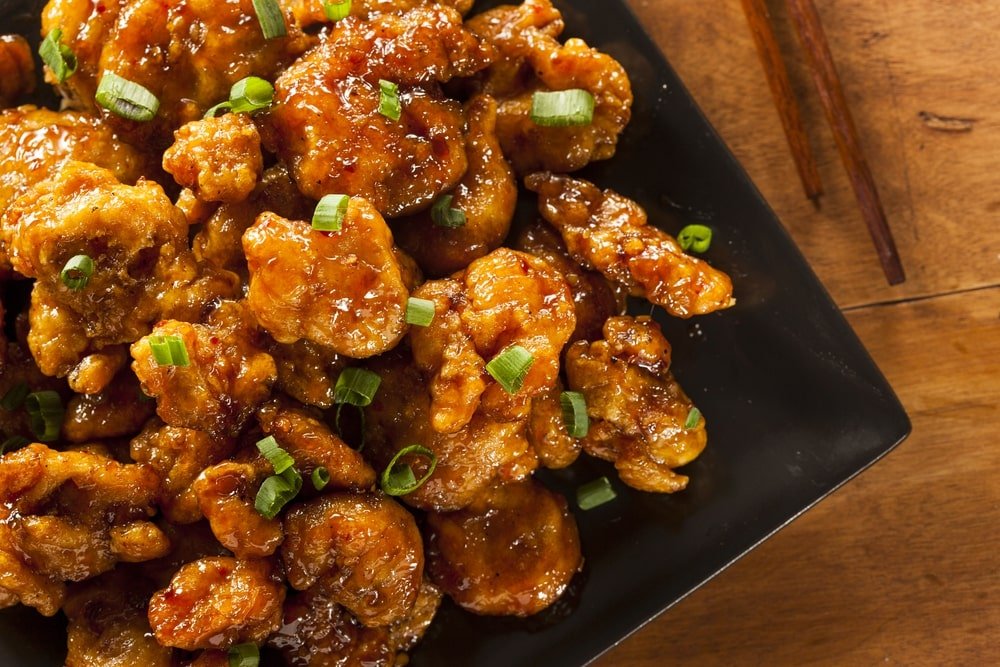 How to Make Orange Chicken Sauce?
Orange Sauce is the main ingredient here that makes this recipe so good! It is super easy to make. Basically, it is a mixture of soy sauce, sesame oil, crushed red peppers vinegar, sugar, and orange zest.
Once you make this recipe I am sure everyone in your family will love this! And after taking the first bite, your family member will request to make this recipe again and again. So mouthwatering!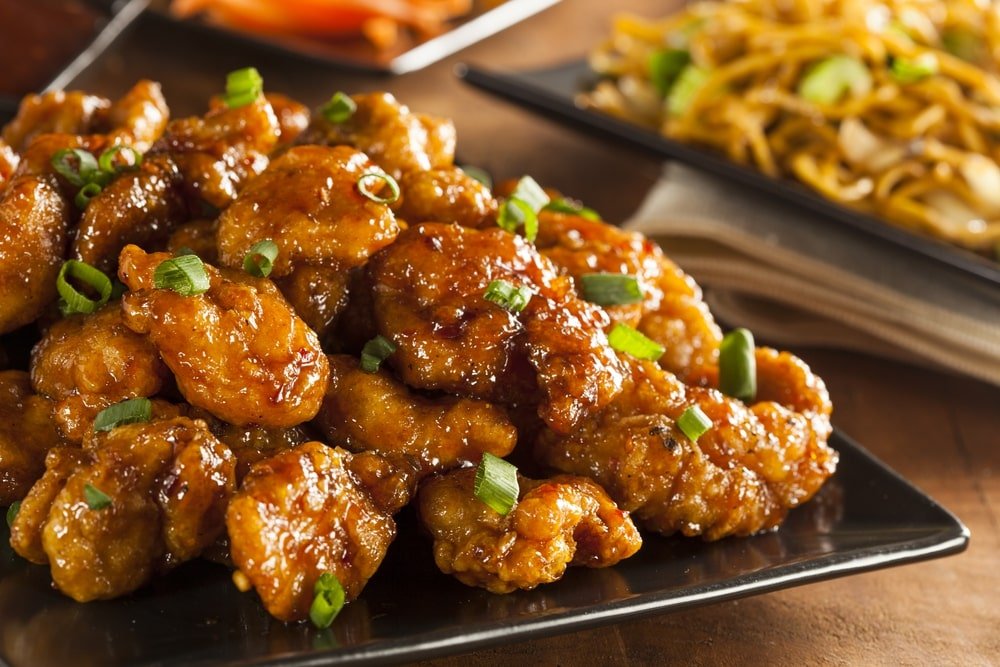 How to Make Crockpot Orange Chicken
Ingredients:
4 (4-ounces each) skinless, boneless chicken breasts
Salt and Pepper, to taste
3/4 cup freshly squeezed orange juice
3/4 cup low-sugar orange preserves
2 garlic cloves, finely chopped
1/4 cup low-sodium soy sauce
Toasted sesame seeds
1/8 teaspoon ground ginger, or to taste
Instructions:
Grease your crock pot with cooking spray.
In a skillet heat 1 tablespoon olive oil and brown all chicken pieces for 2 minutes each side.
On the bottom of the crockpot, place chicken breasts one next to another, and season with salt pepper.
In a mixing bowl, combine orange juice, preserves, soy sauce, orange preserves, garlic and ginger and mix.
Pour over the chicken.
Cover and cook on HIGH for 2.5 to 3 hours or LOW for 4 to 5 hours.
Now prepare the sesame seeds in the meantime.
Heat the sesame seeds in a frying pan over medium heat about 30 seconds shaking the pan frequently. Set aside.
Remove the chicken and transfer to a plate.
Spoon the remaining orange sauce over chicken.
Garnish with sesame seeds and serve with rice.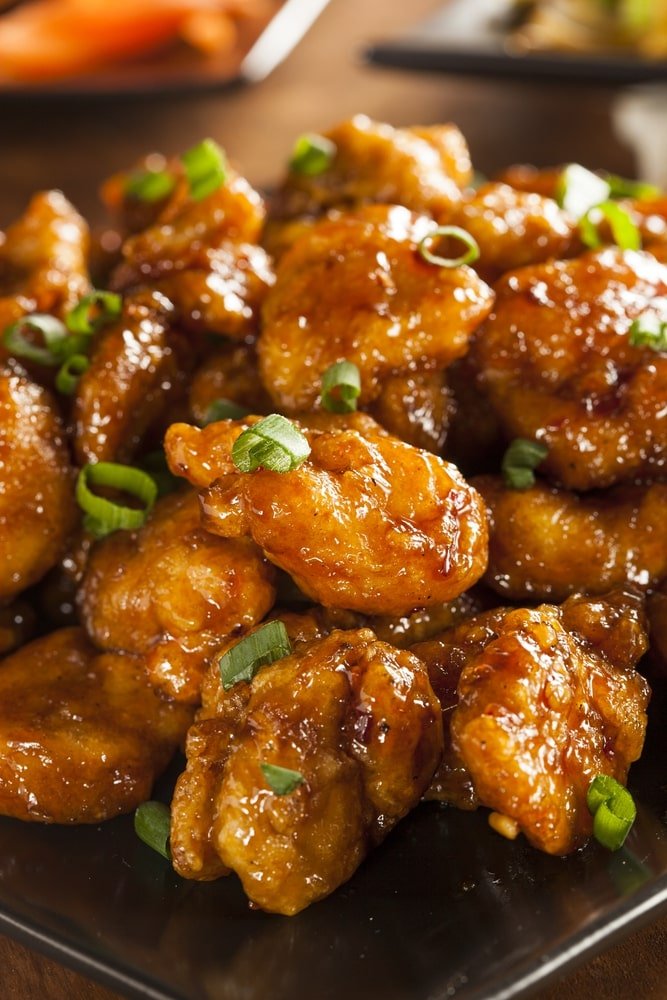 How to Make Instant pot Orange Chicken
Ingredients:
1.5 lbs boneless skinless chicken breasts, cut into 1″ cubes
3 tablespoons avocado oil
1/4 teaspoon black pepper
1/2 teaspoon salt

For the sauce:

1/2 cup fresh orange juice (1 medium orange)
1/3 cup coconut aminos
2 tablespoons apple cider vinegar
1/2 tablespoon orange zest (1 medium orange)
2 cloves garlic, minced
1 teaspoon freshly grated or minced ginger
1 teaspoon fish sauce
1/2 teaspoon red pepper chili flakes, optional or to taste
salt and black pepper to taste

To thicken the sauce (optional):

1/2 tablespoon water
1/2 teaspoon xanthan gum OR arrowroot starch for Whole30

Toppings:

Green onion thinly sliced
Sesame seeds
Instructions
Season the chicken with salt and pepper and set aside.
In a small bowl, combine all the sauce ingredients and whisk all together and set aside.
Turn on the Instant Pot to saute mode. Add oil and allow to heat up a little. Sear the chicken in batches until lightly browned for about 3-4 minutes on each side (place the browned chicken on a paper-towel-lined plate). Once all the chicken is browned, add them back to the pot and pour in the sauce over top.
Close the lid and Set on MANUAL mode for about 3 minutes and it let naturally release for 10 minutes.
Open the lid and press the OFF button and then press the SAUTE button.
Combine the arrowroot starch or xanthan gum with water (to thicken the sauce) and stir into the pot. Allow the sauce to bubble and thicken up.
Once done, sprinkle with green onions, sesame seeds, and serve chicken over zoodles or cauliflower rice.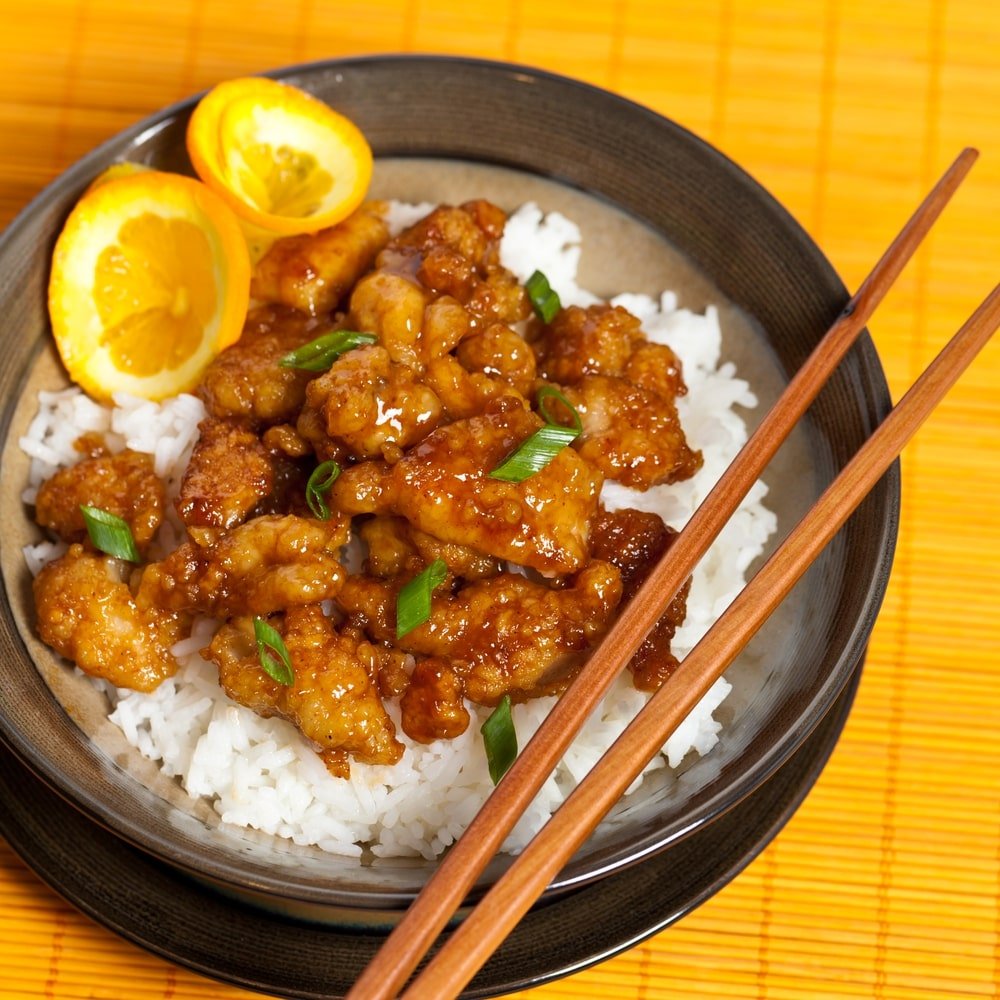 What to Serve with Orange Chicken?
You can serve your orange chicken with rice or maybe Fried Rice but make sure to use long grain basmati rice because it gives you that extra flavor, and if you are following a low carb diet then substitute fried rice with cauliflower rice.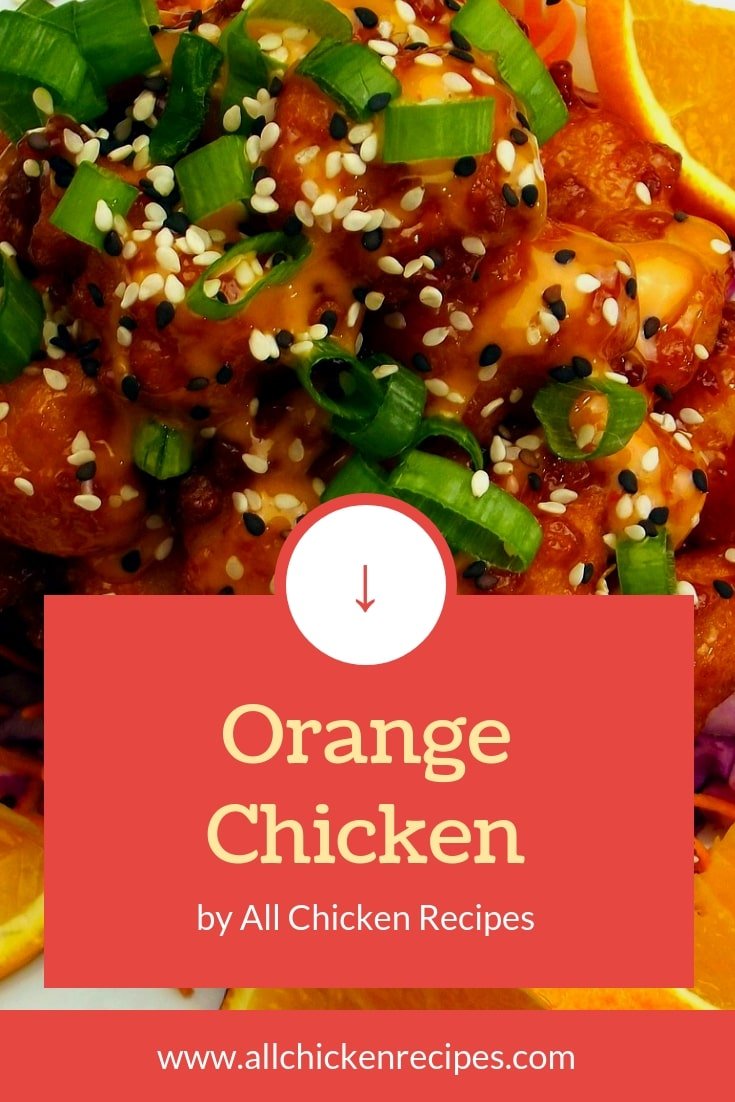 Still Hungry Try these chicken recipes:
Orange Chicken Recipe
Orange Chicken: This recipe is very easy to make often found in chinese restaurants. It's loaded with flavor with crispy on outside and sweet, tangy from inside.
40 minPrep Time
40 minCook Time
1 hr, 20 Total Time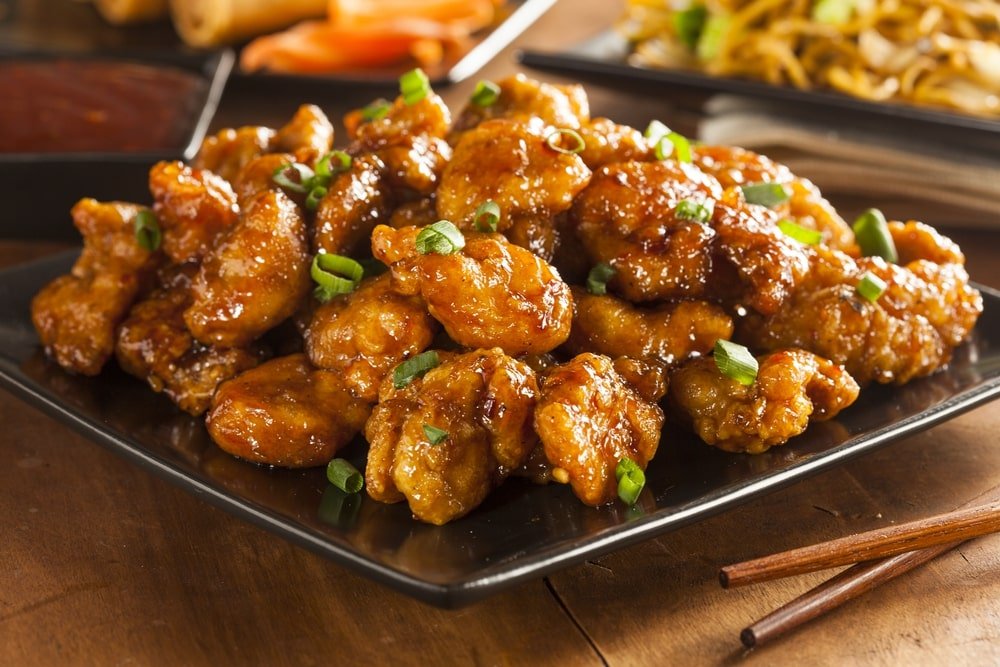 Ingredients
For Sauce

1/3 cup rice vinegar
2 1/2 tablespoons soy sauce
1 1/2 cups water
2 tablespoons orange juice
1/4 cup lemon juice
1/2 teaspoon minced fresh ginger root
1/2 teaspoon minced garlic
1 tablespoon grated orange zest
1 cup packed brown sugar
1/4 teaspoon red pepper flakes
3 tablespoons cornstarch
2 tablespoons chopped green onion
2 tablespoons water

For Chicken

1/4 teaspoon salt
1/4 teaspoon pepper
2 boneless, skinless chicken breasts, cut into 1/2 inch pieces
1 cup all-purpose flour
3 tablespoons olive oil
toasted sesame seeds
Instructions
Set your saucepan over medium-high heat and pour orange juice, lemon juice, rice vinegar, 1 1/2 cups water, and soy sauce. Stir in the orange zest, ginger, garlic, brown sugar, chopped onion, and red pepper flakes. Bring to a boil and then cool down for 10 to 15 minutes.
Now pour 1 cup of sauce over the chicken pieces and refrigerate at least 2 hours.
In another bowl, mix the salt, flour, and pepper and add the marinated chicken pieces to coat.
In a large skillet heat the olive oil over medium heat and brown the chicken pieces on both sides. Drain on a plate lined with paper towels.
Now add sauce to the the skillet over medium-high heat and bring to a boil. Prepare a cornstarch mixture by mixing together the cornstarch and 2 tablespoons water and stir into the sauce. Add the chicken pieces, and simmer, about 5 minutes, stirring occasionally.
Heat the sesame seeds in a frying pan over medium heat about 30 seconds shaking the pan frequently.
Garnish with sesame seeds and serve with cauliflower rice or steamed rice.
7.8.1.2
36
https://www.allchickenrecipes.com/orange-chicken/
So, Guys, I hope you enjoy this
Easy Orange Chicken Recipe
which I make on weekly basis. All the chicken lovers who are looking for
Orange Chicken
will enjoy this recipe. And if you like this recipe then Don't forget to share it with your friends on Pinterest, Facebook, and other social media platforms. And do follow us on facebook, twitter, Pinterest, Tumblr, and Instagram.