Keto Chicken Nuggets – These low carb chicken nuggets are very easy to make with just 4 grams of carbs made with tender and juicy chicken breast coated in a pork rind and fried until golden brown!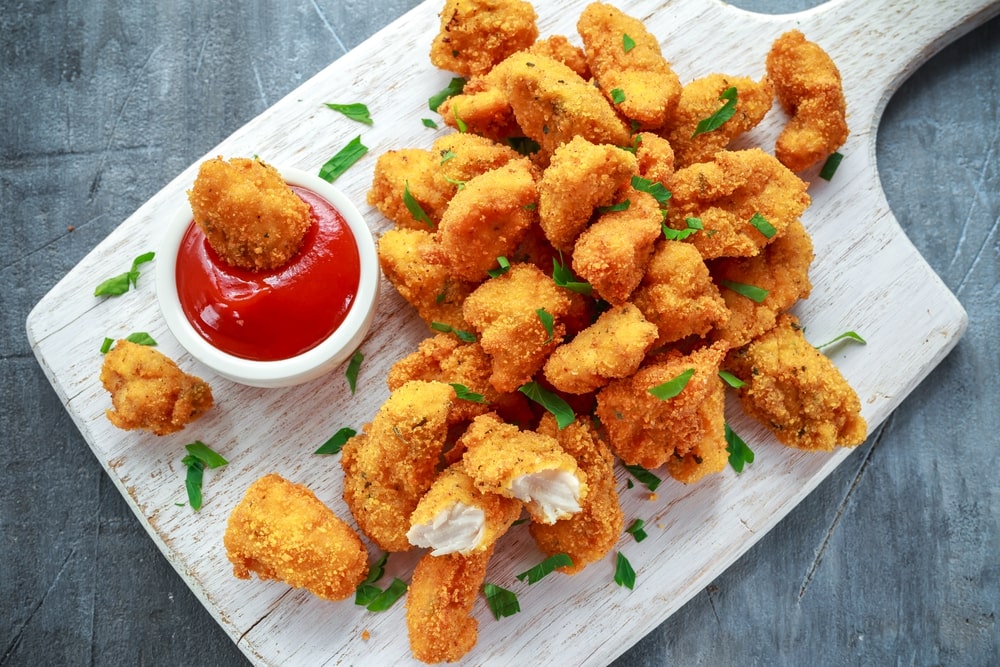 These keto chicken nuggets pork rinds are so flavorful that is crunchy and juicy with that smoky flavor that your whole family will love and for keto lovers, these low carb zesty chicken nuggets are sure to become their favorite comfort food.
What should be the breadcrumbs substitute on a keto diet?
We all know that whenever we talk about nuggets or any other fried chicken recipe, breadcrumbs acts as the main binding ingredient which holds the egg mixture. But when on keto we cannot use breadcrumbs because of its carbs amount.
So what to do?
Well, on keto there's is an option known as panko crumbs or pork rind crumbs (< buy them) because they are high in fat and contain no carbs or 0 carbs. It naturally Carb-Free and Gluten-Free, Oven & Grill Friendly as well as it has high heat tolerance.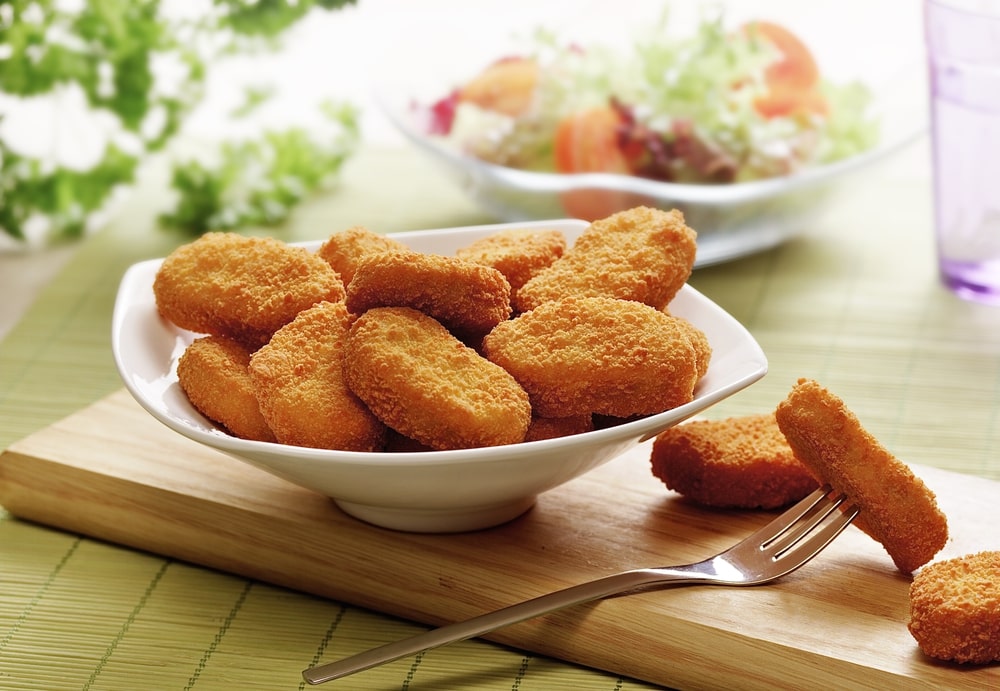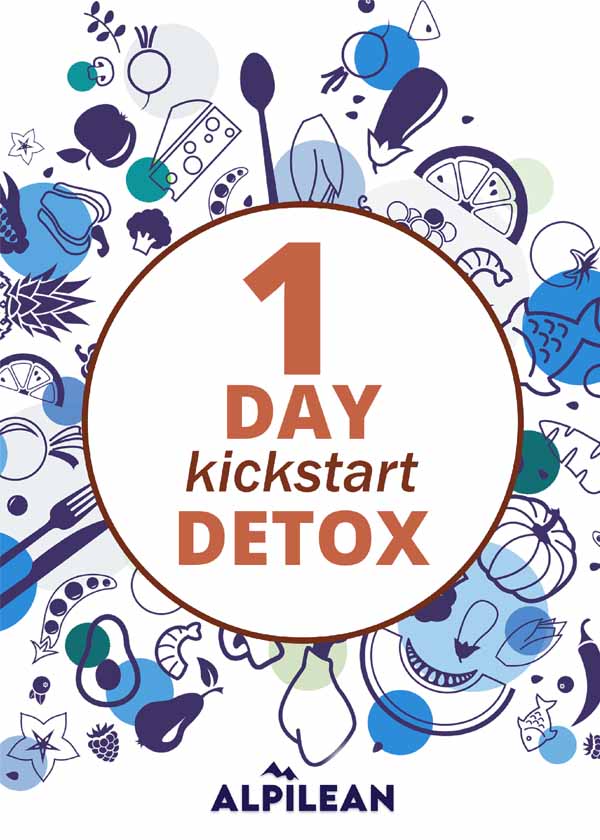 Can we Freeze any Leftovers?
Yes, you can freeze any leftover low carb chicken nuggets with pork rinds in the fridge for up to 3 months or store in the fridge up to 3 days.
When ready to serve, preheat oven to 390F and reheat for about 10-15 minutes.
Can you make these easy low carb chicken nuggets without eggs?
Eggs mixture is my main recommendation but yes you can use 1/4 cup mayonnaise to coat the chicken with the same spices.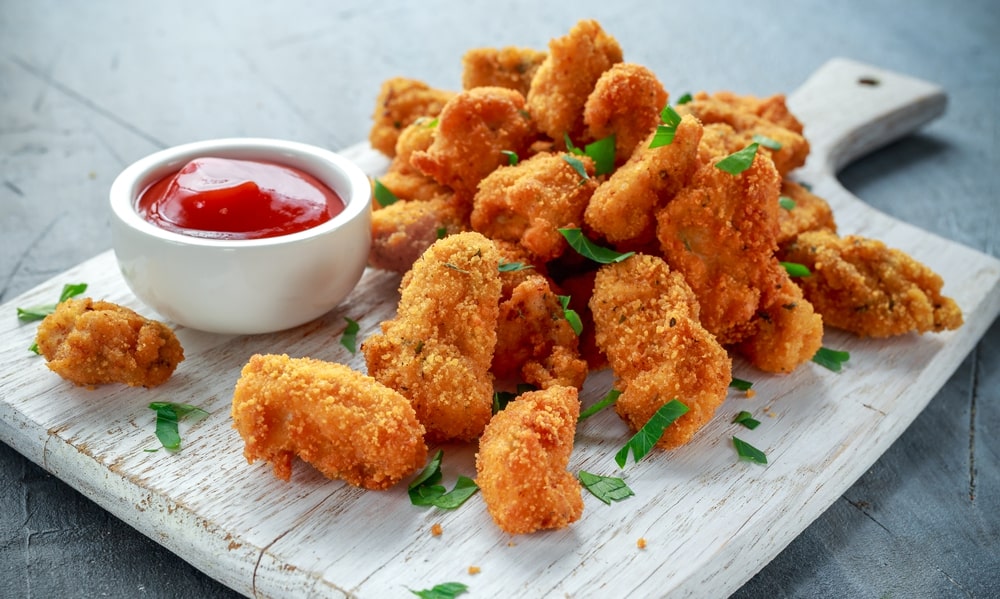 Can you make them without almond flour?
Yes, you can try other options like dry-grated parmesan cheese and pork rinds (this is what we are using in this recipe)
How to Serve these Low Carb Zesty Chicken Nuggets
You can serve them as a main course with keto ranch dressing, baked zucchini fries or keto-friendly ketchup and enjoy this as a snack or an appetizer.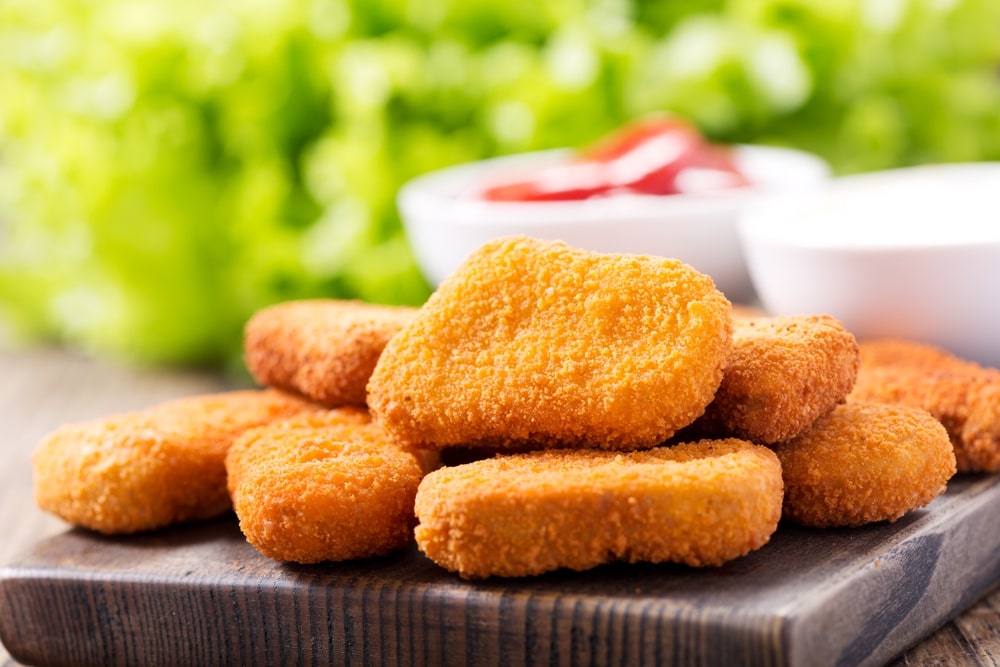 Keto Chicken Nuggets Air Fryer
Follow the initial steps and place them on the air fryer and fry at 350° for about 12 minutes flipping halfway through.
Keto Chicken Nuggets Baked
As mentioned above, follow the initial steps from the recipe card and place them in the preheated oven of 375F and bake for 15 minutes.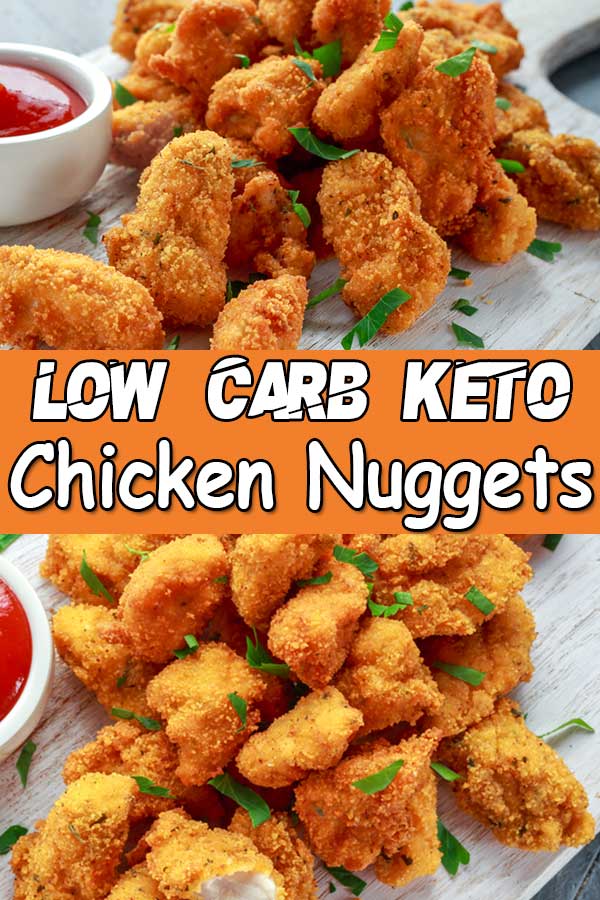 Keto Chicken Nuggets (Low Carb)
These low carb keto chicken nuggets are very easy to make with tender and juicy chicken breast coated in a pork rind and fried until golden brown.
10 minPrep Time
10 minCook Time
20 minTotal Time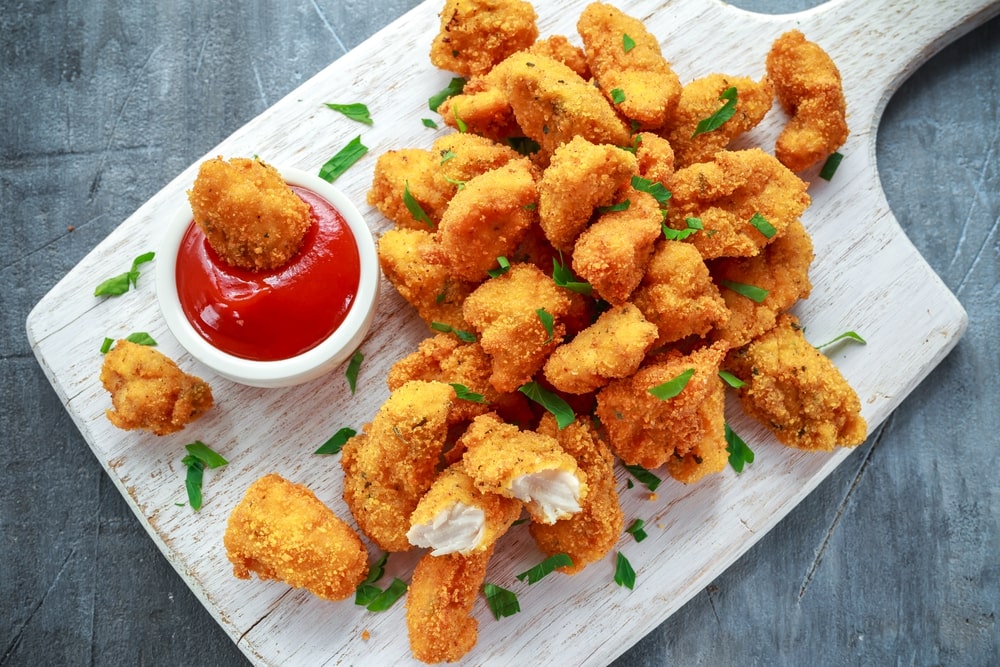 5 based on 1 review(s)
Ingredients
Instructions
Take a bowl, beat the eggs and add paprika, salt, pepper, salt, garlic, and onion powder and mix well.
Take a separate bowl and place the pork rinds.
Heat a cast-iron skillet over medium-high heat and add avocado oil.
Dip the chicken into the egg mixture bowl then to the pork rind bowl and coat well, shake off any excess and place on a plate.
Now add the coated chicken pieces into the hot oil and fry them in batches for 4-5 minutes per side or until golden brown.
Drain on paper towels and serve immediately.
7.8.1.2
98
https://www.allchickenrecipes.com/low-carb-keto-chicken-nuggets/
Still Hungry! Try these other keto chicken recipes:
So, Guys, I hope you enjoy these low carb friendly chicken nuggets which I make on a weekly basis. All the chicken lovers who are looking for the pork rind keto chicken nuggets will enjoy this recipe. And if you like this recipe then Don't forget to share it with your friends on Pinterest, Facebook, and other social media platforms. And do follow us on Tumblr, Pinterest, facebook, twitter, and Instagram.