Fried Chicken Recipe: This recipe is my all time favorite. Usually, I make this on Sundays but whenever it's my cheat day I would like to have this dish as my cheat meal. This is perhaps the Best Fried Chicken recipe I've ever made. From the childhood itself, it always loved crispy fried chicken recipe though I don't like the bread it in. But I always like chicken that's crispy and packed with flavors and thin breading.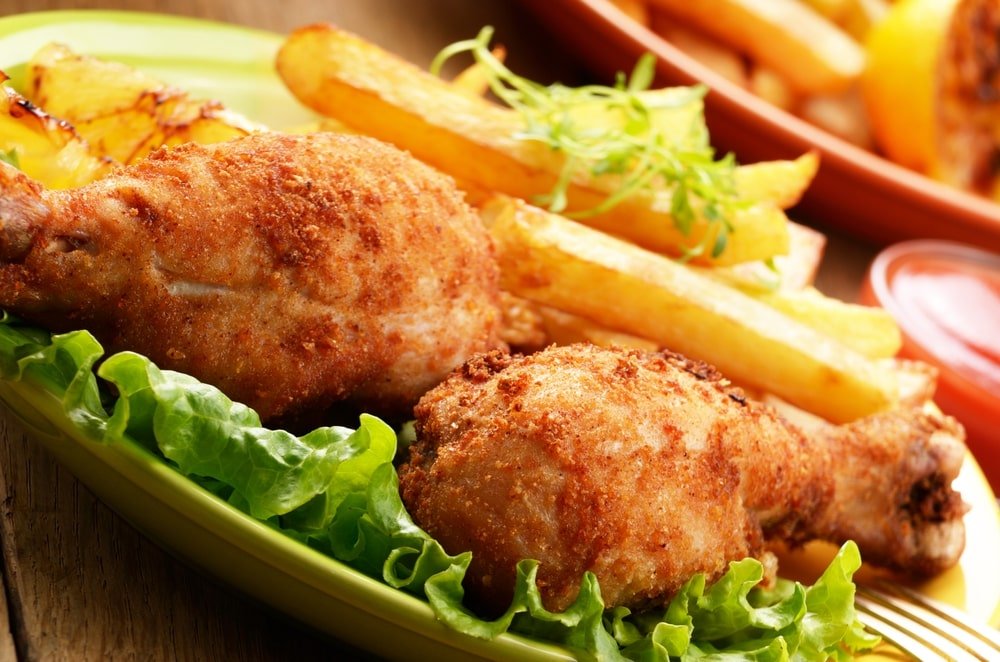 In this Easy Fried Chicken recipe, I am using chicken thighs that are cut into pieces. If you want a healthier version then I recommend using chicken breasts. Or sometimes you can also try whole chicken to change your tongue taste.
How to Make Fried Chicken Recipe?
If you really want to make this fried chicken recipe crispy and crunchy then make sure to properly coat it, you can use breadcrumbs with a light, flaky texture (also known as panko), corn flakes, corn meal, and your favorite allspice.
To get a nice crisp dredge your chicken thighs in flour which helps the egg to adhere to the chicken. And do the same with other pieces to get that nice crisp.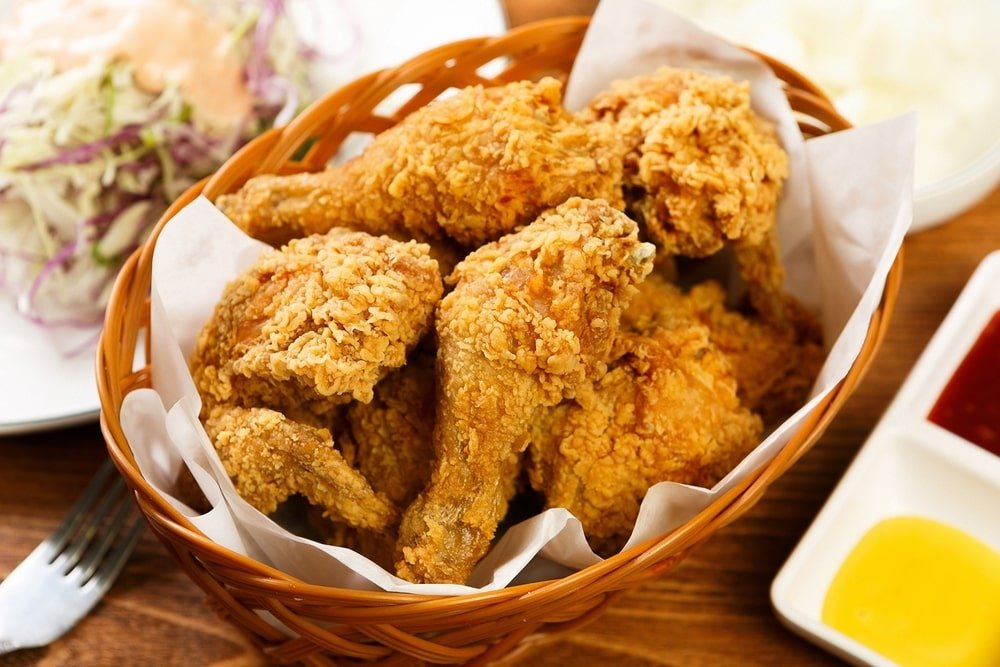 Ok, now lets dive into the breading process, Firstly I recommend to use a bowl where you will put your egg mixture and another tray where you can put your breadcrumbs.
I have got a simple trick for you, use a fork and insert it to your chicken thighs to hold it, then dip it to the egg mixture, then place to your breadcrumb tray and with now with the help of your hand put the required amount of breadcrumbs and flour to it. Keep doing the same for all the pieces. This can really save you from getting messy hands!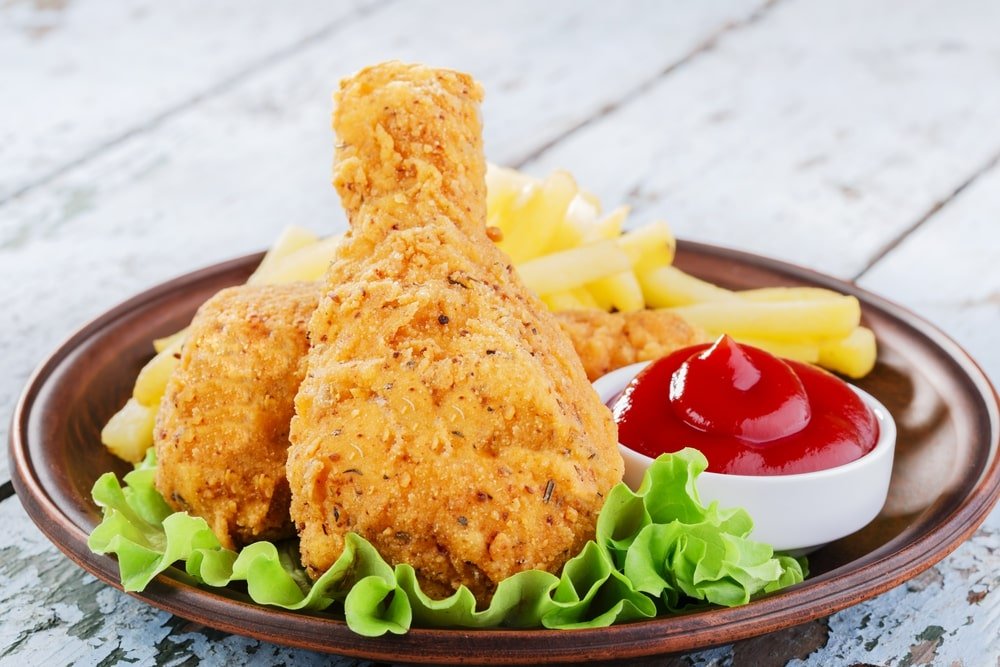 What to serve with Fried Chicken Recipe?
I personally like to serve it with my favorite Deviled Egg Potato Salad, Easy Creamy Mac and Cheese or sometimes with Mayonnaise Mashed Potatoes for a perfect meal!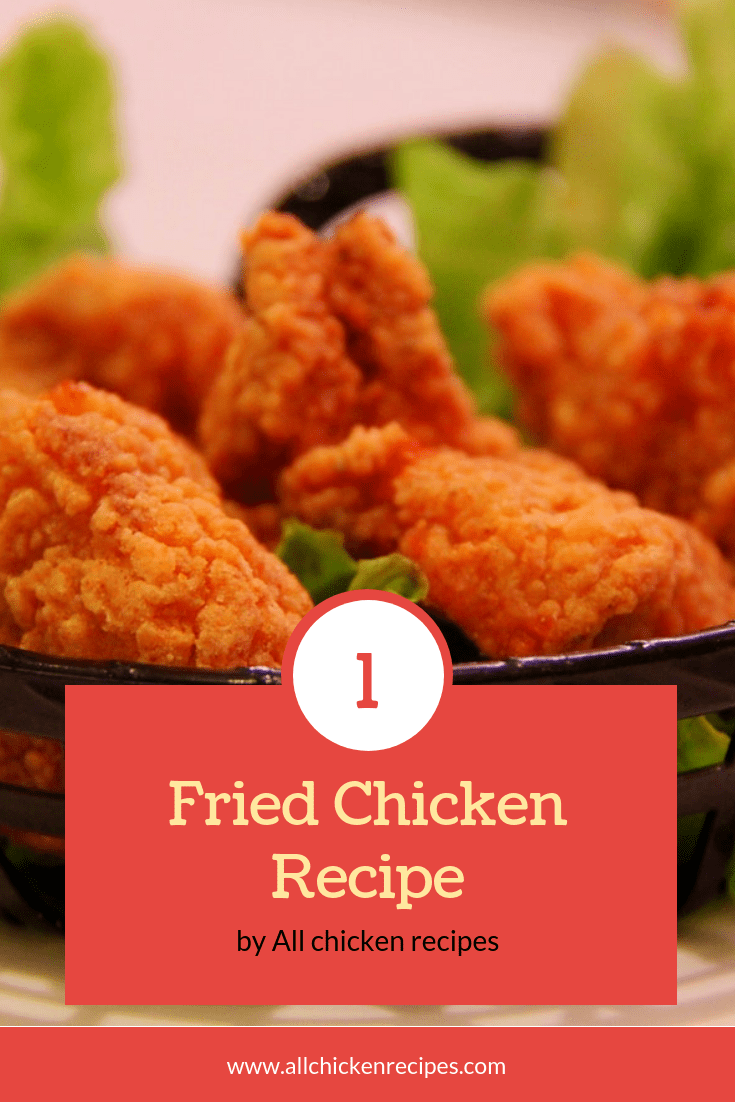 Still Hungry! Try These Recipes:
Yield: 8
Easy Fried Chicken Recipe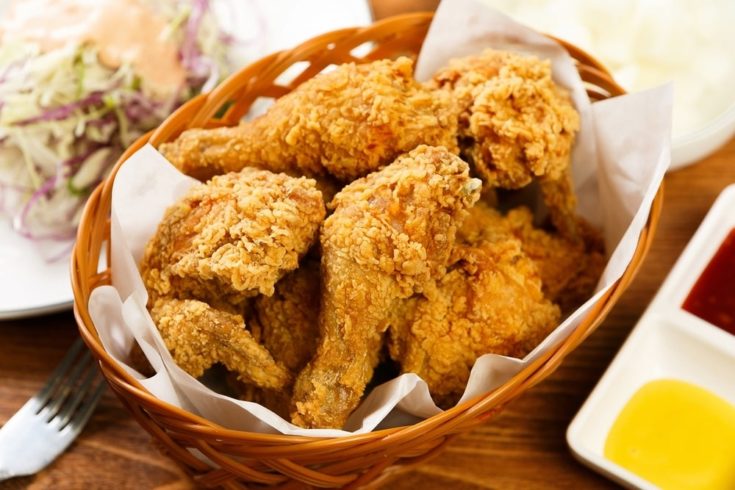 This recipe is my all time favorite. This is perhaps the Best Fried Chicken recipe you will ever make. This is so crispy and fully packed with flavours.

Prep Time 20 minutes

Cook Time 45 minutes

Total Time 1 hour 5 minutes
Ingredients
2 cups all-purpose flour for coating
1 teaspoon paprika
3 pounds chicken thighs
3 eggs
2 quarts vegetable oil for frying
salt and pepper to taste
Instructions
Skin your chicken. In a large plastic bag put the flour and season with paprika (use more to get extra brown), salt and pepper to taste.
In a separate bowl beat egg with milk. Dip chicken pieces in flour, then to the egg mixture and finally to the breadcrumbs.
Place the coated chicken on a tray, and cover with a clean dish towel.
In a large skillet add 1/3 to 1/2 full of vegetable oil and heat until hot.
Brown the chicken on both sides and let it cook for 30 minutes until the chicken is cooked through. Now on high heat cook it to brown crisp the chicken. Drain the fried chicken on paper towels.
Nutrition Information
Serving Size
8
Amount Per Serving Calories 560Total Fat 26gSaturated Fat 7gCholesterol 165mgSodium 151mgCarbohydrates 29gProtein 49g

So, Guys, I hope you enjoy this Easy Fried Chicken Recipe which I make on weekly basis. All the Chicken lovers who are looking for Fried Chicken Recipe will enjoy this recipe. And if you like this recipe then Don't forget to share it with your friends on Pinterest, Facebook, and other social media platforms. And do follow us on facebook, twitter, Pinterest, Tumblr, and Instagram.