Chicken casserole: This recipe is one of my favorite chicken casserole recipes that my family and friends always love when I make it and this is the most requested chicken casserole dish by my mom. This dish is itself made for all the families who love casserole dishes. You can make this recipe bacon, cheese, and mushrooms but here I am making it with chicken thighs and plenty of vegetables.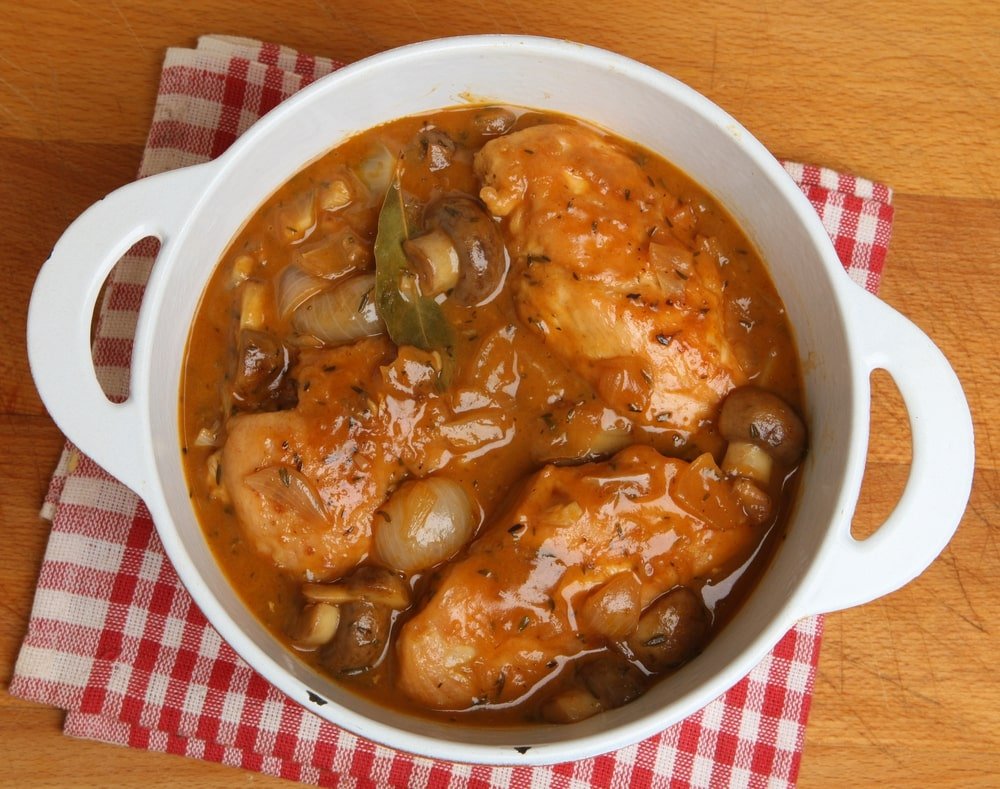 How to Make Chicken Casserole?
This Easy Chicken casserole recipe is packed with healthy vegetables, which includes carrot, onion, mushrooms, and celery. So that whenever you crave for food you can quickly grab it then and there. Personally, I like to have it for my dinner. Because you know what eating chicken at night is always good and even my mom loves it at night only.
This Chicken Casserole dish is so good and tender that it just melts in your mouth, and the Chicken thigh pieces in a cream of chicken soup sauce mixture are totally out of this world.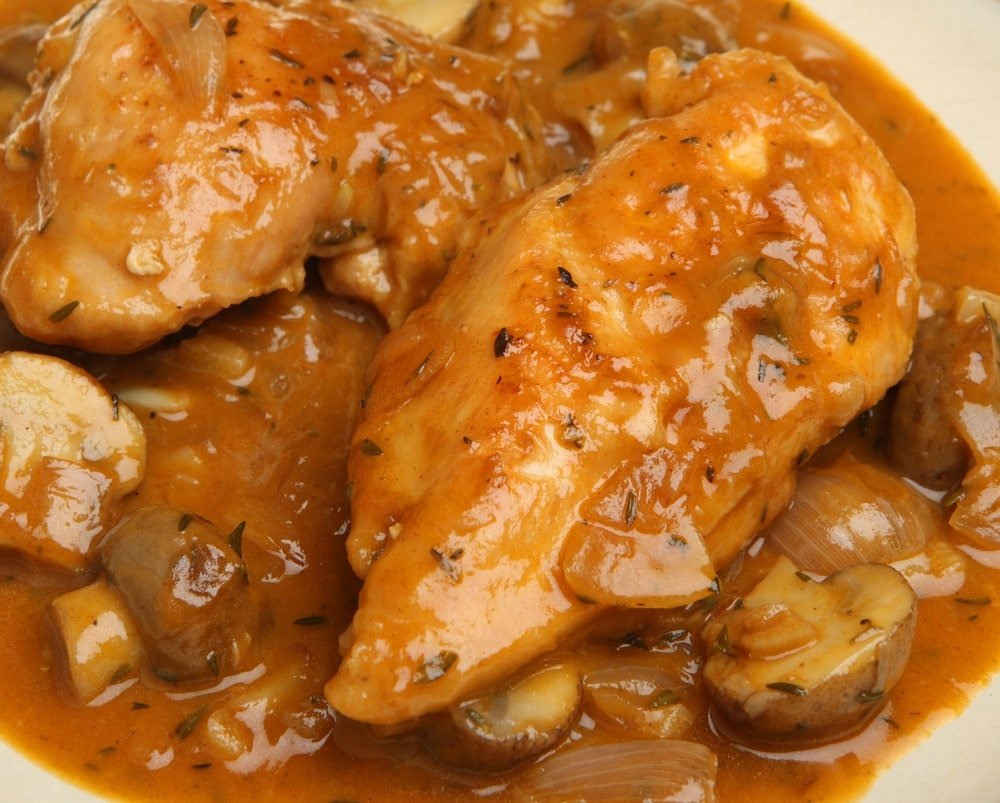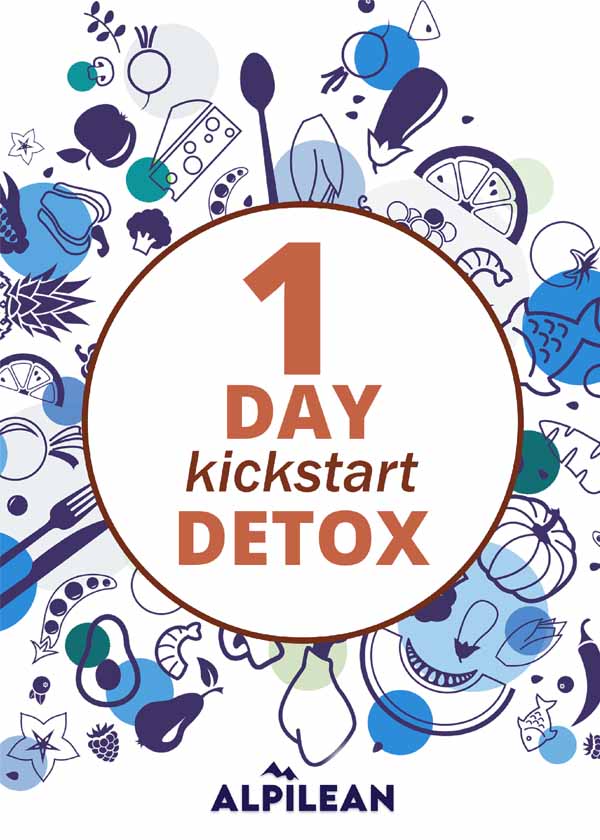 What to do with the Leftovers?
If you have any leftovers, you can store them in your fridge and make sure to use an airtight container. And when you are ready to serve just thoroughly reheat in your microwave and yes make sure to finish all the leftovers within 2 days.  If you ask me, about the leftovers then you know what I always love to have it because on my busy days it saves lots of time and effort.
To cook this easy chicken casserole, you only need 1hr and 15 mins of your life (haha!) but yes, it worth it! And if you are calorie conscious then my friend this recipe is for you because it has only 400 calories and easily you can have it on your lunch or dinner and shed those extra pounds.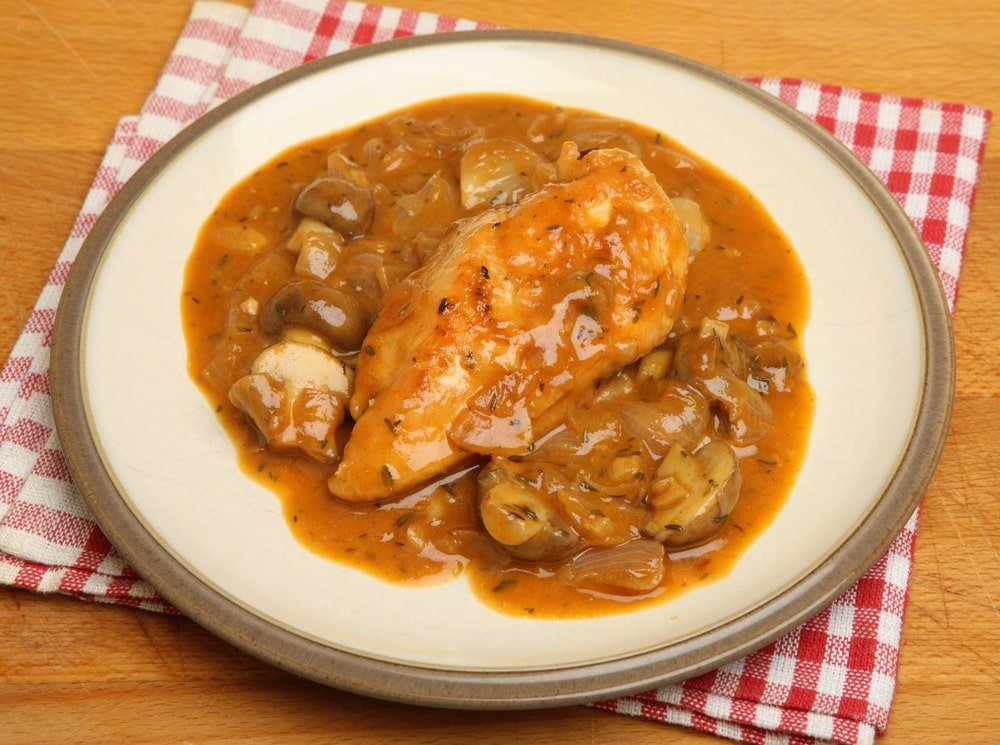 What to serve with the Chicken Casserole?
I personally like to serve it with mashed potatoes and that cream of chicken sauce is what I use as a gravy over it.
If you are already bored with mashed potatoes, then try it with rice or pasta. And the rest is the same, use the sauce from the chicken over the pasta or rice as gravy.
To change the taste you can use all different cuts of chicken like someday try with chicken breast or someday with thighs or drumsticks. And yes you can also load your Chicken Casserole dish with some extra mushrooms.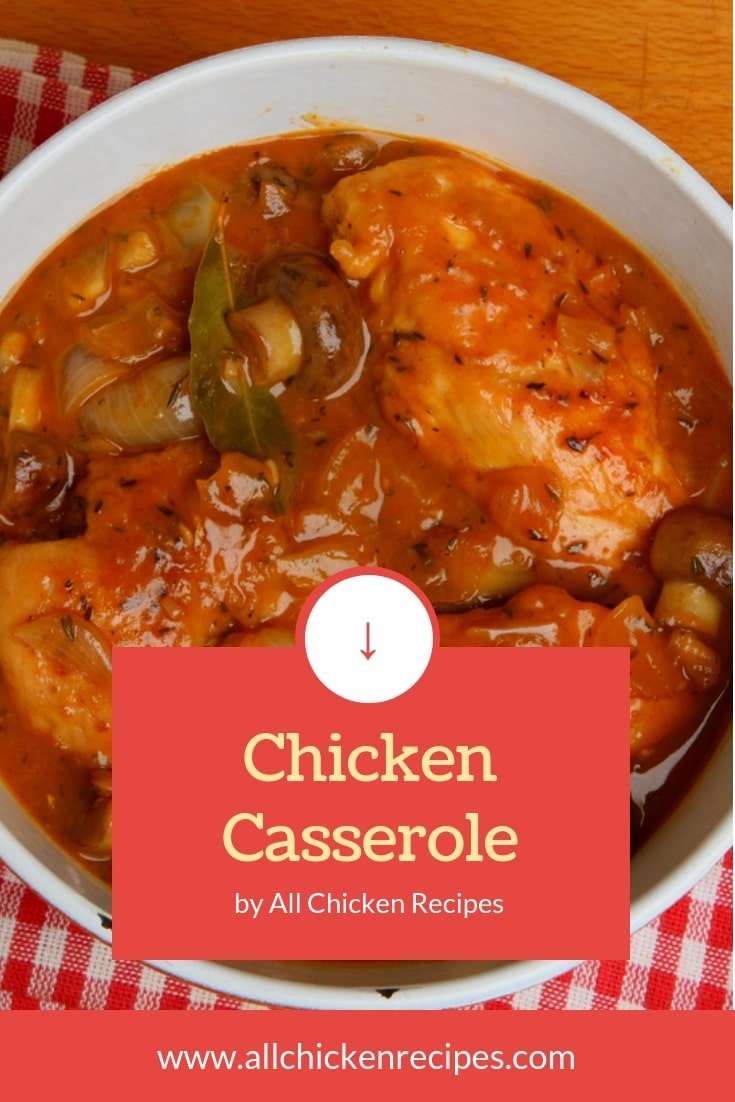 Still Hungry! Try These Chicken Recipes:
Easy Chicken Casserole Recipe
Chicken Casserole dish is so good and tender that it just melts in your mouth, the thigh pieces in a cream of chicken sauce are totally out of this world.
20 minPrep Time
50 minCook Time
1 hr, 10 Total Time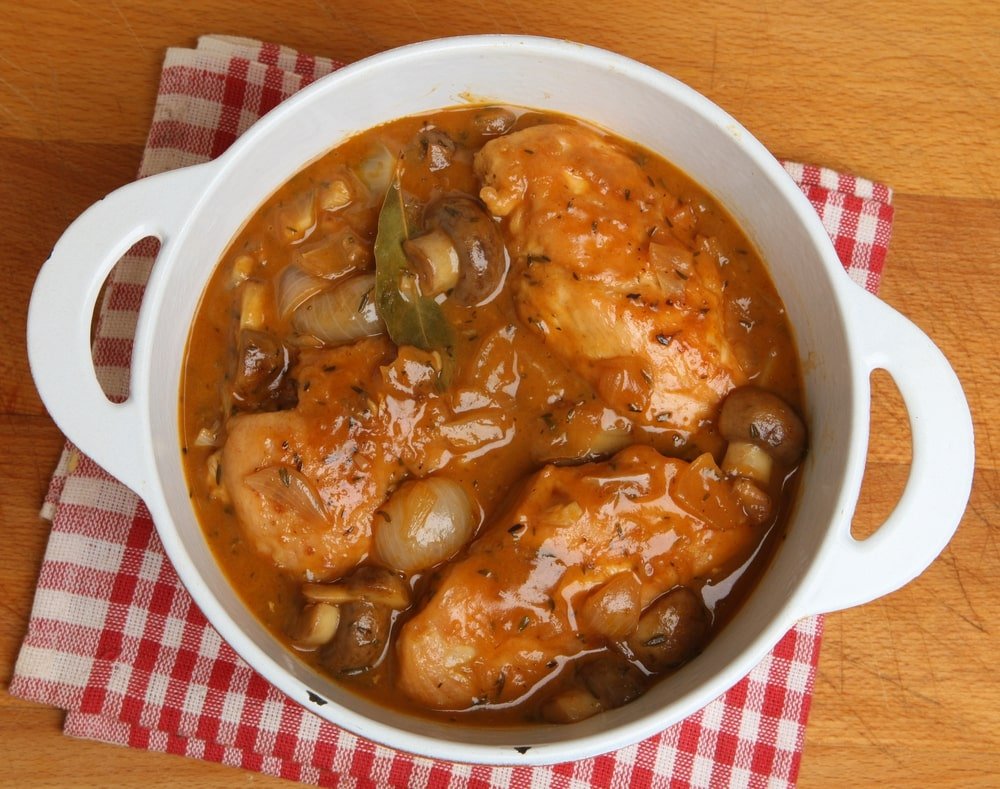 Ingredients
1 (4½ pound) chicken breast/thighs, jointed into 8 pieces
150g (5 ounce) button mushrooms
2 carrots, cut into chunks
100g (4 ounce) streaky bacon, chopped
300ml (½ pt) white wine
25g (1 ounce) plain flour
200g (8 ounce) small onions or shallots, whole and peeled
25g (1 ounce) soft butter, plus extra for the sauce
1 stick celery, cut into chunks
Bouquet garni (bay leaf, thyme, parsley stalks, black peppercorns)
500ml (18fl ounce) chicken stock
2 tablespoon double cream
Chopped fresh parsley
Instructions
In a large frying pan, heat oil and brown the chicken pieces, then transfer to a plate. Now Brown the bacon and put on the plate with the chicken.
Before adding the bacon and chicken back into the casserole, add some butter to the oil in the casserole and gently brown the mushrooms and onions.
Add the celery, bouquet garni, carrot, chicken stock and wine to the chicken and season well.
Cover and cook for 30-40 mins on preheated oven at 170ºC.
Transfer the vegetables and chicken with a slotted spoon to a large dish and keep warm.
To form a paste mix the flour and butter together.
Bring the sauce to the boil and add an equal amount of butter and flour mixture (beurre manie) to thicken the sauce, whisking continuously until dissolved. Add the rest of the beurre manie until you have got your desired thickness.
Stir in the double cream, then pour over the chicken and garnish with chopped parsley.
7.8.1.2
33
https://www.allchickenrecipes.com/chicken-casserole/
To lower the calories use low-fat cream and butter!
So, Guys, I hope you enjoy this Easy Chicken Casserole Recipe which I make on weekly basis. All the Chicken Lovers who are looking for Chicken Casserole will enjoy this recipe. And if you like this recipe then Don't forget to share it with your friends on Pinterest, Facebook, and other social media platforms. And do follow us on facebook, twitter, Pinterest, Tumblr, and Instagram.