Chicken Curry – This easy Indian Style chicken curry is so flavorful and delicious made under 30-minutes. The chicken is so tender and juicy with delicious curry gravy served over basmati rice or naan roti.
It is one of the common Indian subcontinent Dish and it also includes Southeast Asia, Caribbean as well. A typical Chicken Curry from India consists of chicken stewed in an onion- and tomato-based sauce, a variety of spices.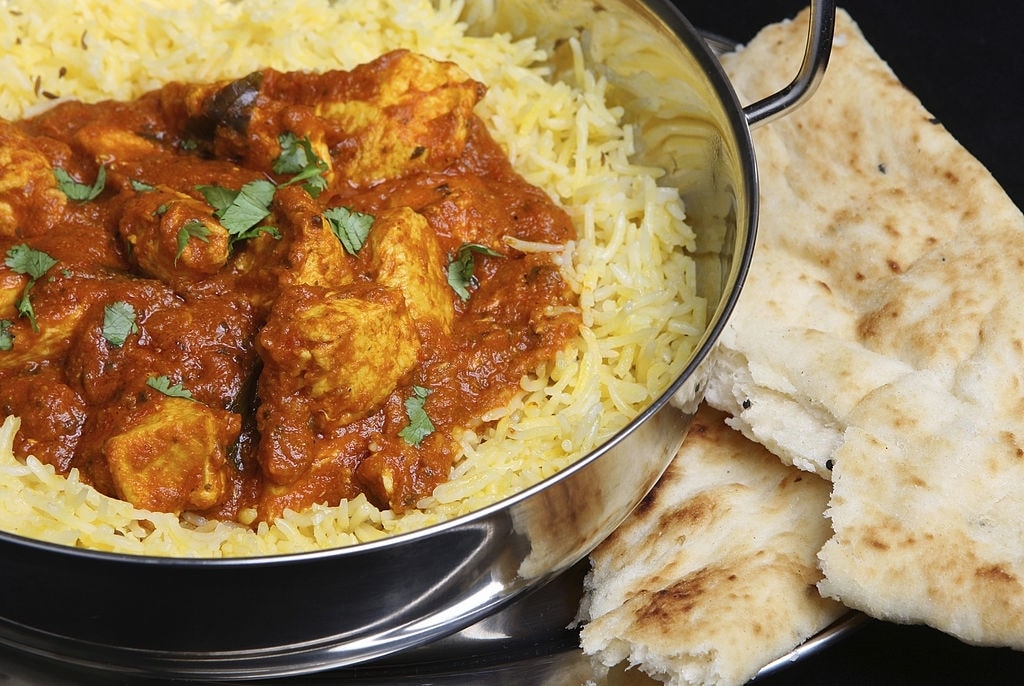 Being an Indian boy, I always loved eating Chicken Curry, and in India, you will find that most of the families always love to eat this recipe on every weekend because this recipe is something that every housewife knows, working professional or over an amateur cook knows.
Peoples in Northern India love to cook this with extra added spice. It is so popular in India that it can be found in street shops as well as five-star restaurants.
Ingredients Required
Before cooking this recipe I recommend you to plan a day when you will be making this, and purchase all the ingredients ahead.
Ingredients are very basic:
Crushed canned tomatoes
Ground cumin
Turmeric powder (must)
Curry powder (must)
Garam masala (must)
Rice or roti for serving
How to make Chicken Curry?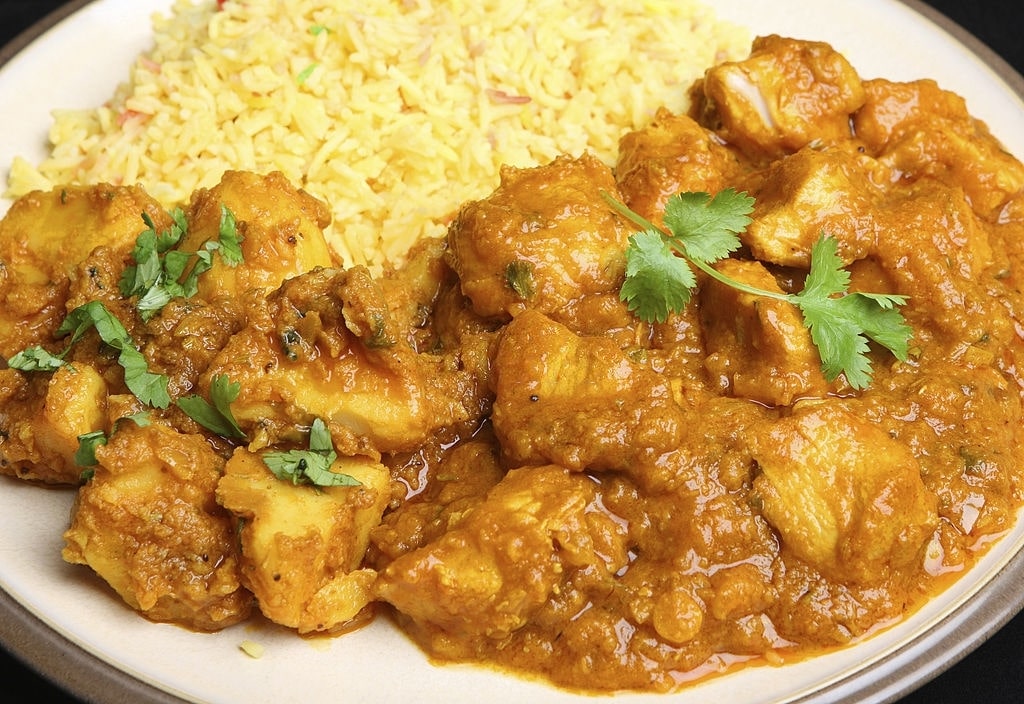 Recipe Variations
Indian chicken curry is typically made with whole spices and sauteed in oil. The sauce is made with ginger, onions, garlic, and tomatoes, and powdered spices.
Chicken thighs or Chicken breasts are then added to the sauce and cooked through in low heat for about 15 minutes or so.
In South India, people also use curry leaves & coconut to give it a different taste.
You can garnish your Chicken curry with coriander leaves, and served with roti (chapatti) or rice.
What is curry powder? How to make it at home?
Its a mixture of few spices and seasonings that are crushed and mixed together – cumin seeds, mustard seeds, coriander seeds, black peppercorns, cardamom seeds from cardamom pods, cloves, fennel seeds.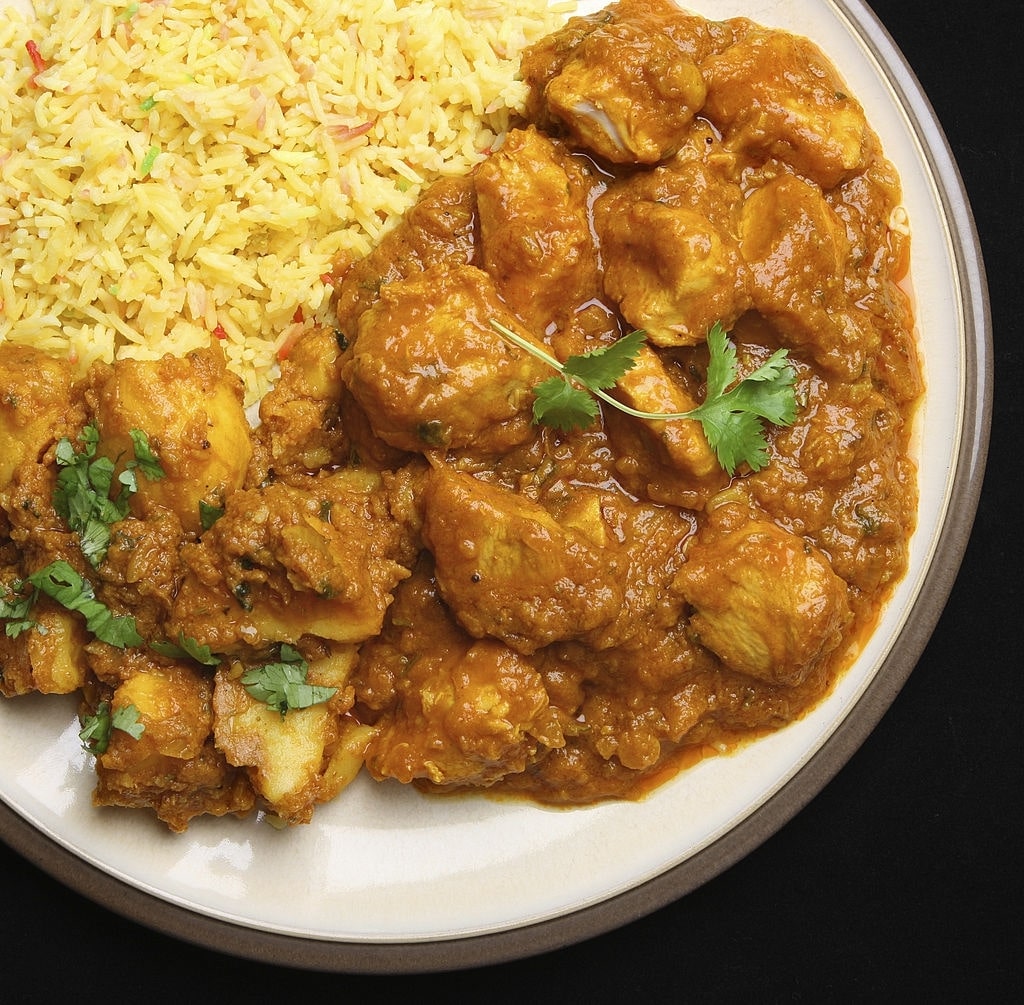 What to do with the leftovers?
After you made it, cool down to room temperature, pack them in an airtight container and store in the fridge for up to 3-5 days. When ready to eat, reheat on a skillet or non stick pan, brush with little oil, add the curry and stir for 4-5 minutes on medium-low heat.
Can I freeze this recipe?
This curry chicken freezes very well, pack in an airtight container and freeze for up to 2-3 months. When ready to eat, thaw in overnight and reheat as directed above.
How to serve this flavorful chicken curry?
I always recommend you to serve this over plain basmati rice (long grain rice) or Basanti polao (its the best combination). Otherwise, you can have it with naan roti or other types of bread.
We serve it with rice and some vegetable side dishes.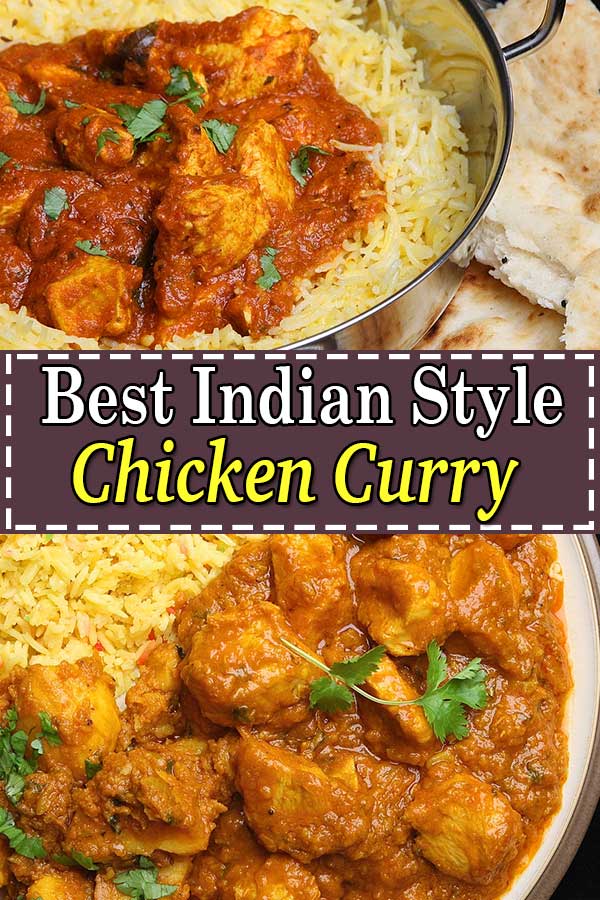 Chicken Curry (Indian Style)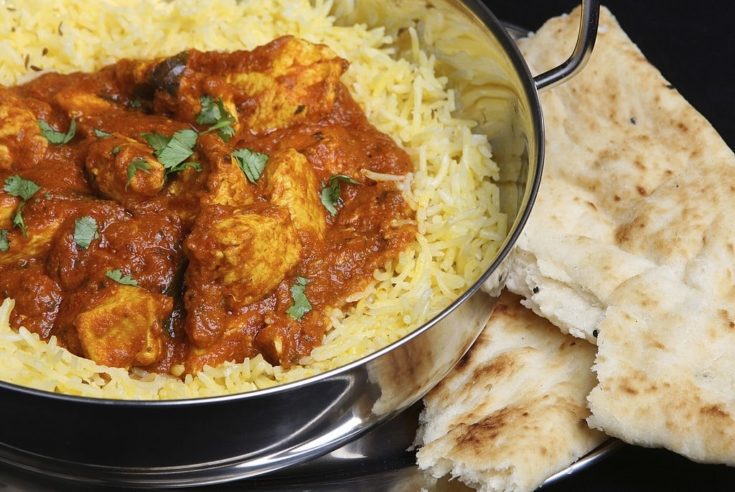 This easy Indian Style chicken curry is so flavorful and delicious made under 30-minutes. The chicken is so tender and juicy with delicious curry gravy served over basmati rice or naan roti.
Ingredients
2 pounds chicken breasts, boneless, skinless, diced into bite-sized pieces
2 tbsp olive oil
1 red onion, diced
1 clove garlic, minced
1 (15 ounces) can crushed tomatoes (or make your own tomato paste)
1 tsp chili powder
2 tsp garam masala
2 tsp curry powder
1/2 tsp paprika
1/2 tsp turmeric
1/2 tsp cumin
2 tbsp water
2 tbsp plain greek yogurt (or canned coconut milk)
Fresh coriander leaves, to garnish
Instructions
Heat a large skillet over medium-high heat, add 1 tablespoon of olive oil, onion, and garlic. Saute until softened.
Add in canned tomatoes, garam masala, curry powder, chili powder, paprika, cumin, and turmeric powder.
Reduce heat to medium and stir cook for about 10 minutes or until the rawness of the spices are gone.
Once cooked, transfer to a plate and cool down, then transfer to a food processor or grinder and make a smooth paste. Add water if it's too thick. Set aside.
Add the remaining 1 tbsp of oil to the skillet. Add the chicken, season with salt and pepper and cook over medium-high heat until chicken is almost done.
Combine yogurt with the sauce and pour it over the chicken. Stir well to combine and cook for about 10 minutes until done.
Garnish with fresh coriander leaves and serve over a bed of plain basmati rice or with naan bread.
Nutrition Information
Serving Size
4
Amount Per Serving
Calories

394
Total Fat

14g
Saturated Fat

3g
Cholesterol

166mg
Sodium

324mg
Carbohydrates

12g
Sugar

6g
Protein

54g
Still Hungry!! Try these chicken recipes:
So, Guys, I hope you enjoy this easy Chicken Curry Recipe which I make on a weekly basis. And if you like this recipe then Don't forget to share it with your friends on Pinterest, Facebook, and other social media platforms. And do follow us on Facebook, Twitter, Pinterest, Tumblr, and Instagram. You may like our Chicken Ala King & Mongolian Chicken recipe.