Chicken Kabobs – These grilled chicken kabobs are super flavorful, tender and juicy made in the Mediterranean style and the best marinade ever like olive oil, lemon juice, garlic, and other spices which are grilled to perfection.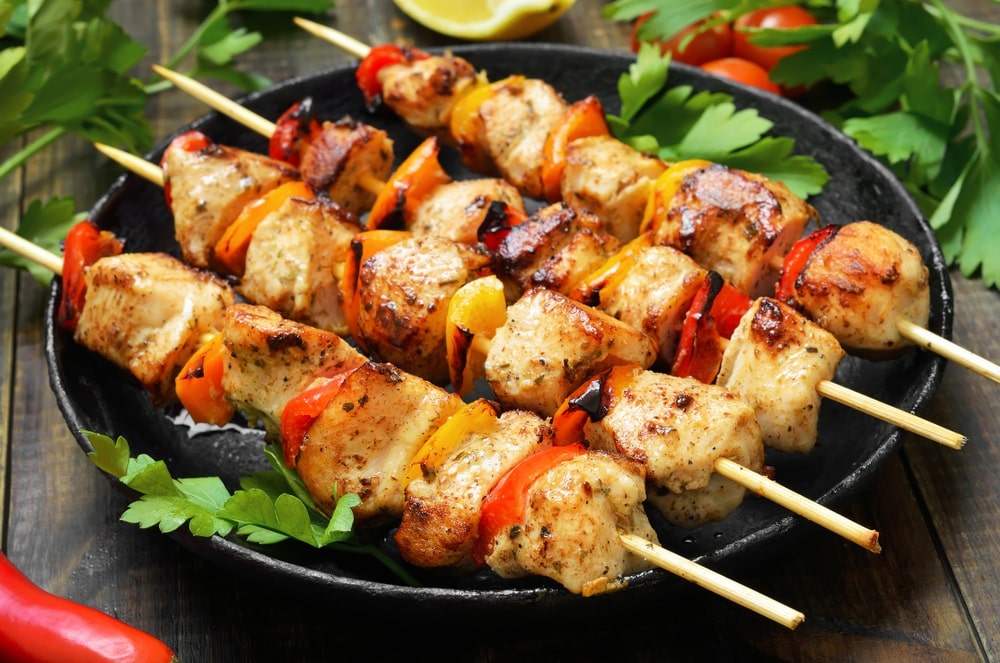 These greek chicken kabobs with fresh summer vegetables is a perfect and delicious summer meal. Tender and Juicy chicken flavored with an easy mediterranean chicken kabobs marinade then threaded with veggies that can be prepped ahead of time or assembled at the last minute for a perfect dinner meal.
How to Make Chicken Kabobs on Grill?
It's pretty simple and easy steps to follow, firstly the marination part – this is the most important part that you cannot skip because this is the key to that juiciness and flavors that get inside. The marinade for chicken kabobs is simple, whisk together your marinade ingredients and toss in your chicken and veggies and leave it for at least an hour.
Now thread the marinated chicken and veggies onto your skewers, put them on the grill and cook on each side for 5-10 minutes and that's it your chicken kabobs on the grill is ready.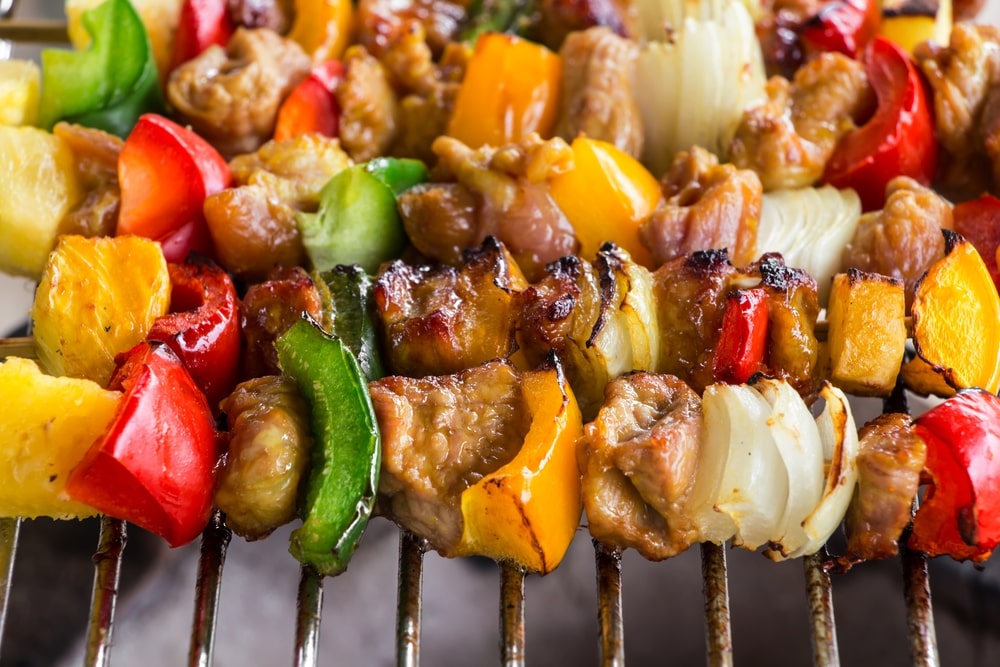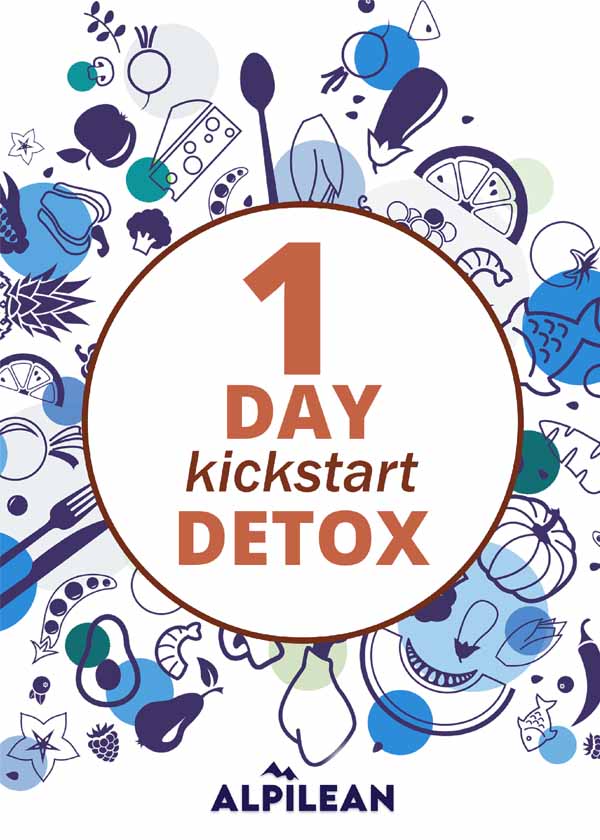 Prepare the Chicken for the Kabobs
I used chicken thighs in this recipe, but you can substitute for boneless skinless chicken breasts but keep in mind that they will dry out pretty quickly when grilled as compared to thighs.
Thaw the chicken before cutting – If using frozen chicken it will be difficult to cut through the center.
Make enough space to slide through the skewers – you can use a sharp knife to cut through the chicken pieces.
Cut in equal sizes – Before cutting, trim any extra fat or skin off your chicken and cut in even pieces.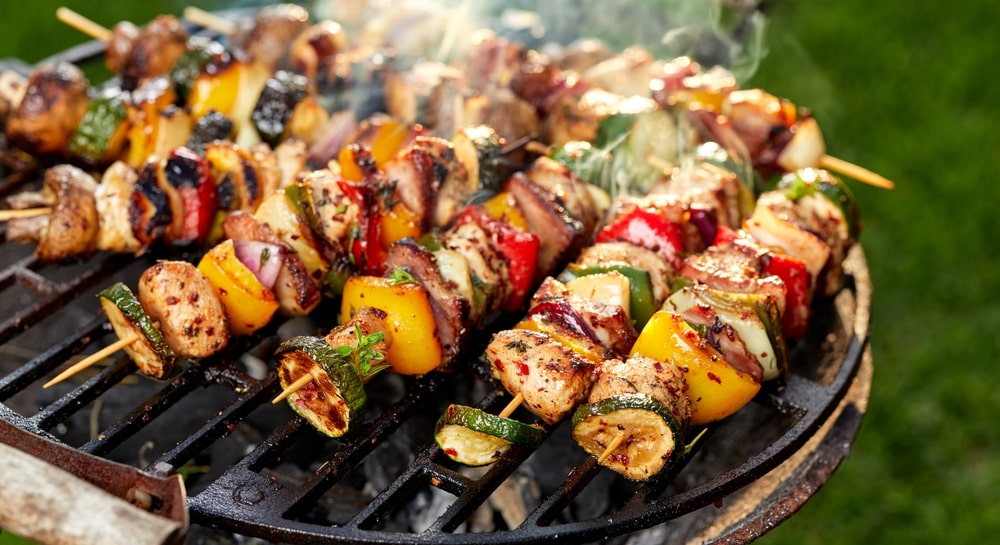 How Long to Keep the Chicken Kabobs Marinade?
I highly recommend keeping the marinade for at least 30 minutes to an hour. For best results, the longer you keep the more flavor you get. So soak up all the chicken and veggies for upto 8-12 hours.
How Long to Cook Chicken Kabobs on the Grill?
The cooking time will highly depend on the temperature of your grill but as per my experience, my best time is 10-15 minutes total. And more thing, always keep a close eye on the kabobs during grilling because the chicken already cut into small pieces and chicken skewers are cooked pretty quickly compared to whole chicken breasts.
What to Serve with Chicken Kabobs?
There are several options you can choose from – Serve with hummus and a side salad, rice pilaf, chopped salad, sweet potato fries or potato wedges, macaroni or fruit salad, tomato cucumber, and avocado salad.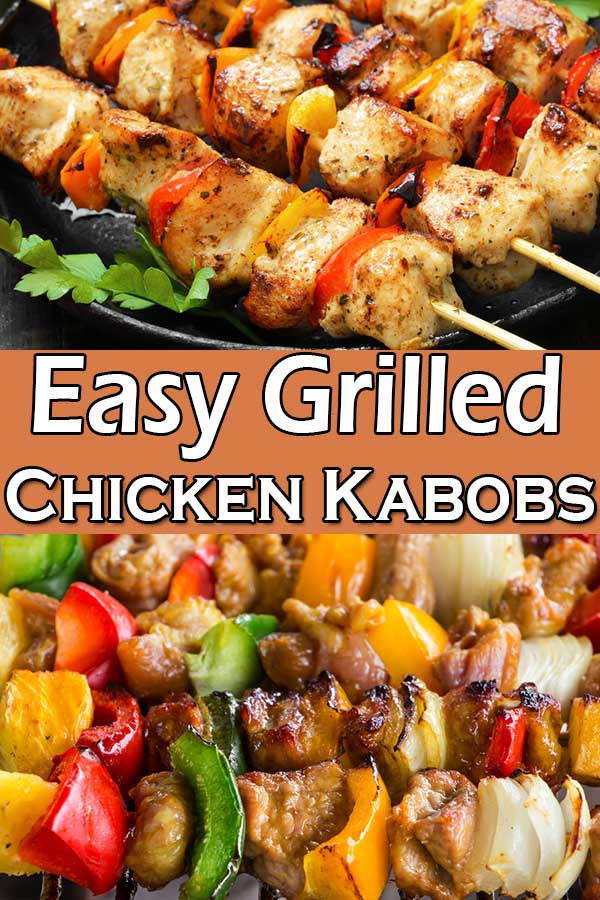 Grilled Chicken Kabobs
These chicken kabobs on the griil are super flavorful, tender and juicy made in the mediterranean style and the best marinade ever like olive oil, lemon juice, garlic, and other spices which are grilled to perfection.
15 minPrep Time
10 minCook Time
25 minTotal Time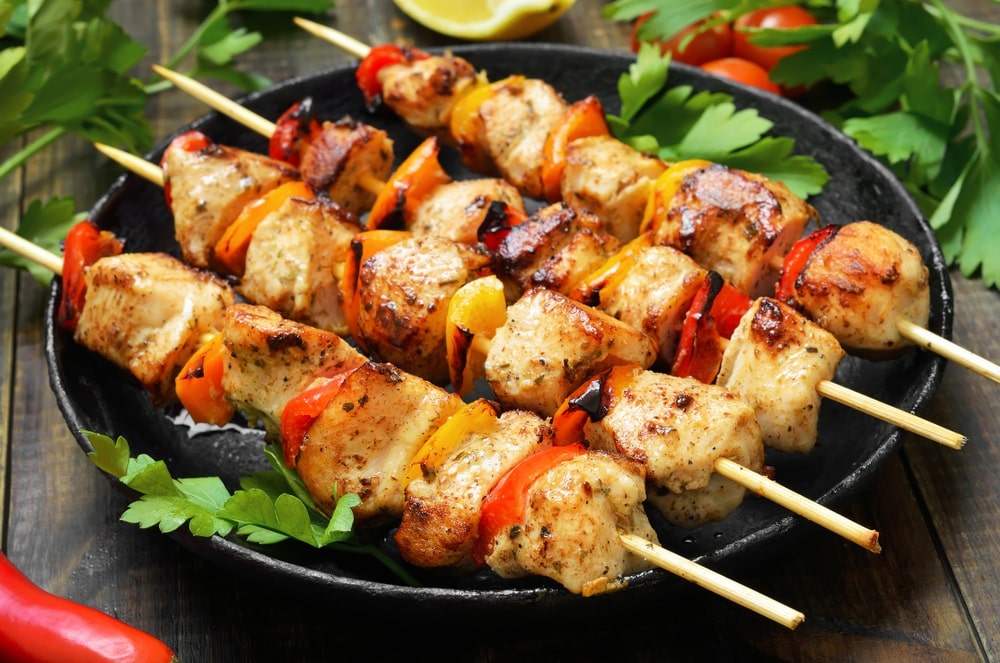 5 based on 1 review(s)
Ingredients
1 lb boneless skinless chicken thighs cut into large bite-sized pieces
1 large red onion cut into thick slices
bell peppers cut into thick slices
1 lemon juiced
2 tablespoons olive oil
3 garlic cloves minced
1/2 teaspoon cumin
1 teaspoon paprika
1/4 teaspoon freshly ground black pepper
1/8 teaspoon cinnamon
1/4 teaspoon salt
1/2 teaspoon turmeric
Oil for greasing the grill
Tools:
Instructions
Take a medium bowl, combine olive oil, cinnamon, garlic, turmeric, paprika, lemon juice, cumin, salt, and pepper.
Add the chicken pieces and mix all together until well combined; keep in the fridge and let it marinate for at least 30 minutes or up to 8 hours.
Preheat the grill or grill pan to medium-high heat, and grease with vegetable oil.
Thread the chicken and vegetables onto the skewers and pour any leftover marinade on the top.
Place on the grill and cook for 10-15 minutes until fully cooked and golden brown. Turn the skewers for even cooking.
Remove from the grill and serve with rice or salad.
7.8.1.2
95
https://www.allchickenrecipes.com/grilled-chicken-kabobs/
Still Hungry! Try these other chicken recipes:
So, Guys, I hope you enjoy this chicken kabobs grilled recipe which I make on a weekly basis. All the chicken lovers who are looking for grilled chicken kabobs with vegetables will enjoy this recipe. And if you like this recipe then Don't forget to share it with your friends on Pinterest, Facebook, and other social media platforms. And do follow us on Tumblr, Pinterest, facebook, twitter, and Instagram.