Keto White Chicken Chili – This low carb creamy white chicken chili is an ultimate family favorite comfort food that can be enjoyed as a great low carb dinner made in a slow cooker, instant pot or stovetop.
Can You Eat White Chicken Chili On The Keto Diet?
Before explaining this, let me tell you what is this recipe exactly – White Chicken Chili consists of chicken pieces (shredded or diced), chicken stock, white beans, green chiles, onion, garlic, and a few other spices.
Now let me tell you, is white chicken chili keto? Definitely, yes if we omit and add few ingredients (the ingredients list is given below on the card).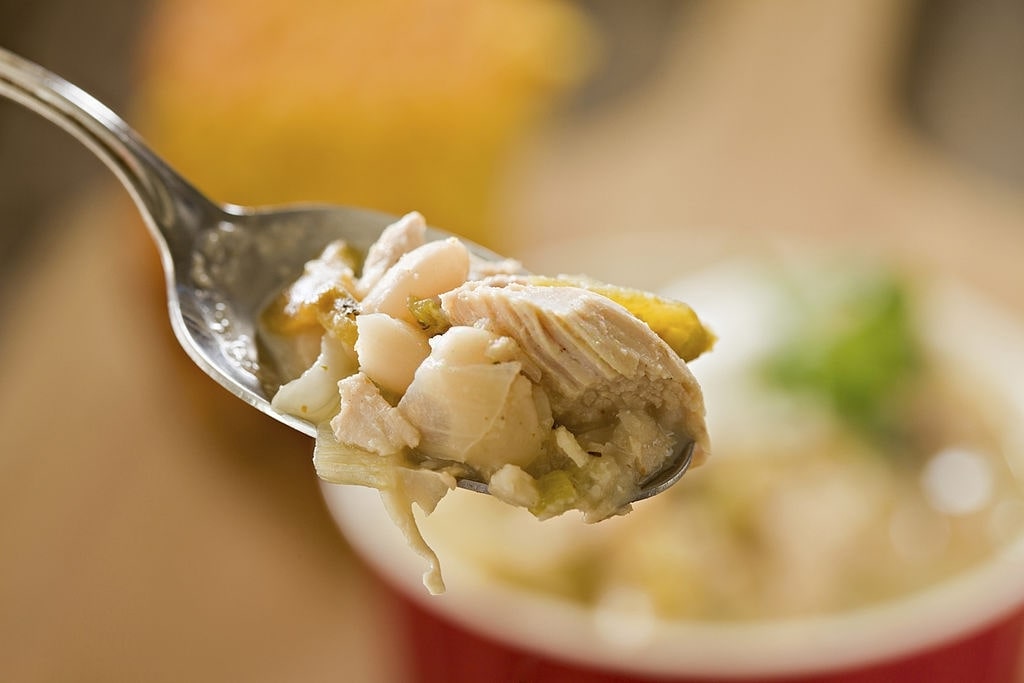 What Type of Chicken To Use?
I am using boneless skinless chicken breast but you can use any leftover or rotisserie chicken. Either way, if you crave different meat then use pork, beef or shrimp. There will be a slight difference in overall flavor but mostly it will be the same.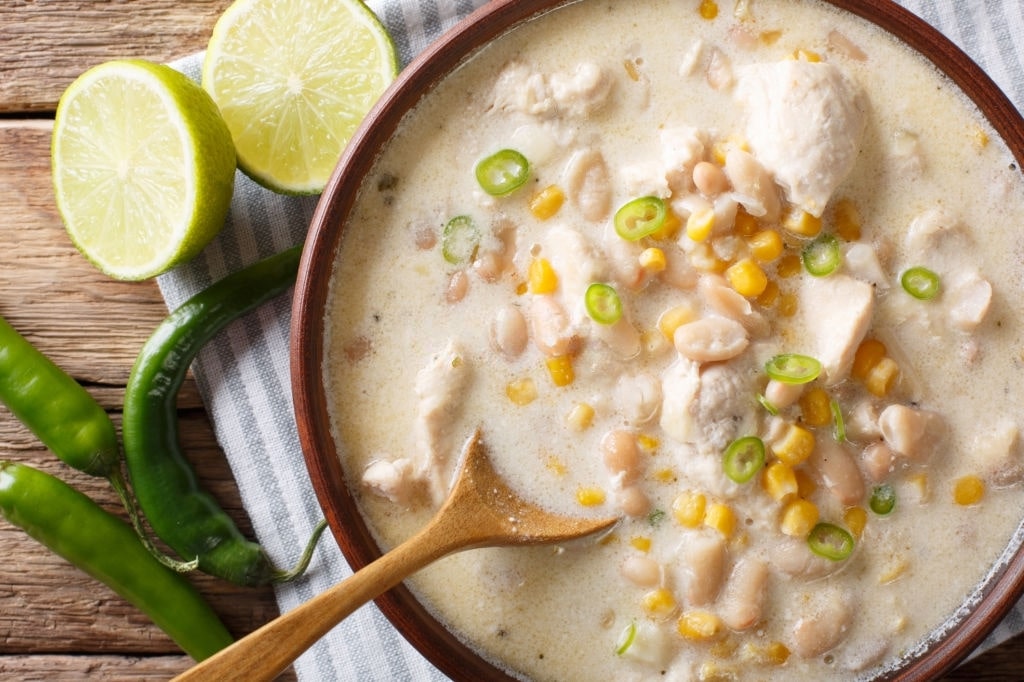 Keto White Chicken Chili Instant Pot
Add the chicken to the pot and add all of the remaining ingredients.
Secure the lid and close the pressure valve. Press the "manual" or "pressure cook" button, set the timer for 20 minutes at high pressure.
Once its 20 minutes, do a QPR (quick pressure release).
After the pressure has been released, remove the chicken and shred with two forks.
Season with salt and pepper to taste. Add cream cheese (or sour cream) and mix well.
Garnish with corn, fresh cilantro leaves and enjoy.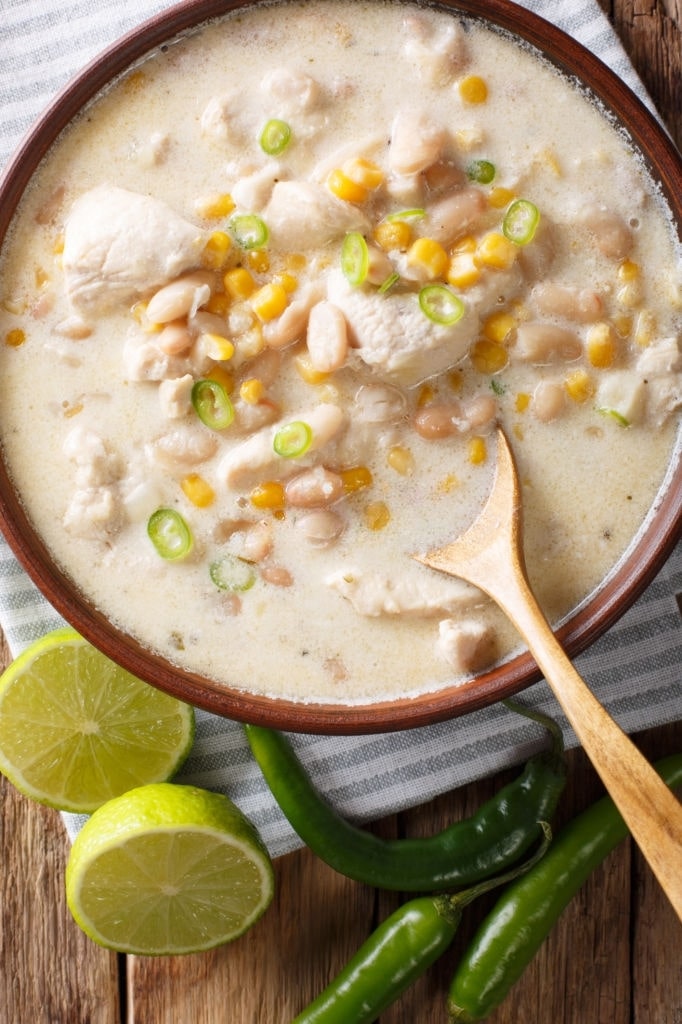 Keto White Chicken Chili Slow Cooker
Follow the instruction if looking for keto white chicken chili crockpot. For the normal stovetop version, see the recipe card below.
Place the chicken breasts to the bottom of the crockpot/slow cooker.
Add the other ingredients – bell peppers, onion wedges, chilis, garlic, herbs, and spices. Add chicken stock and give it a good mix.
Cover and cook on high for 3-4 hours or on low for 8 hours.
Once cooked, remove the chicken from the pot and shred using two forks.
Put the shredded chicken back to the slow cooker. Stir in cream cheese and heavy cream.
Cover and cook for another 15 minutes on high. Season with salt and pepper as desired.
Serve immediately with your favorite toppings.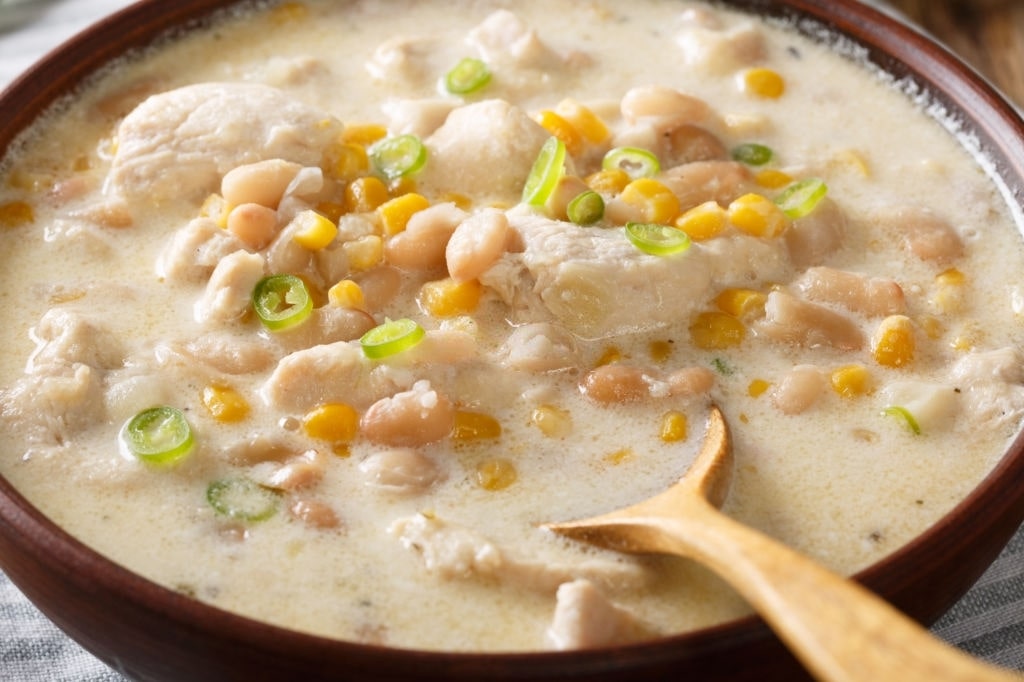 What Are The Great Toppings Options?
Avocado
Chopped green onion
Sour cream or Coconut yogurt
Cilantro
Pumpkin seeds
Lime wedges
Shredded cheese
Whole kernel corn
Sliced jalapeño
Chopped tomato
(Note – In the pictures, you will see beans.. but just omit that, see the ingredients list)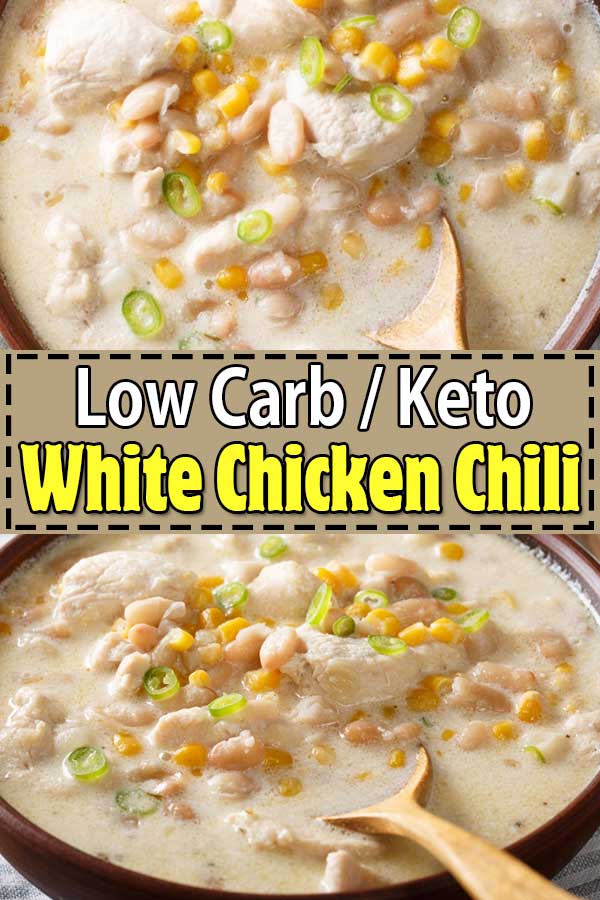 Yield: 6
Keto White Chicken Chili (Low Carb)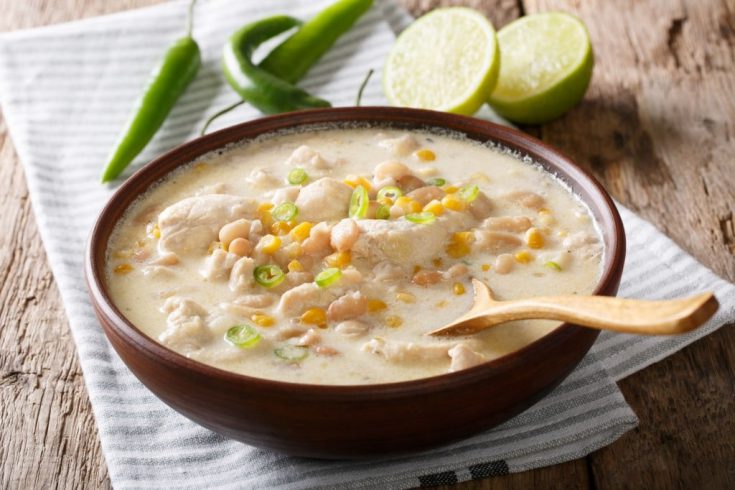 This keto low carb creamy white chicken chili is an ultimate family favorite comfort food that can be enjoyed as a great low carb dinner made in a slow cooker, instant pot or stovetop.

Prep Time 15 minutes

Cook Time 20 minutes

Total Time 35 minutes
Ingredients
1 lb boneless, skinless chicken breast, cut into bit sized pieces
2 tbsp olive oil
3 cloves garlic, minced
1 yellow onion, cut into wedges
1 chili pepper, diced
1 green bell pepper, cut into 1-inch chunks
1 yellow bell pepper, cut into 1-inch chunks
1/2 tsp cayenne pepper
1 tsp cumin, ground
1 tsp dried oregano
3 cups chicken broth, low sodium
1/4 cup heavy cream
1/2 cup cream cheese softened
salt and pepper to taste
Topping
1/4 cup whole kernel corn optional
Cilantro
Instructions
Heat up a saucepan over medium heat. Add olive oil, once hot, add chicken breast and cook for a few minutes each side or until lightly brown.
Add the chicken broth, garlic, onion, chili, bell peppers. Bring it to a boil and simmer for about 5 minutes.
Stir in the heavy cream and cream cheese and mix well and cook for 2-3 minutes. Seasom with salt and pepper as per your taste.
Add all the spices and herbs for flavors. Cook for a few minutes or until reaches your desired thickness (add additional water if needed).
Transfer to a bowl and top it with corn and cilantro. Enjoy warm!
Nutrition Information
Serving Size
6
Amount Per Serving Calories 263Total Fat 17gSaturated Fat 7gCholesterol 86mgSodium 166mgCarbohydrates 7gSugar 3gProtein 20g

Still Hungry! Try these other low carb keto chicken recipes:
So, Guys, I hope you enjoy this easy keto white chicken chili which I make on a weekly basis. All the chicken lovers who are looking for the best low carb white chicken chili will enjoy this recipe. And if you like this recipe then Don't forget to share it with your friends on Pinterest, Facebook, and other social media platforms. And do follow us on Tumblr, Pinterest, facebook, twitter, and Instagram.