Tandoori Chicken is a perfect Weeknight Meal that can be eaten as an appetizer or starter or as a main course, served with naan flatbread.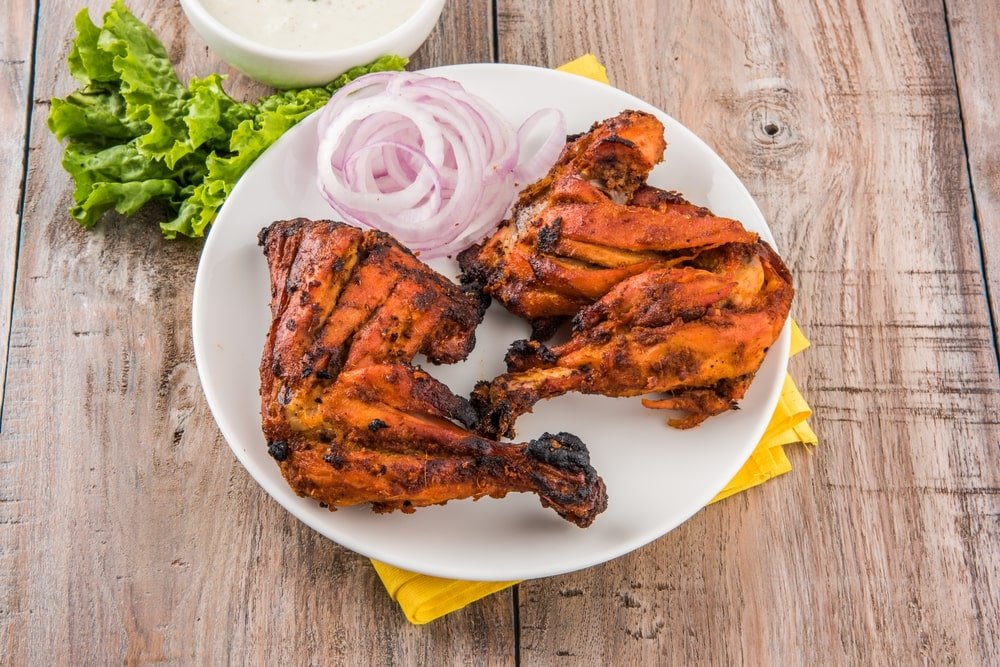 What is Tandoori Chicken?
Tandoori chicken is a popular Indian chicken dish prepared by roasting chicken marinated in yogurt and spices in a tandoor, a cylindrical clay oven. The dish is popular in many other parts of the world but mainly originated from the Indian subcontinent.
Tandoori Chicken Preparation
Firstly, the raw chicken pieces are marinated in a mixture of yogurt (dahi) and tandoori masala, and a spice blend (mentioned below). It is seasoned and colored with Kashmiri red chili powder or red chili powder, cayenne pepper as well as turmeric and little food coloring to have that deep red color. Before the chicken is marinated and roasted the skin is generally removed.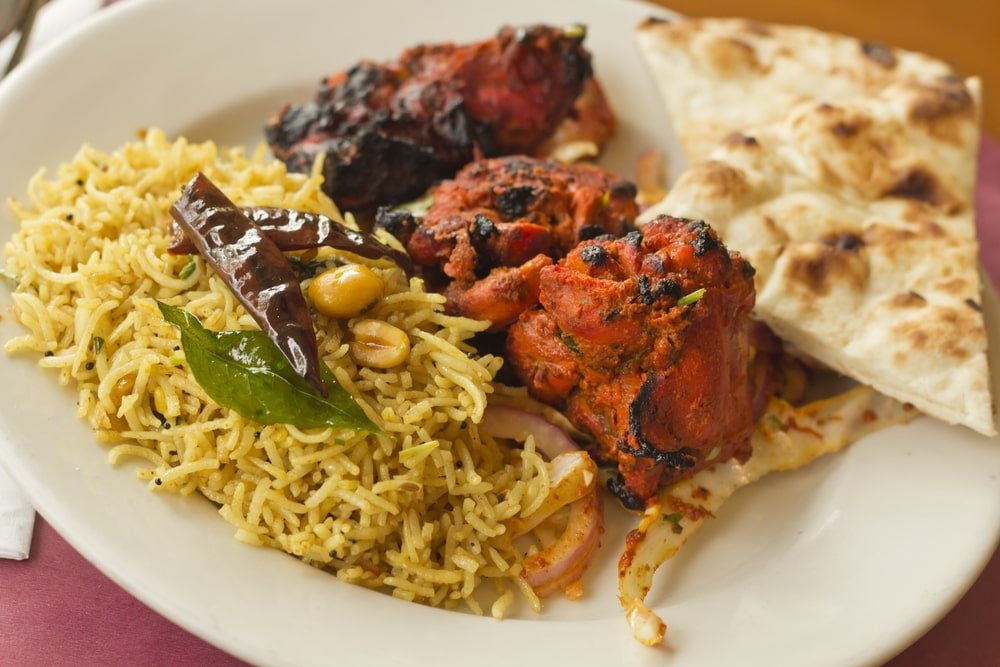 Tandoori Chicken Cooking Methods
The marinated chicken is then placed on skewers and cooked at high heat in a tandoor oven, which is heated with wood or charcoal, which adds that awesome smoky flavor. But you can also make this chicken tandoori in a standard oven, using a rotisserie or spit, or over hot charcoal.
Tandoori Chicken – How long to Cook
As I mentioned above, you can use the oven instead of a charcoal grill, So, when cooking on the oven it usually takes 30-40minutes at 250-300 degrees C.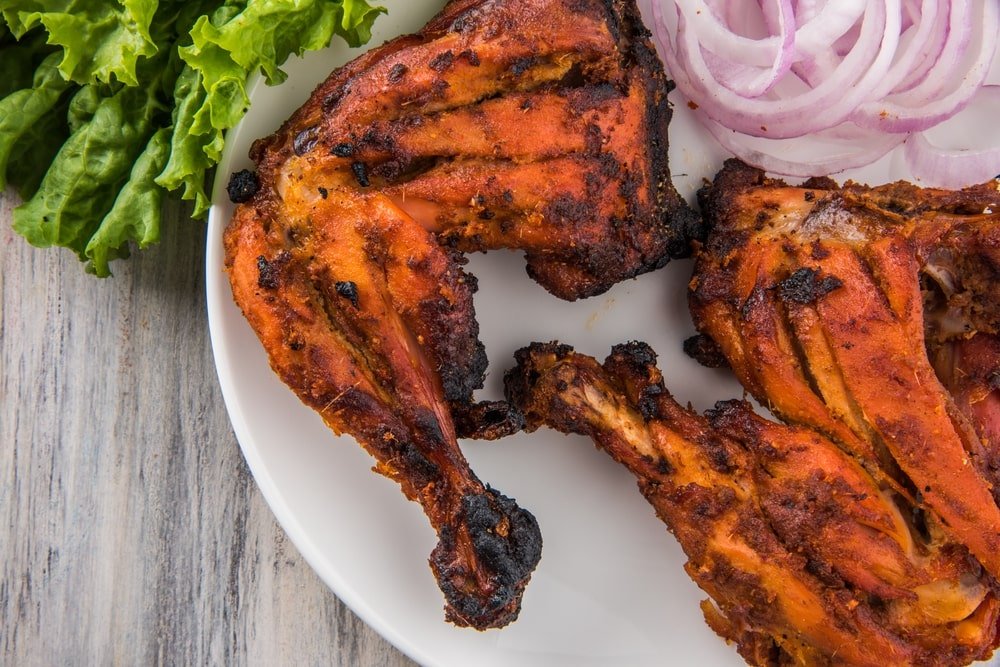 Tandoori Chicken – Variations
This dish can be also used as the base of numerous cream-based curries such as butter chicken. The fame of this dish led to many dishes such as chicken tikka commonly found in menus in Indian restaurants all begin with yogurt and citrus-based marinade.
Chicken Tandoori – Key Ingredients
The main ingredient which will change the game for you is the Chaat masala, Tandoori Masala and of course Garam masala (a spice mixture of Cinnamon, Black peppercorns, cardamom, Brown Cardamom, Cumin seeds, Coriander seeds, ground Cloves) and of course how we can forget the turmeric powder, without this spice this dish cannot be called as "Tandoori Chicken".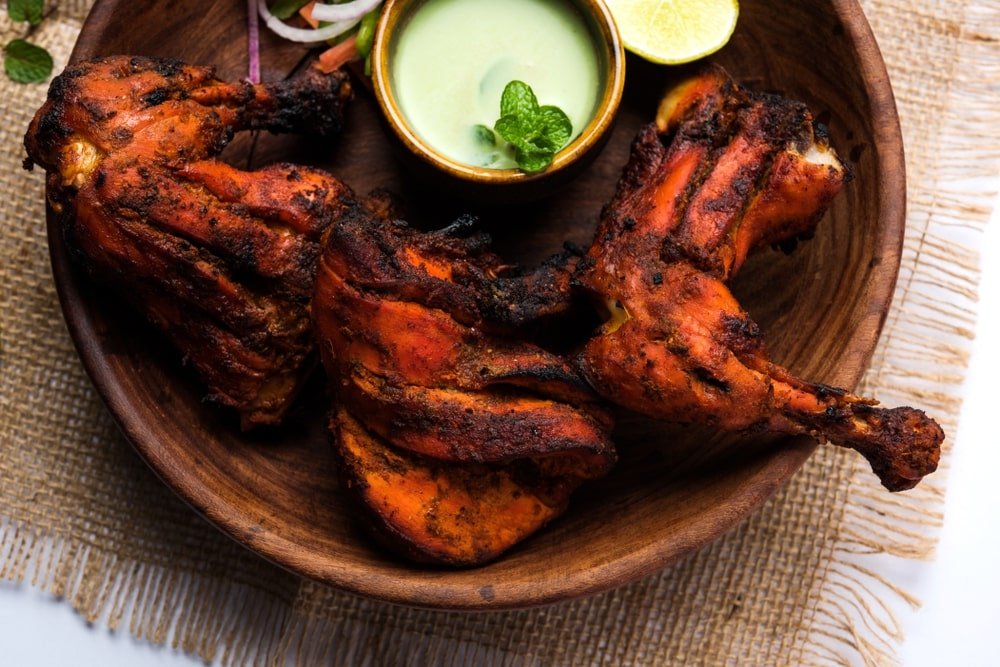 How to Make Homemade Chicken Tandoori Masala
If you cannot buy the Tandoori Masala or it is not available, no worries follow the step below and make your own Masala with basic ingredients.
In a dry pan roast peppercorn, green cardamom, cinnamon, brown cardamom, cloves, coriander seeds, cumin seeds, turmeric powder, and bay leaf.
Remove from the pan and let completely cool
In a mixture or grinder, grind all the roasted spices to a fine powder.
That's it your homemade tandoori masala is ready.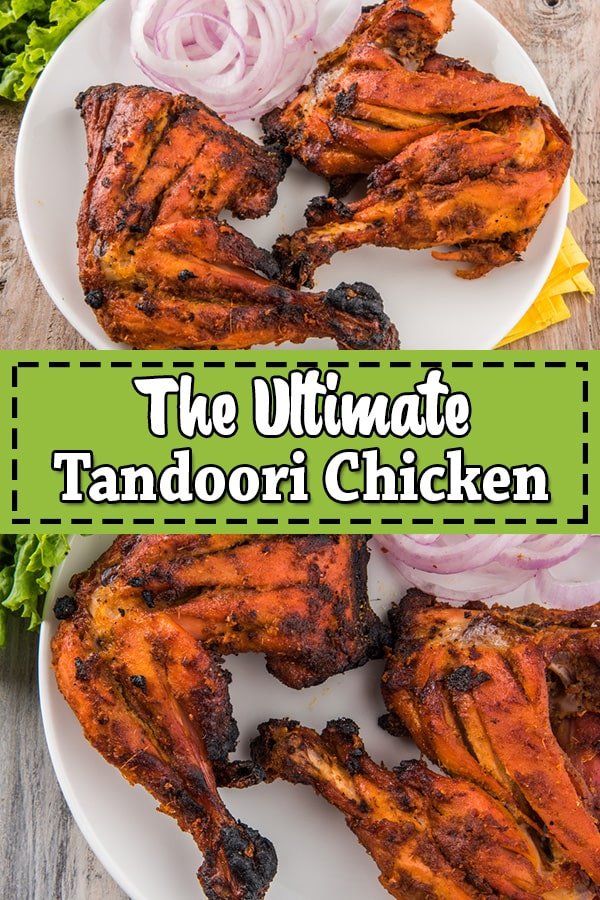 Still Hungry!! Try these Delicious Recipes:
Yield: 4
Tandoori Chicken Recipe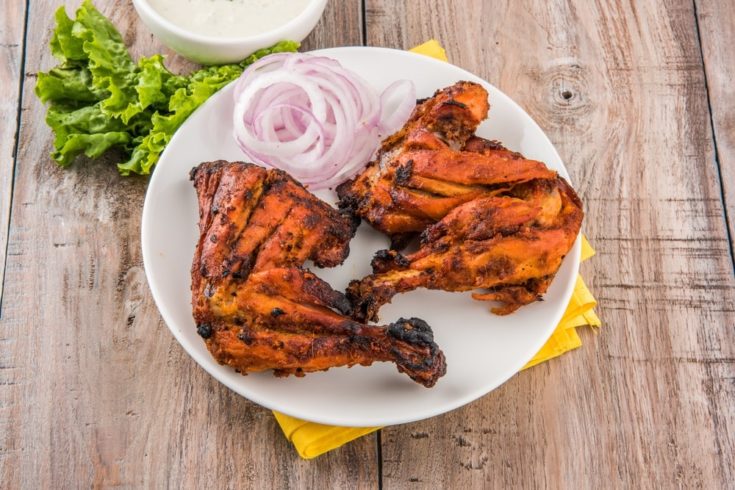 Tandoori chicken is a perfect Weeknight Meal that can be eaten as an appetizer or starter or as a main course, served with naan flatbread.
Ingredients
4 Chicken Breast, with skin
4 Chicken thighs with skin
Oil to taste
For the marinade:
4 tsp Red chili paste
1 Tbsp Oil
3 Tbsp Curd
3 Tbsp Ginger and garlic paste
1 1/2 tsp Tandoori Masala
2 tsp Chaat masala
1/2 Lemon (juiced)
Salt to taste
For tandoori masala:
2 Sticks Cinnamon
3 Cloves
1 Bay leaf
3/4 tsp Turmeric
5 Green cardamom
3 Brown cardamom
1 Tbsp Black peppercorns
2 tsp Cumin seeds
2 tsp Coriander seeds
Instructions
In a bowl add red chili paste, ginger garlic paste, chaat masala, tandoori masala, oil, curd, salt, and lemon juice and mix to combine.
Rub the marinade on the chicken, over and underneath the skin. Make small cuts/slashes in the chicken for the marinade to coat evenly and nicely.
Cover and let it marinate for about 30 minutes or upto 3 hours in Refrigerator.
Grill the chicken pieces on a tandoor or griller. Baste with oil at regular intervals.
If you want to make it on oven then preheat the oven to 450°F, line a baking sheet with aluminum foil. To make sure the chicken does not stick to the oven, glaze with some oil and roast for 45 minutes, turning once halfway through until the chicken is cooked through and golden brown.
Serve with onion rings and lemon wedges.
So, Guys, I hope you enjoy these Tandoori Chicken Recipe which I make on weekly basis. All the chicken lovers who are looking for Chicken Tandoori will enjoy this recipe. And if you like this recipe then Don't forget to share it with your friends on Pinterest, Facebook, and other social media platforms. And do follow us on Tumblr, Pinterest, facebook, twitter, and Instagram.