Chicken Marsala: It is an Italian-American dish made from Marsala wine, chicken cutlets & mushrooms. There are many varieties throughout Italy and It is a variation of traditional Italian scaloppini dishes.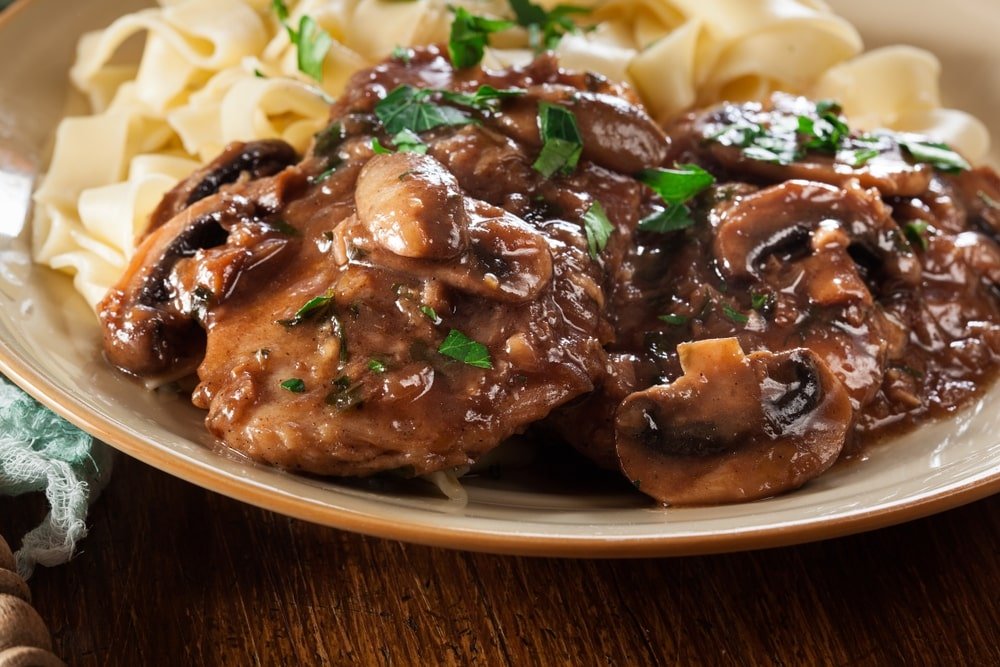 All you have to add is some garlic, mustard, heavy cream to make a delicious Chicken Marsala It exactly tastes the same as a 5-star restaurant if you make it in the right manner at home. The creamy sauce in marsala wine is the main thing that gives such great flavor.
From childhood itself, I am not a mushroom fan but if you want to give great texture & flavor to the Chicken Marsala then these tender mushroom will work here. And if don't like to use the mushrooms then no worries the Creamy Chicken Marsala is one that you will make again though It is deliciously packed with such awesome flavor.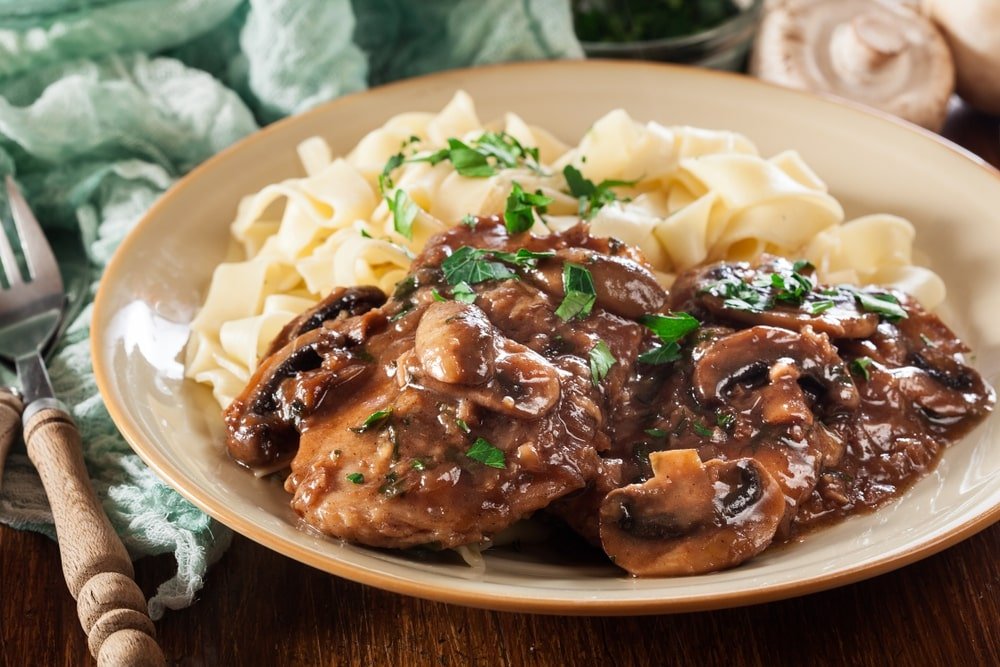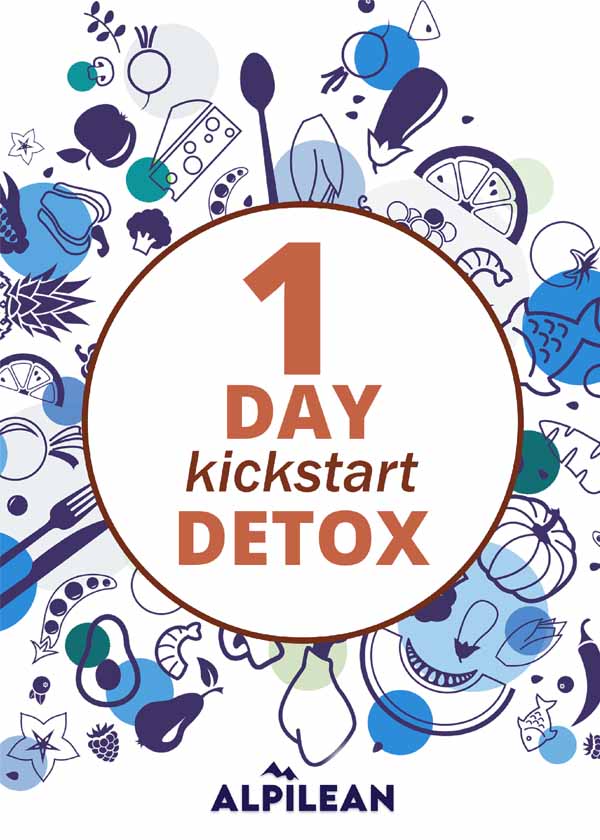 Chicken Marsala is a classic recipe that every cook should know how to make it. Just a few ingredients, to be put together and it's ready. Complemented by a silky Marsala wine sauce (Click to get Sauce recipe), flour-dusted chicken is quickly seared and studded with mushrooms, garlic & shallots. I love to serve Chicken Marsala with cooked pasta but it can be also served with mashed potatoes or rice and then also it will be delicious.
Chicken Marsala comes across sophisticated & elegant and even though it is extremely easy to make just by adding simple ingredients. If you haven't stuffed a chicken before – don't worry! It's very easy!. Simply cut the chicken in horizontal to make a pocket.
Slow Cooker Chicken Marsala
With nonstick spray lightly grease your slow cooker. Sprinkle some salt and pepper to the chicken and place in the bottom of your slow cooker.
Top chicken with mushrooms, garlic, and marsala wine. Cover and cook on low for 5-6 hours.
To transfer chicken to a plate, make sure to use a slotted spoon. Whisk together cornstarch & water until dissolved, then pour into slow cooker and stir.
Put the chicken back o slow cooker, cover and cook another 20-30 minutes on high heat until sauce is thickened. Add salt according to taste and finally sprinkle with parsley and serve.
Stuffed Chicken Marsala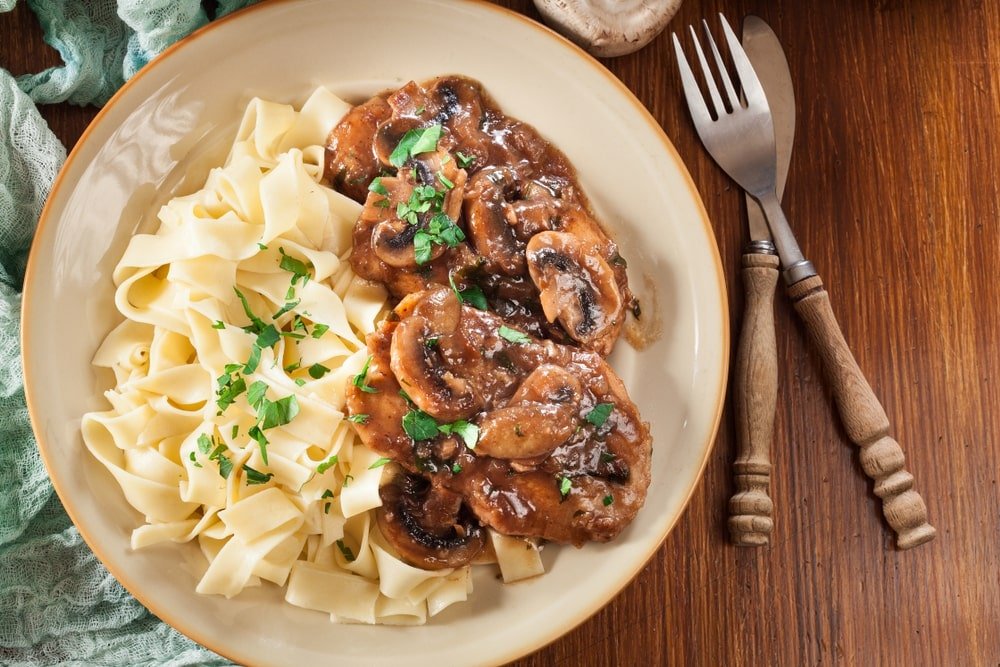 Make pockets into the chicken breasts. Season pockets with pepper salt and thyme.
Stuff each breast with a piece of Fontina and slice of prosciutto. In flour, Dip chicken breasts.
Heat and add oil to skillet and saute chicken breasts on both sides until brown and Remove chicken breasts from skillet.
On high heat add mushrooms to skillet and saute until browned.
Add Marsala to skillet and cook about 5 minutes on low.
Now Add chicken stock and put the chicken back in the pan. Cook on low for 5 to 10 minutes. Transfer chicken to a platter.
Thicken your sauce with flour & butter, and whisk it.
This above is a Stuffed Chicken Marsala and Slow Cooker Chicken Marsala variant but below the main recipe that you should make.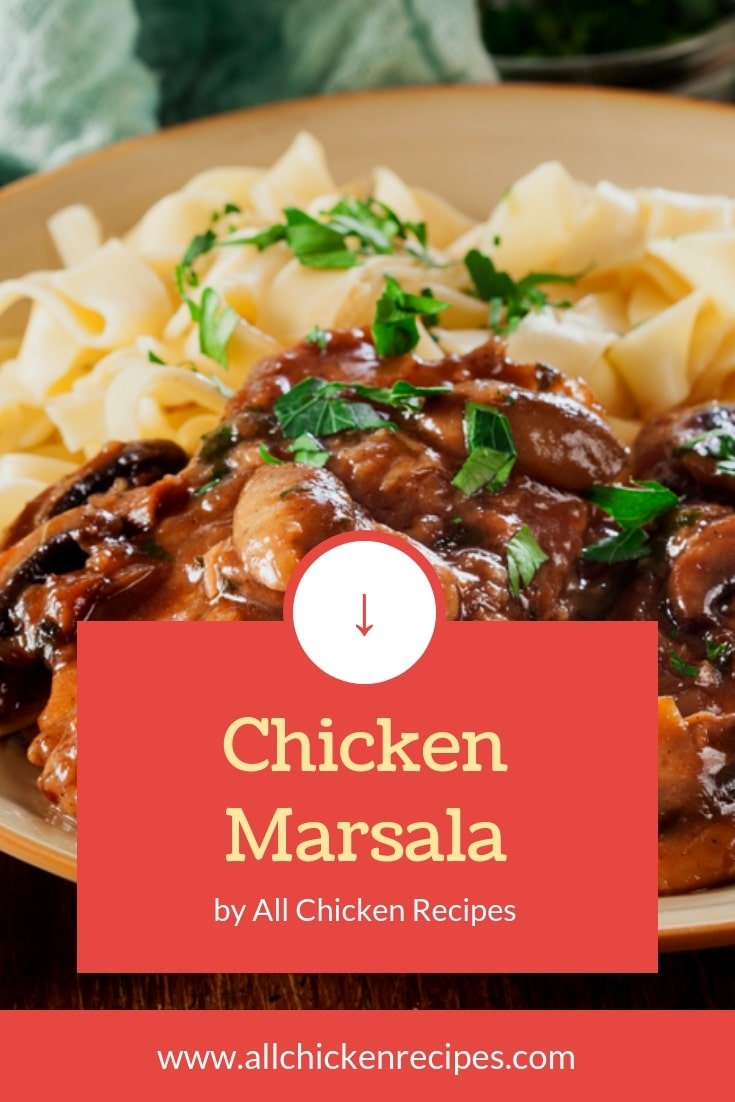 Still Hungry!! Try these chicken recipes:
Chicken Marsala
Chicken Marsala is a recipe that every cook should know. All you have to add is some garlic, mustard, heavy cream to make a delicious Chicken Marsala.
10 minPrep Time
20 minCook Time
30 minTotal Time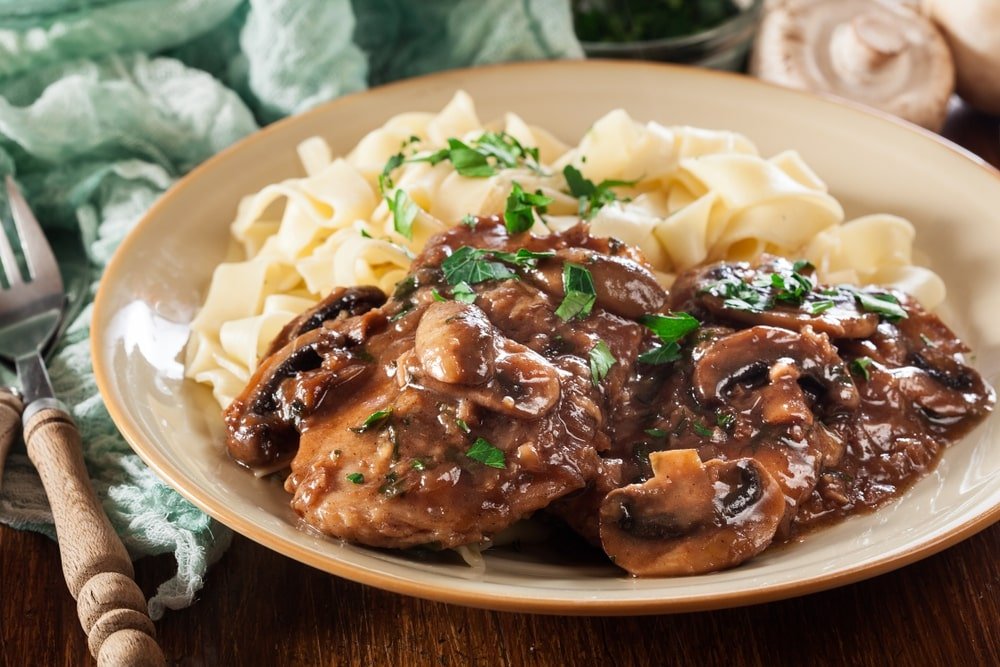 Ingredients
Instructions
In a bowl, mix together the salt, pepper flour and oregano. Coat chicken pieces in flour mixture.
Over medium heat melt butter in oil (in a large skillet).
Place chicken in the pan and cook, until lightly brown. Turn over chicken pieces, and add mushrooms. Pour in sherry & wine. Cover skillet cook chicken for 10 minutes until no longer pink in the center and juices run clear.
7.8.1.2
12
https://www.allchickenrecipes.com/chicken-marsala/
So, Guys, I hope you enjoy this Chicken Marsala Recipe which I make on weekly basis. All the Chicken Lovers who are looking for Chicken Marsala will enjoy this recipe. And if you like this recipe then Don't forget to share it with your friends on Pinterest, Facebook, and other social media platforms. And do follow us on facebook, twitter, Pinterest, Tumblr, and Instagram. You can also check my other recipes on Chicken Curry & Chicken Quesadilla.