Chicken Vindaloo is one of my favorite Indian Dishes, a popular recipe of Goan cuisine which is gluten-free and dairy-free that can be made in just 40 minutes. Chicken Vindaloo in Portuguese known as 'wine, vinegar, and garlic'.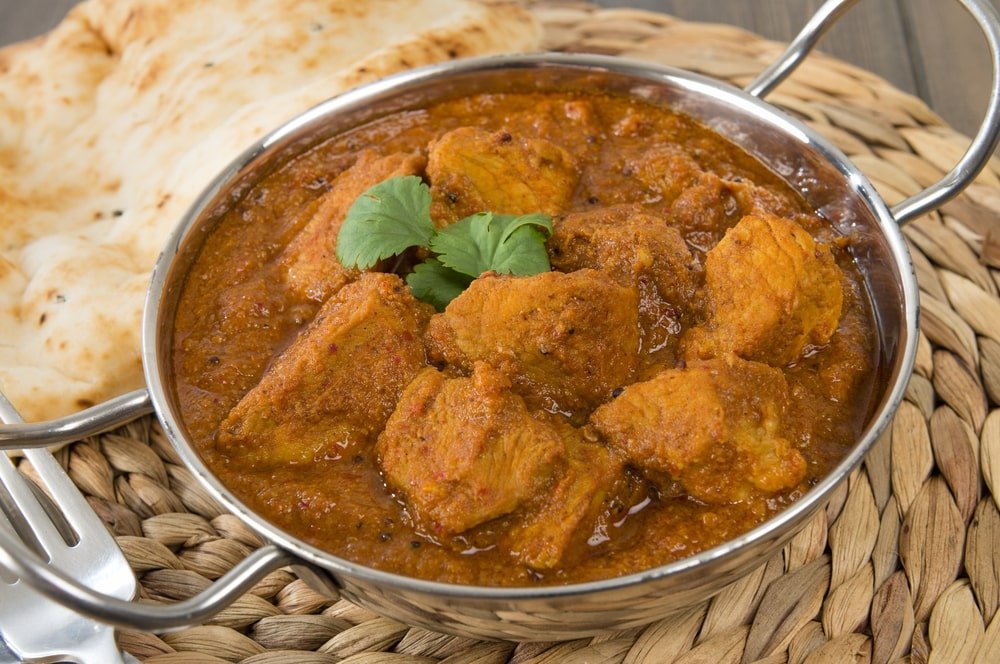 Chicken Vindaloo is my go-to dinner and it is one of the best Indian Curry dishes. Earlier I have made Indian Style Chicken Curry but this recipe is something different.
What is Vindaloo Chicken?
Vindaloo Chicken is a popular Indian curry dish mainly found in the region of Goa, the Konkan, and many other parts of India. It is known globally in its British Indian form as a staple of Indian restaurant menus and curry house, often regarded as a spicy dish.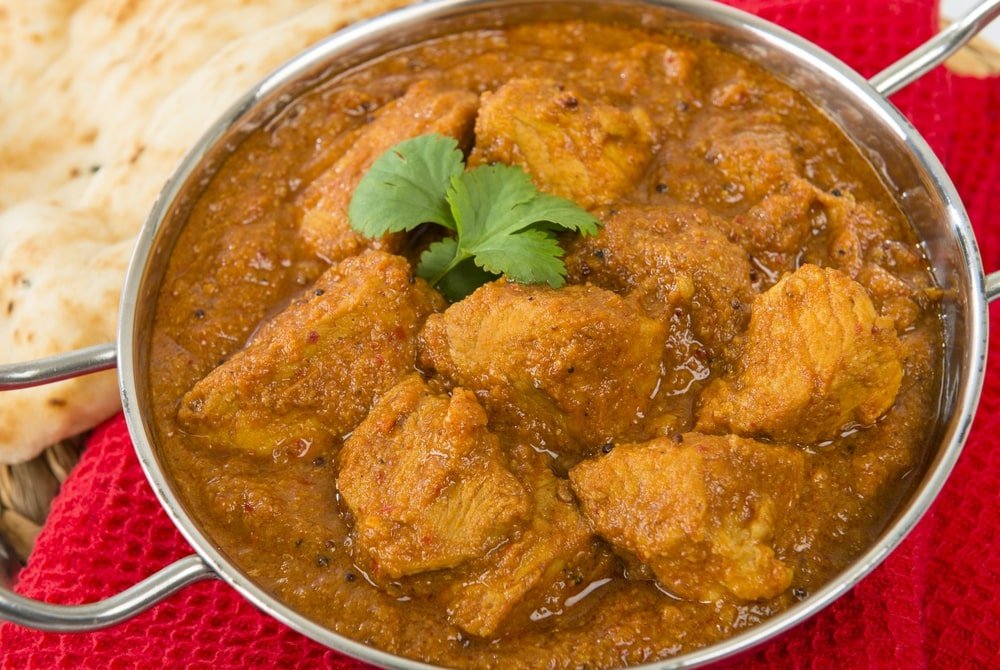 A "vindaloo" term is derived from the Portuguese "meat in garlic wine marinade", is a standard element of Goan cuisine, a dish usually made with pork meat. The basic structure of the Portuguese dish was the preserved raw ingredients, packed in wooden barrels of pork and garlic, and soaked in red wine.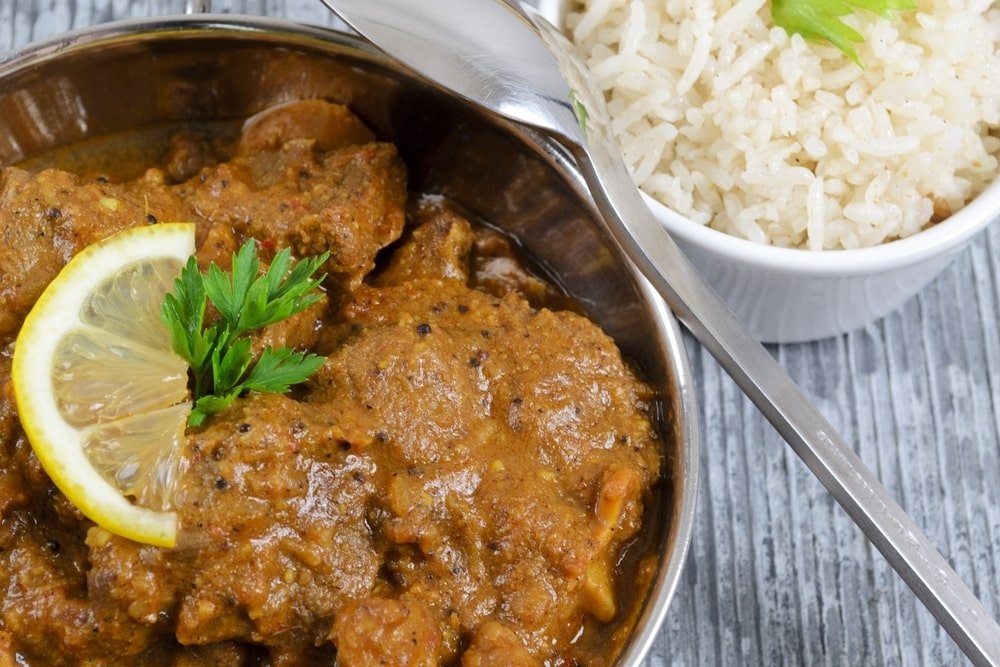 Whenever I make this Vindaloo chicken my whole family loved it, sometimes my relatives are like – can I have one more chicken piece! Vindaloo Chicken has a spicy, tangy and a bit of sweet taste.
Marination of the chicken is the most important part, more the marination more tender chicken pieces. I always prefer the marinade overnight for better results. The beauty of this dish is the combination of Indian spices.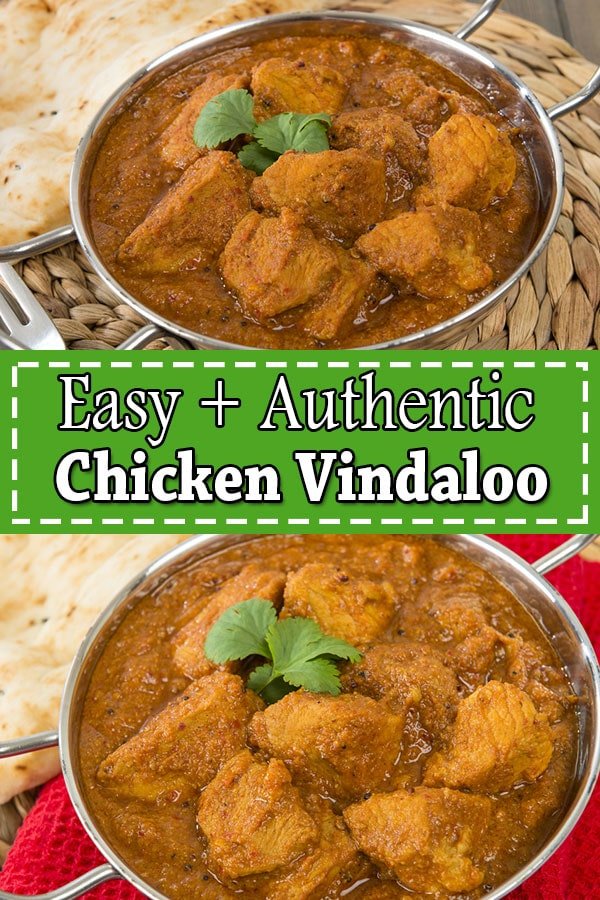 Still Hungry!! Try these Delicious chicken recipes:
Yield: 2
Chicken Vindaloo Recipe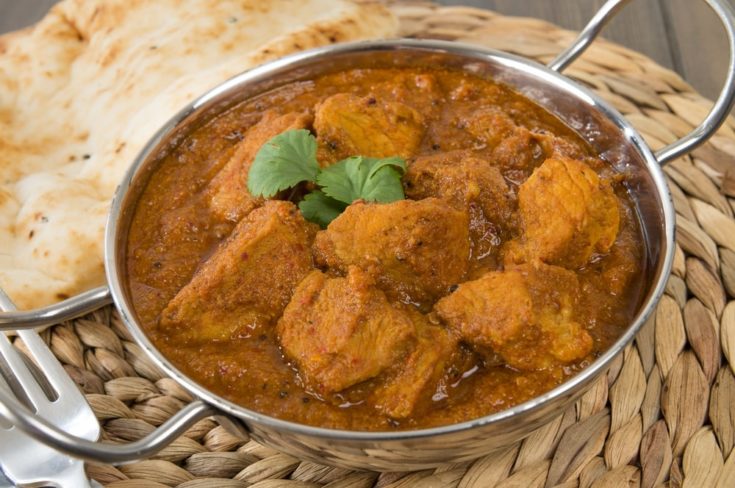 Chicken Vindaloo is one of my favorite Indian Dishes, a popular recipe of Goan cuisine which is gluten-free and dairy-free that can be made in just 40 minutes.

Prep Time 25 minutes

Cook Time 40 minutes

Total Time 1 hour 5 minutes
Ingredients
For Marinade:
Turmeric powder to taste
Butter to taste
250 gm boneless chicken
Salt to taste
For Vindaloo Masala:
Fenugreek seeds and cumin seeds in equal proportions
For the Main Preparation:
4 Tbsp chopped shallots
1 1/2 tsp ginger garlic paste
4 Tbsp olive oil
1/2 tsp turmeric powder
1/2 cup tomato puree
1/2 tsp red chilli powder
1 1/2 tsp vindaloo masala
3 tsp tamarind water
Salt to taste
For Garnishing:
Instructions
Thoroughly wash the chicken and marinate with salt and turmeric powder for at least 2 hours or up to overnight.
In a medium pan, add the butter and saute the marinated chicken for about 10 minutes.
Meanwhile make your vindaloo masala, Roast the cumin seeds and fenugreek seeds in an open pan and then grind them together to a masala.
Now let's begin with our main preparation, heat oil in pan over medium heat. Add ginger garlic paste, red chilli powder, chopped shallots, tomato puree, turmeric powder, salt, vindaloo masala, chicken, and tamarind water.
Mix it well to combine everything and your chicken vindaloo is ready.
Garnish with fresh coriander leaves and serve hot with roti or rice.
Nutrition Information
Serving Size
2
Amount Per Serving Calories 581Total Fat 46gSaturated Fat 4gCholesterol 110mgSodium 150mgCarbohydrates 16gSugar 8gProtein 28g

So, Guys, I hope you enjoy these chicken vindaloo recipe which I make on weekly basis. All the chicken lovers who are looking for chicken vindaloo will enjoy this recipe. And if you like this recipe then Don't forget to share it with your friends on Pinterest, Facebook, and other social media platforms. And do follow us on Tumblr, Pinterest, facebook, twitter, and Instagram.