Lemon Pepper Chicken: It's something my mom and my grandmother are always asking me to make. This crispy lemon pepper chicken has been one of my favorite chicken recipes and It' super easy to make. All you need is three lemons, 1 skinless, boneless chicken breast half, good quality olive oil, and a few spices & seasonings.
How to Make Lemon Pepper Seasoning
You will need to zest several lemons, to make your own lemon pepper seasoning, dry out the zest and then combine it with salt, mashed black peppercorns, and other spices such as minced onion or thyme. Or you can check here.
Without being overly peppery this crispy lemon pepper chicken is so flavorful and delicious. It is not sweet but it has an amazing lemon flavor. And if you serve this Lemon Pepper Chicken with anything like potatoes, Asian dishes, Pasta, rice, roasted veggies it goes extremely well.
How to Make Lemon Pepper Chicken
In this recipe, I will be making this Lemon Pepper Chicken on the oven.
In the bottom of a baking dish start by swirling some olive oil. In a single layer arrange the chicken on top.
With a piece of parchment paper, Cover your chicken like a blanket and edges should be tucked around the sides of the chicken. And without drying out the chicken it cooks quickly.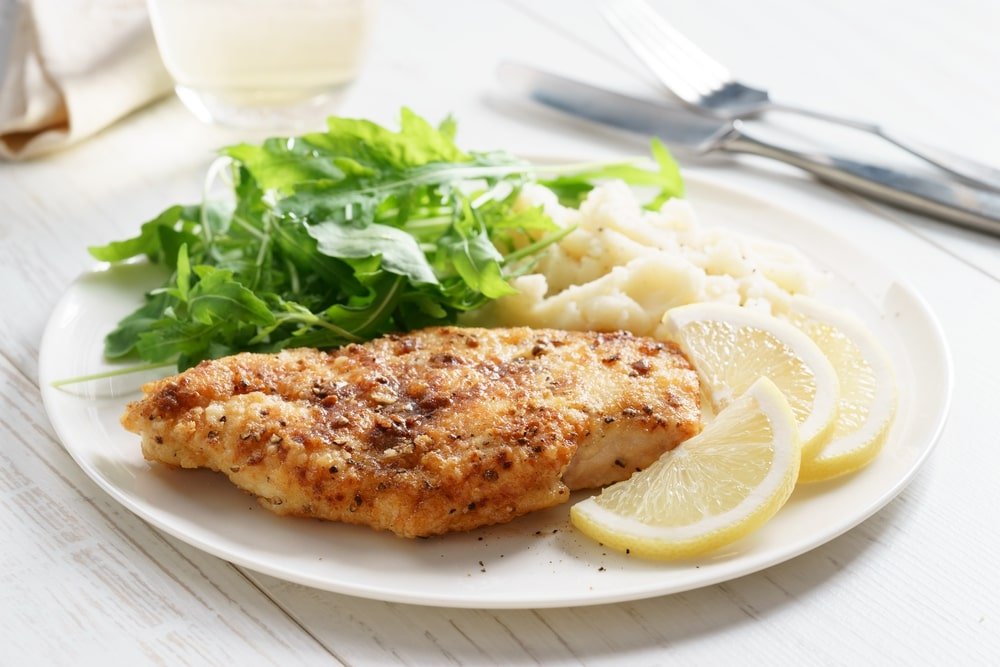 Grilled Lemon Pepper Chicken
When it comes to the cooking of a chicken grilling is one of our first priority especially when it's Lemon Pepper Chicken. And also it's fast and easy to make.
Firstly, preheat your grill and oil the grates and when it comes to grilling heating will not tale your more time.
Next, coat the chicken with oil and then sprinkle almost 2 tbsps of lemon pepper seasoning to it.
You can use the hottest part of the grill for the chicken and then transfer to indirect heat by flipping the chicken and continue cooking until it's 165F.
A Perfect Dinner option
Lemon pepper chicken is very versatile. Simply serve this chicken recipe with zucchini, new potatoes, green beans, asparagus, broccoli, and carrots to make your dinner perfect. You can also make many of these vegetables alongside chicken. So, Give this recipe a try and let me know in comments down below what you think!
Still Hungry! Try these chicken recipes:
Lemon Pepper Chicken
This lemon pepper chicken is so flavorful and delicious and it has an amazing lemon flavor. Serve this Lemon Pepper Chicken with potatoes, Asian dishes etc.
5 minPrep Time
14 minCook Time
19 minTotal Time
Ingredients
Instructions
In a small skillet melt butter. Sprinkle with 1/2 tablespoon of the pepper, then lay the chicken breast onto the pepper. onto the chicken, Squeeze fresh lemon juice and then season with the remaining pepper.
For about 5 to 7 minutes, Saute your chicken breast and then flip your chicken and saute for another 5 to 7 minutes, and make sure to squeeze lemon juice onto the other side and cook until the chicken is cooked through and juices run clear.
7.8.1.2
7
https://www.allchickenrecipes.com/lemon-pepper-chicken/
So, Guys, I hope you enjoy this Lemon pepper chicken Recipe which I make on weekly basis. All the Chicken Lovers who are looking for Lemon pepper chicken will enjoy this recipe. And if you like this recipe then Don't forget to share it with your friends on Pinterest, Facebook, and other social media platforms. And do follow us on facebook, twitter, Pinterest, Tumblr, and Instagram. You may also like Smoked Chicken.