General Tso's Chicken – This easy general Tso chicken Chinese takeout recipe is sure to become your family favorite dinner that is made with juicy chicken with a sweet and savory stir fry sauce.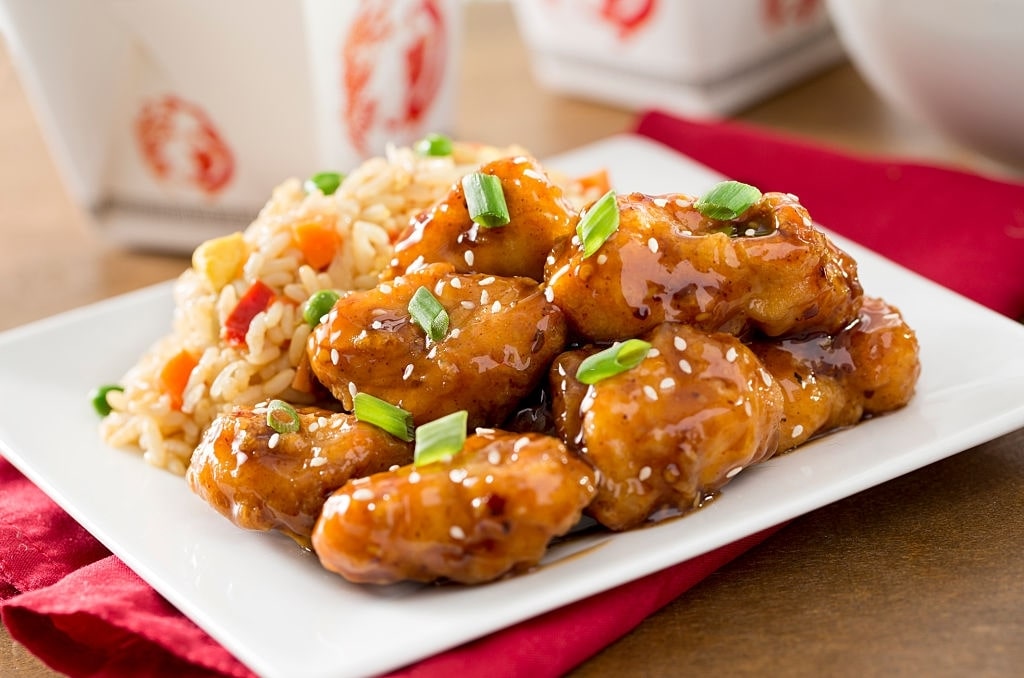 The taste of this General Tso Chicken mainly comes from this dark sauce which is so rich with just a little bit of heat which is sweet and savory. I personally like to serve this with some veggies over rice. Yummy !!
What is General Tso's chicken?
General Tso's chicken is also seen with other variants, such as General Tse's chicken is a sweet deep-fried chicken dish that is served in North American Chinese restaurants.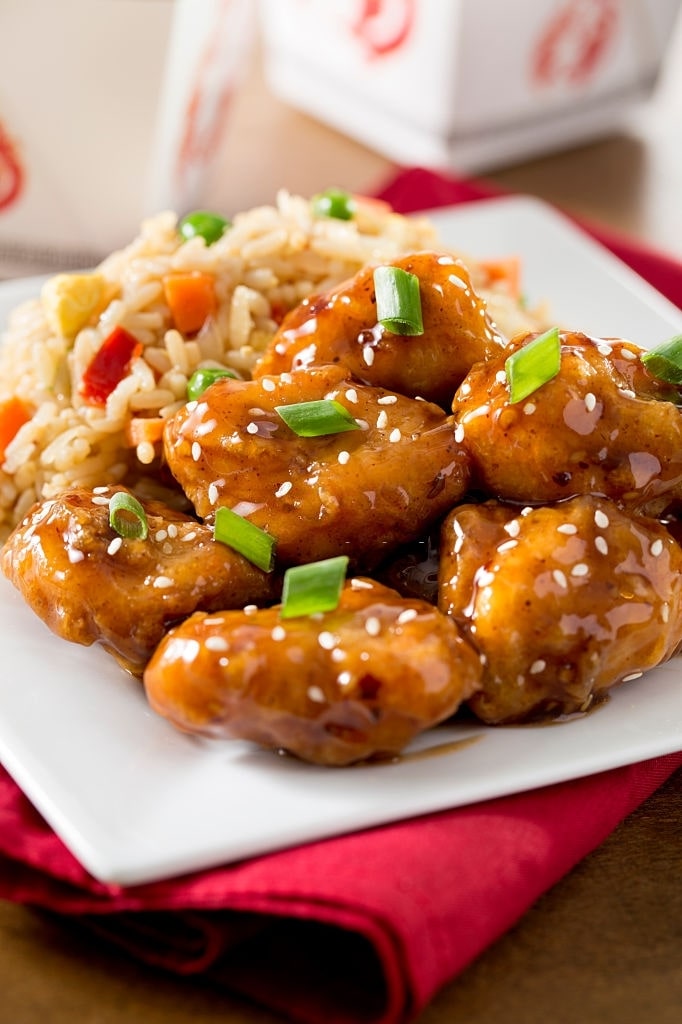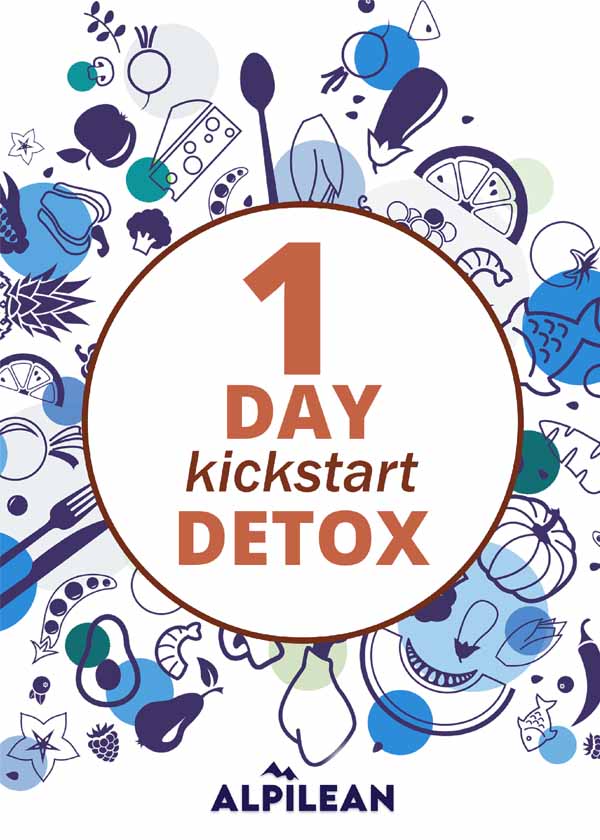 General Tso Chicken Calories
A typical serving of General Tso's chicken may include up to 1,300 kilocalories, 3,200 milligrams of sodium, 11 grams of saturated fat and as well as it exceeds 300 mg of cholesterol. One serving will typically be about 100 grams (approximately 4 oz. ) of chicken thigh meat which contains 20-30 grams of protein, over 15% of the recommended B6, greater than 30% of the daily recommended niacin needs and phosphorus and zinc needs.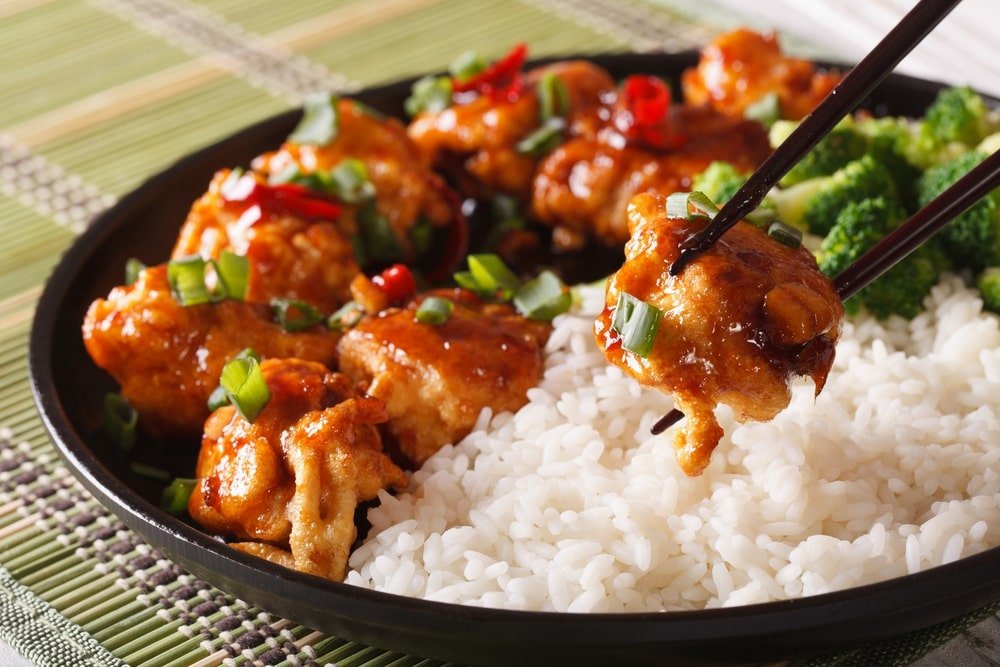 General Tso's Chicken can also be cooked with chicken breasts but you know what chicken thighs are something different, juicier and it tastes very different from breasts.
But yes, if you are eating this dish on a regular basis then I strongly recommend using Chicken breast, lean protein, low cholesterol, no fat, and many other health benefits. The more Darker the meat the more it will be in fat content.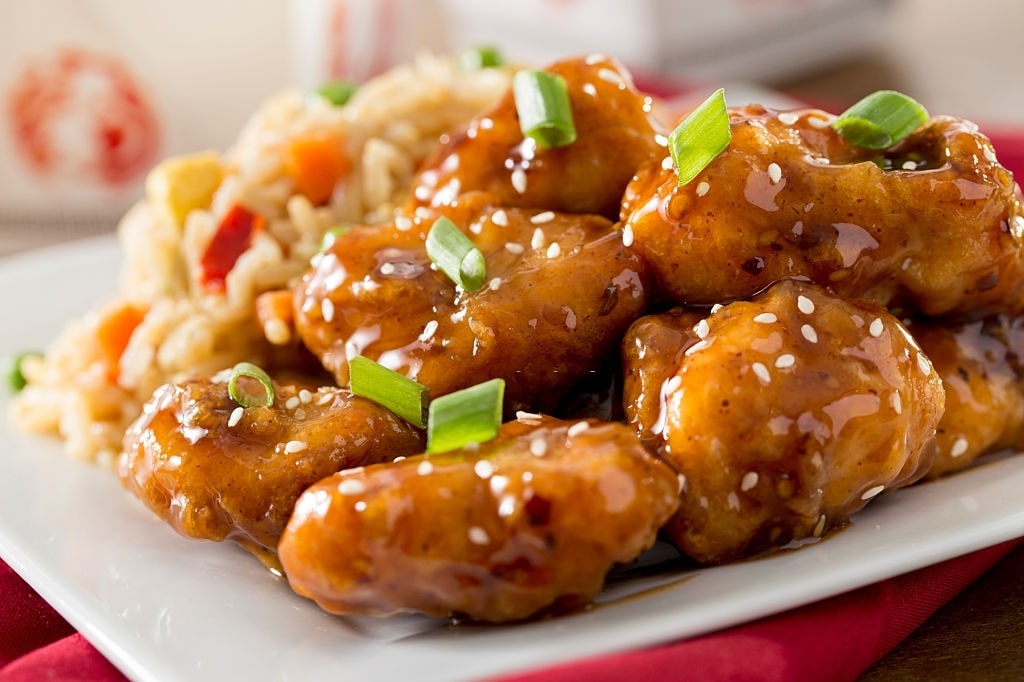 General Tso's Chicken VS Orange Chicken
Both are stir fry dishes in which the chicken is golden browned and then coated with a sweet-savory sauce. Orange chicken is more on a sweeter side and has orange juice in it, whereas in Tso' chicken, the flavor mainly comes from soy sauce and it is little spicy because of chili flakes.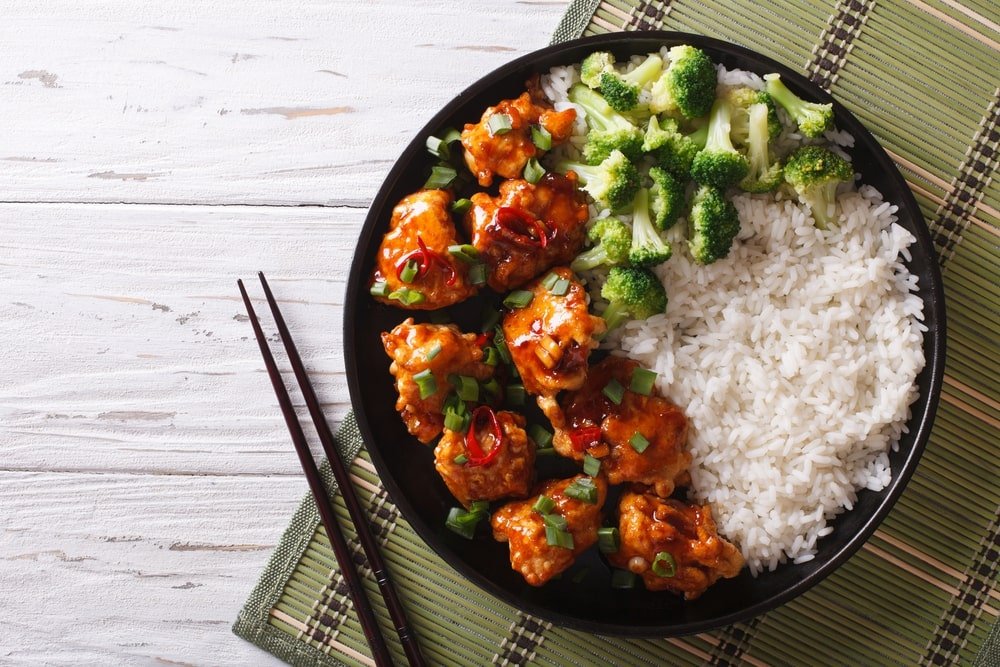 Recipe Variations
I am using chicken breasts, you can use boneless, skinless chicken thighs instead.
Hoisin sauce is a must! Don't skip it, it brings extra flavor to this dish.
Add a tablespoon or two of dark brown sugar or a tablespoon of honey to the sauce if you like it more sweet.
To make it spicier, add more dried red chilies while stir frying the chicken.
Though it is not an orange chicken recipe, you can still add a little orange zest to brighten up the dish.
What to serve with this easy general tso's chicken?
I love to garnish with sesame seeds or chopped chives and serve it over plain white rice, you can serve it over fried rice, or cauliflower to lower the carbs content.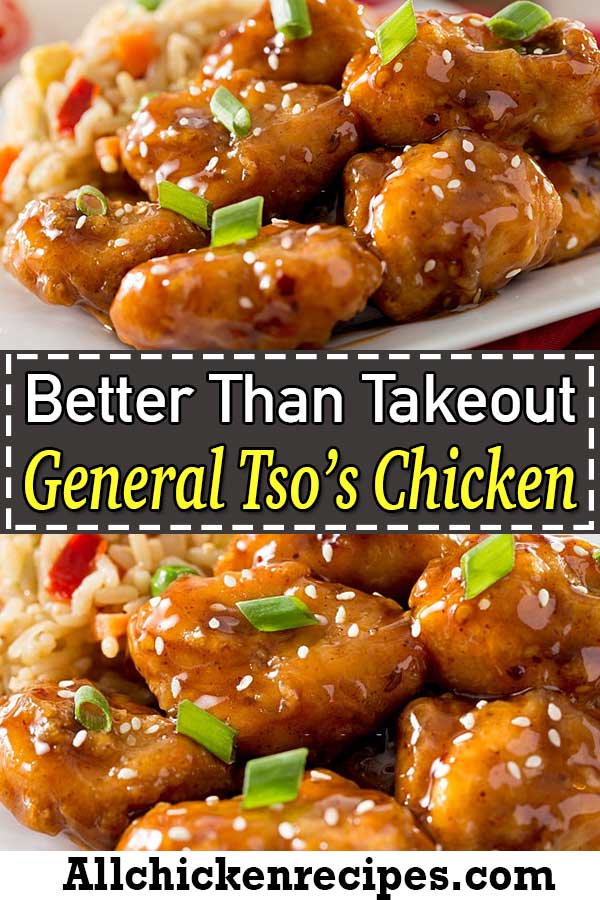 Try my other popular Chinese chicken recipes:
How to Make General Tso's Chicken?
General Tso's Chicken (Under 20 minutes)
This easy general Tso chicken Chinese takeout recipe is sure to become your family favorite dinner that is made with juicy chicken with a sweet and savory stir fry sauce.
10 minPrep Time
20 minCook Time
30 minTotal Time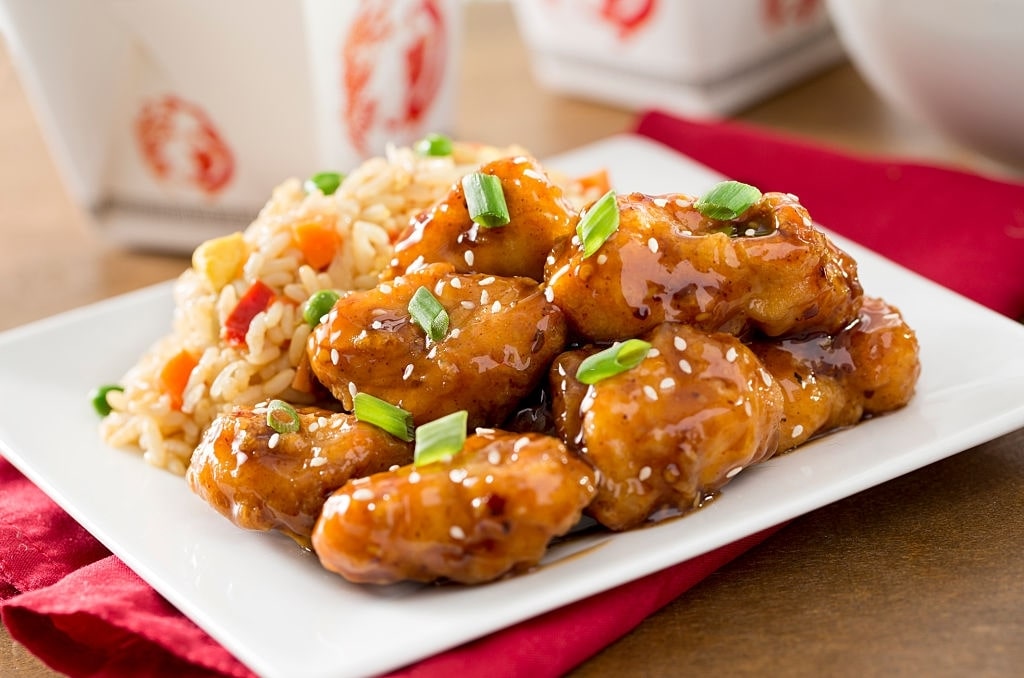 Ingredients
1 pound boneless, skinless chicken breast, cut into bite-size pieces (or chicken thighs)
1 large egg white
¼ cup soy sauce , low sodium, divided
1 cup chicken broth , reduced sodium
¼ cup cornstarch, divided
2 cloves minced garlic
1 fresh minced ginger (1-inch piece)
3 tablespoons Hoisin sauce
1 teaspoon sriracha sauce , plus more for serving
1 tablespoon toasted sesame oil, plus 1 teaspoon
2 medium scallions, chopped (greens and whites separated)
Toasted sesame seeds, for garnishing
Instructions
Take a bowl, add the chicken, egg white, soy sauce (2 tbsp) and cornstarch (3 tbsp). Combine all together and set aside.
Heat a pan or pot over medium heat. Add sesame oil (1 tsp), once little hot, add garlic, ginger, and scallion whites. Stir fry for 1 minute. Add the chicken broth, sriracha, hoisin and the remaining soy sauce (2 tbsp) and whisk well.
Add the remaining cornstarch (1 tbsp) and whisk the sauce for about 2 minutes or until thickens. Once thickened, reduce heat to low and keep warm.
Heat a non-stick skillet or wok over medium-high heat. Add sesame oil (1/2 tbsp) and add the chicken and cook for about 3-4 minutes per side or until browned on the edges cooked through. Set aside on a plate with a paper lined towel.
Cook the second batch of the chicken with the remaining oil.
Once done cooking all the chicken, return the chicken back to the skillet, add the sauce and toss until well coated.
Garnish with sesame seeds and scallion greens.
Done! Serve immediately with extra sriracha, if desired.
7.8.1.2
35
https://www.allchickenrecipes.com/general-tsos-chicken/
Still Hungry! Try these other chicken recipes:
So, Guys, I hope you enjoy this Easy General Tso Chicken Recipe which I make on weekly basis. All the chicken lovers who are looking for General Tso's Chicken will enjoy this recipe. And if you like this recipe then Don't forget to share it with your friends on Pinterest, Facebook, and other social media platforms. And do follow us on facebook, twitter, Pinterest, Tumblr, and Instagram.